Choosing a health insurance plan
Deciding on a health plan is a decision based on your situation, location, health needs and preferences. The survey asked respondents what's most important when selecting a plan:
28 percent said low premiums
21 percent said low deductibles
16 percent said availability of preferred providers
16 percent said the breadth of services
7 percent said not needing a referral, which is a feature in PPOs
One part of health insurance that Americans don't usually have to think about is basic coverage. The ACA demands health plans offer the 10 essential health benefits. That provision requires plans to cover:
Emergency
Inpatient
Outpatient
Prescription drugs
Lab tests
Mental health and substance abuse
Maternity and newborn
Preventive and wellness
Rehabilitation
Dental and vision for children
However, making insurance companies provide those services increases health plan costs.
We asked respondents which essential health benefits they'd give up for lower rates. More than half would be willing to sacrifice pregnancy and newborn coverage. Forty-eight percent would give up mental health and substance abuse services.
On the other end, only 12 percent are willing to drop emergency coverage. Thirteen percent are OK with forgoing hospitalization and lab test coverage for lower rates.
High-deductible health plans
Thirty-two percent of respondents had high-deductible plans (HDHPs). That's similar to a recent Kaiser Family Foundation (KFF) report on employer-sponsored plans that estimated 29 percent of plans in 2018 are HDHPs.
As to the reason why people choose an HDHP:
44 percent said it was more cost effective.
29 percent said it made the most sense for their situation.
25 percent said their employer didn't offer another choice.
HDHPs have lower premiums but can lead to hefty out-of-pocket costs. More than half of respondents with HDHPs (56%) said their health care costs have increased since enrolling in an HDHP. More than one-third said the costs are the same. A mere 9 percent remarked that their costs have gone down. This finding points to the fact that they're likely paying higher out-of-pocket costs now.
Our survey found that 40 percent of respondents said their individual deductible is more than $2,500 while another 44 percent said it was between $1,701 and $2,500. Only 13 percent said their deductible was less than $1,700. KFF recently said the average individual HDHP deductible for 2018 is between $2,245 and $2,447 depending on the plan.
Concerning family deductibles, one-quarter of respondents said their deductible was more than $4,500. Only 13 percent said less than $3,000. KFF said the average family deductible is between $4,329 and $4,883 depending on the type of HDHP.
Critics fear that those higher costs could cause patients to delay care. The survey confirmed those fears. FIfty-four percent said they've delayed care because of high deductibles.
A critical, but often not realized, goal of HDHPs is to make members better health care consumers. That education effort includes providing pricing and quality information for hospitals and doctors. With this information, consumers can make informed health care decisions.
Education efforts are working in some cases, but 63 percent of respondents said they don't feel more educated about health care than before. That said, about one-quarter of people said either their doctor, insurer or both doctor and insurer helped them make better health care decisions concerning cost. We asked the same question in a 2016 survey. At that time, 41 percent said they felt like better health care consumers because of education efforts by doctors and insurers. Also, one-third of respondents said they don't shop around for health care services, which is similar to 2016 results. The most common way to shop for health care services is online. Only 8 percent said they shop for health care services by calling around, which shows the importance of online tools.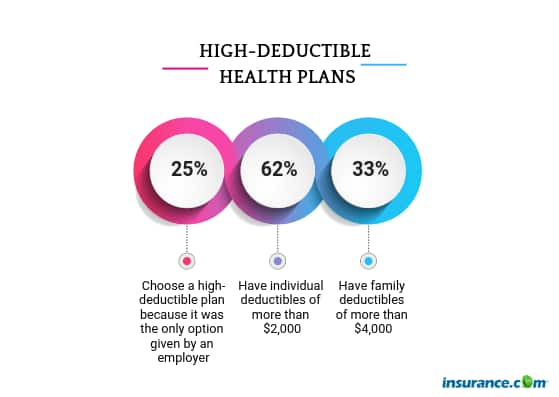 Short-term plan option
The Trump administration is allowing people to get a short-term plan in 2019 if those plans are permitted in the state. Under the ACA, only young adults and people who couldn't afford any other coverage could get a short-term plan.
Another difference is you can now get short-term plans for a year and request two renewals. Previously, short-term plans lasted three months with the chance for renewal. That change may make the option more pleasing for consumers.
However, consumers can't buy a plan if they don't know about them. Our survey found that 71% of respondents didn't realize short-term plans are an option for 2019.
We found some interest in the low-cost, low-protection plans. Slightly more than one-third of respondents who didn't know about the plans said they're interested in finding out more. Another 13 percent said they knew about the change and want a short-term plan.
Eighteen percent said they'd change plans only if they could save 50 percent on health care costs. Nearly half (45 percent) said they wouldn't switch to a short-term plan regardless of how much you can save.
One major drawback to short-term plans is that they lack basic coverage found in regular health insurance. That includes not covering the 10 essential health benefits.
Instead, health insurers have the flexibility to create plans without those basic coverage areas. We asked respondents what kinds of coverage must be part of a short-term plan for them to be interested.
Nearly two-thirds of respondents said that any short-term plan must have emergency care, prescription drug and hospitalization coverage. However, a mere 12% said a short-term plan would need pregnancy and newborn care.
About one-quarter said they wouldn't buy a short-term plan no matter the protections.
Support for Medicare for all, but what does that mean?
Medicare for all is one health proposal being discussed and our survey found support for the idea:
49 percent support Medicare for all
20 percent are against it
31 percent don't know/haven't heard of it
However, there's disagreement about what "Medicare for all" actually means:
53 percent of backers said they support a Medicare for all that's a single-payer system
46 percent of backers said they support a public option that allows people to get a Medicare plan
One would create a single-payer system and the other would keep the existing system, but let Americans buy a Medicare plan. Those are two entirely different ideas and show the disagreement about what's the best option.
The survey also found overwhelming support for requiring elected officials get similar coverage as Medicare or Medicaid. Eighty-seven percent said the leaders should have similar coverage as other Americans. Ninety-three percent said elected officials would work better to resolve health care problems if they were under the same health plan option as most Americans.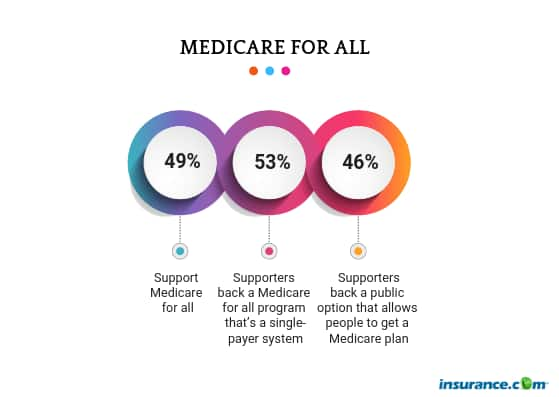 Pre-existing condition protections popular
Pre-existing condition protections in the ACA remains one of the most popular parts of the health law. A whopping 87 percent of people surveyed said they support the protections. Just 13 percent opposed it. We found the least support in the south. Eighteen percent of respondents in the south said they don't back the protections.
We also found that many people are willing to sacrifice pre-existing condition protections if it meant lower rates. Eighteen percent said they wouldn't support the protections if it increased rates by 5% and 15 percent suggested a 10 percent increase would be too much. Thirty-five percent said they back the protections, but don't want to pay more for that coverage requirement for everyone.
Methodology
Insurance.com commissioned Op4G to survey 1,000 men and women over the age of 18 with their own health insurance plan. Respondents were split evenly between males and females. The online-panel survey was fielded in October 2018.