Auto Insurance Insights
The make and model of the vehicle you want to insure is a major part of a car insurance quote. There are several reasons make and model affect car insurance rates.
Car insurance companies ask for the year, make and model of your vehicle when you compare car insurance rates to accurately assess the risk of insuring you. Vehicles that are more expensive to repair will cost more to insure. That means a high-end luxury car will cost more to insure than a base model economy car. Other factors that affect the cost of car insurance by make and model are safety ratings, security features and even theft statistics.
If you're shopping for a new car, be sure to consider car insurance cost along with the loan payment, especially if you're on a tight budget. Compare car insurance quotes for all of the vehicles on your list so you can get a complete picture of the total cost of ownership for that car. You may find that one of your options is much cheaper to insure than the others.
The same goes for a getting the best price on insurance for a car you already own. Auto insurance rates by make and model differ from company to company and can change from year to year. That means shopping around can get you the best car insurance rates no matter what vehicle you drive.
So how much does car insurance cost for your car's make and model? Read on to learn more about how make and model impact car insurance and compare auto insurance rates for various vehicle types.
What is the
make and model

of a car?
A car's make is the company that manufactures it. For example: Honda, Ford, Toyota, Chevrolet, and Nissan are all makes.
A car's model is the name for that specific type of car. For instance, if you own a Honda Civic, 'Honda' is the make (manufacturer) and 'Civic' is the model.
In addition to make and model, cars have different trim levels. With a Honda, for example, you may see EX or LX. This indicates what features the car has, like a sunroof or leather seats, and can also impact insurance rates. A car with all the bells and whistles will be more expensive to buy and to insure.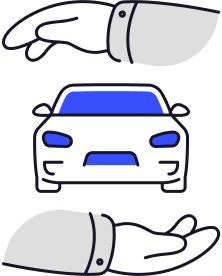 How do
make and model

affect car insurance rates?

Insurance companies gather a lot of data to determine car insurance rates. Data on each make and model is part of that calculation. A big part of that is the value of the car and the cost to repair it.

For example, a Porsche costs a lot more to buy and also costs more to repair because of high-end parts. On the other hand, a Kia costs less and also tends to have lower repair bills.

At the model level, it's much the same. A more expensive model like a top-end luxury SUV will cost more than the base model compact sedan.

In addition to value and repair costs, insurance companies look at safety ratings, crash statistics, and theft statistics to calculate car insurance rates.

Below, you can choose a vehicle make to explore rates for various models and trim levels. As you compare auto insurance rates, be sure to use a car insurance calculator to make sure you're getting the coverage you need at the best price.
Choose your
vehicle make

to compare insurance rates