Why you should trust Insurance.com
Insurance.com is dedicated to informing, educating, and empowering you to make confident insurance decisions. Our content is carefully reviewed by insurance experts, and we rely on a data-driven approach to create unbiased, accurate insurance recommendations. Insurance.com maintains editorial integrity through strict independence from insurance companies.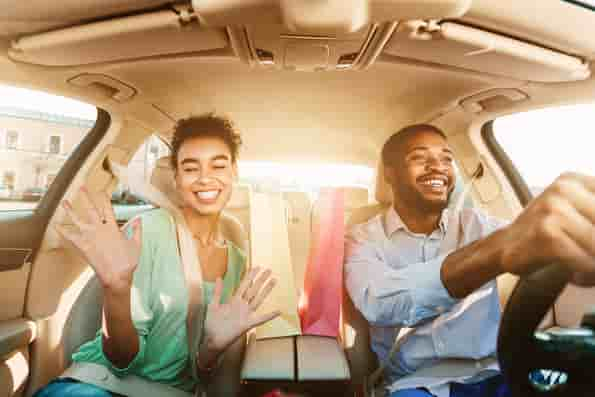 Everyone wants cheaper car insurance, and insurance company advertising aside, it can be hard to know what really lowers your rates. Fortunately, there are many ways to find affordable car insurance that meets your coverage needs and fits your budget.
There are things you can do right now to get lower car insurance rates, like shopping around, asking about car insurance discounts, bundling your home and auto insurance or trying a usage-based insurance program. You can even combine several of these options for up to 30% savings.
So, how can you find the cheapest auto insurance? Read on for ten simple ways to get a better price on car insurance.
Key takeaways
Compare car insurance quotes regularly to ensure your insurance is still the cheapest; no single insurance company is always the cheapest.
Choose a higher deductible to get lower car insurance rates instantly, but choose a deductible you can afford.
A clean driving record and good credit both mean much cheaper insurance, so keep them clean or work towards improvements.
How to get cheap car insurance
Finding cheaper car insurance requires a little effort, but the savings can be well worth it. The tips below may not all apply to you, but combining even a few of them will result in more affordable auto insurance rates. The best part is that there are things you can do right now to start saving on car insurance today.
1. Compare car insurance quotes regularly
What is the cheapest car insurance and how do you get it? It's simple: shop around and compare rates. It's the No. 1 way to save on your auto insurance.
Compare car insurance quotes from as many car insurance companies as possible so you can find the best policy at the lowest rate. You can do this at any time, but renewal time is a great reminder to see if you can save with a different provider.
You may already have the best value for car insurance with your current company, but he only way to be sure is to do a car insurance rate comparison regularly.
Comparison shopping can help you find cheap car insurance companies in your area and even new auto insurance discounts.
Cheaper car insurance companies aren't always the big names. An Insurance.com rates analysis found that American National Insurance had the lowest average rates even when compared to well-known companies like Nationwide and USAA.
Get comparison quotes at least every 12 months.
You should also comparison shop when you:
Purchase a new or different car
Combine cars on a multi-car insurance policy
Add or remove a driver from your coverage
Get married or divorced
Move
Purchase a home
Are convicted of a DUI or another major violation (review DUI insurance)
Get into a car accident
Remember, the more you comparison shop, the more likely it is that you will find cheap car insurance quotes.
2. Bundle your insurance for a multi-policy discount
One of the best ways to get cheaper insurance rates is to ask about bundling your insurance policies for a discount.
For example, purchasing homeowners or renters insurance from the same company that provides your car insurance coverage can earn you a discount on both policies.
These multi-policy discounts can be up to 29% depending on the company.
Similarly, you can get up to 25% off by taking advantage of a multi-car discount when you insure two or more vehicles with the same company. This discount is typically on your liability, collision and comprehensive coverages.
But be wary, as you don't always save money by bundling coverage. It is important to compare what it would cost to purchase your policies separately to the price break you get on a bundled deal. It's possible that you would do better to purchase a home policy separately and get your auto coverage from one of the cheap car insurance companies that have the cheapest rates.
National averages for multi-policy discounts are:
3. Increase your deductible for instant savings
Increasing your deductible from $250 to $500 can lower the collision or comprehensive portion of your premium. According to Nationwide, you may save between 15% and 30%, and other insurers may be even cheaper. Increase the deductible to $1,000, and you can save even more, potentially 40%.
Remember, though, that a higher deductible means more money out of your pocket in the event of a claim. Cheap car insurance can become expensive if you have to pay your deductible with a high-interest credit card. Make sure you understand how car insurance deductibles work before you choose one.
4. Make sure you get all of the available auto insurance discounts
Talking to your agent can help you find overlooked ways to save on car insurance, says Robert Passmore, vice president of auto and claims policy at the American Property Casualty Insurance Association.
"Consumers should check in with their agent or insurance company to have a conversation and ask what discounts are available," he says. "They will work with you to maximize all your benefits."
While you might qualify for a lot more discounts, here are a few of the common ones that help you get affordable car insurance:
Good student. Many car insurance companies offer a good student discount for both high school and college students. A "good student" is usually someone who maintains a "B" (3.0) or better average to qualify for this discount, and typically applies to students under 25.
How much can you save? The average base premium for the student-driving population is $6,110. Add in a good student discount, and that yearly policy rate dips to an average of $5,750. That's a savings of $361, or about 7%. The good student discount is a significantly larger reduction than for most other discount categories. This can be a great way to find cheap car insurance for new drivers.
Homeschooled teen drivers may also be eligible. They must achieve a certain score on standardized tests. The discount normally applies to bodily injury liability, property damage liability, PIP, medical payments, collision and comprehensive coverages.
Students away from home. Likewise, most insurance carriers offer discounts for good students who are away at college. A wide array of variables affect the discount rate, including:
Whether or not the student is taking a car to school and driving it regularly
Whose name(s) is on the title
Whether or not the student's permanent address is still the parent(s)' home
Loyalty. Have you stuck through thick and thin with your insurance provider? Your loyalty could equal savings. Several insurance companies offer this discount, which generally reduces rates by up to 10%.
Good driver. Good driver and safe driver discounts can get you between 5% and 25% in savings, depending on your carrier. Reducing how much you drive your vehicle can garner a discount. More on both of these later.
Vehicle security. Do you have an alarm or security/anti-theft device installed in your vehicle, such as a LoJack? That could sometimes qualify you for a safety-feature discount of up to 30%.
Paid in full. Paying your annual bill in full can save you up to 10%, rather than the more common approach of paying in installments. Going paperless, too, can add a small discount.
Understand all the car insurance discounts for which you may qualify, so that you can take advantage of some reductions in your bill that can really add up.
5. Compare insurance rates when you're car shopping
When you're car shopping, consider the cost of insurance. Cars that cost less to repair or replace generally have more affordable car insurance rates. Safety records and theft statistics also affect a vehicle's rates.
Don't think that the "cheaper the car, the cheaper the insurance." It doesn't always work that way. Make sure you compare car insurance rates by vehicle when you're shopping for a car.
6. Keep a clean driving record
You can take steps to avoid higher rates due to an accident or ticket on your record. Pay attention to your speed, don't try to run a red light, be more cautious, and drive defensively.
Poor driving history can disqualify you from getting the cheapest car insurance. Insurers will check your record to see if you present a high level of risk. Speeding tickets, accidents, and citations for driving under the influence can increase your insurance rates.
As noted above, good driver discounts can save up to 25%. The insurance company usually requires that you have a clean driving record for at least three years. That means no DUIs, no moving violations, and no at-fault collisions.
Drive sensibly and cautiously and get cheap car insurance by avoiding surcharges and receiving a good driver discount. For more on how a ticket affects rates, see our traffic ticket calculator.
7. Drop coverage you don't need
You can get cheaper car insurance by dropping comprehensive and collision coverage if you have an older car.
Don't drop that coverage without giving it some thought, however. When should you make this move toward cheaper auto insurance by dropping full coverage? Many experts say it's time to drop these coverages when the actual cash value you'd receive for your vehicle doesn't justify the insurance expense.
Another type of coverage that could be unneeded is rental reimbursement coverage. You can skip that if you have an extra car in the household that you can use if yours is in the shop after an auto accident or if you have easy access to public transportation.
Also, you may want to forgo personal injury protection or medical payment insurance (if your state doesn't require it). Consider taking this step if your family already has an excellent health insurance plan.
8. Buy basic car insurance cautiously
One way to get the cheapest car insurance rates is to buy bare-bones coverage but consider other options first, as this can leave you underinsured. Most states require minimal liability insurance to drive a car legally but may include a few other coverages depending on the state.
If you cause an accident, it pays only for others' property damage and medical bills up to the limits required by law.
Liability limits are usually written like this: 30/60/25. In this example, the numbers show coverage that would pay:
Medical expenses of up to $30,000 per person
Medical expenses up to $60,000 per accident
Up to $25,000 for property damage
Here are average annual rates for the cheapest car insurance coverage in every state.
It's usually not wise to go with state minimums, because you might be underinsured and unable to cover serious claims. That could leave you on the hook for paying thousands or even hundreds of thousands of dollars in damages out of your own pocket.
But if you don't drive much and are desperate to find a way to get cheaper car insurance, bare-bones coverage is better than nothing.
9. Sign up for a usage-based insurance or pay-per-mile insurance plan
People who drive less than a specified number of miles yearly, usually 7,500 to 10,000 miles, can get cheaper rates. The rate cut is applied to bodily injury liabilities, PIP, property damage liability, and collision premiums, depending on the policy.
To monitor mileage, car insurance companies often require installing a small device in your vehicle that transmits data to the company. Keep it under a certain amount, and you score discounts. Usage-based programs may also monitor driving habits like braking and speed.
Actual pay-per-mile insurance allows you to pay based on the actual miles you drive, rather than just giving a discount for driving less, and doesn't consider driving habits.
"Driving fewer miles means you have less road time, resulting in a lower risk of getting into an accident," says Janet Ruiz, director of strategic communication at the Insurance Information Institute. "Most insurers ask for yearly mileage to give a lower rate to drivers who are on the road less."
Passmore notes that many insurance companies will offer you a discount simply for signing up for this type of program, and that price breaks can grow even larger if the device shows that you display good driving behaviors.
"These programs are increasing in popularity as more people work remotely and drive less," he says.
10. Ask about group insurance or an affinity discount
Some companies offer lower rates to drivers who get insurance through a group plan from their employer or professional, business and alumni groups, and other associations or schools. Experts from the Insurance Information Institute suggest checking with your affiliated organizations to see what they offer.
Employers often offer health insurance group plans, but a lesser-known option is group car insurance. Larger companies are more apt to provide this option to their employees because the sheer number of employees allows them to secure a group rate.
Large colleges or trade schools sometimes offer the benefit of buying into group insurance to their students and alumni. Some insurance companies also offer members of certain groups a discount called an affinity discount.
There are many ways to get cheap car insurance. You can find an auto insurance policy at the right price by researching and finding the right plan for you.
Helpful Auto Insurance Articles & Guides