Pay per mile car insurance rates
Got a car that sits in the garage most days? Are you retired or do you work from home? If so, you may be considering what you can do to save money on car insurance.
Pay per mile insurance may be able to save you money on your car insurance. If you're driving less and looking for cheaper car insurance, consider learning about pay per mile car insurance options and seeing if any are available in your area.
If your decreased driving is only temporary, you may be looking for temporary car insurance, which you'll find, doesn't really exist. However, pay per mile car insurance can be a great option to save some money in this case, too.
Read on to learn the details you need to know about pay as you drive insurance options.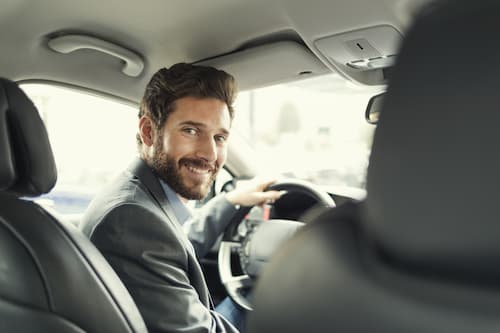 What is pay per mile car insurance?
Pay per mile auto insurance, also sometimes referred to as low-mileage car insurance or pay-as-you-go car insurance, is an insurance policy that offers full coverage — comprehensive and collision coverage — but prices your car insurance by the mile.
With pay per mile insurance, the less you drive, the less you pay. That's because insurance is priced based on risk, or the likelihood that you will file a claim that the company has to pay. And, of course, the less you're out on the road, the less likely you are to have an accident. It's as simple as that.
Many traditional auto insurers offer what's known as a low-mileage discount. But this is different. It is a deduction given at the end of the policy year for drivers who log under a set number of miles.
By contrast, pay per mile insurance is auto insurance by the mile and charges you a certain number of pennies for every mile you drive in a month, on top of a base rate. So if you really do log few miles — for example, maybe half the national average of 12,000 miles annually — you could potentially save hundreds of dollars a year on your car insurance.
Companies advertise this auto insurance based on mileage to people in cities who have good access to public transportation, and to at-home workers, retirees, college students and others who don't have a long daily commute. One company, Mile Auto, says that 65% of American drivers log fewer than 10,000 miles a year. "If that's you, you're probably paying too much for car insurance," it says.
How is pay per mile insurance different from pay as you drive insurance?
Pay As You Drive (PAYD) auto insurance is a usage-based insurance, meaning it considers how you drive, not just how far you drive.
Because things like speeding and hard braking are associated with higher accident rates, drivers who do things like maintain lower speeds and brake softly — actions tracked by a dashboard device — are charged less. Usage-based insurance programs sometimes also factor in the number of miles driven, but they are not limited to miles only, as is pay per mile insurance.
"Drivers who pose the least risk save the most," says Michelle Megna, the managing editor of Insurance.com. "Pay per mile and pay as you go programs are a way for insurance companies to seek out lower-risk drivers."
How does pay per mile insurance work?
Car insurance by the mile is only partly based on how many miles you drive.
First, the insurer creates a base rate based on standard insurance variables such as your age and your driving and claims history, the type of vehicle you drive and where you live, and, in most states, your credit history. This base rate depends on how other, similar drivers behave and can change each year.
Next, the insurer creates a rate that it will charge you per mile, which also varies by driver. Metromile, for example, says its rates start at $29 per month for the base coverage plus "a few cents for each mile you drive."
Companies track mileage either through a device that plugs into the dashboard or through a photo app you use to snap a picture of your odometer. You are then sent a monthly bill, or, as is the case with Allstate's Milewise, your bill is deducted from your account within hours of each trip.
How much money can I save with pay per mile car insurance?
According to data gathered for Insurance.com by Quadrant Information Services, a low-mileage discount cuts the rates on a full-coverage policy by an average of $35 in most states where it is available. The savings are greater in California because of that state's laws. Low-mileage plans, on the other hand, can potentially save you much more than that.
Metromile claims that the average customer driving 6,000 miles per year can realize savings of $741 annually over a traditional policy. Mile Auto says some customers can save as much as 40% off of standard auto insurance rates.
Be warned, however, that even the per-mile rates can change when your policy renews, based on factors that are tied to the broader insurance market and that are beyond your control.
At what mileage is pay per mile insurance worth it?
Mile Auto advertises that its policies may be good for qualified drivers who log fewer than 10,000 miles per year. Nationwide SmartMiles says the drivers who typically benefit are those who log fewer than 8,000 miles per year. Nationwide SmartMiles also offers up to a 10% discount for safe driving after the first renewal.
A ValuePenguin analysis found that the typical driver who chose Metromile was between 21 and 40 years old, lived in areas with access to public transit, and drove an average of 500 miles per month, or 6,000 miles per year.
Take note, too, that the occasional long trip may not ding your bill too badly. That's because some companies often stop counting for the day after a certain number of miles — 250 miles a day (except for New Jersey, where it's 150 miles a day) at Metromile and Nationwide SmartMiles, for example.
Can anyone sign up for per mile insurance?
Anyone can apply for pay per mile auto insurance if it is available in your area. Each company will use its own rating factors to determine whether you qualify for this low-cost option.
Companies that offer pay per mile car insurance
As of this writing, we found four insurance companies that are offering strictly pay per mile car insurance. The states in which each currently operates is listed below. However, check with the company you are interested in online as they all say they are working to expand their availability to additional states.
Metromile: Available in eight states: Arizona, California, Illinois, New Jersey, Oregon, Pennsylvania, Virginia, and Washington. The company is also selling its technology to other insurance companies, so check with your own insurer for a Pay Per Mile option.
Mile Auto: Available in Oregon, Illinois and Georgia.
Nationwide SmartMiles: SmartMiles is now offered in Washington, D.C., and 21 states: Arizona, Colorado, Connecticut, Iowa, Idaho, Illinois, Indiana, Maryland, Maine, New Hampshire, New Mexico, Nevada, Ohio, Oregon, Pennsylvania, Texas, Utah, Virginia, Vermont, Washington, and Wyoming.
Allstate Milewise: Available in 13 states: Arizona, Delaware, Idaho, Illinois, Indiana, Maryland, New Jersey, Ohio, Oregon, Texas, Virginia, Washington, and West Virginia.
Does pay per mile insurance offer additional, bonus coverage?
Depending on the company, additional benefits may be included or offered as an optional add-on to auto insurance based on mileage. Metromile, for example, automatically includes $1,000 of pet injury protection with its collision and comprehensive policies in all its states except Illinois and Virginia, and roadside assistance can be added.
Do I need to buy new technology to use pay per mile insurance?
You will not need to buy any special technology to use mileage based car insurance. Companies that use a dashboard device will provide you with the device, which plugs into your car's onboard diagnostics port (OBD-II). These ports became standard in automobiles in 1996, so unless your car is more than 24 years old, it should have an OBD-II port. Some of these devices can be paired with a smartphone, if you choose, to monitor things like your driving behavior or your check-engine lights.
If you use Mile Auto, the company has you use your smart phone to take a photo of your odometer each month.