Pay-per-mile car insurance rates
Got a car that sits in the garage most days? If so, pay-per-mile insurance is a good fit for you. Here we outline three ways to get a low-mileage discount that will give you cheaper car insurance: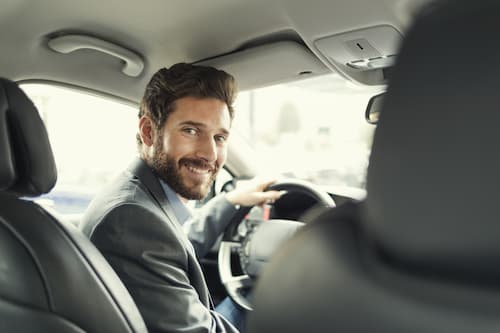 Low-mileage discount
A traditional low-mileage discount offers a break to drivers who rack up annual mileage under a certain threshold, such as 7,000 miles a year. In most states, according to data gathered for Insurance.com by Quadrant Information Services, the discount cuts the rates on a full-coverage policy by an average of 2 percent. (The savings are much bigger in California because of that state's laws.)
Companies may require periodic or annual verification of your odometer reading. Some may send you a form to fill in and may match your estimate against third-party readings taken from public sources. Others may ask an agent to verify the reading, or for you to take a photo.
Pay-as-you-drive
Pay-as-you-drive models such as Snapshot and In-Drive use a telematics device to monitor your car, offer a potentially larger discount for people who drive less and very carefully. Ultra-cautious low-mileage drivers can save 30 percent or even more, but most drivers save less than that.
Most of these pay-as-you-drive programs offer a discount of 5 to 10 percent when you enroll, then use the data gathered to calculate a discount at your next renewal period. (See "Pay-as-you-drive discounts: A guide.")
Pay-per-mile car insurance
Insurance by the mile bills you monthly based on how much you drive. Only one company currently offers pure pay-per-mile coverage, and it estimates potential savings at 40 to 50 percent for those who drive less than 5,000 miles a year.
You get the same types of car insurance under each plan; instead of cutting coverage to save money, you're limiting the amount of risk the insurance company faces when you hit the road.
MetroMile, a company that specializes in pay-per-mile policies, pitches its policies to urban residents who don't drive much, especially millennials who have vehicles but often look for alternative transportation, from taking buses and subways to ride-sharing and cycling.
CEO Dan Preston says his company's model is simple: The less you drive, the less you pay.
MetroMile follows the same general technology of Progressive's Snapshot, the best-known pay-as-you-go program. You stick a telematics device into the vehicle's onboard diagnostics (OBDII) port in the hope of getting a discount. Most cars from 1996 and later have an OBDII port.
The MetroMile Metronome device then tracks your mileage, which is used to set your rates.
Customers are charged a base monthly rate determined by individual rating factors: the driver's age and location, driving record, type of car and, in some states, credit and insurance history. At the end of the month, the driver pays the base rate plus a per-mile fee based on the miles reported through the Metronome.
The per-mile fee tops out at 150 miles a day (250 in Washington state, making allowances for the occasional long trip.
The company is currently offering policies in California, Illinois, New Jersey, Oregon, Pennsylvania, Virginia and Washington.
Esurance, an Allstate company, began offering Pay Per Mile in October 2015, offering customers the chance to track their driving -- and, with any luck, cut their monthly bills -- via a small on-board device that sends drivers' mileage data to Esurance. It is designed for those who log less than 10,000 miles a year.
Eric Madia, auto products vice president at Esurance, said the company's pay-per-mile offering is meant to appeal to consumers who have flexible commuting options and consequently put fewer miles on their cars.
As for the occasional road trip, you pay just for the first 150 miles.
"With Esurance Pay Per Mile, our customers will pay largely based on how many miles they drive, whether that's 1,000 or 10,000 miles per year," Madia said in a written statement.
As of this writing, Esurance Pay Per Mile is available only in Oregon.
How is MetroMile different from Snapshot?
Progressive, Allstate and others who offer pay-as-you-go telematics-based discounts track mileage but also use their devices to monitor how carefully you drive. Hard braking is a big factor, and so is the time of day that you drive – late nights or heavy rush-hours could ding you. A few companies look at outright speed, but only ding you if you go faster than 80.
At renewal time, you get a discount off standard rates based on the company's scoring system.
"Drivers who pose the least risk save the most," says Michelle Megna, Insurance.com managing editor. "Pay-per-mile and pay-as-you-go programs are a way for insurance companies to seek out lower-risk drivers."
For example, a 40-year-old man with a clean driving record buying full coverage for a 2014 Honda Accord in Camas, Washington, could pay as little as $907 a year for a traditional non-telematics policy, according to a Quadrant Information Services survey of major carriers. The same driver would pay MetroMile, by its own estimate, $24.18 a month for his base rate plus 3.2 cents each mile. At 12,000 miles a year, the cost would be $674; at 5,000 miles, the cost would be $450.
The cheapest traditional policy for the same Washington driver with a DUI conviction is $1,230 a year, the Quadrant survey finds. MetroMile estimates his rates at $1,056 a year for 12,000 miles and $884 for 5,000 miles.
Not first with the mile model
MetroMile isn't the first to offer car insurance tied solely to mileage. MileMeter, which was based in Dallas, is considered the first, but it closed operations in 2012, citing overwhelming competition from the major insurers and not enough funding to continue. Chris Gay, the entrepreneur behind MileMeter, stressed at the time that the per-mile model was sound and should eventually find a place in the insurance landscape, despite challenges by bigger companies.
That inroad may be the smartphone.
Metronome, which is GPS-equipped, also communicates with a MetroMile app you install in a smartphone. The app reads your car's diagnostic information and can relay your miles per gallon, how much the gas costs, how long you were driving and other weekly statistics. Preston adds that, over time, the app can track common routes and tell users which paths may be less congested, which saves the driver gas money.
The app can also alert customers if street-sweeping is scheduled in their neighborhood. The company says it has sent more than 18,000 of these alerts so far to motorists in San Francisco and Chicago.