Why you should trust Insurance.com
Insurance.com is dedicated to informing, educating, and empowering you to make confident insurance decisions. Our content is carefully reviewed by insurance experts, and we rely on a data-driven approach to create unbiased, accurate insurance recommendations. Insurance.com maintains editorial integrity through strict independence from insurance companies.
No-fault auto insurance is mandated in some states, optional in others and not available in the rest. This type of auto insurance refers to any policy in which the driver's own insurer covers:
Medical bills
Lost income
Other injury-related costs
No-fault car insurance benefits are paid regardless of who is at fault in an injury accident. No-fault insurance laws restrict drivers' rights to sue for non-economic damages (for example, pain and suffering) when another driver is at fault.
The two types of no-fault insurance are personal injury protection (PIP) and medical payments (MedPay.)
If you're injured and have no-fault insurance, you don't need to file a claim with the at-fault driver's insurer for your injuries, only for the damage to your car. Your own company takes care of your injury-related expenses.
A common misconception about no-fault insurance is that neither driver is responsible for the accident. Fault will still be determined, but your insurer will pay your medical bills regardless of fault.
Key takeaways
No-fault auto insurance is a policy in which the driver's insurer covers medical bills, lost income, and other injury-related costs.
Personal injury protection and medical payments coverage are both no-fault insurance coverage options.
No-fault insurance laws vary by state - some states require no-fault coverage while others make it optional, and others do not offer it. Michigan has its own special rules for no-fault insurance.
What is no-fault car insurance and which states have it?
What does it mean to be a no-fault insurance state? There are three approaches that states use to incorporate no-fault auto insurance:
True no-fault states. No-fault states require you to purchase no-fault insurance. This is also called Personal Injury Protection (PIP) insurance. True no-fault states also restrict your ability to sue an at-fault driver.
Optional or "choice" no-fault states. Drivers in optional no-fault states can go with the no-fault system or opt out and choose a traditional tort-liability policy. If you've opted in, you abide by the same rules as drivers in true no-fault states, meaning your ability to sue another driver is limited. At the same time, other drivers can't sue you for minor collisions either.
Traditional liability with PIP states. Some states allow you to add no-fault (PIP) coverage to your traditional liability coverage. In these states, your insurer covers your injury damages regardless of fault, but there are no restrictions concerning lawsuits.
No-fault insurance in Michigan: A special case
According to Michigan's Department of Insurance and Financial Services, the state requires drivers to purchase no-fault auto insurance that includes the following:
PIP. This is intended to cover all your medical costs. It pays up to 85% of your lost income for up to three years (up to $5,398 per month) and can pay your family a death benefit in the event you die. PIP benefits include up to $20 per day to purchase household service providers that you must hire due to injury.
Property protection. Your no-fault auto insurance must pay up to $1 million for damage your car causes to property owned by others.
Residual liability. Insured people are protected from being sued except in special situations.
States that aren't no-fault are called "tort" states. In a tort state, at-fault drivers in a crash are responsible for paying the other driver's medical expenses. The at-fault driver must also pay for additional damages, such as loss of wages and "pain and suffering." This is usually paid out of your liability, personal injury or medical payments coverage, depending on state requirements.
An overview of coverage, lawsuit restrictions and average premiums is available below.
State
Coverage
Lawsuit
Avg annual Premium
Arkansas
Not required but must reject in writing.
None
$674
Delaware

$15k per person
$30k per accident
$5k funeral

None
$1102
Florida
$10k per person
Significant permanent injury
$1,144
Hawaii
$10k per person
Significant permanent injury
$739
Kansas

$4.5k per person medical
$4.5k rehab
$2k funeral
$900 per month income
$25 per day for household

Significant permanent injury
$669
Kentucky
$10k per person
$1,000 medical expenses or serious injury
$773
Massachusetts
$8k per person
$2,000 or permanent serious injury
$1,008
Maryland
$2.5k per accident
None
$979
Michigan

Unlimited medical expenses
Up to $5,189/month lost income
$20/day household

Death or serious permanent injury
$1,131
Minnesota

$20k medical
$20k loss of income

$4,000 medical expenses
60+ days disability or serious permanent injury

$745
North Dakota
$30k per person
$2,500 medical expenses or serious injury / 60+ days disability
$605
New Hampshire

$15k per person
$30k per accident
$5k funeral

None
$733
New Jersey

$15k per person
$250k severe / permanent injury
$2k funeral
80% lost income up to $2k per month
$25 / day household

Significant permanent injury
$1,254
New York

$50k per person
$2k funeral
80% lost income to $2k/month
$25 per day household

Serious injury
bone fracture
90+ days disability

$1,182
Oregon
$15k per person
None
$783
Pennsylvania
$5k per accident
Significant permanent injury
$841
South Dakota
No minimum
None
$581
Texas
Not required but must reject in writing.
None
$895
Utah

$3k per person
$1.5k funeral
$3k death benefit
$250 / week lost income
$20 / day household

$3,000 medical expenses or permanent serious disability or disfigurement
$734
Virginia
No minimum
None
$719
Washington
Not required but must reject in writing.
None
$838
Washington D.C.

$25k per person
$50k per accident

Drivers have 60 days to decide to take no-fault benefits or sue the at-fault driver.
$1,187
Wisconsin
Not required but must reject in writing.
None
$621
Why do some states use no-fault car insurance?
No-fault insurance is designed to reduce lawsuits, expedite injury claims, and keep car insurance rates low.
In true no-fault states, a lawsuit against the at-fault party can take place only for accidents in which the medical expenses reach a certain threshold or the injuries meet the state's legal definition of "serious." No-fault insurance systems were implemented in an attempt to achieve the following:
Quicker payment of claims
Victim's reimbursement not split with lawyers
Lower insurance rates
Fewer lawsuits to defend and reduced legal costs to insurers
No subsidizing uninsured motorists
No-fault systems have often failed to contain costs and even resulted in higher costs for several reasons:
Fraudulent medical claims
Litigation did not decrease -- instead of suing at-fault drivers, many accident victims switched to suing their own insurers for denied or insufficient reimbursement
High coverage limits led to exorbitant payouts
Bad drivers were not punished sufficiently to change behavior
Today, only a dozen states and Puerto Rico have no-fault laws. Other states modified their laws or returned to traditional tort liability systems.
How does no-fault auto insurance work?
No-fault insurance only kicks in when you're injured in an auto accident. You don't need to contact the other driver's insurer, file witness statements and police reports or wait for the other company's decision to pay (or worse, NOT pay).
The no-fault process works like this: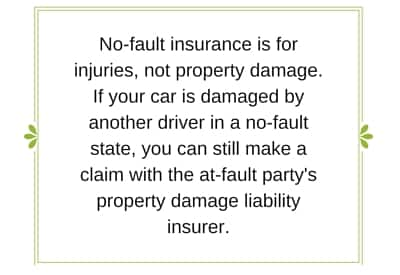 You are injured in a car accident.
Regardless of who is at fault, you file a claim with your insurer for expenses related to your injuries.
Your insurer reviews your claim and researches the accidents' circumstances.
Benefits to which you're entitled are paid by your insurer.
You may not sue the at-fault party and he/she may not sue you, unless criteria are met for "serious" damages.
It's important to note that no-fault is for injuries, not property damage. If your car is damaged by another driver in a no-fault state, you can still make a claim with the at-fault party's property damage liability insurer.
What does no-fault insurance cover?
Your policy benefits generally cover:
Medical bills
Lost wages
Funeral expenses in the event of a fatality
Other expenses that result from the accident
To be compensated for property damage, such as repairs to your car and other property, you must file a traditional liability or collision claim and the insurers will investigate and determine who was at fault and who owes whom. If you're not at fault, the other driver's liability policy should cover your damages; if you caused the accident, your own collision coverage should pay. (Note: collision insurance may not be required if you own your car outright; if you want this coverage, you have to purchase it as an option.)
No-fault restrictions on lawsuits
No-fault laws make it harder to sue for non-economic damages, such as pain and suffering for seemingly minor injuries. If you get whiplash, for example, you're unlikely to meet the threshold for a lawsuit -- soft tissue damage isn't considered a serious injury.
Some states specify the types of injuries that allow you to step outside the no-fault system and file a lawsuit; these are called "verbal" states because the allowed injuries are described in words. Other states set their thresholds at certain levels of medical costs ("monetary" states) or length of disability.
Paying medical costs in a no-fault state
Some states require that you use your PIP benefits to pay medical costs first, then have your health insurer pick up the rest. Other states require you to use your medical insurance first, then use PIP to cover deductibles and non-medical expenses.
In some states, the funds are paid directly to medical providers, while in others, the check goes directly to you.
Will your insurance rates go up if an accident wasn't your fault?
In a no-fault car accident, the term "no-fault" doesn't mean that an insurer cares who's responsible for causing an accident. It just means that injury benefits are paid by each party's insurer without regard to who is at fault. However, both insurers investigate and assign blame.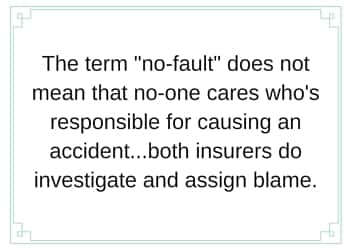 If the investigation determines that you didn't cause the accident, your rate is unlikely to increase. Michigan, for instance, rates drivers by the number of tickets and at-fault accidents on their records.
In some states, even if you're at least partially to blame for an accident, your rates may not increase, if you have not filed any claims during the past few years.
Advantages of no-fault car insurance
One of the biggest advantages of no-fault car insurance is that there's no need to fight with a second insurance company to get medical bills paid. This reduces claim processing times, which can be dragged out when the insurance companies are waiting on, or arguing, fault before deciding which will pay.
No-fault insurance is also meant to discourage lawsuits, which in turn should discourage insurance fraud. However, this has not always been the case in practice. While no-fault insurance does discourage drivers from suing each other, it doesn't always prevent insurance fraud, which is common in some states, with drivers often exaggerating injuries to collect personal injury protection benefits.
Saving on no-fault auto insurance
It's vital to understand that just because your state government mandates no-fault insurance coverage, and regulates what insurers charge, it doesn't mean there's no competition for business among auto insurers.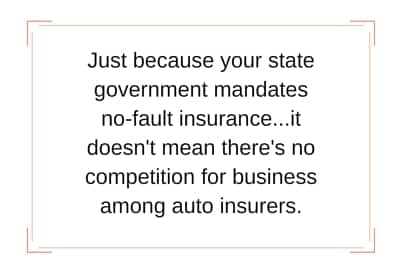 It's your responsibility to compare insurance quotes from several companies when choosing insurance coverage. In addition, mandated coverage may not be enough to meet your needs.
If you have assets to protect, you may need liability insurance coverage that goes beyond your standard policy, provided by an umbrella policy. If you own your car free and clear, and it's not a pile of junk, consider collision coverage to get it repaired if you're the at-fault party.
"No-fault" doesn't mean "no responsibility." Drive carefully.
Helpful Auto Insurance Articles & Guides