Why you should trust Insurance.com
Insurance.com is dedicated to informing, educating, and empowering you to make confident insurance decisions. Our content is carefully reviewed by insurance experts, and we rely on a data-driven approach to create unbiased, accurate insurance recommendations. Insurance.com maintains editorial integrity through strict independence from insurance companies.
From a sun setting behind desert mountains on Arizona's license plate to the majestic Rocky Mountain background on Colorado's, this country has some pretty cool license plates. But which plates do drivers think are the best overall?
In the spring, we surveyed 1,000 drivers from all 50 states and the District of Columbia on which license plates caught their attention while driving down America's highways and byways.
The plates for Arizona, California and Alabama were rated the best in the nation.
We also asked what it was about the license plate that made it so appealing, such as having a great slogan, imagery that captures the state's spirit, a great color scheme and readability.
Many respondents picked their own states' plates, with the top picks all appealing to the pride drivers had in their states, or by capturing a particular feeling, such as the California vibe.
Here are the states with the 10 best license plates.
No. 1: Arizona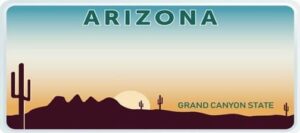 When people think of Arizona, they naturally imagine a beautiful desert landscape. It's no wonder that when people see an Arizona license plate, they are instantly reminded of the scenery that causes motorists and snowbirds to flock to the state every year.
The plate features four iconic Saguaro cacti silhouetted against a golden sunset, with the tagline "Grand Canyon State" emblazoned across the bottom in clean, bold lettering. A teal color palette along the top of the plate is reminiscent of the state gem – turquoise. (Fun fact – the City of Sedona would only approve a McDonald's opening in the tourist town if it changed its iconic Golden Arches symbol to teal.) More than 60% of survey respondents who picked the plate said they liked its color scheme.
The Arizona plate was chosen first overall by drivers in our survey – they were attracted to the imagery and felt it perfectly captured the state's spirit.
No. 2: California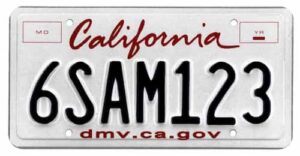 While the standard state license plate doesn't have imagery of a beach or surfboard to pique the imagination, the state's name in stylized lettering against a white background definitely portrays California cool.
"Perhaps the best way to describe the standard California license plate is simple and elegant," says Steve Gordon, director of California's Department of Motor Vehicles. A little more than half the respondents who picked the state's plate said it's "bold and strong."
And, Gordon adds, "The color contrast is great and it is easy to read."
Gordon says not everyone may appreciate the simplicity of the plate, so California also offers an array of specialty plates that drivers can choose from, representing the state's scenery, cultural icons and multiple social causes.
For example, a plate featuring a whale tail splashing out of the water is sponsored by the California Coastal Commission. It helps provide funds to protect and restore California's coastal regions. Another featuring a classic image of Yosemite National Park generates funds for the Yosemite Conservancy to manage wildlife, restore habitat and repair trails.
No. 3: Alabama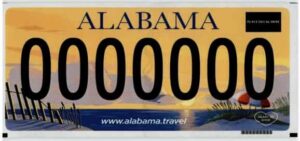 Coming in at No. 3 in our survey is Alabama, which draws on fond memories of lazy days spent at the beach soaking up sun and sand.
The standard plate features a golden sunset reflecting the ocean horizon, casting a warm glow over a sandy beach with a sun umbrella in the foreground. While somewhat difficult to see while whizzing by, the bottom right of the plate contains a heart symbol with the lettering "Heart of Dixie," a well-known tagline in Alabama. Sixty-five-percent of the respondents who picked Alabama said they liked the slogan on the plate.
"Illustrating a typical evening view of Alabama's coast, our state's awe-inspiring beauty is well reflected on the plate," Alabama Governor Kay Ivey says. "It speaks to the pride we have when calling Alabama home, and I always look forward to seeing it showcased by drivers on road trips both near and far."
And if the image of a welcoming beach gives you cause to visit the state, the bottom of the plate also provides the URL for Alabama Travel, a website of the state's tourism department.
No. 4: Arkansas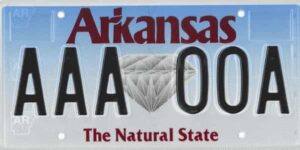 Did you know that the state of Arkansas is the nation's largest producer of diamonds? Well, neither do a lot of people unless they're drivers in Arkansas.
The state's license plate is set against a shimmering diamond, reminding drivers (and those who never knew) that Arkansas is home to the nation's largest diamond-producing region. In fact, at the world-famous Crater of Diamonds State Park, visitors have been unearthing the gemstones since the first one was discovered by local farmer John Huddleston in 1906.
The largest diamond ever discovered in the U.S. was unearthed there in 1924 and the so-dubbed Uncle Sam stone is now on display at the Smithsonian. To this day, tourists at the park are still uncovering precious finds and it's one of the few diamond-producing sites in the world where the public can search for diamonds and keep any treasures they find. People who picked the plate-like its color scheme and its clean, simple design.
No. 5: Connecticut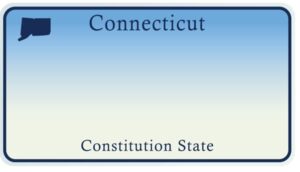 Connecticut features one of the more straightforward approaches to license plate design, utilizing a simple blue background with an outline of the state's shape in the top left and "Constitution State" written along the bottom.
Drivers in our survey seemed to like the simple, clean approach and rated it No. 5 among the top license plates.
Of course, if you like something with a little more pizzazz, the state offers a variety of specialty and vanity plates in various themes that can be ordered at an additional cost. Drivers can choose from animal themes, individual cities, environmental causes, military and special-interest groups. A popular option is a plate emblazoned with the University of Connecticut's Huskies logo.
No. 6: Colorado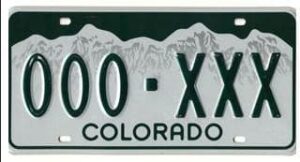 When you spot a Colorado license plate, your mind calls up images of majestic mountains, endless ski runs and towering pines. You might even spontaneously sing John Denver's "Rocky Mountain High."
"Our Colorado license plate is a simple design, but represents our love of the outdoors by highlighting our iconic feature – the great Rocky Mountains," says Electra Bustle, senior director of the Colorado DMV.
In fact, the mountains soar over the numbers and lettering on the plate just in case you didn't realize how big they are.
Bustle says Colorado is home to some of the best skiing, biking, camping and riding in the nation and the plate is meant to remind residents – and potential visitors – of that fact.
"We believe this plate reminds us of what Colorado has to offer those who work, play and live here," she adds.
The state also offers a range of specialty and vanity plates, including one commemorating the iconic drive up Pikes Peak.
No. 7: Hawaii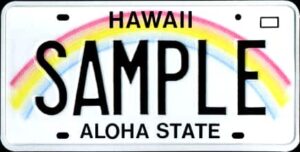 To many, Hawaii is the paradise state, a place of perfect weather, sunshine and rainbows. The state's license plate tries to capture that sense of natural bliss, featuring a multi-hued rainbow cascading across the plate.
Not surprisingly, more than 60% of the survey respondents who voted for Hawaii like it's great color scheme.
The rainbow has been featured on Hawaii's plate since 1991 but may soon be swapped out as a redesign is in the works.
Before 1991, the state plate featured an image of King Kamehameha, the conqueror and first ruler of the Kingdom of Hawaii.
No. 8: Alaska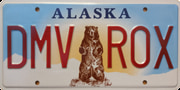 Alaska has several plates, but respondents voted the standard plate with blue letters against a gold background No. 8.
But with scenery as varied and magnificent as Alaska's, the state has many themes it could use on its license plate. It's not surprising then, that the state offers drivers other plates to choose from.
One is an image of a great grizzly bear rising on its hind feet against a sun setting behind a range of mountains (pictured). The plate was reintroduced a few years ago.
"I would say that the bear plate was special enough that it was brought back to life in its new form after being dormant for many years," says Jeffrey Schmitz, director of the state's DMV.
Whichever is your favorite, drivers love the way the state's plates capture both the spirit and history of Alaska as well as its unique beauty.
No. 9: Florida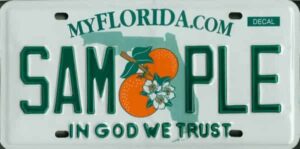 It may be an ode to good marketing, but when you take a sip of cold refreshing orange juice, you can't help but think, "Ahhh, the taste of sunshine."
And just in case you might have forgotten the familiar "Sunshine State" slogan, Florida license plates will give you a quick reminder.
The plates feature a tree branch, with two plump oranges and orange blossoms against an outline of the state map.
More than half the respondents who liked Florida's plate said its imagery captures the state's spirits.
Indeed, the image and the fundamental tenet it conveys are clear to understand and seem to hit home with drivers.
The image and the fundamental tenet it conveys are clear to understand and seem to hit home with drivers.
No. 10: Texas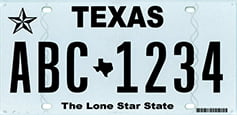 With a state as big and varied as Texas there are a lot of potential themes for a license plate, but, hey, you don't want to mess with Texas.
The standard plate features a basic design, with a star in the top left corner, the state name in bold lettering up top, and the motto "The Lone Star State" along the bottom.
More than 57% of the people who picked the Texas plate picked it because it's bold and strong.
"The popularity of the Texas plate is enhanced by its classic look with black letters over a white background, and the inclusion of the iconic symbols of the state," says Annette Quintero, director of vehicle titles and registration for the Texas Department of Motor Vehicles.
Of course, if Texans prefer something with a little more color, they can also choose from several specialty license plates, including those emblazoned with the logos of their favorite teams or alma maters.
The top 25 license plates in the U.S.
Rounding out the top 25 best plates are:
11. Idaho
12. New York
13. Minnesota
14. Utah
15. Illinois
16. New Mexico
17. Washington
18. Delaware
19. Georgia
20. North Dakota
21. North Carolina
22. Kansas
23. Maryland
24. Maine
25. Nevada
A quick history of license plates
No driving story would be complete without a quick summary of how we got here and where we're headed.
License plates were first introduced in 1901 in the state of New York, with a new law that mandated every automobile or motorcycle must bear identification letters placed on the back of the vehicle in a conspicuous place, according to historian Kevin Marvin.
Back then there weren't any restrictions on what it should look like other than the letters be at least 3 inches in height. As a result, some drivers used metal house letters on leather or wood while others simply painted the letters on their vehicles.
As the number of cars and drivers increased, the painted-on system began to fail for an obvious reason – too many people with the same initials. So, in 1903 New York amended the law requiring each vehicle to display a state-issued number. That same year Massachusetts became the first to issue state-provided printed plates (New Yorkers could still get away with painting their own until 1910).
From that very simple beginning evolved the myriad versions of license plates we now see nationwide.
States introduce digital license plates
The next phase in the license plate evolution appears to be using electronic or digital license plates, similar to those now available in California. A digital license plate, essentially a plate-sized electronic display screen, is mounted where your current plate goes. In addition to displaying the same set of letters and numbers, the plates also emit a radio signal for tracking and digital monitoring.
When so configured, the display can communicate with the vehicle's on-board computer and if tampered with, the on-board computer can shut the vehicle down.
Riviver, which makes the digital plates, says they can also be used to track your vehicle, provide an alert any time it moves and can be easily customized to display a personal motto or company name.
In California, drivers can add one of the hundreds of currently approved banner messages, or they may request a custom message. All custom requests must be approved to be sure they meet the DMV's guidelines.
In addition to California, Arizona and Michigan now offer digital plates. Other states, such as Florida, are considering them.
Resources & Methodology
Methodology
Insurance.com commissioned OnePoll, a market research and polling company, to survey 1,000 drivers nationwide for their opinions on which states have the best license plates. Drivers were shown pictures of standard-issued plates from all 50 states and Washington, D.C. and asked to choose their favorites.
Helpful Auto Insurance Articles & Guides