Why you should trust Insurance.com
Insurance.com is dedicated to informing, educating, and empowering you to make confident insurance decisions. Our content is carefully reviewed by insurance experts, and we rely on a data-driven approach to create unbiased, accurate insurance recommendations. Insurance.com maintains editorial integrity through strict independence from insurance companies.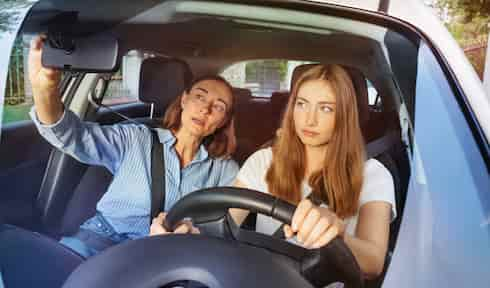 Teen car insurance is expensive because teen drivers have more accidents. It doesn't surprise anyone to find out that adding a teen driver will increase your car insurance rates.
How much does car insurance cost for a teen driver? For a 16-year-old driver, the average rate for full coverage is $7,203. The average cost of car insurance for a 17-year-old is $5,924 a year. 
On average, Geico has the cheapest teen car insurance rates at $3,653 a year.
So how can you get cheap car insurance for teens? While teen driver insurance rates are high, there are some things you can do to reduce the impact. Below, we'll look at discounts, coverage options and special circumstances to find the best car insurance for teens.
Key takeaways
At 16 years old, the average car insurance rate is $7,203 a year; on average, a parent will see an increase of $2,102 a year when adding a teenager.
There are car insurance discounts for teens available, including for good students and driver education.
Geico has the cheapest car insurance rates for teens and young drivers at an average of $3,653 a year.
How much is car insurance for teens?
Unfortunately, teen car insurance is expensive. The younger the driver, the more expensive the car insurance. Young drivers are far more likely to get into car accidents than older drivers. Does the age of the teen driver matter for car insurance? The risk is highest with 16-year-olds, who have a crash rate two times higher than 18- and 19-year-olds. The average car insurance rates for teenagers reflect that risk:
When do car insurance rates for teens go down? As you can see, rates drop significantly by age 20.
Cheapest car insurance for teens
Rates depend not only on age but also on the company you choose. This table shows the annual car insurance rates for teen drivers gathered from an Insurance.com analysis.
Car insurance rates for teens

| Company | Female | Male | Average |
| --- | --- | --- | --- |
| Geico | $3,450 | $3,885 | $3,653 |
| Farmers | $8,618 | $9,371 | $8,995 |
| State Farm | $3,480 | $4,175 | $3,828 |
| Progressive | $6,541 | $7,190 | $6,866 |
| Mercury | $8,064 | $9,639 | $8,852 |
| AAA | $7,333 | $9,002 | $8,168 |
| Average | $6,248 | $7,205 | $6,727 |

Best insurance company for teen drivers
Adding a teenager to your car insurance policy is the cheapest way to get your teen insured. It still comes at a hefty cost, but you can save by shopping around for the best car insurance companies for teens in your area.
To find the best car insurance companies for teens, we compared companies based on their average annual rates for adding a teen driver, AM Best financial stability rating and the average discount percentage available to teen drivers. Here are the top ten; these companies may not be available in all states.
Of the nationwide companies, Travelers is the best car insurance company for teen drivers, followed by Geico.
| Company | Average annual premium | Averge annual discount % | AM Best rating | Insurance.com score (out of 100) | Star rating (out of 5) |
| --- | --- | --- | --- | --- | --- |
| New Jersey Manufacturers | $3,883 | 4% | A+ | 91 | 4.5 |
| Travelers | $4,634 | 6% | A++ | 91 | 4.5 |
| Geico | $3,855 | 7% | A++ | 89 | 4.5 |
| The Hartford | $5,905 | 4% | A+ | 89 | 4.5 |
| National General Insurance | $5,225 | 5% | A+ | 88 | 4.5 |
| Island Insurance | $1,668 | 6% | A | 87 | 4.5 |
| North Carolina Farm Bureau | $2,483 | 6% | A | 87 | 4.5 |
| Auto-Owners | $4,113 | 8% | A++ | 86 | 4.5 |
| Erie Insurance | $3,664 | 7% | A+ | 85 | 4.5 |
| Arbella Insurance | $6,147 | 5% | A | 83 | 4 |
| | | | | | |
| USAA* | $3,888 | 5% | A++ | 94 | 4.5 |
*USAA is only available to military members, veterans and their families. As such, it's included but not ranked.
How much does it cost to add a teenager to your car insurance?
Costs vary by insurance company, so we suggest shopping around for teen driver insurance. You could save a lot when you switch car insurance companies.
The table shows the average cost of car insurance some insurers charge when adding a teenager to an existing car insurance policy, based on 2022 data.
Average cost to add a teenager to car insurance

| Company | Adding teen female | Adding teen male | Parents' rate |
| --- | --- | --- | --- |
| Allstate | $3,878 | $4,195 | $2,310 |
| Geico | $2,473 | $2,622 | $1,264 |
| Farmers Group | $5,457 | $5,790 | $2,679 |
| Nationwide | $2,372 | $2,510 | $1,538 |
| Progressive | $3,722 | $3,992 | $1,913 |
| State Farm | $2,893 | $3,200 | $1,671 |
How to add a teen driver to your car insurance policy
If you're choosing a new car insurance company, you should have already added the teen to the policy when first signing up. If you want to add a teen to your current policy, follow these steps:
Call your car insurance company and let them know your teen is now licensed.
Talk through the changes to your policy in detail and ask about every discount. These can add up to considerable savings.
Have ready your teen's driver's license information and information about any new vehicles.
Confirm with the insurance company and print new ID cards if needed.
If my teen gets a ticket, will it raise my rates?
Yes. If any driver on your policy gets a ticket, it affects your rates, including a teen driver. Depending on the ticket, that increase can be from 5% to 20%, sometimes more.
Can a teenager get their own car insurance policy?
Maybe. State laws vary, but minors can't legally sign contracts (and an insurance policy is a contract). That means a parent may have to co-sign -- and it's rarely cheaper. In fact, your teen will likely have a higher premium than adding a teen to a parent or guardian policy.
However, there are cases where it might make sense for a teen to have their own policy, and you should explore all of your options.
Car insurance is different for a first-time car insurance buyer, but it's a great time to start a relationship with an insurance provider.
How to save on teenage car insurance
Teen auto insurance rates aren't set in stone. Here are a few easy ways to bring them down.
Raise your deductible. An easy way to lower car insurance premiums is to raise your deductible. However, weigh against the fact that young drivers are more likely to get into accidents. When you get into an at-fault accident, you have to pay the deductible amount. Increasing your deductible from $500 to $1,000 will reduce your annual premium by approximately $400. You can also drop comprehensive and collision coverage if the car isn't financed and is not worth much. Use our auto insurance coverage calculator to figure out how much coverage you need.
Choose the right car. A car with a high safety rating will be cheaper to insure. Use Insurance.com's list of car models to find the cheapest cars to insure. This mostly concerns the car's cost, how easy it is to repair and claim records.
Delay getting a license. This isn't really a popular option for an eager teen driver, but it's worth considering. An older teen driver is significantly cheaper to insure if you compare the average rates for a 16-year-old and a 19-year-old. However, the insurer still charges higher rates for the first few years a driver is licensed.
Another way to minimize your insurance premium is to check into all of the discounts available.
Discounts for teen drivers
Below, we've listed the best discounts for teen drivers to get affordable car insurance. Most car insurance companies won't reach out to you with discounts, so you must be proactive and ask.
Good student discount. Good grades tell insurance companies you have a responsible kid. The required grade is usually a "B" average (3.0 grade point average) or higher. Typically, the student must be under the age of 25. This discount averages 16%.
Defensive driving discount. You can take extra driver education or a defensive driving course. This means going above and beyond the minimum state-mandated driver's education and training. In most states, teen drivers can save around 5% on their premiums by taking a state-approved driver improvement class. Online classes are a convenient option, but check with your carrier first to make sure it will lead to a discount.
Student away from home discount. Most car insurance companies offer a student away from home discount for students who are away at college. This discount averages 18%.
Good driver discount. Keep a clean record to get lower rates. This may not be available to newly licensed teens.
Low-mileage discounts. Pay-as-you-drive or pay-per-mile insurance can also reduce rates. Most car insurance companies offer discounts if you allow a telematics device to be placed in your vehicle so they can monitor your driving habits. This is considered "pay-as-you-drive." This can provide a discount of around 6%. With pay-per-mile, you'll pay for the distance you drive, rather than driving patterns. Both discounts are great for teens or families that don't drive very often.
Look for unrelated discounts. Review discounts unrelated to teens like a multiple vehicle discount and a home and auto bundle discount for additional savings.
Car insurance for college students
College students can also find ways to reduce rates. If the student plans to leave a car at home and the college is more than 100 miles away, the college student could qualify for a "resident student" discount or a student "away" discount, as mentioned above.
College students will also qualify for the above-mentioned good student discount, with the same grade requirements.
Learner's permit insurance
You should notify your insurance company as soon as a driver in your household gets a permit.
You won't see a rate increase for a driver with a permit; that happens when the driver is fully licensed. When that time comes, visit the rest of this article for guidance on options and discounts. Also, it may be wise to contact your insurance provider for all options.
Excluding a teen driver from your insurance
It's possible to tell your insurance company not to cover your teen, but it's not a given. This is called a named exclusion, and it means your teen can't drive your car at all, ever.
By endorsing your policy, you and your insurance company mutually agree that the driver isn't covered, which means neither is any accident the driver causes. Not all companies allow this, and not all states do either.
Things to consider before choosing a car insurance company for your teen
Rates aren't everything, although, with a teen driver, they are a big part of the decision. However, you don't want to choose a policy with a sketchy insurance company, especially if the rates seem too good to be true. Make sure you research any insurance company you're considering signing up with. Read reviews and check AM Best financial ratings. Having a company that will be there when you need to file a claim is just as important as saving money (maybe more important).
In nearly every case, you are better off adding your teen to your insurance policy, but that doesn't mean you shouldn't shop around. Now is the time to compare rates for all of your family's insurance needs.
Frequently asked questions about car insurance for teens
Do you have to add a teenage driver to your insurance?
Yes, you'll have to add your teenager to your car insurance policy if they live with you and drive your car. Some states will require you to add your teen driver as an additional insured person when they get their learner's permit.
What is the cheapest way to get car insurance for a teenager?
The cheapest way to get car insurance for a teenager is by adding them to your own insurance policy. It is not advised to buy a teen their own insurance because it can be very expensive. Insurance companies charge teens more for auto coverage than adults because drivers under 25 have a higher chance of causing accidents.
Should I add my 16-year-old to car insurance?
Most states require you to add your 16-year-old teen to your car insurance as soon as they get their license. It is mandatory in some states, and many insurance companies also require it. Even if it is not mandatory, it's always a good idea to ensure you're covered by car insurance.
How do you get car insurance for a teenager?
Contact your current car insurance company, and ensure you have the teen's driver's license number on hand. You can usually add a driver online easily.
How much does it cost to add a 17-year-old to car insurance?
The average car insurance cost for a 17-year-old for full coverage is $5,924 a year. Your auto insurance rate will depend on where you live, the coverage level you choose, and the make and model of your car, among other factors.
Methodology
Data was provided in 2022 for Insurance.com by Quadrant Information Services. Rates are based on a 2021 Honda Accord for a full-coverage policy (100/300/50 with a $500 deductible).
Helpful Auto Insurance Articles & Guides