Why you should trust Insurance.com
Insurance.com is dedicated to informing, educating, and empowering you to make confident insurance decisions. Our content is carefully reviewed by insurance experts, and we rely on a data-driven approach to create unbiased, accurate insurance recommendations. Insurance.com maintains editorial integrity through strict independence from insurance companies.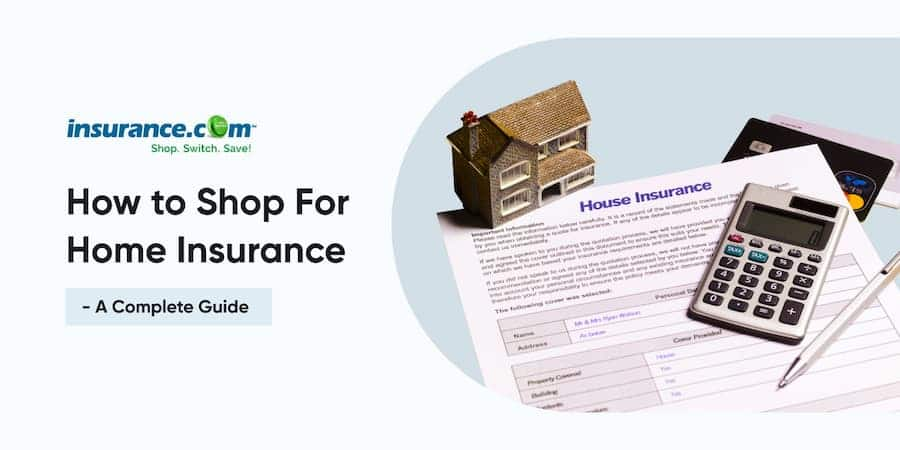 Shopping for home insurance requires knowing what coverage you need, understanding your options, and researching so you can find the best coverage for the lowest rates. The average U.S. homeowners premium is $2,777 a year for $300,000 dwelling and $300,000 liability with a $1,000 deductible. But your rates will depend on several things, some that are unique to you.
The good news is you can do most or all of your home insurance shopping online. Let's walk through buying homeowners insurance, from selecting coverage to comparing quotes to signing your policy.
What does homeowners insurance cover?
First, it's important to understand the basics of what home insurance covers so that when you're shopping, you'll know what kind of coverages and coverage limits to look for.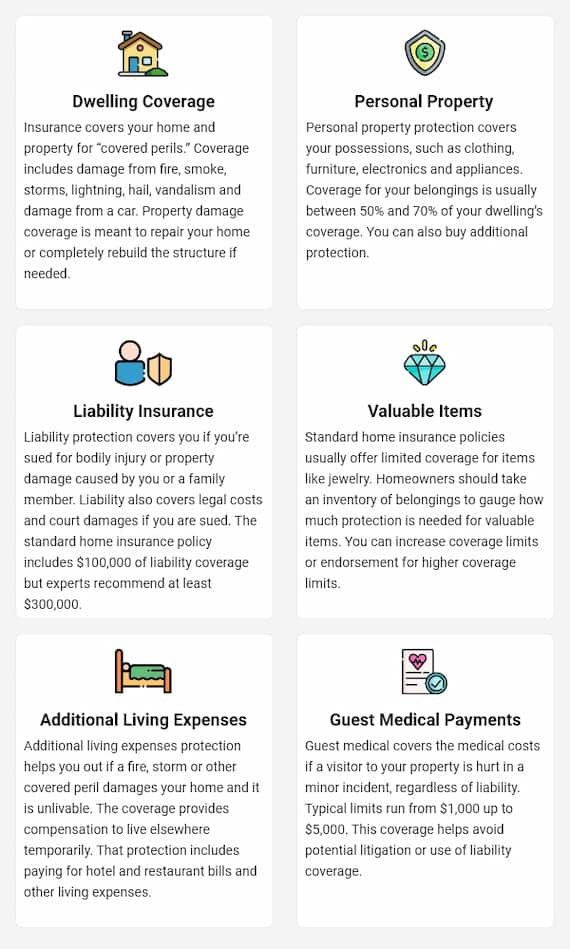 Homeowners insurance policies are divided into four parts:
Dwelling
Personal belongings
Liability
Here's what's usually covered under a standard homeowner's insurance policy:
Homeowners coverage
Coverage overview
Typical home insurance amount
Exclusions and notes
Dwelling coverage
Includes repairing damage to your home or rebuilding it when a covered event (fire, theft, vandalism, windstorms, frozen pipes, or accidental damage) occurs.
Limits will be based on the cost to rebuild your home. For example, if estimated to cost $298,000 than of $300,000 coverage would be recommended.

Damage caused by sewer backups, flood, earthquakes, termites, pets or other animals.
Mold, mildew, dry and wet rot (unless the damage was caused by a covered event like a burst frozen water pipe).
War, nuclear accidents and explosions.

Other structures
Covers outbuildings, such as detached garages, tool sheds or gazebos.
Outbuilding coverage is generally limited to 10% of the amount of insurance you have on the main residence (your dwelling limits).
This is listed separately with limits of 10% of dwelling limits. However, the cost for this coverage is part of the dwelling portion of the premium.
Landscaping
Helps pay to replace plants, shrubs and trees against certain events, such as theft, fire, lightning, explosions, vandalism and damage caused by someone else's car.
Usually limited to 5% of your dwelling coverage limit and secondary limits can be in place such as up to $500 per item. If you have expensive landscaping, you may want to up your limits
Plants aren't generally covered for wind damage or disease. If a tree falls during a storm this coverage may help for a replacement, however, it may not pay for removal. For removal after a storm, you may need to buy additional coverage.
Personal property
Covers the contents of your home, including furnishings, recreational equipment, clothing and appliances is insured if stolen or destroyed by a covered event.
Most standard policies limit personal property reimbursement to between 50 and 70% of your dwelling coverage amount.
There are limits for certain items such as collectibles & jewelry. For these items you can add on coverage with a named limit. Some policies provide up to $500 of coverage for unauthorized use of your credit cards.
Off premise coverage
Your property is also covered when off your premises, such as in a storage unit or in your car.
Off-premises coverage may be limited to 10% of your total personal property insurance.
Off premise coverage will typically cover items in your rental car if stolen. Also, normally coverage extends to children in college and their belongings in their dorm or off-campus housing.
Liability
This pays for your legal defense and any court awards, in the event that you, your pets or other household members cause damage to others. This coverage tends to go wherever you do; it's not just for accidents on your property but will cover negligence that happens off property.
You choose your limit. Liability coverage amounts usually start at about $100,000 but $300,000 or more is recommended.
It does not cover negligence while you are driving your car. For that you have your car insurance's liability coverage.
Guest medical
This no-fault medical coverage can cover someone who is injured in your home.
Standard limit amounts range from $1,000 to $5,000 under the medical payments (guest medical) portion of your policy.
Only covers guests to your home, not members of your household for injuries. Normally is regardless of fault but read your policy to make certain what you policy says.
Additional living expenses (ALE)/Loss of use
Pays the additional costs of living elsewhere if your home becomes unlivable because of a fire, storm or other insured event. ALE reimburses you for hotel bills, restaurant meals and other costs that exceed your ordinary living expenses until your home has been rebuilt or repaired.
Many policies include ALE up to 20% of your dwelling coverage limit amount.
There are normally limits on how long the coverage will last, such as 12 months. You need to keep your receipts for documentation, or you may not receive payment. If a home becomes unlivable due to neglect, ALE benefits may be denied.
This coverage doesn't extend to:
Damage caused by sewer backups, flood, earthquakes, termites, pets or other animals.
Mold, mildew, dry and wet rot (unless the damage was caused by a covered event like a burst frozen water pipe).
War, nuclear accidents and explosions.
Homeowners insurance covers your property, but insurers also expect you to perform regular maintenance on the property.
"Many homeowners find themselves in a tough situation because they don't realize that homeowners insurance does not cover damage associated with lack of routine maintenance," says Clair Jones, home insurance and safety specialist with SafeWise.com. "Policyholders should be sure to do everything they can to keep their property safe, like testing smoke alarms and sensors, inspecting pipes regularly and checking roofing for leaks or sagging."
You may also want additional types of coverage that aren't part of a standard homeowners insurance policy.
Here are some other common types of coverage.
Flood insurance
Flood insurance covers water damage from outside of the home and makes contact with the ground, such as flash flooding. Homeowners insurance usually doesn't cover that damage. You can buy flood insurance through the National Flood Insurance Program or private companies that work with the NFIP. Flood insurance isn't just for people in flood zones. One-quarter of flood insurance claims come from outside of a high-risk flood zone. Maximum coverage for your structure is $250,000, and maximum coverage for your home's contents is $100,000.
Earthquake insurance
Homeowners in areas prone to earthquakes may want to get earthquake insurance. Standard homeowners insurance usually excludes earthquakes. Earthquake policies have higher deductibles than regular home insurance, but they often cost less than $100 annually, depending on your home's risk.
Umbrella insurance
Umbrella insurance provides extra liability insurance. Homeowners insurance policies often limit liability coverage to $500,000. If your home and assets exceed that amount, you'll want to look into umbrella coverage. Umbrella insurance can provide expanded liability coverage of up to $5 million.
How much homeowners insurance do you need?
You'll want to have enough insurance so you can get your home repaired or replaced if it's damaged.
Mortgage lenders require replacement cost coverage based on the calculated amount to rebuild your home from the ground up. Make sure you have an accurate calculation for that amount; this is the main part of your policy and you don't want to be uninsured.
How do you make sure you have enough home insurance coverage? Consider the following:
Enough dwelling coverage to match your home's full replacement cost. Replacement cost is not market value. Instead, it's how much you would need to build your current home and doesn't take into account land value. You can figure out how to calculate home replacement cost by looking at building materials used for your home, using online calculators or you can hire an appraiser to do it for you. Discuss your replacement cost estimate with your insurance agent or insurer and confirm that you have coverage limits appropriate for your situation.
$300,000 in liability.
Personal property coverage is typically 50% to 70% of your dwelling coverage amount. Standard-issue homeowners insurance policies don't cover all types of property. They may restrict payments for specific losses. For example, stolen jewelry reimbursement may be limited to $1,500 regardless of the item's replacement cost. To avoid taking an unexpected loss on your more valuable or unusual items, consider "scheduling" them and adding special coverage.
$5,000 in medical payments.
"One of the biggest misconceptions about homeowners insurance we find in our office is that people think they should insure their house for market value, i.e., what they would get if they sold it. The amount of insurance that should be purchased is what it will take to rebuild a home after a total loss," says Kent Unruh of Unruh Insurance Agency, Inc., in Denver, PA.
Where to buy homeowners insurance
Nearly every major insurer in the U.S. offers homeowners insurance. Review our annual Best Home Insurance Companies to get some ideas of where to start.
If the companies you're reviewing are part of the Best Home Insurance Companies study mentioned above, you're in luck because we've done the research for you.
Suppose the companies you're interested in are not included in the above study. In that case, we recommend checking industry ratings like the A.M. Best Financial Strength Rating and J.D. Power's Customer Satisfaction Index Ranking. These two ratings tell you whether or not an insurance company has the financial strength to pay out necessary claims and how satisfied overall customers are with them.
We also recommend asking for referrals from family and friends.
What are the best companies for homeowners insurance?
Based on a 2023 analysis of rates, third-party ratings and insurance customer survey results, these are the best home insurance companies in the U.S.:
State Farm
Auto-Owners
Travelers
Allstate
Erie
Progressive
Nationwide
American Family
Farmers
Of course, the best insurance company for your needs depends on personal factors, so take the time to do your research before you buy.
How to shop for home insurance
Shopping for homeowners insurance is one of the most important things you can do as a homeowner.
Most major insurers offer a variety of quoting options. Whether you're looking to get home insurance quotes online or want to speak to an agent, you should be prepared to provide some basic information like your name, date of birth and address. But there is other information you may want to prepare in advance. Here are some things you should have ready:
Your home's square footage
Your Social Security Number. Why? Insurance companies need your SSN to make inquiries, like credit history, that help them to assess your risk.
Estimated value of home contents or personal belongings. We recommend making an inventory list of contents and personal belongings and keeping that inventory updated.
Condition of the home
Breed of any dogs living in the home or on the property
Once you have provided this information and selected the coverages and coverage limits you're seeking, you will receive quotes.
Make sure you have requested the same coverages and coverage limits with each potential provider, so when comparing quotes, you're comparing apples to apples.
Once you've made your decision on which company and which insurance policy you want, all you have to do is let the insurance agent know and they'll send over a policy for your signature.
How much does homeowners insurance cost?
What is a reasonable price for homeowners insurance?
The average U.S. homeowners premium is $2,777 per year for $300,000 dwelling and $300,000 liability with a $1,000 deductible, according to an analysis of rates from major insurance companies for nearly every ZIP code in the country.
However, your claims history and where you live can lead to higher or lower premiums.
The chart below shows the average annual homeowners insurance cost for a policy with $300,000 dwelling with a $1,000 deductible and $300,00 liability.
To dig a bit deeper into what your rates might look like, check out our home insurance calculator.
Factors that affect homeowners insurance rates
Your home's value and insurance claim history influence your homeowner's insurance rate, but many other factors affect home insurance rates, too. Here are some of those factors:
Credit score
Claims filed by the previous homeowner
Number and type of pets
Garage size
Attractive nuisances (i.e., pools, trampolines)
Home business
Your location
Home insurance discounts
Home insurance discounts can decrease your rates. Here are homeowners insurance discounts worth pursuing:
New construction. Newly-built homes save homeowners an average of more than 35%. That's the biggest home insurance discount.
Bundling your home and auto policies. Homeowners save an average of 19% off their rates by bundling policies with the same company.
Construction type. Homes built with fire-resistive materials can save you 12% on average, and masonry leads to a 6% discount on average.
Loyalty. Staying with the same insurer saves an average of 6%.
Roof upgrade. Roofs play a vital role in protecting a home and preventing claims. Home insurance companies give a nearly 5% discount on average for homes with new roofs.
Those are the five biggest discounts, but other smaller ones can add up, including paying in full, burglar alarms, plumbing upgrades and fire suppression systems. Make sure to ask insurers about which discounts they offer when you're shopping around.
Frequently asked questions about buying homeowners insurance
How should I handle buying homeowners insurance for the first time?
Buying home insurance for the first time is no different than any other time as far as what steps to follow. It may feel a bit more stressful since you've never done it before, and it's also paired with your first time buying a home and, most likely, getting a mortgage. So, take a deep breath and go through the steps we've listed here. If you have questions during the process, reach out to an insurance agent.
Remember that you will need to have your homeowner's insurance policy ready before your mortgage closes, so don't put it off.
Can I buy homeowners insurance online?
Yes. Many major insurers offer options to both quote and purchase a policy online.
Is it hard to get homeowners insurance?
With modern technology and a wide variety of insurance company options, we don't think it has ever been easier to get homeowners insurance. By following the steps we've covered, getting your insurance policy should be an easy and stress-free experience.
Who pays for the first-year coverage of homeowners insurance?
The homeowner is always responsible for the cost of homeowners insurance. Even if you negotiate in your home buying agreement that the seller must pay for the first year of home insurance, it will still be up to the homeowner to purchase the policy.
What is the difference between actual cash value and replacement cost?
Actual cash value (ACV) takes replacement cost at today's prices and deducts depreciation. For example, if your roof has a 20-year lifespan and you make a claim on year 18, an actual cash value policy will deduct 18 years' worth of depreciation, which means you will be left paying for the majority of the replacement.
Replacement cost is the cost to replace the home or belongings at today's prices. In the same roof example, a replacement cost policy would pay for a new roof, at today's prices, after you've paid your deductible.
Make sure to get a replacement cost value, extended replacement cost or guaranteed replacement cost homeowners insurance policy.
How can I lower my homeowner's insurance rate?
Speak with your insurance agent about lowering your home insurance rate. Look for discounts you may qualify for that you aren't getting. Ask about home and auto bundling. Make sure you don't have higher coverage limits than are necessary. Consider a higher deductible which will result in a lower premium, but if you increase the deductible make sure you have that money in savings if you have to file a claim. Don't neglect your credit score but instead, work to improve it. Good credit history results in lower insurance rates. Finally, shop around before every renewal to make sure you're getting the best deal.
See How Much You Can Save
See How Much You Can Save