If a disaster wrecks your house, you don't have to couch-surf until the repairs are finished. Most standard home insurance policies include coverage for additional living expenses (ALE), or loss of use. This coverage pays for extra costs to live while your house is uninhabitable. Those expenses can include rent, hotel stays, restaurant meals, storage fees and more.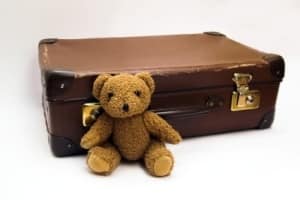 The coverage is a lifesaver, but it can be tricky -- and the rules are often misunderstood.
This is especially true in the case of flooding. Standard home insurance doesn't cover flood damage and would not provide additional living expenses coverage if your home were uninhabitable just because of a flood.
For that matter, flood insurance policies through the National Flood Insurance Program don't include additional living expenses either, although there are some privately sold flood policies that do. FEMA can help impacted homeowners and renters with alternative living expenses if the president issues a major disaster declaration and homes are uninhabitable.
However, after a major disaster like a hurricane, your home might be uninhabitable because of other damage besides flooding, such as wind. Say, for instance, a tree blew over and crushed the roof. If your policy covered wind damage, home insurance additional living expenses coverage would come into play.
What if you can't live in your home because of a mandatory evacuation? Additional living expenses would kick in only if the cause of the evacuation were covered under your policy, says Diane Swerling, a principal at Boston-based Swerling Milton Winnick Public Insurance Adjusters Inc, which helps consumers through the home insurance claim process.
Because of the many nuances and differences between policies, it's important to understand your coverage.
"Sometimes I do more work on the additional living expenses claims than the personal belongings and building claims," Swerling says.
Here are five tips for understanding how additional living expense coverage works:
1. Know the limits of your homeowners insurance policy.
Generally, home insurance caps additional living expenses to a portion of the dwelling coverage, typically 20%, Swerling says, and sets a time limit, such as 12 months. So if your home is insured for $200,000, you have up to $40,000 to spend on additional living expenses. Once the 12th month ends, though, the money disappears.
In California, home insurers must give policyholders at least 24 months to spend additional living expenses coverage. United Policyholders, a consumer advocacy group in San Francisco, is trying to persuade other states to adopt a similar rule, says Amy Bach, executive director of United Policyholders. (The group offers tips and information for consumers about additional living expenses coverage on its website.)
In working with disaster survivors across the country, Bach says, "over and over we see the majority of people need over a year," she says.
Understand your policy's limits from the outset, and do a monthly budget.
"You really have to sit down and do a projection for how long it will take to get back in your home, and know what your limits are on ALE (additional living expenses)," Bach says.
Better yet, check your policy before disaster strikes and increase coverage for additional living expenses if it's skimpy.
2. Look for comparable digs.
ALE coverage pays for temporary housing costs while your home is getting fixed. Staying in a hotel gets old when you're not vacationing, so understandably you'll want to get settled quickly.
But don't rush the decision, Swerling says. You're entitled to stay in a place that's comparable in size and quality to your house. Too often, she says, "people don't think long enough down the line -- they may be out of their house for 12 months."
A two-bedroom, 1,200-square-foot home when your family is used to a four-bedroom, 2,000-square-foot house will wear thin and compound the considerable stress you're already under.
"You're entitled to maintain your standard of living," Bach says. "Find a place that's going to be comfortable for your family and measurably convenient."
Insurers often work with companies that help customers find temporary housing. But sometimes those outfits are based out of state and don't know the neighborhoods. Swerling suggests homeowners work with a local real estate agent to find a rental home and get approval from the insurer before signing the lease.
3. Count all your extra expenses.
Hotel stays and rent are obvious ones, but don't overlook other costs, including:
Restaurant meals, until you have a place with a kitchen.
Storage fees if you have to store some of your stuff while your home is rebuilt.
Mileage, if you have to drive farther to work or to the kids' schools.
Pet boarding, if your pets have to stay in a kennel while you're in a hotel.
Laundry, if you had a washer and dryer and now have to use coin-operated machines.
Utilities, if they are more expensive in your temporary home than at your permanent house.
4. Remember, the key word for this coverage is "additional."
Don't expect additional living expenses coverage to pay your mortgage or for the kids' music lessons. The coverage pays only for expenses you wouldn't have, had disaster not struck.
In fact, any money you save from living in a temporary place is deducted from the reimbursement. Don't be surprised, for instance, if the insurer deducts the amount you would normally have spent on groceries from the reimbursement amount for restaurant meals while you're at the hotel. Or if you pay less for utilities at your rental home than you paid at your own house, then that savings will be subtracted from the amount you're reimbursed for additional living expenses.
5. Keep your receipts and document your discussions.
Insurance companies generally reimburse for expenses as they are incurred, rather than paying a lump sum. You can't collect $40,000 in additional living expenses and then go live rent-free at your sister's house.
Keep meticulous records of every expenditure, and save all your receipts. Get a waterproof, zippered pouch to keep them together.
"Without receipts, you don't get payment," Bach says.
What if you need an advance for expenses?
"Many insurers will give payment advances, but it's patchy," Bach says. "You need to ask for it, and if the adjuster says no, you need to push a little more and go up the chain."
Finally, from the first time you call your insurance company to verify your ALE coverage you should document your discussions. Grab a notebook or put your notes in your cellphone, but jot down who you talked to, the date, the time and details your discussed. Documentation can be critical to having a smooth claim process.