Why you should trust Insurance.com
Insurance.com is dedicated to informing, educating, and empowering you to make confident insurance decisions. Our content is carefully reviewed by insurance experts, and we rely on a data-driven approach to create unbiased, accurate insurance recommendations. Insurance.com maintains editorial integrity through strict independence from insurance companies.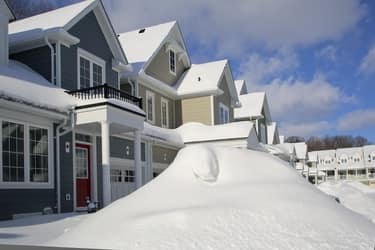 Winter storms can do a lot of damage; although they are rarely seen as having the same level of danger as a hurricane or tornado, a blizzard or ice storm can result in big insurance claims. To avoid claims, it's important to know what's covered.
The Insurance Information Institute reported that a record $15 billion in damage was done due to winter storms in 2021, largely due to the extreme weather in Texas. In December of 2022 the third-costliest winter storm on record swept across the nation, causing $3.5 billion in insured losses over the course of a few days.
Home insurance covers winter storm damage. That includes many different things that can happen to your home due to freezing, the weight of snow and ice, and even slips and falls on icy sidewalks. 
Read on to find out what's covered by home insurance after a winter storm and how to avoid a claim.
Key takeaways
Water damage from freezing pipes is usually covered by home insurance; make sure you monitor pipes.
Home insurance covers damage from the weight of snow or ice, as well as wind damage,
Space heater fires are common in the winter and very dangerous; use heaters with caution.
Winter weather damage: What does homeowners insurance cover?
To help you get prepared for the upcoming winter, we outline some of the most common winter-related home damage, explain how to avoid them and whether your home insurance policy might cover them.
"(Covered items) can include damage to the roof, siding, and structural elements of the home, as well as damage to personal property, such as furniture and appliances. However, it's important to note that coverage and exclusions can vary depending on the specific policy and the insurance company," Andrew Lokenauth, adjunct professor at the University of San Francisco, says
Are frozen pipes covered by home insurance?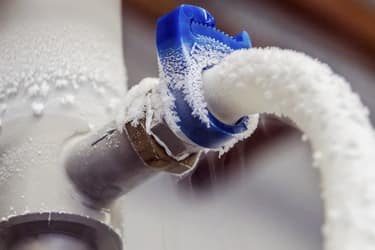 Water damage from freezing pipes is the most significant source of home damage," says Tim Shaw, president of Tim Shaw Insurance in Fort Myers, Florida. "Not fire, not hurricane, but water loss because of a broken pipe."
The reason that freezing pipes are such a significant issue is that broken pipe repair is only the tip of the iceberg, so to speak. A pipe that freezes and bursts can lead to substantial water damage and mold. Water damage and freezing is the second most common home insurance claim.
This kind of loss is generally covered by your homeowners insurance dwelling coverage. However, because this may be a preventable problem, you could be on the hook for the repairs if your insurer concludes that your maintenance failure caused the damage. You could also be denied coverage if you were away from home for an extended period and not monitoring the state of your pipes.
Take these steps now to reduce your frozen pipe risk:
Drain and disconnect hoses
Drain sprinkler supply lines
Insulate pipes located in unheated spaces like basements, crawl spaces, attics and garages.
Apply pipe sleeves or heat tape to the most vulnerable pipes.
Keep the home warm. If you leave town, set the thermostat to 65 degrees F or higher.
Leave garage doors closed.
When it's very cold, let cold water drip from the faucet.
It's a good idea to learn where your water shut off valve is located so you can minimize damage if your pipes freeze, despite your best efforts
Is hail damage covered by home insurance?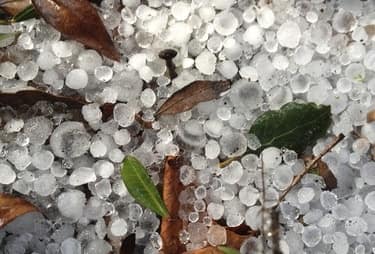 Hail happens, even in the winter, and when it does, roof and siding damage can be expensive. In a 2021 analysis, State Farm Insurance reported paying more than $3.1 billion in hail damage claims for automobiles and homes during the previous year.
Wind and hail damage claims are the most common home insurance losses. While you can't prevent hailstorms, you can prepare for them.
Inspect your roof every fall and repair or replace loose or missing shingles. If hail is a frequent concern, consider installing hail-resistant asphalt shingles with a Class Four rating from the Underwriter's Laboratories.
Understand your homeowners insurance coverage and any hail and wind exclusion that may apply. After a hail storm, inspect your roof for damage, and (if necessary) file your claims promptly. In many cases, homeowners don't notice hail damage until their roof starts leaking months after a storm. At that point, it may be too late to file a claim with a home insurance company.
Is wind damage covered by home insurance?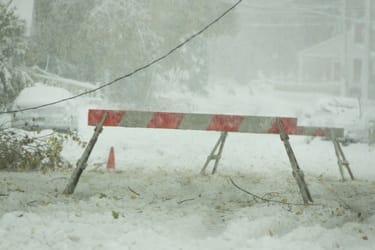 Wind damage is generally covered under a standard homeowners insurance policy's dwelling coverage unless there is a hail and wind exclusion. If you live in an area prone to windstorms, check your policy or ask your insurer if you are covered.
The best preparation for winter windstorms includes:
Remove anything outside that isn't nailed down, such as children's play items, garden ornaments, outdoor furniture or shade umbrellas.
Inspect your home's exterior for anything loose, such as gutters and shutters.
Trim the trees around your house before branches fly when the wind kicks up.
Keep an electric saw on hand and learn how to use it safely. Ensure that you can remove a fallen tree that blocks access to your driveway after a big wind storm.
Are snow and ice covered by home insurance?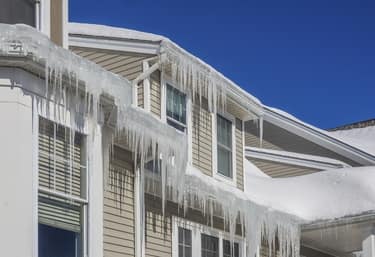 Heavy snow accumulations and ice can damage gutters, roofs, decks and downed trees.
Standard homeowners insurance policies cover damage caused by snow and ice.
However, if ice forms on your gutters and prevents runoff from draining properly, it can cause water to build up and seep into your home. Damages resulting from water seeping into your home may not be covered, depending on whether the insurer deems you responsible for failing to maintain your home properly.
To prevent ice dams, minimize snow melt on your roof.
That means:
Insulate adequately so your home's heat doesn't escape through the ceiling.
Seal any gaps that let warm air leak from the house into the attic.
Make sure your attic is ventilated so that cold air from outside can enter that space. You don't want it too warm up there because that can cause snow on the roof to melt, and when it contacts the cold eaves, it may refreeze, forming a dam.
Heavy ice or snow may also cause trees or tree limbs to fall on your home. This damage is usually covered under the dwelling portion of your home insurance policy. However, if the insurer discovers the tree was dead and should have previously been removed, they may determine you were negligent and deny the claim.
Are fires covered by home insurance?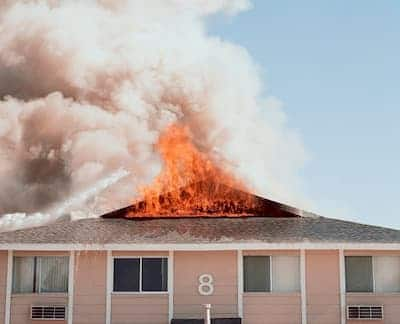 During frigid weather, it is common for homeowners to use space heaters or fireplaces to warm up. But that warmth doesn't come without risk.
The National Fire Protection Association (NFPA) reports that between 2014 and 2018, space heaters caused 44% of fires in the U.S.. Fireplaces and chimneys were responsible for another 29%, and central heat accounted for 12% of fires. Local fire departments responded to an estimated 1.4 million fires in 2020, and more than one-third of those occurred in or on structures.
If your home is damaged by accidental fire, your home insurance policy should have you covered.
To prevent heater and fireplace fires, here are some tips:
Follow the manufacturer's instructions for use of the heating equipment.
Keep any heating device at least 36 inches from anything that can catch fire.
Have a professional clean and inspect your chimney prior to the start of each heating season.
Do not leave heaters unattended or with unsupervised children.
Are slips and falls at my home covered by home insurance?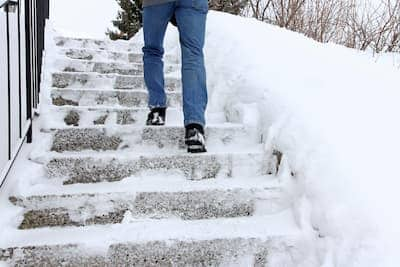 If you've ever slipped on an icy sidewalk, you know how painful the landing can be. If you're lucky, you bounce right back up and walk away but not everyone is so fortunate.
If someone visiting your home is injured in a fall, a standard home insurance policy covers their medical expenses up to specified limits, under the medical payments portion of the policy. These coverage limits typically are set between $1,000 and $5,000.
If your visitor's expenses exceed your medical payment coverage, it could leave you exposed in the event of a lawsuit. Should your visitor sue you for their injury, your homeowners insurance policy is likely to cover you, typically up to $100,000, under the personal liability portion of your policy. Experts recommend increasing the standard liability coverage to at least $300,000.
Be sure to keep your sidewalks, patios, porches and outdoor steps clear of snow and ice during the winter.
Avoid a winter storm claim: Protect your home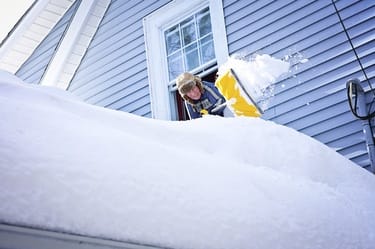 Don't let winter weather catch you off guard and uncovered.
Compare home insurance policies and take steps now to protect your home.
Even though the hazards described above are usually covered by insurance, filing a homeowners claim should not be your go-to answer for all winter weather problems. Be sure you have a basic understanding of homeowners insurance and think carefully before filing a claim.
A single claim could cause your insurance rates to increase, depending on the claim's type and size. Filing two or more claims within a short timeframe can result in even higher premium increases or policy non-renewal. Still, some winter hazards can pose a real danger to you and your family and it may be safest to use insurance funds to have items professionally repaired.
Preventing winter homeowners insurance claims before they occur is likely to be your lowest-cost option but having adequate homeowners insurance coverage can save you from financial crisis.
"To prevent potential damage from winter storms, you can take a few preemptive actions, such as clearing gutters and downspouts of leaves and debris, removing dead or dying trees and branches, insulating pipes to prevent freezing (and) securing loose outdoor items, such as patio furniture and grills," Lokenauth says.
Sources:
Insurance Information Institute. "Facts + Statistics: Winter Storms." Accessed July 2023.
See How Much You Can Save
See How Much You Can Save
Helpful Home Insurance Articles & Guides