Why you should trust Insurance.com
Insurance.com is dedicated to informing, educating, and empowering you to make confident insurance decisions. Our content is carefully reviewed by insurance experts, and we rely on a data-driven approach to create unbiased, accurate insurance recommendations. Insurance.com maintains editorial integrity through strict independence from insurance companies.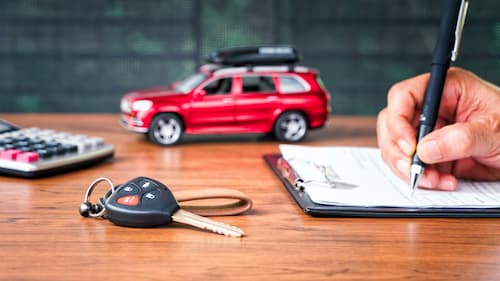 Auto insurance covers hail damage, but only if you have comprehensive coverage on your policy.
If you have a state minimum car insurance policy, your coverage is liability-only. That means it will pay out only for damage you cause to others.
Comprehensive and collision, part of what is known as a full coverage policy, aren't required by law, but provide coverage for almost anything that damages your car.
What kind of car insurance covers hail damage?
Car insurance covers hail damage to your car as long as you have the right coverage. To pay for damage to your vehicle, you need to buy physical damage coverage. The two types of physical damage coverage are collision and comprehensive.
Collision covers only applies in a collision, as the name implies.
Comprehensive is also known as "other than collision" coverage because it covers most types of damage that aren't related to a collision. That includes damage caused by severe weather, like hail damage.
How much does comprehensive insurance cost?
If you don't have comprehensive on your vehicle, you can compare car insurance quotes to see how much it will cost to add it.
Comprehensive and collision are rarely sold separately, and the average cost of a full coverage policy with both is $1,682 a year or $140 a month.
Comprehensive coverage has a deductible, which is the amount you will pay out of pocket when you file a claim. The higher your deductible, the lower your rates will be. Just make sure you can afford to pay that deductible.
How much is the average hail damage auto claim?
The average hail damage auto claim in 2020 was more than $4,300, according to State Farm 2020 hail claims data.
How does hail damage insurance work?
You must have comprehensive insurance to file a hail damage claim. After you file a car insurance claim for hail damage, an insurance adjuster will assess the extent of the damage and determine if your insurance company will pay to repair the damage or if your car is totaled.
If your car is repairable, you will have to pay the deductible amount and then insurance will pay for the rest of the repair. If your car is totaled, your insurer will pay out to you the car's actual cash value, minus your deductible.
Will insurance cover my windshield damaged by hail?
Yes. Insurance covers hail damage to your windshield.
In some cases, your insurance company may waive the deductible on the glass damage portion of your comprehensive insurance if it's a glass-only claim. It's common for insurers to waive the deductible if the windshield is being repaired instead of replaced. And, depending on the state, you may have the option to buy full glass coverage separately from your comprehensive, which would pay to fix hail damaged windshields.
Will a hail damage claim raise my auto insurance rates?
As a general rule, a claim for hail damage won't raise your insurance rates. That's because insurers see this type of damage as out of your control; there's nothing you could have done to prevent it.
However, if you have a lot of claims already on your policy, you may see a rate increase from a comprehensive claim.
Helpful Auto Insurance Articles & Guides