Why you can trust Insurance.com
Insurance.com is dedicated to informing, educating, and empowering you to make confident insurance decisions. Our content is carefully reviewed by insurance experts, and we rely on a data-driven approach to create unbiased, accurate insurance recommendations. Insurance.com maintains editorial integrity through strict independence from insurance companies.
Does car insurance cover hail damage?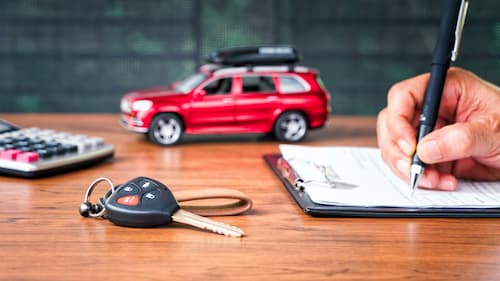 Yes, your auto insurance will cover the cost of repairs or the total loss of your car due to hail damage or other severe weather, but only if you had comprehensive coverage on your vehicle before the damage.
A bare-bones car insurance policy will contain only liability coverage. That coverage gives you no protection for your vehicle. Instead, liability coverage pays out to those that you harm in an accident; it doesn't cover your injuries or your vehicle in any way.
To have your vehicle protected by your car insurance policy, you need to buy physical damage coverage. The two types of physical damage coverage are collision and comprehensive.
Collision covers your car when you hit, or are struck by, another car or object, regardless of whether you're at fault. It also covers single-car crashes, such as rolling your vehicle down an embankment.
Comprehensive is also known as "other than collision" coverage. It covers events that aren't covered by your collision coverage, including fire, theft vandalism, striking an animal, and damages from severe weather or natural disasters, such as hail, windstorm, hurricane or tornado.
If you have comprehensive coverage and need to make a claim for damage your vehicle sustained in severe weather, you'll pay the deductible amount. Comprehensive claims are typically regarded as not-at-fault incidents. They're not as likely to affect your future car insurance rates as collision claims.
How much does comprehensive insurance cost?
If you don't have comprehensive on your vehicle, you can compare car insurance quotes to see how much it will cost to add it on. According to a rate analysis by Insurance.com, the average cost of just state minimum coverage, enough to drive legally but not enough to pay for damage to your car or for major accidents, is $574.
You'll pay about $1,180 more a year (about $100 a month) to boost protection to full coverage, which includes the following, and costs $1,758, on average:
Medical costs of $100,000 per person, up to $300,000 per accident for those you injure
$100,000 to pay for others' property damage
Comprehensive and collision
Comprehensive and collision are rarely sold separately, but the average cost for just comprehensive coverage is $192 a year, according to the Insurance Information Institute.
Just be sure to do buy this additional coverage before a severe weather alert goes out (such as a hurricane watch or warning) or insurers may put in place temporary restrictions that keep you from adding physical damage coverages, lowering deductibles or increasing limits on existing policies or purchasing a new policy.
Worst states for hail damage claims
The most insurance claims for hail damage are filed in April, followed by May and June, as spring weather moves through the Midwest and South Central U.S., according to the National Insurance Crime Bureau.
These are the states where hail damage claims -- for both home and auto -- were most frequent, in 2020, according to State Farm:
Total Hail Claims Paid
Texas $474.6M
Illinois $394.2M
Minnesota $259.2M
Missouri $236.9M
Colorado $207.9M
How much is the average hail damage auto claim?
The average hail damage auto claim in 2020 was more than $4,300, according to State Farm 2020 hail claims data.
How does hail damage insurance work?
You must have comprehensive insurance to file a hail damage claim. After you file a car insurance claim for hail damage, an insurance adjuster will assess the extent of the damage and determine if your insurance company will pay to repair the damage or if your car is totaled. If your car is getting fixed, you will have to pay the deductible on your comprehensive, or the amount you owe before insurance pays out. If your car is totaled, your insurer will pay out to you the car's actual cash value, which you could use to help buy a replacement vehicle.
Will insurance cover my windshield damaged by hail?
In some cases, your insurance company may waive the deductible on the glass damage portion of your comprehensive insurance. It's common for insurers to waive the deductible if the windshield is being repaired instead of replaced. And, depending on the state, you may have the option to buy full glass coverage separately from your comprehensive, which would pay to fix hail damaged windshields.
Will a hail damage claim raise my auto insurance rates?
Light hail damage might not be enough even to meet your deductible, while heavy hail damage, though mostly cosmetic, can total even a brand-new car.
You should file a claim if your car sustains severe damage that's enough to exceed your deductible by a significant amount. The good news is that the damage won't necessarily raise your rates.
"Generally, comprehensive claims won't trigger a rate hike," says Penny Gusner, Insurance.com senior consumer analyst.
That's because insurers typically deem severe weather events and other perils covered by comprehensive to be beyond your control.
"Keep in mind that even if your rates can't be raised due to a hail claim, the number of claims placed against your policy can affect your rates," says Gusner. "If you have recently filed other claims for an accident, the total amount of claims made could cause you to be seen as a higher risk, and thus you'll pay more."