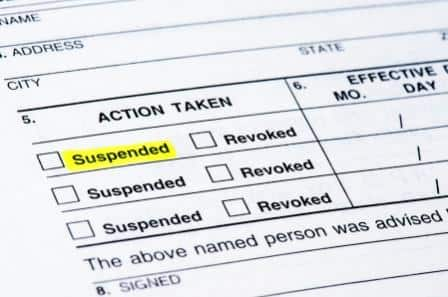 About three out of every four suspended drivers continue to drive.
It may be that some of the stigma is gone, given how easy it is to lose your license these days for things that have nothing to do with driving. (See "How good drivers lose their licenses.")
Nevertheless, it is not a statistic you want to join. Not only are the penalties for driving with a suspended license severe -- think an even longer suspension, higher insurance rates and jail - - but even without getting behind the wheel, a license suspension can cost lots of money.
You're officially a high-risk driver and you'll need high risk auto insurance.
The smartest thing to do is to get your driver's license back as quickly as possible. Here's what you can expect.
You will have to jump through hoops
About 7 percent of drivers have suspended or revoked licenses at any given time, according to a 2005 analysis of 31 states and the District of Columbia. A small minority of those are the result of serious moving violations, such as driving while intoxicated or reckless driving.
If your suspension falls into that category, then you'll have to follow the state's mandated requirements. Usually this means attending classes and paying fines. In some states after even a first-time DUI you may have to serve time in jail or perform community service.
You'll also have to wait a prescribed period of time, typically anywhere from three months to a year, before applying for reinstatement. In most states, you will need to ask your insurance company to file an SR-22 certificate for you. An SR-22 is a car insurance company's guarantee to the state that you are carrying the legally mandated coverage.
Other suspensions, such as those for minor traffic offenses or non-driving offenses like nonpayment of child support, may not require an SR-22 filing. But you must still meet the state's conditions, whether it is simply not driving for a year or making good on court judgment against you, to get your license back.
You can't ignore the requirements if you can't pay
"People just don't know what the consequences are if they do nothing," says Molly Gena, a lawyer for the Center for Driver's License Recovery and Employability in Wisconsin.
Unfortunately, that's what many people do. They can't pay, so don't go to court. Then either quit driving, and lose jobs, or drive on a suspended license.
Most areas have some kind of legal services organizations, nonprofits that can help people at a low cost or for free. At court, lawyers such as Gena can:
Get the original suspension lifted
Have a payment plan arranged
Get a judge to order community service instead
Find payment assistance.
"Every state is definitely different, but I would say that if you can, try to go to court to see if you can work something out," Gena says. "And if not, to consult a lawyer, or legal services."
You cannot drive without taking a huge risk
A conviction for driving while your license is revoked can turn a minor problem into a major one.
"Even if the original suspension was for something like a missed court date, you've turned it into a traffic offense," says Des Toups, managing editor of Insurance.com. "Before it might have been a 60-day suspension that was over before your next insurance renewal. Now it's something that may last a year and require an SR-22 filing to get your license back."
If you're not saddled with multiple convictions you may be eligible for a restricted or a conditional license. Offered in 39 states and the District of Columbia, according to the American Association of Motor Vehicle Administrators (AAMVA), these provide limited road privileges to drive to work, school or doctor's appointments.
You will be a high-risk driver
When your license is suspended, you are likely to lose your auto insurance coverage, at the next renewal period if not before, because insurance companies can't calculate rates without a valid driver's license and record.
That's OK if the car's parked and unregistered, and not so fine if the car is registered or you're still making payments on it. (See "Car insurance with a suspended license.")
But once it's time to hit the road, you'll be one of those drivers with a gap on your record. Insurers equate this with high-risk behavior and will reward you with higher rates for six months or longer.
"So let's say you got a suspension for something minor, you take off the plates, then you have a year off of having insurance," says Penny Gusner, consumer analyst with Insure.com. "You're going to get a double whammy: You'll lose your good driver discount, and you'll have a gap in insurance."
Car insurance rates for drivers with violations on their records vary hugely from company to company. Toups says the differences can be thousands of dollars, pointing to data gathered by Insurance.com looking at rates from six companies before and after a DUI.
In Hot Springs, Arkansas, for example, a driver with a clean record insuring a 2014 Honda Accord would see rates ranging from $1,023 to $1,578 a year. After a first-time DUI, those rates ranged from $1,367 to $3,920 a year.
You may face an SR-22 requirement
An SR-22 requirement makes your job a little more complicated, as not all insurance companies offer this service. You should secure an SR-22 from an insurer before you apply for reinstatement of your license. (See "SR-22 insurance: A guide.")
An SR-22 is a certificate of financial responsibility that the insurance company files with the state, to attest that you do, indeed, have at least minimum liability coverage. An SR-22 filing itself usually costs about $25 – though whatever infraction caused it probably will send your insurance rates up more.
Long story short: Get your license back as soon as possible. "As long as you're on the road to getting it back, you should be able to get your car insurance quotes," Gusner says.