Why you should trust Insurance.com
Insurance.com is dedicated to informing, educating, and empowering you to make confident insurance decisions. Our content is carefully reviewed by insurance experts, and we rely on a data-driven approach to create unbiased, accurate insurance recommendations. Insurance.com maintains editorial integrity through strict independence from insurance companies.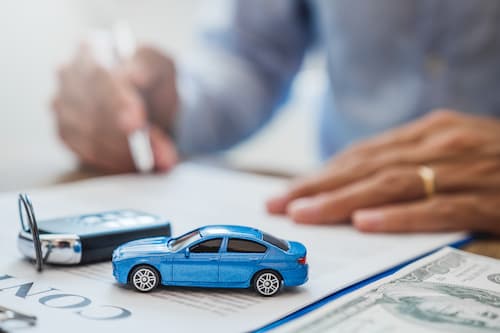 Credit card car rental insurance is a common perk of many cards. When you rent a car, the auto insurance policy on your personal vehicle will cover most of your insurance needs.
In general, "the coverages that apply to your regular car are going to apply to your rental vehicle," says Kip Diggs, spokesman for State Farm Insurance, based in Bloomington, Ill.
But what about the costs your personal auto insurance policy doesn't cover? Some credit cards offer rental insurance protection that acts as a secondary line of defense and kicks in to pick up costs.
Below, we'll look at how the rental car insurance on your credit card works and what it covers.
Key takeaways
Some credit cards offer rental insurance protection, a secondary line of defense against costs not covered by your auto insurance.
Credit card auto insurance is usually secondary to your primary auto insurance policy.
Credit card coverage may help pay for things such as towing fees and your deductible.
Coverage varies from one card company to another, so it is crucial to call your credit card provider for details.
What is rental car insurance on a credit card for?
In most cases, credit card auto insurance is secondary to your primary auto insurance policy. So, if you already have an auto policy, any claims you make on a rental car will be handled by your primary policy first.
But your credit card coverage may help pay for things such as towing fees and the cost of your deductible.
So if you get in an accident, and your auto insurance policy has collision coverage with a deductible of $1,000, your credit card might cover the deductible while your auto insurer would foot the rest of the bill.
In some cases, credit cards may provide primary coverage. Diners Club's offers primary coverage. American Express cardholders can upgrade to premium insurance protection. For a flat fee per rental, cardholders receive primary auto insurance coverage so they don't have to file a claim with their insurer or pay deductibles.
What does credit card auto insurance cover?
Credit card rental coverage specifics can be confusing. Typically, credit cards cover losses due to collision or theft. For credit card coverage to apply, you have to decline the the rental car company's collision damage waiver.
In most cases, credit card coverage does not provide liability protection. So, if you injure someone in an accident and they sue, your credit card auto insurance will not cover any damages you may be required to pay.
However, coverage varies from one card company to another, and even among different types of cards provided by a particular company. Some credit card companies spell out the specifics of their rental car coverage on their websites, while others provide only general information. So, it's crucial to call your credit card provider for details.
For example, the American Express premium plan provides:
$100,000 of primary damage and theft coverage
Up to $100,000 of accidental death and dismemberment coverage
Up to $15,000 per person of excess coverage for medical expenses
A maximum of $10,000 for personal property coverage
Some Visa cards cover damage, theft and loss of use, and kicks in as primary insurance if someone doesn't have auto insurance. But it excludes coverage for injuries, personal liability and diminished value.
Coverage often depends on what bank issued the card and which specific card you have.
Whether you plan to use your personal auto insurance policy or credit card insurance to cover a rental car, you should contact both your auto insurer and your credit card company, says Lynne McChristian, Florida representative for the Insurance Information Institute.
"You don't want to be at a rental car counter trying to figure out what coverage you have," she says.
Auto insurance exclusions and limits
If you plan to use credit card auto insurance, also keep other exclusions and limits in mind.
There may be limits on the number of days credit card insurance will cover a rental. It's generally about two weeks within the United States and a month overseas, although some cards cover longer periods.
Also, credit card coverage may not apply in particular countries. There also may be exemptions for certain types of vehicles, such as pickup trucks, motorcycles or high-end autos
In addition, there may be limits that apply to both your own personal policy and credit card policies. Both personal auto insurance and credit card insurance also may fail to cover extra fees some car rental companies now charge when a car is damaged. Such charges include a loss-of-use fee for the time the car is out of commission while it is being repaired, Diggs says.
Another charge – for "diminished value" – compensates the rental company for any decline in the vehicle's value resulting from the fact that the car has been repaired. This, too, typically falls outside the scope of your insurance coverage.
Helpful Auto Insurance Articles & Guides