Why you should trust Insurance.com
Insurance.com is dedicated to informing, educating, and empowering you to make confident insurance decisions. Our content is carefully reviewed by insurance experts, and we rely on a data-driven approach to create unbiased, accurate insurance recommendations. Insurance.com maintains editorial integrity through strict independence from insurance companies.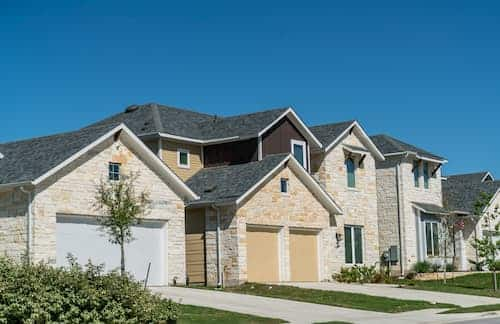 A standard home insurance policy covers roof replacement if the damage is caused by a covered peril such as strong winds, hail or fire.
However, roof replacement coverage through homeowners insurance has exclusions; insurance won't pay for damage caused by wear and tear, lack of maintenance or pests. You should also be aware that the age of your roof can affect your home's ability to qualify for insurance.
Read on for what you need to know before filing a roof replacement claim, whether standard homeowners insurance covers roof leaks, if there are any coverage limitations for your roof and more.
Key takeaways
Home insurance policies cover damage to your roof from a covered peril like fire or wind.
Some insurance companies won't renew homeowners insurance on houses with roofs older than 20 years unless they pass a roof inspection.
Before filling a claim for roof damage, take before and after pictures to evaluate the damage and find out what your homeowners insurance covers.
Does your home insurance cover roof replacement?
The dwelling coverage portion of your homeowners insurance covers roof replacement when the damage is caused by a covered peril. Some commonly covered perils include hailstorms, fire and wind.
However, if the damages are due to wear and tear or lack of proper maintenance, they won't be covered by standard homeowners insurance and you'll have to pay to replace the roof out of pocket. In other words, home insurance doesn't cover bad roof replacement or old roof replacement; just a roof that was damaged suddenly and accidentally.
How does the age of the roof affect insurance?
Insurers consider a roof's age and condition when providing coverage.
Some insurers refuse to renew existing homeowner insurance policies on houses with roofs older than 20 years unless they pass an inspection. Insurers won't renew a policy that fails inspection without a roof replacement.
Other insurers don't write new policies for homes with roofs more than 20 years old. Or, they'll only pay actual cash value for roof replacement for older roofs when they're damaged. This means they will only pay the depreciated value of the roof, not the cost of a new one.
"If you have a roof that has lasted 20 years, then you've probably exceeded the roofing membrane life expectancy," says Gerald Delaune, senior building envelope consultant at Childress Engineering Services Inc. in Richardson, Texas. "Chances are that at that point, there are issues within the roofing system that cannot be seen (such as moisture within the system), which could potentially deteriorate the deck; it would be worth your money to replace the roof."
Replacing a roof can cost $10,000 or more, but you might need to make that investment to keep coverage.
Chip Merlin, president of Tampa-based Merlin Law Group, said home insurers have tightened underwriting requirements for older homes, especially when it comes to roofs, plumbing and electrical systems.
"Roofs are the biggest issue," Merlin says. "Generally, in geographic areas where the demand for insurance exceeds the insurance company's appetite for risk, the greater the underwriting criteria come into play. Florida is such a state, but we are also seeing it along all coastal areas and in areas where hail damage is most prevalent."
Merlin adds that while some companies are tightening inspection requirements and requiring homeowners to cover the cost of these inspections for renewals, most insurers are simply refusing to write new policies for homes with roofs older than 20 years.
"The trend is to require an older roof – 15 to 20 years plus – to have an inspection to get a renewal. This is probably a good policy because it promotes better maintenance and reduces needless loss," Merlin says .
Does homeowners insurance cover roof leaks?
An insurer may cover a leaky roof. However, insurers also require homeowners to prevent leaks and subsequent damage. It's up to the homeowner to take the necessary precautions to maintain the property. If a leaky roof isn't fixed properly, an insurer might not cover the damage.
Home insurance policies usually cover roof damage caused by fire, vandalism and "acts of God," such as hurricanes and tornadoes. Whether they will pay for damage caused by wind, rain or hail is determined by your policy and the age of your roof.
A damaged 10-year-old roof will likely get coverage for a full replacement. A 20-year-old roof or older might only result in an insurer reimbursing you for what an older roof is worth at the time of the damage – after decades of wear and tear.
Whether you're reimbursed partially, fully or not at all depends on your policy, so check with your insurance company if you experience any damage.
How to get your insurance company to pay for a roof replacement
Here are a few tips to follow to increase your chances of the insurance company paying for a roof replacement:
Keep copies of any previous roof inspections that show there was no damage prior to the event that caused the current damage.
Maintain your roof regularly and keep records of any maintenance work you have done.
Contact a reputable roofing company and have them inspect the roof and create their own inventory of damages.
Authorize the roofing company to interact with the insurance company on your behalf.
Be prepared to appeal any insurance company decisions and hire a public adjuster if necessary to work on your side.
Are there insurance coverage limitations on my roof?
Home insurance policies can include coverage limitations for roofs.
Scott deLuise, president of Matrix Business Consulting in Broomfield, Colo., suggests that homeowners read the existing or proposed policy carefully to look for that information.
"Coverage scope and exclusions are a big deal. Ask another insurance company for a policy bid at renewal if it contains a wood shake endorsement or an exclusion for roofs over 20 years old," deLuise says.
He also suggests getting a qualified roofer to inspect the roof and provide a written report, so you know its condition in case it gets damaged.
"That way, if wind or hail strike your house, you can show the insurance company that there was no pre-existing damage. You can also request a cost estimate for replacing the roof so that you can decide if the cost of a new roof outweighs the risk of being denied home insurance coverage," deLuise says.
DeLuise says many insurers on the West Coast are adding new endorsements at renewal for the area's popular wooden shingle roofs due to the fire risk. A wood shake or shingle endorsement is a written document attached to an insurance policy that excludes or restricts coverage of wooden shingle or shake roofs.
"There are different variations. Insurers are trying to limit liability for all types of roof claims for wind or hail or anything other than fire. The only way they can do that is by changing types of coverage. Here, in Colorado, we're seeing wooden shake endorsements and what some companies are doing is only insuring them on an actual cash value basis, meaning that those roofs are only covered for what they're worth at the time instead of for the cost of replacement," deLuise says.
DeLuise has also seen many companies limit appraisal for wind and hail roof damage during the claims process.
If the policyholder demands an appraisal, some insurance companies try to limit the appraisal's scope to damages that they've agreed to instead of all of the damage that the insured might find.
"This effectively guts the appraisal clause in the policy. For example, if you have a metal roof and file a claim for hail damage, they may come back and say that the damage wasn't caused by hail but by wear and tear due to age," deLuise says.
He also says he sees new cosmetic roof exclusions on many client policies, meaning the homeowner must pay for any updates that the insurance company deems "cosmetic."
"So, for example, if you have a metal roof and it gets hail dents in it, they won't replace the roof because that's cosmetic and doesn't limit the functionality of the roof. I think that's a really bad criterion because it's so subjective," deLuise says.
Filing a homeowners insurance claim for roof damage
Your insurer and policy provide the timeframe to file a roof insurance claim. It's best to contact your insurer as soon as there is damage.
Here are steps to take if you need to file a claim because of roof damage:
Contact your insurance company immediately and find out what your policy covers.
If possible, provide "before" and "after" photos to your insurance company so they can evaluate the damage.
Schedule a time for an insurance claims examiner to review the damage.
Find a qualified roofer as soon as possible. A damaged roof is not properly protecting your home, so you should get it repaired quickly.
Delaune says replacing a roof can cost anywhere from $9 to $15 per square foot. He suggests that homeowners visit the Roof Consultants Institute's website to find a qualified roof consultant to assess the roof or National Roofing Contractors Association (NRCA) for a qualified roofing contractor before making this major investment.
See How Much You Can Save
See How Much You Can Save
Helpful Home Insurance Articles & Guides