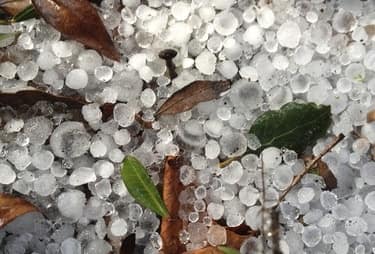 Hail damage is covered by standard home insurance in most states. However, coverage is applied in many ways, depending on where you live, your insurer and how your policy is set up.
Here we'll explain how home insurance pays for hail damage to your house and what to do if hail damage is excluded from your policy.
We'll also list states most prone to hail damage, and which are most likely to have special methods for hail coverage and claims.
KEY TAKEAWAYS
In most states, your standard home insurance covers the hail damage. However, it depends on your insurance company, where you live, and your policy set up.
Make sure to take pictures of the damage caused by hail and don't make any repairs before informing your insurance company.
As per most homeowners' insurance companies, you will have to file a claim within one year of the hail damage.
Your homeowners' insurance covers hail damage to your roof but does not cover damage to your car.
Average insurance payout for hail damage
The average homeowner claim totaled nearly $12,000, according to State Farm 2020 hail claims data. For auto hail damage claims the average payout was about $4,300. Of course your claim may be higher or lower.
Regardless of the amount, an insurer will usually cover the damage minus the deductible.
How does hail damage insurance work?
The Insurance Information Institute (III) and insurance companies say policyholders need to file promptly when hail damages your home. You should also take photos of the damage. Don't make repairs before contacting your insurer, though you may also want to protect the damage with a tarp or another type of covering.
If you're wondering how long after hail damage you can file a claim, most standard policies require filing a claim within one year of determining that a hail storm damaged your roof or other parts of the house. Michael Barry, an III spokesman, recommends contacting your agent or insurer to ensure you know the time limit for any claims.
In many states, usually where hail is less frequent, a standard homeowners policy includes hail damage to a roof as part of your protection coverage. Homeowners file a claim, pay the policy deductible and then the insurer pays to fix the damage. A deductible is the amount you have to pay toward a loss before your insurance company pays a claim.
When deciding whether to file a claim, you should always be sure that the amount of the insurance pay out exceeds your deductible by enough money to make financial sense. For instance, if your house sustains $2,000 worth of damage and your deductible is $1,000, it might not be prudent to file a claim. That's because filing a claim may raise your rates. So, in the long run, you would pay more for filing a claim than just paying for the damage out of pocket.
Top states for home hail damage
According to State Farm 2020 claims data, the states with the most hail damage claims are as follows:
Total hail claims paid for home and auto
Texas $474.6M
Illinois $394.2M
Minnesota $259.2M
Missouri $236.9M
Colorado $207.9M
Does homeowners insurance cover hail damage?
Homeowners insurance offers protection against hail damage to your home's structure. But insurers in states where hailstorms are common limit the coverage or increase the premium. So, if you want protection from such events, make sure that you are being fully covered and check for restrictions on your homeowners' policy before purchasing it.
Hailstorms can cause significant damage. In many cases, wind and hail damage to roof can be repaired without a full roof replacement or total home repair. If your roof has been damaged by hail, it's best to contact an expert for an independent assessment before you decide to file a hail damage claim with your insurance company.
Will my homeowners insurance cover my car for hail damage?
No, homeowners insurance doesn't cover hail damage for your car. However, comprehensive car insurance does cover hail damage for vehicles. Comprehensive coverage is optional, and also covers theft and damage from flooding, fire, vandalism and animal collisions.
Does a hail damage claim raise home insurance rates?
Not in all cases. Since weather damage isn't caused by your negligence, your insurer typically won't hike your rate. However, your rate may increase if you've filed a claim within the three previous years, and the hail claim is your second.
Also, while your individual rate may not go up, if you live in an area prone to hail damage, the insurance company may charge everyone in that vicinity a higher base rate compared to places where hail is infrequent. Finally, some states, including Texas, prohibit home insurers from raising rates after just one claim, so it also depends on your state laws.
How to make a hail damage roof insurance claim
The dwelling coverage portion of your homeowners insurance covers your home, including the roof. Typically, a standard home insurance policy covers roof damage from wind, fire, hail or the weight of snow.
A replacement cost policy pays to replace your roof based on current construction costs. An actual cash value policy decreases your payment based on the age or wear on your roof. Here's an example: Let's say it costs $30,000 to replace your 10-year-old roof after hail damage, and your home policy has a $3,000 deductible. A policy with replacement cost will pay $27,000 ($30,000 - $3,000). A policy with actual cash value coverage will subtract the depreciation in value for the age of your roof. If the value of your roof depreciated by half after 10 years, the policy would pay $12,000 ($15,000 - $3,000).
Once your claim is filed, you have to pay the deductible. It's usually a percentage of your coverage amount or the amount you chose when you bought the policy. Some policies have a separate deductible for windstorm claims.
If you have replacement cost, typically you receive two payments from your insurance provider. The first is for the actual cash value of the roof. Then, after the roof is replaced, the company will pay the rest.
To file a claim, do the following:
Document the damage: Take photographs and if possible measure or estimate the size of the hail.
Submit your claim: Contact your insurer and have your policy number and an explanation/summary of damages. Your insurance agent will discuss your current policy, what's covered and your next steps.
Get repair estimates from local contractors before the adjuster shows up: Ge three to four estimates from contractors in your area that you trust. However, do not sign any contracts or make any type of payment or hire anyone for the work yet. It is important not begin repairs until after the adjuster has inspected your home, as that may lead to not receiving compensation. Keep a record of these estimates for future meetings.
Schedule an appointment with an insurance adjuster: After filing a claim, you will be asked to schedule an appointment with an insurance adjuster. If possible, ask a trusted roofing contractor to attend the meeting with the adjuster. That helps ensure you get a fair assessment and that damage isn't overlooked.
Meet with the insurance adjuster: The adjuster will help determine the cause of damage and assess the total cost. You will share your notes, photos and estimates at this meeting. The adjuster will then create a report with all the details that will be submitted to the insurance company to help process the claim.
Hire a contractor to do the repairs: Once your claim has been approved, and you have reached a settlement for the cost of repairs, you can hire someone to repair your roof. You should review the background of any contractor or company you hire and the person or business should be licensed. Typically, your insurance provider will pay in advance half of the total cost to allow you to begin repairs. The last half will be sent upon completion, minus your deductible.
If you owe money on the mortgage of your home, the company will usually send a check made out to you and your mortgage company. You'll then have to work with the mortgage company to get the money released for repairs. United Policyholders, a non-profit insurance consumer advocacy group, has more details on how to work with your mortgage company to get claim money released.
How to get a roof repair estimate
If your roof was damaged by hail and you need to file a claim, and want to get repair estimates, State Farm advises the following be inciuded:
Quantity of all materials needed (include all roofing items including vents, flashing or other wind or hail damaged items)
Labor charges
Work specifications
Approximate starting and completion dates
Payment procedures
Building permits secured (if applicable)
Warranty details – review all conditions and make note of any that may void the warranty.
How to deal with an insurance adjuster for hail damage claims
When you file a claim for hail damage, an insurance adjuster will be part of the process. Here are the steps to take:
Document the damage with photos and share those with your insurance company.
If you're uncomfortable doing an inspection on your roof, call a trusted contractor to do one. Be sure to check fences, air conditioning units, windows and screens, too.
File the claim with your insurance company and schedule a time for the insurance adjuster to come and do an inspection.
The insurance adjuster will estimate the cost to repair the damages, which is how much your insurer will pay out.
It's wise to also get your own independent estimate. Get written estimates of the true cost of replacing or repairing your home from reputable, independent professionals you would hire to do the actual work.
If you disagree with the adjuster's estimate, tell the company why, and have your contractor speak with the adjuster. If you fail to reach an agreement, you can hire a public insurance adjuster, who will represent your interests in the claim process and help to negotiate a settlement. Hiring a public insurance adjuster makes sense for larger claims, as you'll have to pay a fee, usually a percentage of your claim settlement amount.
Do I have to pay a deductible for hail damage to my roof? Or for other hail damage?
Following Hurricane Katrina in 2005, insurers decided that homeowners in states susceptible to hurricane and wind damage (which includes hail) needed to pay more for protection.
"There are two kinds of wind damage deductibles: hurricane deductibles, which apply to damage solely from hurricanes, and windstorm or wind/hail deductibles, which apply to any kind of wind damage," according to Barry, which notes that these deductibles are based on a percentage of the home's insured value.
Typically, he says, the deductibles range from 1% to 5% of the home's insured value, depending on where the home is located and the historic storm and hail damage in the region.
"In some states, policyholders may have the option of paying a higher premium in return for a traditional dollar deductible," according to the III."In some high-risk coastal areas, insurers may not give policyholders this option, making the percentage deductible mandatory."
Again, Barry says homeowners need to discuss their situation with their insurer to know exactly how much coverage they should consider and how much it will cost.
There are currently 19 states that have mandatory hurricane deductibles, which also cover hail damage. They include Alabama, Connecticut, Delaware, Florida, Georgia, Hawaii, Louisiana, Maine, Maryland, Massachusetts, Mississippi, New Jersey, New York, North Carolina, Pennsylvania, Rhode Island, South Carolina, Texas, Virginia and Washington, D.C.
Home insurance and hail damage: Cosmetic damage sometimes not covered
Make sure to review your policy to see if wind/hail damage is excluded in your policy. If it's excluded, you may want to explore a separate wind insurance policy, which is usually a state insurance program.
For instance, the Texas Windstorm Insurance Association (TIWA) sells polices that provide wind and hail coverage when insurance companies exclude it from homeowners policies sold to coastal residents. The average premium on a TWIA policy is approximately $1,600. The annual average cost for windstorm insurance in coastal Florida is about $2,600.
Insurers also decided to use a "cosmetic damage Exclusion" for homeowners insurance policies. The purpose, experts say, is to limit insurers' losses when severe weather results in many expensive damage claims.
"This was a reaction by insurers to deal with the increasing volatility of weather events, which are causing havoc with insurers' loss ratios," says Robert Prahl, a finance author and former insurance claims adjuster in New York.
Insurance companies now have the option to exclude payments for damage to exterior surfaces, including walls, roofs, doors and windows from hail or wind if the storm impacts the appearance but not the function of these elements. Insurers say the exclusions are necessary to avoid raising insurance premiums to all homeowners.
Some companies may automatically require the exclusion, while others may offer it on a case-by-case basis, according to the American Association of Insurance Services (AAIS).
The AAIS adds that insurers may compensate homeowners for the lack of cosmetic storm damage coverage by giving them a credit that reduces premiums on the policy's hail and wind damage portion. Barry and the AAIS recommend talking to your insurance company to determine if you'll have the exclusion and if you'll receive a credit.
Also, J. Robert Hunter, director of insurance for the Consumer Federation of America, says homeowners need to find out exactly what the insurance company thinks is cosmetic versus functional hail and wind damage. It may be a gray area that needs to be specified by your insurer, he says.
"A home with siding that's dented keeps working, but it looks terrible and will cause the home to drop in value," Hunter points out. "Insurance companies should make it whole, even if the home still functions. This is a lawsuit waiting to happen because of the ambiguous definition of cosmetic damage."
Frequently asked questions about hail damage insurance
Is it worth filing a claim for hail damage?
It is not needed to file a claim for any minor damages, but if you see any notable damage or major damage to the roof you should take the necessary steps to file a hail damage roof repair insurance claim.
Can you claim hail damage twice?
Yes. But there are some things to keep in mind before you make this decision. You can file as many claims as you need, but the more claims that are filed means the higher your premiums will be. One claim won't typically affect your rates but two claims in a row may cause an increase in your premium.
What are some hazards associated with hailstorms?
Hailstorms can be hazardous for a number of reasons. The most significant hazard hail brings is the risk of property damage. Hailstones are often large enough to break windows and other exterior parts of your home without any warning.