Why you should trust Insurance.com
Insurance.com is dedicated to informing, educating, and empowering you to make confident insurance decisions. Our content is carefully reviewed by insurance experts, and we rely on a data-driven approach to create unbiased, accurate insurance recommendations. Insurance.com maintains editorial integrity through strict independence from insurance companies.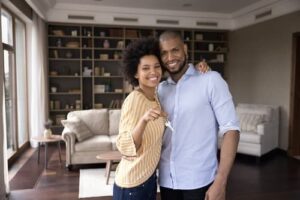 Homeowners insurance is an important way to protect your home and your belongings. It covers damage to the structure of your home, which includes the roof, siding and windows, and all your stuff inside. 
"A standard homeowners policy insures your home's structure and your belongings in the event of a destructive event, such as a fire, windstorm or other severe weather hazards like lightning and hail," says Mark Friedlander of the Insurance Information Institute. "Other hazards typically covered by a standard home policy include theft, vandalism, explosions, volcanic disruptions and civil disturbances."
Your homeowners policy also protects you from lawsuits if someone is injured on your property.
The coverage sections of a typical home policy are dwelling, other structures, personal property, liability portion and loss of use/additional living expenses.
It's important to note that floods are never covered under a regular homeowners policy– you must purchase separate flood insurance.
Read on for what each part of your home insurance policy covers.
Key takeaways
Home insurance covers repairs after a fire, storm or vandalism and replaces stolen items
It also protects you from lawsuits if people get hurt on your property
There are exclusions such as flood and earthquake, so look into purchasing additional coverage
What does home insurance cover?
"Homeowners insurance policies are generally 'package policies,' Friedlander says. "This means that the coverage includes not only damage to your property but also your liability – that is, legal responsibility – for any injuries and property damage to others caused by you or members of your family, including your household pets."
For example, a fire can cause devastating damage to your home, not only from the fire itself but also from the smoke, fire extinguisher residue or resulting water damage. Your homeowners policy exists to pay for repairs after such an event. But if someone falls down your stairs and ends up in the hospital, you could be on the hook for their medical bills or even a lawsuit. Both can get extremely expensive. Your homeowners policy covers this situation, too.
Here's how your home policy covers different scenarios:
Dwelling coverage (Coverage A)
Pays for rebuilding the structure of your home up to the dwelling coverage limit specified on the policy. It covers things like the siding, foundation, roof and windows in the event of certain accidents and natural disasters.
The limit of this coverage is the calculated replacement cost of your home based on the current cost of construction.
Other structures (Coverage B)
Covers structures not attached to the home like sheds, detached garages and fences on your property.
Coverage is usually 10% of your dwelling coverage limit.
Personal property (Coverage C)
Covers your personal property, also called contents coverage, such as your TV, furniture and everything within the walls. There are dollar amount caps on some types of property, so think about purchasing riders for very valuable artwork or jewelry.
This coverage is usually between 50% and 70% of the dwelling coverage limit.
Loss of use/Additional living expenses (Coverage D)
Pays for a place to stay if you can't live at home during covered repairs as well as additional costs that aren't part of your regular expenses, such as eating at restaurants and using laundromats.
Personal liability and medical payments (Coverage E)
Protects you from personal liability if you're being held responsible for injuries to others or damage to their property. It covers incidents on your property, like a fall on an icy sidewalk, and damages that happen off your property if you're at fault and will pay to defend you in court.
Medical payments coverage offers a small amount of money payable to someone injured on your property regardless of fault.
It's important to remember that home insurance is designed for sudden and accidental damage, not to pay for regular wear and tear and general repairs on your home.
You should go over each of these sections with your insurance carrier to make sure you have the right amount of coverage and can handle the deductibles.
What does homeowners insurance not cover?
"Typical exclusions in a standard home insurance policy include flood coverage and earthquake coverage," Friedlander says.
He also warns that it doesn't cover:
Sewer backup
Termite and other pest infestations
Mold
War or nuclear events
Wear and tear or neglect
Some, but not all of these can be covered with an endorsement.
Optional coverage endorsements
"Additional coverage can be purchased as an endorsement to cover several other common exclusions. This includes mudslides, sinkholes and sewer backup," Friedlander says.
You can also add riders to protect valuable jewelry, artwork and collectibles.
Some people need to purchase windstorm insurance if they are in a state prone to storms with heavy winds, as their homeowners policy may have an exclusion or very high wind deductible.
There are even riders for things like identity theft, boats stored inland and repairs to the service lines attached to your house. Ask your carrier if any of these are appropriate for your situation.
Flood and earthquake insurance
Flood insurance is a separate policy while, in most cases, earthquake coverage can be added as an endorsement.
"Flood insurance can be purchased from either [the] National Flood Insurance Program or dozens of private flood insurers," Friedlander says. "Earthquake insurance can typically be added as an endorsement to a standard home policy. In California, earthquake insurance is offered through the California Earthquake Authority, a specialty insurer."
Does homeowners insurance cover it? Specific situations
Below you'll find some specific situations and details on whether home insurance will cover them.
| Type of damage | Is it covered? | Explanation |
| --- | --- | --- |
| Foundation repair | Sometimes | Damage to your foundation is covered by the dwelling portion of your policy if it's sudden and accidental; it's not covered when it's due to a flood or earthquake, normal wear and tear or neglect of the homeowner. |
| Theft | Yes | Your belongings are covered if they're stolen (not lost) under the personal protection section of your policy. There's a cap to things like jewelry, so you may want to add a rider for specific valuable items. |
| Arson | Depends | Insurance companies typically only pay for damages due to accidental fires and definitely won't pay for ones set by the property owner; however, if you are a victim of arson, your insurance carrier may pay out a claim. |
| Dog bites | Usually | Injuries to others caused by your pets are covered under the liability portion of your policy. Some dog breeds are excluded from coverage on homeowners and renters policies, so ask upfront. |
| Termite damage | No | Homeowners generally covers only sudden or accidental damage, and termites and other pests are not covered. |
Home insurance coverage: Understanding what's covered
If you're uncertain about any of the coverages on your home insurance policy, it's important to speak to your agent or insurance company representative to get a clear understanding. You don't want to find out something wasn't covered or that you are underinsured when you need to file a claim.
See How Much You Can Save
See How Much You Can Save