Why you should trust Insurance.com
Insurance.com is dedicated to informing, educating, and empowering you to make confident insurance decisions. Our content is carefully reviewed by insurance experts, and we rely on a data-driven approach to create unbiased, accurate insurance recommendations. Insurance.com maintains editorial integrity through strict independence from insurance companies.
Homeowners insurance covers fires, protecting both the home itself and your personal property. In fact, the home insurance policy we know today started as a fire insurance policy, with fire being the main covered peril on the policy.
Homeowners fire insurance provides coverage regardless of the cause of the fire, with the notable exception of a fire that is set intentionally by the homeowner. Fire insurance coverage includes forest fires and other wildfires and other natural causes, as well as accidental causes.
Read on to learn more about how your home insurance protects you from fire damage.
Key takeaways
Homeowners insurance covers fire damage to your house and personal property.
Wildfires, accidental fires and most other causes of fire are covered by homeowners insurance.
Fire claims will be subject to the deductible on your policy.
Does homeowners insurance cover fire damage?
A standard homeowners insurance policy covers fire damage from a variety of causes. Even the most basic policy provides fire coverage.
Whether the fire damages a small part of your house or it burns to the ground, home insurance will cover the damage. Insurance claims for fire damage are covered up to the limits of your policy, which is based on the replacement cost of your home.
Homeowners insurance covers:
Accidental fires
Wildfires/forest fires
Electrical fires
Fires caused by lightning strikes
Arson (by a third party)
There are a few reasons an insurance company might deny a fire insurance claim. The biggest is that there is evidence the fire was intentionally set by the homeowner to collect payment. Other reasons fire insurance claims could be denied are unpaid premiums or a misrepresentation on the original policy application.
How much does fire insurance cover?
Your homeowners insurance policy covers several types of fire loss up to the policy's limits. Those limits are selected when you purchase your policy and should be reviewed annually. Here's a look at the coverages that will apply to an insurance claim for fire damage.
The dwelling. This covers the house itself, including anything attached to it, like a garage or a deck. A standard home insurance policy uses the replacement cost of your home for the limits of this coverage.
Other structures. This includes anything not attached to the house, like a shed or fence. It's usually set at 10% of the dwelling coverage.
Personal property. This includes everything you own, from your towels to your TV. Depending on your selection when you purchased the policy, these may be covered at actual cash value or at replacement cost. The limit is usually between 50% and 70% of the dwelling coverage.
Additional living expenses. Also called loss of use, this will pay for you to live elsewhere if a fire causes so much damage that you can't live at home.
Actual cash value vs. replacement value
There are two main types of reimbursement that may apply to fire insurance claims with homeowners insurance.
Actual cash value. Pays to replace your home or possessions, minus depreciation, up to your policy's limit. Actual cash value (ACV) is calculated as replacement cost minus depreciation (not original cost minus depreciation).
Replacement cost. Pays the true cost of replacing your home or possessions (no deduction for depreciation) up to the limit of your policy.
A standard homeowners policy pays replacement cost for the dwelling coverage but usually uses ACV for personal property. You can upgrade your personal property coverage to the replacement cost with an endorsement.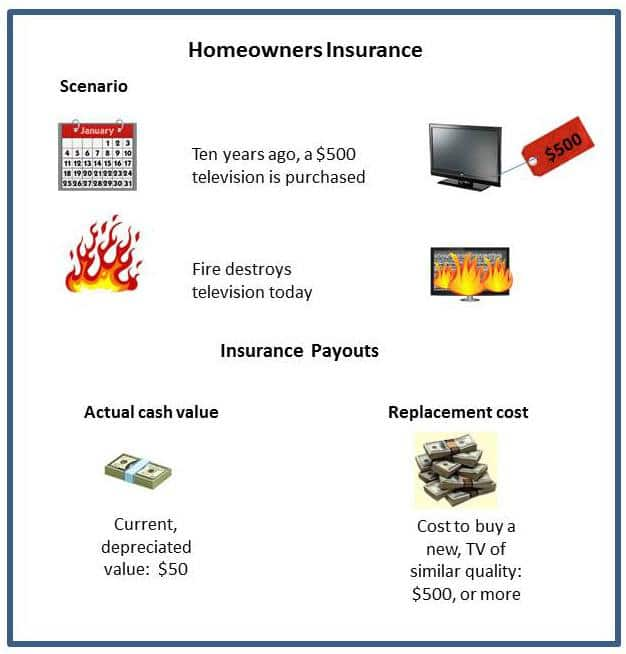 Suppose a fire destroys a 10-year-old TV in your living room, originally purchased for $500, and now worth about $50 (depreciated by $450). The cost to replace it new is $1,000. If you have an actual cash value policy, insurance will pay $1,000 - $450 = $550 for your TV. If you have a $500 deductible, your total payout will be $50.
If you have a replacement cost policy for the contents of your home, the insurance company should pay to replace the TV set with a new one of similar quality. So in the scenario above, you will get $1,000, minus the $500 deductible, for a total of $500. "Some replacement cost policies also replace the item and deliver it to you," Loretta Worters, a spokesperson for the Insurance Information Institute (III), says.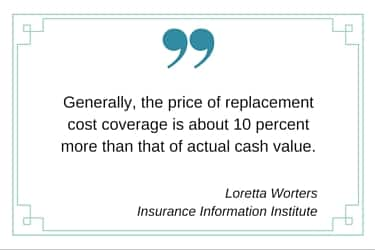 Generally, the price of replacement cost coverage is about 10% more than that of actual cash value, Worters says.
Does homeowners insurance cover a hotel?
Additional living expenses (ALE) covers the costs of living away from home if you cannot live there while fire damage is being repaired. It covers hotel bills, restaurant meals and other costs incurred, over and above your usual living expenses, while your home is being rebuilt.
"Keep in mind that the ALE coverage in your homeowners policy has limits -- and some policies include a time limitation," Worters says. However, you can generally increase the amount of ALE coverage for an additional premium.
Community and homeowner fire mitigation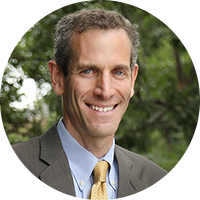 Matthew R. Auer
Dean and Arch Professor of Public and International Affairs School of Public and International Affairs the University of Georgia
"If a state or locality adopts new building codes for, say, energy conservation or fire safety, homeowners who needs to rebuild their homes may be surprised to learn that their old, standard policy doesn't cover the costs of the upgrades"
We asked Matthew Auer, Dean and Arch Professor of Public and International Affairs at The University of Georgia several questions about managing fire risk.
Q. What types of programs should wildfire-prone communities invest in to reduce risk?
A. "Perhaps the single best wildfire risk reduction strategy a community can undertake is creating a Community Wildfire Protection Plan (CWPP)," says Auer. "These are multi-stakeholder plans developed collaboratively by a wide range of participants, including public officials, Tribal governments, homeowners, and small businesses. CWPPs identify local- and neighborhood-level wildfire risks along with measures to reduce these risks, including hazardous fuel reduction, creation of fuel breaks to slow down wildfire, and other interventions that fortify 'defensible space' around homes and whole neighborhoods. The best plans have a can-do quality. They present wildfire as a manageable risk that everyone can help mitigate, with strategies that are comparatively easy to implement and are affordable."
Q. What role can local communities play in supporting homeowners and reducing the risk of wildfires?
A. "Wildfire does not obey property boundaries. So, even if you work hard to reduce risks on your own property, your safety and security also depend on risk-reduction efforts by your neighbors," explains Auer. "In leafy neighborhoods and grassy areas that are prone to drought, or low-humidity conditions, or that reside in the wildland urban interface (WUI), homeowners associations and neighborhood organizations should consider inviting state forest service agents or local firefighters to assess neighborhood-level wildfire hazards and to present wildfire safety tips. HOAs can also adopt prohibitions, like banning fire pits and chimineas and limiting the use of fireworks. Communities can also sponsor wildfire protection and vegetation clean-up days, focusing on fuel reduction in shared spaces such as community woodlots, trails, and grassy areas within residential subdivisions. Firewise USA – a program sponsored by the National Fire Protection Association – sponsors these and other local- and community-level wildfire mitigation activities."
Q. How do homeowners manage upgraded building codes such as sprinklers and solar panels when they rebuild?
A. "If a state or locality adopts new building codes for, say, energy conservation or fire safety, homeowners who need to rebuild their homes may be surprised to learn that their old, standard policy doesn't cover the costs of the upgrades," cautions Auer. "One way to manage costs associated with rebuilding a damaged home (or, for that matter, remodeling an undamaged home) is the purchase of building code insurance coverage. It's a smart move if there is a chance you will rebuild, and the odds are comparatively higher if you live in a wildfire-prone area. Quite often, this is an additional form of coverage beyond the standard homeowners policy."
See How Much You Can Save
See How Much You Can Save
Helpful Home Insurance Articles & Guides