A fire from any source is scary. Having it affect your home and belongings even more. Never fear, we're here to walk you through what your homeowners insurance covers.
Homeowners insurance typically pays out more money for fire, lightning and debris removal claims than any other loss type, including body and property damage, according to the Insurance Information Institute.
KEY TAKEAWAYS
Homeowners' fire policy provides protection to your home and its contents in the event of a fire. It covers dwelling, detached structures and personal property.
A standard homeowners' policy covers wind, ice and snow damage as well as freezing pipes and more apart from fire or lightning.
Set your homeowner insurance coverage based on the value of your home and its contents, as well what you are willing to pay out-of-pocket if you suffer a loss.
You should shop around, raise your deductible, bundle your insurance policies and ask for discounts to save on home and fire insurance.
According to the National Fire Protection Association (NFPA), fire departments respond to around 350,000 each year. During a five year period that was looked at, 2013 to 2017, the NFPA found that home fires caused an annual average of 2,620 deaths and around $6.9 million in property damage.
Source: National Fire Protection Association
Overall, fires have declined sharply over the past few decades, 51% from 1980 to 2018, due to a greater emphasis on fire safety. But one type of fire is on the rise -- wildfires.
Wildfires have burned more than 70 million acres over the past decade. In recent years, wildfires have destroyed homes and millions of acres of forest in the Pacific Northwest and California. In fact, so far in 2020 about 3 million acres have burned, with 1.25 million acres+ burning in California alone between August 15 and 26, according to the National Interagency Fire Center (NIFC). To visualize, that acreage amounts to more than six times the area of New York City.
Whether you are facing a kitchen fire or a wildfire licking at your home, you need to make sure your prized possession, your home and belongings, are protected. Your homeowner's insurance should help you replace what was destroyed and rebuild your home. But it's important that you keep your policy up-to-date and have adequate coverage if you want to be fully-protected.
Fire and homeowners insurance
Fire damage claims are the costliest. The average homeowners insurance claim for fire is nearly $80,000, according to the Insurance Information Institute (III). However, fire claims are only the fourth most common after wind and hail, water damage and freezing, and other property damage. It moved up a spot in the last year, as it had been fifth after theft for the past several years.
"You can buy a fire-only policy, but those policies do not cover liability or theft," says Penny Gusner, Insurance.com's senior consumer analyst. A standard homeowners policy covers not only fire or lightning, but also usually wind, ice and snow damage as well as freezing pipes and more.
Weighted average claim costs, 2014-2018
Source: Insurance Information Institute
What does a homeowners fire policy cover?
Most homeowners insurance policies protect your home and its contents in the event of a fire. Here are three items protected by standard policies:
Dwelling. Typically, your home insurance covers fire and smoke damage to your dwelling and any structures attached to it, such as a porch or garage. Should you leave a pot unattended that causes a kitchen fire, the repairs to your home should be covered, minus any deductible. Typical deductibles are $500 and $1,000, Gusner explains.
Detached structures. Your homeowners policy should also cover structures on your property that are not attached to your home, such as sheds, detached garages and fences, should they be destroyed by fire. Standard homeowners policies are likely to offer coverage for landscaping as well.
Personal property. Most homeowners insurance includes personal belongings, such as furniture, appliances, and clothing that could be ruined in a fire. It's important that you keep an inventory of your belongings, advises Gusner. Some policies are written so that you are covered for the loss of contents based on a percentage of the policy, typically 40 to 75 percent. For example, if you have a $200,000 policy and are entitled to 40 percent of that amount for damaged contents, you could receive $80,000.
Actual cash value vs. replacement value
You have two choices when it comes to insuring your home and your belongings:
Actual cash value. Actual cash value pays to replace your home or possessions, minus a deduction for depreciation, up to the limit of your policy.
Replacement cost. Replacement cost pays the true cost of replacing your home or possessions (no deduction for depreciation) up to the limit of your policy.
Most standard homeowners policies offer actual cash value protection, as it costs 10 percent more, on average to buy replacement cost coverage. This is what is recommended by Gusner if you can afford it as it much better coverage.
Loretta Worters, a spokeswoman for the III illustrates the difference between actual cash value and replacement cost, in this scenario: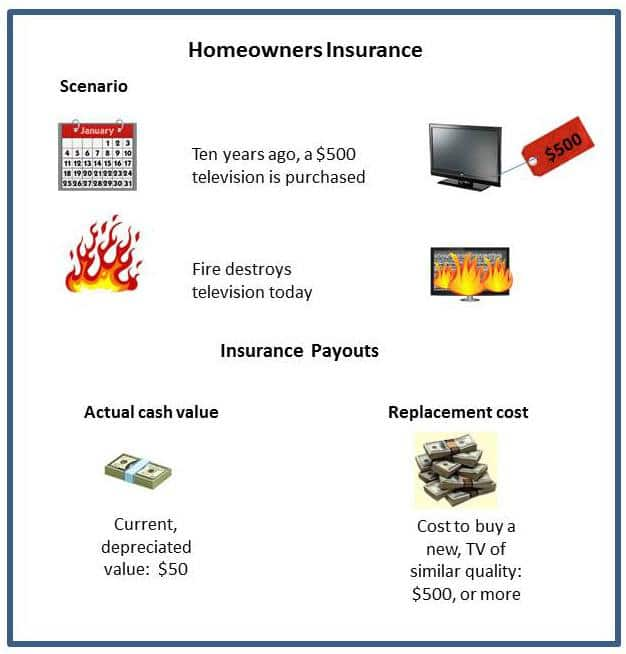 Suppose a fire destroys a 10-year-old TV set in your living room, originally purchased for $500, and now worth about $50. If you have an actual cash value policy, insurance is likely to pay only a fraction of the cost of a new TV set because the television has been used for 10 years and is worth a lot less than its original cost.
If you have a replacement cost policy for the contents of your home, the insurance company should pay to replace the TV set with a new one of similar quality."Some replacement cost policies also replace the item and deliver it to you," according to Worters.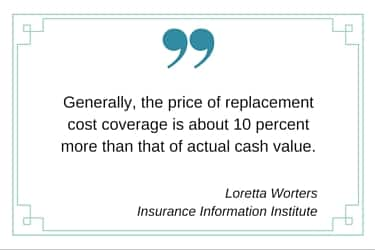 Generally, the price of replacement cost coverage is about 10 percent more than that of actual cash value, she notes.
Hotel expenses and home insurance
What happens if you can't live in your home while it's being repaired or replaced?
This is where the Additional Living Expenses (ALE) part of a homeowners policy comes in. ALE pays the additional costs of living away from home if you cannot live there because of damage from an insured disaster. It covers hotel bills, restaurant meals and other costs incurred, over and above your usual living expenses, while your home is being rebuilt.
"Keep in mind that the ALE coverage in your homeowners policy has limits -- and some policies include a time limitation," Worters cautions. However, you can generally increase the amount of ALE coverage for an additional premium.
Your ALE coverage limit is separate from the amount available to rebuild or repair your home. Even if you use up your ALE, your insurance company should still pay the full cost of rebuilding your home up to the policy limit.
How much homeowners insurance coverage do I need?
There is no formula or amount that fits every situation, Worters claims. "Set your coverage based on the value of your home and its contents and your deductibles on what you can afford to pay out-of-pocket should you suffer a loss." Evaluate your personal property and dwelling coverage needs.
Personal property. "Think you need more coverage than what is provided in a standard policy to replace your belongings in the event they are damaged by fire? Increase your limits for personal property. If you have valuables, such as jewelry or paintings, you may want to buy a rider so that they are covered separately in the event of a fire or other loss," Gusner suggests.
Dwelling coverage. How much it costs to rebuild after a fire and what you paid for your home may not be the same. The market value could be higher than the replacement cost. Construction costs and home values can fluctuate. Consider current rates when determining what it may cost to rebuild or repair your home after fire damage, Worters recommends. If you need help determining how much it would cost to rebuild your home, you can hire a professional appraiser, An appraiser can give you a tangible value to work with.
"Don't include the land when calculating how much you need to insure your home for," says Gusner. The land is not at risk from fire or other perils. If you were to include its value, you would pay a higher premium than necessary.
Community and homeowner fire mitigation
Expert Advice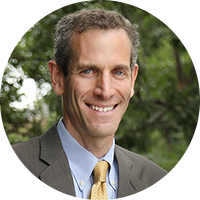 Matthew R. Auer
Dean and Arch Professor of Public and International Affairs School of Public and International Affairs the University of Georgia
"If a state or locality adopts new building codes for, say, energy conservation or fire safety, homeowners who needs to rebuild their homes may be surprised to learn that their old, standard policy doesn't cover the costs of the upgrades"
We asked Matthew Auer, Dean and Arch Professor of Public and International Affairs at The University of Georgia several questions about managing fire risk.
Q. What types of programs should wildfire-prone communities invest in to reduce risk?
A. "Perhaps the single best wildfire risk reduction strategy a community can undertake is creating a Community Wildfire Protection Plan (CWPP)," says Auer. "These are multi-stakeholder plans developed collaboratively by a wide range of participants, including public officials, Tribal governments, homeowners, and small businesses. CWPPs identify local- and neighborhood-level wildfire risks along with measures to reduce these risks, including hazardous fuel reduction, creation of fuel breaks to slow down wildfire, and other interventions that fortify 'defensible space' around homes and whole neighborhoods. The best plans have a can-do quality. They present wildfire as a manageable risk that everyone can help mitigate, with strategies that are comparatively easy to implement and are affordable."
Q. What role can local communities play in supporting homeowners and reducing the risk of wildfires?
A. "Wildfire does not obey property boundaries. So, even if you work hard to reduce risks on your own property, your safety and security also depend on risk-reduction efforts by your neighbors," explains Auer. "In leafy neighborhoods and grassy areas that are prone to drought, or low-humidity conditions, or that reside in the wildland urban interface (WUI), homeowners associations and neighborhood organizations should consider inviting state forest service agents or local firefighters to assess neighborhood-level wildfire hazards and to present wildfire safety tips. HOAs can also adopt prohibitions, like banning fire pits and chimineas and limiting the use of fireworks. Communities can also sponsor wildfire protection and vegetation clean-up days, focusing on fuel reduction in shared spaces such as community woodlots, trails, and grassy areas within residential subdivisions. Firewise USA – a program sponsored by the National Fire Protection Association – sponsors these and other local- and community-level wildfire mitigation activities."
Q. How do homeowners manage upgraded building codes such as sprinklers and solar panels when they rebuild?
A. "If a state or locality adopts new building codes for, say, energy conservation or fire safety, homeowners who need to rebuild their homes may be surprised to learn that their old, standard policy doesn't cover the costs of the upgrades," cautions Auer. "One way to manage costs associated with rebuilding a damaged home (or, for that matter, remodeling an undamaged home) is the purchase of building code insurance coverage. It's a smart move if there is a chance you will rebuild, and the odds are comparatively higher if you live in a wildfire-prone area. Quite often, this is an additional form of coverage beyond the standard homeowners policy."
Saving on home and fire insurance
Here are four ways to save on home and fire insurance:
Shop around. Get home insurance quotes from different insurance companies on this site. Compare not just price, policy limits and what would covered in the event of a fire or other loss.
Raise your deductible. The higher your deductible, the lower your premiums.
Bundle insurance policies. Most companies offer home and auto insurance bundle discounts. Your premiums can be as much as 5 to 15 percent less if you combine two or more insurance policies with the same insurance company.
Ask for discounts. In addition to multi-policy discounts, some companies offer discounts for home monitoring systems, certain types of roofs and a variety of other items. Carefully consider all home insurance discounts that may apply to your situation.
Be careful: Cooking equipment is the leading cause of home fires, according to a NFPA report. Heating equipment is second. The best way to save on home and fire insurance is not to have a fire in the first place. Make safety a priority.
Helpful Home Insurance Articles & Guides