Why you can trust Insurance.com
Insurance.com is dedicated to informing, educating, and empowering you to make confident insurance decisions. Our content is carefully reviewed by insurance experts, and we rely on a data-driven approach to create unbiased, accurate insurance recommendations. Insurance.com maintains editorial integrity through strict independence from insurance companies.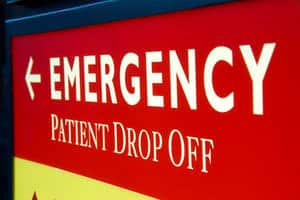 Say you've been in a wreck. Or your home has been damaged by a storm. Or your kitchen has gone up in flames.
You're shaken and dazed.
That's when the siren chasers strike -- trying to sign you up for services you don't need or can ill afford. If you fall prey to their scams, you could be on the hook for hundreds or thousands of dollars and might even lose your home.
I witnessed siren-chasing firsthand when my neighbor accidentally started a kitchen fire. Within minutes of the fire trucks pulling away after extinguishing the blaze, two fire restoration companies showed up at her home, trying to get her to hire them to make the repairs.
She sent them both packing and called her homeowners insurance company instead.
That decision drew praise from National Insurance Crime Bureau (NICB) spokesman Frank Scafidi, quoting the NICB mantra: "If you didn't request it, reject it."
"They're trying to take advantage of your emotions," Scafidi says.
They also are trying to take advantage of your wallet.
Ding dong: Trouble calling
Lynne McChristian, Florida representative for the Insurance Information Institute, says if your home is damaged in a disaster or by an accident, it's not unusual to have unscrupulous companies show up at your door. They say they'll handle your insurance claim, serving as an intermediary between you and the insurance company.
If you sign their contract, don't be surprised to be charged more than your insurance company will pay, McChristian warns. If you don't pony up the difference, the repair company could put a lien on your home.
Rather than signing on the dotted line if a rogue company shows up at your home, your first step should be to call your homeowners insurance company for assistance, McChristian says.
The insurance company will typically have a list of approved vendors that can make the repairs.
"Let your insurance company earn its keep," says Insurance.com managing editor Des Toups. "Contractors and restoration firms have a stake in building a continuing relationship with them. Pressure from a big insurance company to make things right can be very effective."
If you hire an unscrupulous company to do the work, the company might do more than your homeowners insurance company deems necessary, so the work isn't covered by insurance, or classify repairs incorrectly so they don't correspond with your policy and your insurance company might not honor the claim, Scafidi says.
Don't play tow-truck roulette
After a wreck, a tow truck driver you never called might suddenly appear and try to tow your car from the scene.
"Once they take your car away," Scafidi says, "the costs could be in the thousands" to get your vehicle back.
While tows arranged through an insurer, a service like AAA or a responding police offer are typically priced according to set schedules, rogue operators don't have to play by those rules in many areas.
If your car is blocking traffic, the law enforcement officer at the scene may call a tow truck to move it out of the way, says Scafidi, who used to work for the Los Angeles Police Department. The department had a list of preferred towing companies it used that worked for the department for a set fee.
Otherwise, you should call your insurance company, AAA or a company you've used before rather than hire a random tow truck driver who appears on the scene, he says.
These tow truck drivers and restoration companies may monitor police scanners and respond after a call goes out, or the drivers could be roaming local highways, looking for an accident.
Have a plan before the disaster
The problem with siren chasers is particularly acute after a major disaster, such as a hurricane or tornado, where whole blocks have been damaged or destroyed.
In a situation such as a hurricane, insurance companies will send swarms of adjusters so they'll be stationed near the area before the storm, McChristian says. If the disaster is unexpected, such as an earthquake or tornado, insurers will send adjusters to the scene as soon as possible. When law enforcement gives the all-clear, the adjusters will fan out through the area to help their customers.
Insurance companies try to handle disaster claims quickly, she says. Because they are handing out payment for repairs, "the money attracts unscrupulous people."
If you decide to hire your own contractor, you need to make sure they're properly vetted.
To help customers avoid being taken for a ride, Allstate passes out brochures at its mobile claims centers when responding to disasters.
Their recommendations include:
Be wary of contractors who solicit door to door. Instead work only with established contractors.
Make sure the contractor is licensed, bonded and insured and can document that.
Check their references.
Check your local Better Business Bureau to see if complaints have been filed against contractors you're considering.
Don't pay upfront or pay in full.
Because you never know when you might be faced with an accident or disaster, so "people need to develop their fraud radar," McChristian says.