Why you should trust Insurance.com
Insurance.com is dedicated to informing, educating, and empowering you to make confident insurance decisions. Our content is carefully reviewed by insurance experts, and we rely on a data-driven approach to create unbiased, accurate insurance recommendations. Insurance.com maintains editorial integrity through strict independence from insurance companies.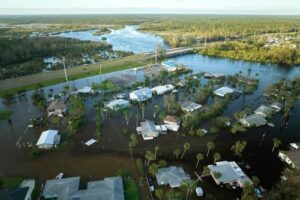 It's becoming increasingly harder to get homeowners insurance if you live in an area prone to natural disasters, such as Florida, Texas, California and on the coast. Numerous claims from more frequent incidents like wildfires and hurricanes are causing insurers to either hike their rates or leave certain states altogether.
Keep your home in tip-top shape to improve its insurability and investigate last-resort options like your state's FAIR Plan if you have trouble getting insurance. Learn why it's so hard to get home insurance in high-risk states and what you can do to stay insured.
Key takeaways
Due to increasing natural disasters, home insurance is harder to get in some high-risk states like Florida and California.
Keep your home in good condition and shop around with multiple carriers to find a policy.
As a last resort, look into your state's FAIR Plan if you can't get a policy elsewhere.
Home insurance for high-risk areas
Hurricanes, hail damage, flooding and wildfires are becoming increasingly frequent and severe, especially in states already prone to natural disasters like these.
Homeowners insurance covers damage from hurricanes, but not flooding. It also covers wildfires, but if you live in one of these high-risk areas, you should review your policy regularly to ensure you have enough coverage. Especially in a high-risk area, it's worth the investment in a flood insurance policy, and your mortgage company may require it. However, flood insurance is a good idea even outside of high-risk areas; floods can happen anywhere.
In some areas, you may also need to add additional coverage for windstorm damage, and earthquakes are never covered by home insurance.
However, obtaining or keeping coverage in disaster-prone states is becoming very challenging, even when you're just buying standard coverage. If you have difficulty getting home insurance, you have some options.
Home insurance in California
California is dealing with frequent and more severe wildfires and has also seen flooding recently; a rare tropical storm hit the state in August 2023. But it's largely fires that drive home insurance problems in California.
"My personal insurance recently renewed, and I live in a fire zone," says Gordon Adams, a retired California insurance professional and former Risk & Insurance Management Society (RIMS) board member. "Even with 43 years in the insurance industry, it was a fight to obtain coverage."
Most standard homeowners policies cover fire damage; however, with so many claims, rates are extremely high. Some California carriers have stopped writing new policies, including big names like State Farm and Allstate, and others have left the state, deeming it too risky.
A reduced number of carriers makes it difficult to find affordable rates or to renew a policy you already have. California residents do still have options, but the FAIR plan is a last resort if you're struggling to find home insurance in California.
Home insurance in Florida
Florida is one of the top 10 states when it comes to hurricane frequency. These storms not only cause wind damage but also flooding. This results in numerous high-cost claims and cuts severely into profits, but there are other reasons home insurance is so hard to get in that state.
Florida had a mass exit of insurance carriers and companies who went out of business for several reasons, and increased litigation was a major factor.
Eighty percent of all non-payment lawsuits against insurers in the U.S. are in Florida. As a result, some insurers are choosing to leave, and the ones who stay are hiking rates. Florida home insurance averages more than $4,000 a year and can cost even more in coastal areas. Shoring up your home against hurricane damage can reduce rates and make it more insurable.
If you live in Florida, you should look into separate flood and windstorm insurance. Citizens Insurance is Florida's insurer of last resort if you can't find coverage elsewhere.
Other high-risk states for natural disasters
Texas
The cost of home insurance in Texas has almost doubled in some areas.
"Because of its large size and varied regions, Texas is subject to all kinds of weather disasters, including hail, tornados, wildfires and ice storms," says Gardner Selby, spokesman for the Texas Department of Insurance. "Along the coast, tropical storms and hurricanes have affected windstorm insurance availability. Home insurance costs have gone up, with insurers pointing to inflation and higher costs to repair and rebuild homes."
Colorado
Colorado has had a huge uptick in wildfires and storms that cause hail damage. Insurance rates are on the rise as a result. In May 2023, Colorado established its own FAIR Plan to help homeowners get insurance coverage.
Homeowners insurance in Colorado is still available from a lot of companies, but keeping your home maintained is one of the keys to ensuring you don't have difficulty getting coverage in the future.
Coastal states
Coastal states along the East Coast and Gulf Coast see frequent hurricanes and severe thunderstorms that bring high winds and hail.
Currently, 19 states have windstorm or hurricane deductibles, and many mortgage lenders in the coastal areas require separate wind policies.
The more natural disaster-related claims, the more an insurance company has to pay out all at once. In order to remain profitable, insurers either have to raise their rates or find a way to reduce their risk altogether. Sometimes, the only option is to leave the risky states. That means challenges for homeowners who need coverage.
Why it's getting harder to get home insurance
It's becoming harder to get home insurance because costs are skyrocketing in certain states and many carriers simply aren't selling policies. Adams reminds us that they are, after all, out to make a profit.
"Insurance companies have paid billions of dollars in claims in these areas, and those losses negatively impact the rest of their business in other states," says Adams.
In other words, there's a ripple effect of rate increases when a company pays a lot of claims in one or two areas.
"Carriers also use business models to see where they have aggregations of risk (too many policies in a given area). Too much risk in a given area results in huge losses should a catastrophe occur," he says.
Hence, the move to leave areas where the risk has become too high or to reduce the number of policies in certain areas by non-renewing or no longer writing new policies.
"Insurers generally work to a small profit margin, so a couple of catastrophes can ruin their whole year. Basically, they have three methods of addressing this problem -- rate increases, writing no new policies or leaving the market. The first two methods have been tried, but rate increases must be approved by the insurance commissioner and he's been slow and hesitant to approve large increases. Writing no new policies doesn't reduce the risk already written, so ultimately, leaving a state is the selected option," Adams says.
While natural disasters aren't the fault of the homeowner, the insurance companies still have to make moves to reduce risk, and that negatively affects home insurance customers.
What to do if you can't find home insurance
If you are having a hard time finding home insurance, both Selby and Adams recommend shopping around with multiple carriers. That's because each insurer has different underwriting guidelines, and you may qualify with one, if not another. An independent insurance broker who works with many different companies can be an invaluable resource.
If you still need help, look into your state's Fair Access Insurance Requirements Plan (FAIR).
Adams says that most states have established insurers of last resort: "In California, that is the California FAIR Plan. This is an insurance entity established to guarantee coverage to those who are unable to obtain standard coverage."
He cautions that it's "only a property [coverage] and to approximate a good HO-3 homeowners policy, a Difference in Conditions policy must then also be purchased."
Selby says that Texas also has the Fair Access to Insurance Requirements Plan, which can provide basic coverage for properties considered high-risk or difficult to insure.
While it's good to have last-resort options, Adams says the premiums for these policies tend to run high, and they may also include rather large deductibles.
According to Shelby, that can be a good way to find affordable monthly insurance – go for a high deductible. You have to plan for the fact that if you put in a claim, you'll be responsible for that deductible, however.
"Before going to the FAIR Plan, find a broker who represents many insurers," Adams says. " They can try to attain a standard quote from these carriers. They may also be able to determine whether an Excess & Surplus lines carrier or non-admitted insurer can be competitive. These are secondary carriers that are either non-admitted in the state or special purpose. A non-admitted insurer is not licensed in the state and pays a fee for each policy written; this doesn't mean they aren't good insurance companies, and they're licensed in other states."
There are also non-standard insurance companies and H0-8 plans for homes built more than 40 years ago, so look around.
An important thing to note, Adams says, is that mortgage companies have insurance requirements in their loan agreements: "Types of coverage, quality of insurer, coverage limits and deductible "caps" are fairly standard provisions."
Make sure you have enough insurance for a natural disaster
If you live in a fire, flood or hurricane zone and are considering skimping on insurance because it's so expensive, think again.
"It's definitely a considerable risk to underinsure," Adams says. "Mortgage companies likely won't accept underinsurance, and as a home is generally the largest investment and asset we'll ever have – why put that on the line? Even if you have no mortgage, do you want to risk losing your primary residence and asset?"
His advice is to never underinsure your home.
If you already have the standard amount of homeowners insurance, but your area has been deemed high-risk, consider adding additional coverage. Windstorm insurance, for example, is usually offered as a rider on your policy and covers damage to your home and belongings by major winds from a storm.
"Consumers unable to purchase coverage often turn to the Texas Windstorm Insurance Association for a policy," Selby says.
There are separate flood and earthquake policies on the market as well. Be aware that a flood policy is the only protection from flooding; your home insurance does not cover it.
What can you do to make your home more insurable?
Keeping your house in excellent shape is one way to make it more insurable. Keep the roof, siding and windows upgraded. An insurance company doesn't want to see an old or damaged roof that is vulnerable to the elements because it can be easily damaged in a major storm.
If you're in a fire zone, keep the brush around your house cleared to decrease the potential for the fire spreading. Keep trees trimmed and handrails in good shape. This reduces the likelihood of a branch falling on your house during a storm or someone falling down your stairs and making a claim.
Sprinkler systems and hurricane-proofing like shutters can also help.
"The situation is quite unstable, and it has been reported that average insurance costs in catastrophe-ridden states is three times the national average," Adams says. "Something has to be done ASAP. It's to the point that coverage is economically unavailable – even with Fair Plan insurances in place."
Frequently asked questions: Home insurance in high-risk areas
What is a nonrenewal?
Non-renewal is when your insurance carrier cancels your coverage at your policy anniversary date instead of renewing it. You will be notified 30-45 days in advance if your insurance company doesn't plan to renew your policy and will need to find new coverage.
Do I need special insurance for a natural disaster?
A flood policy is the only coverage that protects against water damage to your home from overflowing rivers, excessive rain and mudslides during a hurricane or other weather event. You should also look into earthquake insurance if you live in a seismic activity zone, and make sure you have the right windstorm coverage on your policy.
See How Much You Can Save
See How Much You Can Save
Helpful Home Insurance Articles & Guides