Why you should trust Insurance.com
Insurance.com is dedicated to informing, educating, and empowering you to make confident insurance decisions. Our content is carefully reviewed by insurance experts, and we rely on a data-driven approach to create unbiased, accurate insurance recommendations. Insurance.com maintains editorial integrity through strict independence from insurance companies.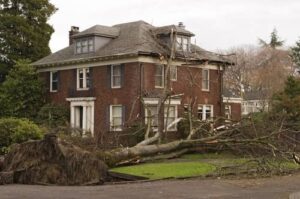 Homeowners insurance covers wind damage in most cases. But when it comes to windstorms and other named storms like hurricanes, there's some gray area.
Depending on factors such as your location and insurer, homeowners insurance for wind damage is part of a standard policy, but how windstorms and other named storms are covered can differ depending on the situation. Some homeowners need separate windstorm insurance coverage to cover specific types of wind damage, usually from major storms. 
So, it's important to look into the specifics of your current policy or any new ones you're considering to see what perils you're protected against and how the coverage works.
Key takeaways
Windstorm insurance is sometimes sold separately in high-risk areas, although standard homeowners insurance policies include some wind damage coverage.
Deductibles for windstorms sometimes work on a percentage basis, which can be more expensive for homeowners when there's a claim.
Wind mitigation steps can reduce windstorm insurance costs with many insurance companies.
What is windstorm insurance?
Windstorm insurance is usually included in standard homeowners insurance policies. However, it's sometimes added as an endorsement and sometimes sold as a separate policy, depending on where you live.
If you live in an area with a higher likelihood of tornadoes or hurricanes and other named storms, such as some parts of the South, then there's a higher likelihood you'll need to add wind damage insurance to your standard homeowners insurance policy. 
Windstorm insurance covers events such as hurricanes and tornadoes in areas where homeowners insurance does not provide this coverage. However, it depends on the specifics of the policy. Don't assume that your regular homeowners insurance policy covers windstorms, and don't assume that a separate windstorm policy would cover all types of damage from these events. Coverage for floods from hurricanes, for example, usually requires separate flood insurance. 
Is wind damage covered by insurance?
In areas that have a higher risk of wind damage, such as parts of Florida and Texas, you may be able to buy wind damage insurance as a separate policy to fill in gaps that your homeowners insurance doesn't cover.
Plus, in 19 states and the District of Columbia, even if wind damage coverage is part of your homeowners insurance policy, you may have a separate hurricane or windstorm deductible.
"Windstorms and named storms are something that agents and insureds need to pay close attention to. You have to make sure you understand the deductible the carrier may put in place," says Jeffrey Camara, managing partner at Vargas & Vargas Insurance in Massachusetts.
Some carriers use a flat deductible, such as where you need to pay $2,500 or $5,000, for example, before your homeowners insurance kicks in for windstorms, explains Camara. Some carriers base windstorm deductibles on a percentage of your dwelling coverage.
"This is important as many people don't look at deductibles until they have a loss. If the carrier is using a 2% wind deductible and you have $500,000 coverage on your home, you are paying the first $10,000," Camara says.
What does windstorm insurance cover?
When windstorm insurance is purchased as a separate policy, it covers wind damage from events such as extreme winds, tropical storms, hurricanes, tornadoes and hail. Standard homeowners insurance policies provide coverage during these events, but not necessarily to the same extent as separate windstorm insurance. It depends on the specifics of your policy.
"To determine the value of separate windstorm insurance, homeowners should consider the frequency and severity of windstorms in their area. If their location is prone to high winds or hurricanes, separate coverage may offer more comprehensive protection than a standard policy," says Gregg Barrett, CEO of WaterStreet Company, an insurance software provider.
"Homeowners should compare the coverage limits, deductibles, and exclusions of both types of policies. Separate windstorm insurance might cover a broader range of wind-related damages and provide higher limits, which could be crucial for homeowners in high-risk areas. Regular homeowner's policies might offer some protection but can be limited and not as specialized for windstorm-related claims," he adds.
What isn't covered by windstorm insurance?
While windstorm insurance can provide more protection during windstorms and other named storms, it doesn't necessarily cover everything related to these events. Many windstorm insurance policies also cover events like hail storms, but some policies might exclude these events or other types of weather, so it's important to check the specifics of any policies you're considering.
Also,  windstorm insurance generally does not cover most water-related damage from storms, like flooding caused by a hurricane. Standard homeowners insurance also generally does not cover flood damage from these events.
If a storm "produces heavy rains and groundwater enters your home, that would not be covered on your policy," says Camara.
How much does windstorm insurance cost?
Windstorm insurance costs vary significantly based on factors like the type of home you have and your location. But, as an example, the average windstorm insurance residential policy in Texas is around $2,000 per year, according to the Texas Windstorm Insurance Association.
Variables like the amount of coverage and your deductible can also affect windstorm insurance costs, but remember that a more affordable premium doesn't necessarily mean you have adequate coverage.
How and when to file a windstorm claim
How to file a windstorm claim depends on whether wind damage is included in your homeowners insurance policy (either as a standard practice or via an endorsement) or purchased windstorm insurance separately. If wind damage is part of your regular homeowners insurance policy, then you would likely file a claim with your home insurance company using the same method as for other events, like a fire or theft.

Filing a claim with a separate windstorm insurance provider follows a similar process: going online or contacting a representative to provide the details of the claim, like a description of the event and pictures of the damage. The difference is that, depending on where you get windstorm coverage, you might file a claim with a different insurer than your standard homeowners insurance provider.
What does wind mitigation mean in insurance?
Wind mitigation in insurance means taking protective measures that reduce the risk of wind damage. For example, reinforcing your roof and adding storm-resistant doors and windows are forms of wind mitigation. These steps reduce the likelihood of wind damage, making your home more insurable and your insurance cheaper.
How much does a wind mitigation report save on insurance?
Getting a wind mitigation report, which verifies wind mitigation steps that you've taken, can save you money on windstorm insurance. The discount depends on the insurer, but in Florida, for example, the maximum discount is 88%, depending on the wind mitigation steps you've taken.
Windstorm insurance is an important part of protecting your home, particularly if you live in a storm-prone area. Windstorm insurance is an extra cost in some cases when it's not included as part of your standard home insurance. Taking wind mitigation steps, however, can reduce your windstorm insurance premiums and make it more affordable.
See How Much You Can Save
See How Much You Can Save
Helpful Home Insurance Articles & Guides