Why you should trust Insurance.com
Insurance.com is dedicated to informing, educating, and empowering you to make confident insurance decisions. Our content is carefully reviewed by insurance experts, and we rely on a data-driven approach to create unbiased, accurate insurance recommendations. Insurance.com maintains editorial integrity through strict independence from insurance companies.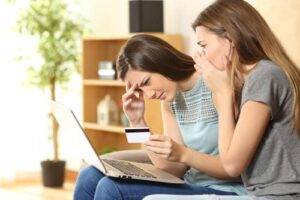 Identity theft and scams are on the rise. The Federal Trade Commission reported fraud reports from over 2.4 million people last year. One way to protect yourself is identity theft insurance.
Identity theft insurance helps defray the costs if you ever become the victim of credit card fraud or other financial fraud from having your identity stolen. It pays for fees charged to you, sets up fraud alerts, and pays for lost wages and other expenses related to identity fraud.
Identity theft coverage generally doesn't reimburse the money stolen from you, but it helps in other ways to get your finances and your accounts back on track. You can often add identity theft coverage to your homeowners insurance.
Key takeaways
Identity theft insurance pays for the expenses associated with having your identity stolen.
Typical coverage pays for credit card and bank fees, legal fees, and credit and fraud monitoring.
Coverage starts for as little as $25 and can be added as a rider to your existing insurance or purchased as a stand-alone policy.
What is identity theft insurance?
Identity fraud insurance covers the expenses associated with having your identity stolen. It pays for things like legal fees, lost wages, and credit monitoring services. It also alerts you when suspicious activity occurs so you can get a head start on resolving issues.
"Identity theft protection does have an insurance component, but the product is multi-faceted," says Brian Caroland, Director of Identity Theft Solutions at Zander Insurance in Nashville, TN.
Depending on the level of coverage you purchase, Caroland says identity theft insurance could include:
Monitoring clients' personal information and sending alerts if any suspicious activity is identified
Providing full-service restoration services if a client becomes a victim of identity theft
Reimbursing stolen funds and identity theft-related expenses up to $1 million
Some policies even cover postage and mailings and provide a child care component if you need to run errands related to the fraud case.
Does homeowners insurance cover identity theft?
Homeowners insurance coverage may include a small amount of identity theft coverage on a standard policy, depending on the company.
"Some homeowners policies do have an ID theft protection component but, typically, restoration services are limited, there is little to no expense reimbursement," Caroland says. "Those types of plans almost never include reimbursement for stolen funds. And with limited restoration services, if the client becomes a victim of identity theft, the insurance provider will merely send the insured a packet in the mail with some tips and form templates; the client is then left to figure out next steps on their own, doing all the work themselves."
If you want more comprehensive coverage, you can purchase a stand-alone identity theft policy or add an endorsement to your existing homeowners insurance. This can be done for as little as $50 a year.
How does identity theft insurance work?
Identity theft insurance is usually either a part of your homeowners policy or can be added as a rider. You can also purchase identity theft policies from most major insurance carriers and from credit card companies and credit monitoring agencies (the top three are TransUnion, Equifax and Experian).
"Some people think of identity theft as just having fraudulent charges show up on their credit card," Caroland says, "but it's much deeper and wider than that."
Someone may open credit cards in your name and start charging away. Someone may access your photo ID and social security number via your doctor's office during a data breach. Major retail stores will frequently announce that they had a data breach which means your purchase history and other information may be out there for identity thieves. Using this info, fraudsters can open new accounts– even loans and mortgages- in your name. This takes time, endless phone calls and mountains of paperwork to resolve. This is where identity fraud coverage can save you time and money.
At Caroland's agency plans cover "all types of identity theft, which can include financial and credit fraud, home title theft, medical ID theft where someone uses a client's information to obtain medical procedures or prescription drugs, criminal ID theft where someone uses a client's information to commit a crime, tax fraud, unemployment or social security fraud, and more."
Not all policies are the same, and of course the more services and protections, the more you pay. Shop around to see what plan is right for you.
What does identity theft insurance cover?
Identity theft insurance usually covers:
Bank and credit card fees assessed to you after fraudulent charges hit your account
Legal fees if you have to show up in court to make a claim or defend yourself
Lost wages for the time you might spend resolving the fallout of your identity theft
Other fees for credit reports, monitoring services, fraud alerts
Some, but not all, policies will reimburse the stolen money
The level of coverage will depend on the policy you buy, so assess how much you might want to spend versus your willingness to stay exposed to the risk of identity fraud.
Who needs identity theft insurance?
According to Caroland, "anyone who is concerned with preserving their wealth, protecting their assets, or saving time" is someone who should look into identity theft coverage.
"While ID thieves do occasionally still use the tried-and-true methods of dumpster diving or stealing mail to take personal information, there's so much identity theft happening digitally these days, and cybersecurity and staying safe online have become a huge concern for our clients," he says.
He also urges people to think about insuring their children. "Children are prime targets for identity thieves because they can be victimized continuously, sometimes many years, before anyone notices." Increased time spent using apps, online banking and spending time on social media contributes to their vulnerability.
How much does identity theft protection cost?
Identity theft insurance is pretty affordable. On average it costs as little as $25-50 a year or as much as $30-75 per month depending on the level of coverage you want to purchase. As with many types of insurance, you may be subject to a deductible before your claim pays out.
Frequently asked questions: Identity theft coverage
Is identity theft insurance worth it?
For most people, yes. It's affordable and the payoff is high. Everyone is at risk for identity theft.
Does umbrella insurance cover identity theft?
You must add language to cover identity theft to your personal liability umbrella insurance. Otherwise, add a rider or purchase a stand-alone policy.
Sources:
Federal Trade Commission. "New FTC Data Show Consumers Reported Losing Nearly $8.8 Billion to Scams in 2022". Accessed October 2023.
See How Much You Can Save
See How Much You Can Save
Helpful Home Insurance Articles & Guides