Why you should trust Insurance.com
Insurance.com is dedicated to informing, educating, and empowering you to make confident insurance decisions. Our content is carefully reviewed by insurance experts, and we rely on a data-driven approach to create unbiased, accurate insurance recommendations. Insurance.com maintains editorial integrity through strict independence from insurance companies.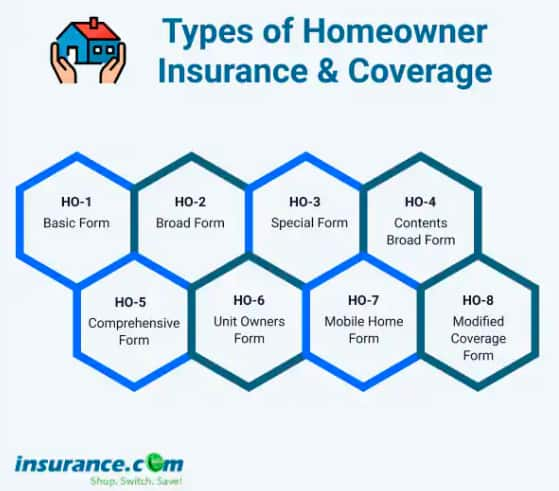 Buying homeowners insurance or renters insurance can be confusing, and adding the different types of home insurance policies to the mix can make it even harder.
Although there are several different types of home insurance, odds are good you won't have much trouble choosing the right one; they all serve different needs and your home insurance company will guide you.
Still, it's a good idea to have a general grasp of the eight home insurance policy forms before you buy. We'll break them down right here.
Key takeaways
There are eight main types of home insurance policies, and each provides a different level of coverage.
The HO-3 is the most common homeowners insurance policy, and most people who own a home will buy this type of coverage.
Two forms, HO-4 for renters and HO-6 for condos, focus coverage more on personal property.
HO-1 - Basic Form
As you'd expect with something called "basic form," known in the industry as HO-1 - Basic Form, this is basic homeowners insurance. The insurance industry lists 16 types of perils (which we'll get to if you keep reading), and this type of insurance policy covers 10 of them.
Damage from aircraft or vehicles
Explosions
Fire and lightning
Hail and windstorms
Riots
Smoke
Theft
Vandalism
Volcanic eruption
Basic form homeowners insurance doesn't include personal liability for those injured on your property, and your belongings aren't automatically covered.
Not surprisingly, many mortgage companies don't think HO-1 policies provide sufficient coverage. For these reasons, it isn't widely available or very commonly used.
HO-2 Broad Form
This type of home insurance policy typically covers all 16 perils. However, it's still a pretty fair policy with reasonable premiums. Here are the coverages provided by HO-2 that HO-1 does not include:
Accidental discharge or overflow of water or steam from within a plumbing, heating, air conditioning, or automatic fire-protective sprinkler system or from a household appliance.
Sudden and accidental tearing, cracking, burning, or bulging of a steam or hot water heating system, an air conditioning or automatic fire-protective system.
Freezing of a plumbing, heating, air conditioning or automatic, fire-protective sprinkler system, or of a household appliance.
Sudden and accidental damage from artificially generated electrical current (does not include loss to a tube, transistor or similar electronic component)
And the "Broad Form" isn't all that broad. The HO-2 is a "named peril" policy. That means any damage caused by events other than those listed on your policy typically won't be covered.
HO-3 Special Form
This is the most common policy type and is the standard policy most homeowners buy.
It covers all disasters except those that are expressly excluded. That means you're protected against all perils unless your policy specifically mentions them in the exclusions. In addition to your home, the HO-3 insures attached structures, for example, a deck or garage and your belongings. It also includes personal liability coverage if you accidentally injure someone or damage their property. Still, HO-3s won't cover everything and what's not protected depends on your specific policy's details.
Here are some perils that are often excluded in HO-3 policies:
Any animals owned by the insured
Birds, rodents, vermin
Defective construction or maintenance
Earth movement
Flood
Foundation issues
Government actions
Intentional loss
Mechanical breakdown
Mold, fungus, wet rot
Ordinance or law
Pet or animal damage
Pollution and corrosion
Power failure
Neglect
Nuclear hazard
Smog, rust, or corrosion
Theft, vandalism and frozen pipes in vacant houses
Wear and tear
War
HO-4 Contents Broad Form
This is a renters insurance policy that covers your personal belongings against all 16 perils. It only covers your personal items and not the building, since the landlord is responsible for insuring the dwelling.
HO-4 policies also provide liability insurance in case someone is injured in your apartment and provide money for living expenses should you need to stay elsewhere temporarily while the rental property is being repaired or renovated.
HO-5 Comprehensive Form
This is a more comprehensive version of the HO-3 form.
It's so comprehensive that it's typically only available to those who own a new, very well-maintained home within close distance to fire protection services.
Just like an HO-3 form, an HO-5 policy will financially protect you against all perils unless your policy expressly excludes them in writing.
The difference between an HO-3 and HO-5 is that HO-5 provides better protection for your personal belongings. An HO-5 insures your belongings against all causes of loss that are not explicitly excluded, whereas HO-3 only covers causes named on a specified list.
Here are some exclusions often listed in an HO-5 policy:
Earth movement
Government actions or laws
An infestation of birds, rodents or insects
Intentional loss
Mechanical breakdown
Mold
Nuclear hazard
Pets
Vandalism if the property is vacant more than two months
War
Water damages from floods or sewer backup
HO-6 Unit-owners Form
This is a condominium or co-op insurance policy similar to renters insurance. It covers the personal property of condo owners against all 16 perils and typically also includes liability insurance.
Generally, condo insurance will extend to the walls, ceilings and floors of your dwelling, though the condo association insures the building structure under a master insurance policy. The type of plan your condo association purchases will impact your HO-6 needs.
HO-7 Mobile Home Form
This is like an HO-3, except that an HO-7 covers mobile or manufactured homes. So, it covers all perils unless named explicitly as excluded and covers personal property based on named perils, including:
Damage from aircraft or vehicles
Explosions
Explosions
Fire and lightning
Hail and windstorms
Riots
Smoke
Theft
Vandalism
HO-8 Modified Coverage Form
Are you hoping to buy a farmhouse built in the 1800s? You'll probably get an H0-8. This is an insurance policy designed for older homes.
The coverage details of an HO-8 are made with special adjustments to better suit older homes, and perils must be named in the policy to be covered.
This type of policy is usually also used for historic homes and registered landmark dwellings. Older homes are sometimes not eligible for replacement cost insurance, so the reimbursement for damages to possessions or the property would be based on the replacement cost minus depreciation.
How to get homeowners insurance coverage for excluded perils
You may have noticed that while there were 16 perils commonly listed, some of them quite specific and detailed, not every type of scenario imaginable is covered.
There are some common perils that are excluded, and you can purchase additional insurance for many of them, either as an endorsement or a separate policy.
Flood insurance coverage
While most insurance policies don't cover flood insurance, you can buy flood insurance. Because floods can be so devastating to so many, the federal government sells flood insurance through its National Flood Insurance Program (NIFP). Some private insurers do sell flood insurance, but the policy rates will be the same as through the NIFP.
If you live in a flood zone, arguably, you should get flood insurance. If you don't live in one, then it's a judgment call.
Earthquake coverage
Earthquake coverage is another one of those judgment calls. More states than just California get earthquakes. You could have an earthquake rattle your house tomorrow - or never.
There is no federal program that sells earthquake insurance, but some private insurers do sell it.
Animal damage coverage
Raccoons have eaten their way into homes. Deer and bears have managed to get inside homes. Termites can do a lot of damage. And so, you might be surprised to learn that animal damage is often not covered with homeowners insurance.
That said, you'll want to talk to your agent to discuss what type of home insurance you need -- and read the fine print. Often, animal damages are covered but not as thoroughly, perhaps as you would like. Imagine that a raccoon chews a hole through your roof and then comes into your living room and destroys your sofa and carpet.
When you talk to your insurer, you'll probably find that the hole in your roof is covered, but the destruction inside your home is not.
On the other hand, if rats chewed their way into your home or termites, you may not be covered at all - because generally, pest control - dealing with rodents and insects - is considered a homeowners responsibility. If you have mice eating their way into your home, an insurer's point of view often is that you, the homeowner, should have dealt with that by calling an exterminator.
Frequently asked questions about the types of homeowners insurance
What type of home insurance policy do I need?
Some living situations are easier to determine home insurance needs for than others. If you're renting an apartment, you need HO-4, which is homeowners insurance for renters. If you own a condo, you need HO-6. But it gets a bit more complicated if you own a home, and you want to choose between something like an HO-2 or an HO-3 or HO-5.
The general rule of thumb is that if you can't afford the best coverage, get the best coverage you can afford.
Talk with your insurance company to find out what they recommend for your specific location and needs and then ask them to help you get your best rates by looking for discounts.
What are the three basic levels of coverage for homeowners insurance?
While there are eight different homeowners insurance types, there are three basic home insurance coverage levels to assess value. We'll run through them.
Actual Cash Value
What it is: If something goes wrong, your homeowner's insurance will cover the cost of the damage to the house plus the value of your belongings after deducting depreciation.
Why it sounds good: Some of the replacement or repair of your home and personal belongings will be covered.
Why it may not be as good as it sounds: The key words there are that you'll get the value of your belongings after deducting depreciation. So, the refrigerator that came with the house that you bought in 1997? You'll get money to replace the cost of a very old refrigerator - and not money that will buy a refrigerator in today's dollars.
Replacement cost
What it is: If something goes wrong, your home insurance will cover the actual cash value of your home and possessions without the depreciation deduction.
Why it sounds good: Because it is good. You will be able to fix or replace your home or belongings in today's dollars.
Guaranteed (or extended) replacement cost/value
What it is: If something goes wrong, your home insurance will cover whatever it costs to repair or rebuild your home.
Why it sounds good: Because, again, it is good. You don't have to worry about yesterday's dollars. You don't have to worry about inflation, which can happen with construction prices, especially after a natural disaster. If your home needs to be rebuilt, or many belongings need to be replaced, everything will be replaced, pretty much no matter what the cost. (We say "pretty much" because you'll want to check the fine print.)
What is the difference between homeowners insurance policy types and homeowners insurance coverages?
Great question! Home insurance policies come in different types like HO-3, HO-6 and others we've discussed here. The policy type explains what perils are covered or not covered, whether named or named-exclusions.
Home insurance coverage types may vary by policy type. For example, renters' policies and condo policies do not include dwelling coverage. Standard homeowners insurance policies generally include:
Dwelling coverage
Liability coverage
Personal property coverage
Additional living expenses
Medical payments to others
Homeowners insurance policies and policy forms
In short, when it comes to the different types of homeowners insurance coverage, you don't need to be an expert, but it pays to know the lingo. By now, you've probably narrowed down what type of home insurance to buy. This means that you can go into conversations with insurance companies empowered with the knowledge to get the home insurance coverage you need at the best rates.
Sources:
See How Much You Can Save
See How Much You Can Save
Helpful Home Insurance Articles & Guides