Why you should trust Insurance.com
Insurance.com is dedicated to informing, educating, and empowering you to make confident insurance decisions. Our content is carefully reviewed by insurance experts, and we rely on a data-driven approach to create unbiased, accurate insurance recommendations. Insurance.com maintains editorial integrity through strict independence from insurance companies.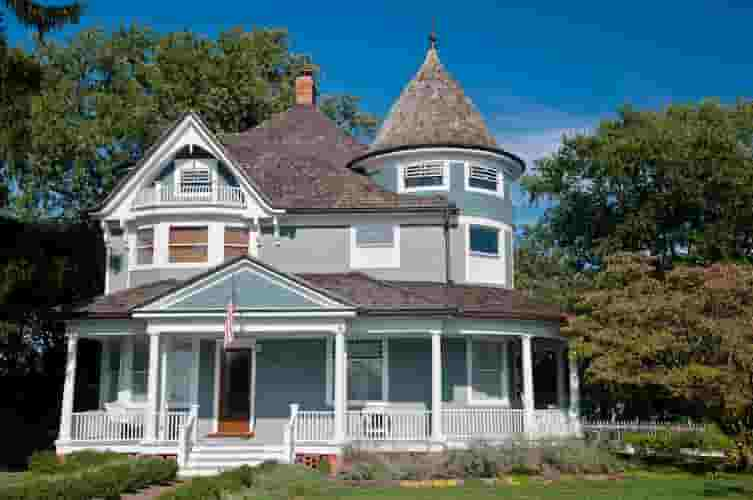 Finding homeowners insurance for an older home is a bit more challenging, but there are options. Age is one of a few reasons a home might be hard to insure. Fortunately, there are companies and specialty policy types that are designed for the needs of hard-to-insure homes.
Read on for advice on insuring an older home or what to do if you're having trouble finding insurance for other reasons.
Why does it cost more to insure older homes?
"Older homes are much riskier to insure than newly-built homes because they were constructed with materials that are less resistant to fire and impacts of severe weather events," says Mark Friedlander, director of corporate communications at the Insurance Information Institute.
He adds that most older structures were also built according to now-obsolete construction codes, which pose safety hazards.
"Many older homes contain outdated electrical wiring and antiquated plumbing, which can create all types of hazards. And typically, the replacement costs for an older home run much higher than the market value of the property," Friedlander says. "That's why insurers consider them an underwriting risk and charge a higher premium compared to newer construction."
What else makes a home hard to insure?
Risks on and around the property can make a home harder to insure, even if it's not very old. First of all, signs of disrepair are a red flag for insurance companies. This often goes hand-in-hand with the age of a home, as older homes often see more wear and tear and repairs can be hard to keep up with.
Risks like broken-down cars or other potentially dangerous items on the premises can also make an insurance company think twice. While a swimming pool is a risk, it doesn't usually make a home hard to insure if it's fenced properly and well maintained.
Location may also be part of the reason it's hard to find insurance; a home in a high-risk flood zone or the path of hurricanes may be difficult to insure. This is common in Florida, where hard-to-insure homes are often located along the coast.
What is an HO-8 policy for an older home?
An HO-8 policy is designed for homes that don't qualify for a standard home insurance policy (called an HO-3). It is specifically for older homes, usually those over 40 years old.
"This type of plan is easy to understand and typically affordable," Friedlander says. "It will safeguard older homes for common hazards included in a standard homeowners policy."
An HO-8 policy is a named perils policy, meaning anything not specifically listed in the policy is excluded. Among the perils covered in an HO-8 policy are:
Fire
Smoke
Windstorms
Hail
Lightning
Aircraft
Vandalism and malicious mischief
Theft
Riots and civil disturbances
"But an HO-8 policy usually does not cover water damage caused by things like a burst pipe or leaking roof, flood damage, falling objects, power surges or earthquakes," Friedlander says.
That means the coverage is more limited than that of an HO-3.
Coverage options for older homes
Underinsuring is one of the biggest mistakes homeowners make with older homes. If you want to insure an older home appropriately, consider these options.
Upgrade to replacement cost. An HO-8 policy is an actual cash value policy, meaning it calculates your home's value with depreciation included. However, your home may qualify for an upgrade to replacement cost coverage, which pays for reconstruction at today's prices.
Water and sewer backup coverage. This helps pay to repair damage from a backed-up drain or sump pump.
Service line coverage. This protects against unexpected expenses related to the damage of service lines, such as phone, cable lines, power lines and water and sewer pipes. "It also covers the potentially costly expenses of excavation and repair of underground wiring and piping," Friedlander says.
Building code coverage. This helps cover additional construction costs if your older home's damaged parts must be repaired to meet current building codes.
Flood insurance. Flood insurance isn't included in a standard home insurance policy. "Most communities across the country are at risk of flood, as 90% of U.S. natural disasters involve flooding," says Friedlander, who adds that flood coverage is available through FEMA's National Flood Insurance Program and dozens of private insurers.
How much is insurance for an older home?
Friedlander says insuring older homes can be expensive and typically runs much higher than newer structures.
"It's not uncommon to see premiums for older homes at 75% or more above the rate for newer construction in the same market," he says.
One strategy for saving on your insurance premiums for an older home is to adjust your deductible to a higher amount if your insurer allows it. Higher home insurance deductibles usually mean lower premiums.
"A traditional policy deductible is either $500 or $1,000. Increasing that to $5,000 may save you as much as 20%," Friedlander says. "However, you will be responsible for fixing small problems. Still, you will be protected if you lose your older home to a peril defined in the policy."
Best homeowners insurance companies for older homes
There are a lot of companies that will insure older and harder-to-insure homes, including big-name companies. However, since every home is different, choosing the best home insurance company means finding what's right for you.
Among the home insurers that will cover older homes are:
State Farm
Allstate
Farmers
Travelers
You may need to find a specialty insurance company for your home. Some of the best-known companies that write specialty home insurance for hard-to-insure homes are:
Foremost
American Modern
Assurant
Home insurance for hard-to-insure homes
There are other reasons you might have trouble getting insurance for your home. As mentioned above, they can include the location of your home or incomplete repairs. If you've been turned down for home insurance, you have some options, regardless of the reason.
Homes in disaster-prone areas
Whether you're on the coast of Florida or in a wildfire-prone part of California, there are some parts of the country where the risk of serious damage to your home is a lot higher. Insurance companies will either charge higher rates in those areas or may decline coverage altogether.
Both Florida and Louisiana have seen homeowners insurance rates skyrocket in recent years, and severe hurricanes are part of the reason. Both states have an insurer of last resort, Citizens, which will insure homes that are either turned down on the open market or quoted exorbitant prices.
In any state, homeowners can reach out to the department of insurance for help finding home insurance through what's generally known as a FAIR plan (the exact name may vary by state). These plans are in place to guarantee every home can be insured.
However, there are also steps you can take to get insurance on the standard or even specialty market. Upgrading your home with storm-resistant materials like hurricane shutters and hail-resistant roofing materials can make it easier to get insurance and even earn you a discount.
Homeowners insurance for homes in need of repair
It can be more challenging to get home insurance coverage if your house needs repairs. The best thing to do is to get repairs done as quickly as possible. However, some repairs may take time, and you need insurance during construction.
"Fixer-upper-type homes are considered a higher risk for insurance providers," says Chris O'Rourke, former vice president of property claims at Mercury Insurance. "The process of fixing up a home comes with its own insurance risks, such as structural problems with the house itself or risks that come with any construction, in addition to the usual losses homeowners insurance covers -- such as fires or windstorms."
Homes that are under construction or need a lot of work may not qualify for a standard home insurance policy. There are specialty policies available for a home that is being renovated.
"When you request a homeowners insurance quote on this type of home, the carrier will often require an in-person inspection. They will notice the issues in need of repair and require you to make the needed repairs to obtain a policy," says Stacey Giulianti, chief legal officer for Florida Peninsula Insurance Co. "Or, you may be required to purchase a builder's risk policy or a similar type of higher-risk coverage."
Alternatively, "the insurance company may cover your home but exclude the parts of the home that need to be repaired," says Heath Ritenour, Chairman/CEO of Insurance Office of America in Longwood, Florida.
Homes with a lengthy claims history
Even claims filed before you bought a home can affect your insurance rates. A history of many claims may indicate a risk on or around the property that increases the chances of future claims.
To find out if there have been past claims, you can request a CLUE (Comprehensive Loss Underwriting Exchange) Home Seller's Disclosure Report, which has information on the insurance claims filed for the home over the past five years.
A history of multiple claims could indicate major maintenance or structural problems with the home.
What to do if you can't find home insurance
Most states have Fair Access to Insurance (FAIR) plans, five coastal Southern states have beach and windstorm plans and Florida and Louisiana have state-run insurance companies that offer hybrid homeowners insurance plans. Citizens Insurance provides homeowners insurance in Florida for older homes, as well as for other high-risk homes.
Florida has by far the most insurance policies covered under these plans, which has shown significant growth over the past year due to the volatility of the state's private property insurance market, according to Friedlander.
If you can't find home insurance on the open market for an older home or for other reasons, you can contact your state's insurance department for information on the FAIR plan. A FAIR plan will assign an insurance company to cover your home; however, there are still eligibility requirements for these plans.
To make it easier and cheaper to get home insurance, complete updates and repairs on your home as quickly as possible.
See How Much You Can Save
See How Much You Can Save
Helpful Home Insurance Articles & Guides