Why you should trust Insurance.com
Insurance.com is dedicated to informing, educating, and empowering you to make confident insurance decisions. Our content is carefully reviewed by insurance experts, and we rely on a data-driven approach to create unbiased, accurate insurance recommendations. Insurance.com maintains editorial integrity through strict independence from insurance companies.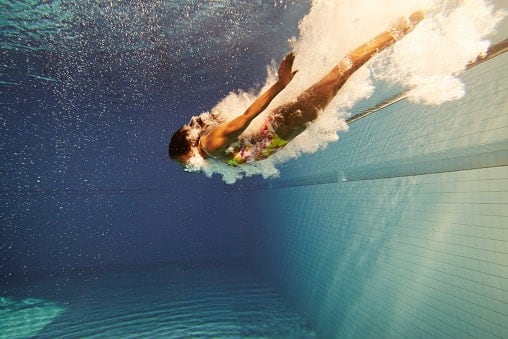 Whether you're buying a home with a pool or adding a new one in your backyard, you need to make sure your home insurance company knows. A homeowners insurance policy will cover you for the risks associated with a pool, but you might want to tweak some coverage,
A pool is both an expensive investment and a liability risk, so you need to make sure you have enough coverage
Key takeaways
Swimming pools are covered by homeowners insurance, but if you install a new one you need to inform your insurer.
Increase your liability coverage if you have a pool in case someone is injured while swimming.
An in-ground pool is covered under other structures coverage, but an above-ground pool may be considered personal property.
Does homeowners insurance cover a pool?
Pools are usually covered under the "other structures" portion of your home insurance policies. Homeowners insurance typically covers other structures up to 10% of your dwelling coverage.
If your home is insured for $300,000, your other structures coverage would be $30,000. You can increase other structures coverage for an added cost if 10% is not enough. The cost to increase other structures coverage is usually minimal (about $5 per $1,000 of coverage).
A pool creates an increased risk of injury on your property. The homeowner is responsible for anyone who uses it – even a stranger who decides to jump the fence and cool off in your pool.
The liability portion of your insurance policy will cover you if something goes wrong in your pool, but you have to inform the insurance company that the home has a pool, or a claim could be denied.
The standard liability coverage on a homeowners policy is $100,000. Expert recommend increasing that to at least $300,000, but with a pool it's wise to increase that coverage even higher.
If you want even more coverage, you could purchase an umbrella liability policy. Umbrella insurance covers you above and beyond the limits of the home insurance policy, and starts at $1 million.
What are the requirements for swimming pool insurance coverage?
Insurers require that pools are in compliance with local regulations, such as having a fence to keep people from entering the yard. If you don't have the correct requirements in place, your insurer could refuse to cover the pool.
You'll also want to check with your insurance company about whether pools with slides and diving boards are excluded from your home insurance policy. Some insurers do not provide liability coverage for injuries involving a diving board or slide.
What type of swimming pool damage is covered by insurance?
Home insurance policies usually cover pool damage caused by:
Trees falling
Vandalism
Storms
Home insurance doesn't typically cover pool damage caused by:
Neglect, such as leaving water in the pool over the winter, which can cause cracks
Wear and tear, such as foundation cracks and lining rips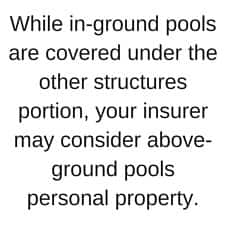 It's important to note that some detached structures are covered at replacement cost. This means the policy will pay to repair or replace the building. However, other structures that are not buildings, such pools, will be covered at actual cash value, which takes into account depreciation and age. In that case, you're not going to get what the item was originally worth. In other words, you will likely not get the full value for your $20,000 in-ground pool if it's damaged.
While in-ground pools are covered under the other structures portion, your insurer may consider above-ground pools personal property. The company may view an above-ground pool as not being a permanent structure because it can be removed and installed somewhere else.
In that case, your above-ground pool would be covered under personal property, which is the same as furniture and jewelry. Check with your insurance company to see if there is a claim limit for swimming pools. If there is a limit, you may want to purchase additional coverage.
Avoid a swimming pool liability claim
Pools are a great way to stay cool and have fun, but they are also risky.
Once you have your insurance squared away and it's time to use your pool, you will need to be extra vigilant when children are in the pool. The U.S. Consumer Product Safety Commission offers these pool safety tips for parents:
Stay within arm's reach at all times in and around the pool.
Assign an adult water watcher.
Fence your pool with a four-foot or taller fence with self-closing or self-latching gates.
Install pool and gate alarms.
Learn how to swim.
Learn CPR.
See How Much You Can Save
See How Much You Can Save
Helpful Home Insurance Articles & Guides