Damage or loss from power outages is ordinarily covered under your homeowners policy if the power outage occurs on your property and isn't general and widespread.
Does homeowners insurance reimburse for food lost in a power outage?
It doesn't take long for food to spoil when you lose power. The USDA estimates it takes only four hours for meat, poultry, fish, eggs and leftovers to go back when you lose power.
Does loss of use cover power outage losses? Homeowners insurance will likely cover you if you lose a freezer full of food when your power is out. However, insurance coverage for power outage losses varies by insurer and your policy.
The various factors which decide upon the reimbursement for food loss in power outage:
Your loss may not be covered if the outage is widespread and didn't originate on your property.
If your insurer covers off-premises loss of power, the outage's cause must be covered under your policy. For example, your policy may cover you if a wind storm caused the outage, but not cover you if a flood caused the power loss.
If your insurer excludes damages from an off-premises power loss, you can buy a special endorsement for food spoilage caused by any power outage. It's not commonly purchased, but it's inexpensive, between $15 and $50 per year.
Coverage that's included with your homeowners policy is typically limited to $250 or $500 per occurrence. It often isn't worth filing a claim for relatively small amounts, unless the food spoilage is just part of a larger claim for the same event. Filing more than one homeowners insurance claim within 10 years can cause your premiums to increase. Multiple claims in a short period can result in an insurer canceling the policy.
Insurers may categorize claims associated with hurricanes or large storms as catastrophic. In those cases, an insurer may disregard a food spoilage claim when you renew your insurance.
You don't have to save the spoiled food as proof of your loss, but it's a good idea to photograph it before throwing it out.
For refrigerator malfunctions not caused by a general power outage, a home warranty or your appliances guarantee might cover food spoilage, and filing a claim with them won't increase your homeowners insurance rate.
Not all policies cover damage (including food spoilage) due to widespread power outages that are the fault of your power company.
Because so many variables depend on your individual carrier and policy, don't make any assumptions about your power outage coverage. Read your policy carefully, to see if food spoilage is specifically excluded within your list of exclusions. If you're still uncertain about whether or not you're covered, contact your insurance agent and ask him or her to explain your protections.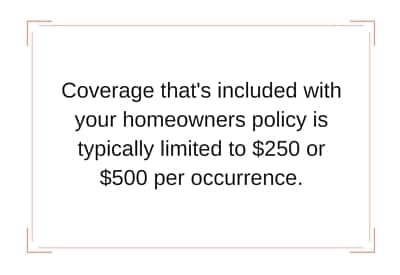 Check with your power company to determine whether or not it will reimburse your insurance deductible, food spoilage or other damage you can attribute to a power outage. Some may, depending on the reason for the outage.
Food spoiled from widespread power outages typically not covered in Florida
"In Florida, the typical policy does not cover food spoilage from an area-wide outage. Most policies are written to cover power outage caused by on-premises damage which hinder the ability of the home to receive power. For example, a tree falls and pulls down the power line which leads into your home. In that case, the food spoilage would generally be covered, although most policies contain a fixed dollar limit for those types of losses. Moreover, if due to a hurricane, that specific deductible may apply, which on average represents 2% of your home's physical value," says Stacey
Giulianti, co-founder of and legal officer for the Florida Peninsula Insurance Company based in Boca Raton.


Does renters insurance cover food spoilage?
Typically, renters insurance covers the loss of food from either a mechanical or power failure in your rental. The coverage is under the personal property portion of your renters insurance coverage.
Does power outage insurance cover electronics?
Is electronics covered in the power outage insurance claim? If you don't have surge protectors for all of your expensive electronics, get them now and unplug your prized electronics during thunderstorms. Whether or not your insurer covers power surge damage, prevention is still the best strategy.
If, despite your best efforts, a power surge destroys your electronic equipment, you might be covered and be able to file a power surge damage claim. It depends on the cause of the power surge and your coverage.
Damage to electronics falls under personal property coverage. According to the Insurance Information Institute (III), personal property damage from lightning strikes is covered under basic and broad homeowners insurance policies. Damage from power surges caused by the "sudden and accidental damage from artificially generated electrical current (does not include loss to a tube, transistor or similar electronic component)" is covered by all except H0-8 and Basic H0-1 home insurance policies.
Most policies limit personal property reimbursement to between 50% to 70% of the dwelling coverage amount. While your family's entertainment system should be covered, many policies limit amounts for electronics designed to be used in a vehicle and property used in a business, according to the National Association of Insurance Commissioners. If you have a home office, your computer might not be fully covered. If you have expensive business electronics, consider purchasing additional coverage for them.
Does power outage insurance cover hotel expenses?
No, homeowners insurance doesn't cover additional living expenses if you can't stay in your home due to a power outage, says Loretta Worters, vice president of media relations for the III.
However, coverage for additional living expense would be covered if there was damage done to the property (for example a tree falls on the home and it is exposed to the elements.)
Does power outage insurance cover burst pipes?
Yes, homeowners insurance should cover you if a power outage shuts down your heating system and causes your pipes to freeze and burst, resulting in water damage.
"Freezing of a plumbing, heating, air conditioning or automatic, fire-protective sprinkler system, or of a household appliance" is included in all but the most basic H0-1 policies and H0-8 policies, according to III.
But while damage caused by the busted/frozen pipes would be covered, including any personal property that might get ruined, the actual pipe itself would not be covered in the claim, only the damages, says Brad Harrell, owner and agent at the Harrell Insurance Agency, based in Fort Worth, Texas. "The same goes for any other types of water claims, for example when a water heater bursts," he says. "The water heater wouldn't be covered, but damage caused by the burst would be, flooring, walls, personal property and so on."
However, if your pipes burst because you neglected to leave the heat on while you took a vacation, or you forgot to pay your power bill, that's your problem. Prevention is the way to go, by insulating pipes, draining your hoses and setting the thermostat no lower than 55 degrees.
Leaving town? Shut off the main water supply and drain the system by opening all faucets and flushing the toilets.
Does power outage insurance cover generators?
If you live in an area prone to extended power outages, it may make sense to get a gas generator for emergencies. But does having one affect your insurance rates or reimbursement amounts?
The first thing you need to understand is that there are two different kinds of generators:
Portable. Portable ones should never be run indoors because of fumes and other hazards (gasoline and motors). These are fine for short periods, perhaps running a few appliances. Having one might make you a little more comfortable during an outage, but won't affect your insurance.
Permanent. For full protection in an outage, you'll want an automatic standby generator. This is a permanent installation, powered by natural gas or propane. In a power outage, it fires up automatically. It's not a cheap system, however. The unit itself costs between $2,500 and $10,000, and installation -- connecting it to your electrical system and gas or propane line -- can add several thousand more. Your reward, in addition to retaining your customary lifestyle while your neighbors are sitting in the dark, may be a small discount on your homeowners insurance. Savings of up to 5% may be available to those with permanent generators. So, if you need a generator to keep a home-based business going, enhance your property value or just eliminate a source of worry, go for it. Just don't expect to save much on your homeowners insurance.
Saving on home insurance
No one wants to pay more than they have to for homeowners insurance. You can find lower-priced policies by shopping online, which allows you to compare insurance quotes easily. Other strategies include:
Deductible. Raise your deductible. Experts recommend that you limit the number of claims you file, anyway. So why pay for the right to file smaller claims when you probably won't file them anyway?
Bundle. Shop all your coverage at once, so you can save by bundling multiple policies with one insurer.
Good credit. Pay your bills on time. Most insurers include your credit score in their pricing formulas.
Avoid preventable claims. Maintain your home's systems, winterize, unplug electronics in severe storms, insulate your pipes and move your food to a cooler filled with ice during outages.
Prevention is a big part of saving on homeowners insurance. By taking care of your insurer, you're taking care of yourself.