Why you should trust Insurance.com
Insurance.com is dedicated to informing, educating, and empowering you to make confident insurance decisions. Our content is carefully reviewed by insurance experts, and we rely on a data-driven approach to create unbiased, accurate insurance recommendations. Insurance.com maintains editorial integrity through strict independence from insurance companies.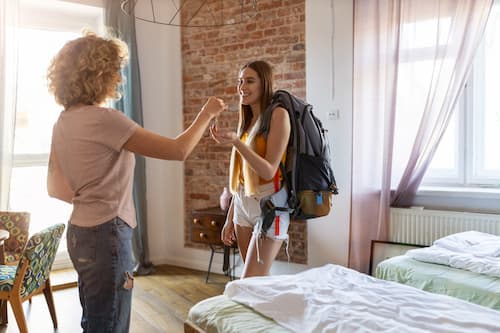 Have a property you're eager to use as a short-term rental? Before you list it with Airbnb or another vacation rental service, it's important to consider what is and isn't covered by insurance.
Your existing policy may safeguard you from many types of claims. Or you may need to obtain special home-sharing insurance coverage. You can also take advantage of included Airbnb insurance.
Before you hand over the keys to your home to a short-term tenant, make sure you understand all of the risks, what's covered by home insurance, and what additional insurance you need for an Airbnb.
Key takeaways
Make sure to review the Airbnb terms of service and speak with your home insurance company before renting out a space on Airbnb.
Airbnb's AirCover host protection insurance provides $3 million for property damage and $1 million for liability
Your insurance company may offer an endorsement to further protect you and your home,
How does Airbnb work with homeowners insurance?
Your existing homeowners insurance policy may protect you and your renter from claims or lawsuits related to things like a visitor injuring himself on your property. But then again, it may not.
You'll want to know whether your homeowners policy restricts coverage. Cynthia Heffernan, personal lines supervisor for The Dowd Agencies, says most homeowners insurance limits how often you can rent your residence.
"It is usually limited to six weeks a year. This can be problematic, especially for Airbnb hosts with properties on the coast or mountains where vacation rentals are common," says Heffernan.
Heffernan notes that, if you rent more often than six weeks, your insurance carrier may limit your coverage or exclude coverage for both property and liability.
"This became a bigger issue recently, as evidenced in some states. For example, Massachusetts recently passed legislation requiring $1 million in liability coverage if you were renting your house out via Airbnb and other home-sharing networks," she says. "But not all carriers will increase your homeowners liability limit to $1 million. And you are still subject to the limited rental weeks allowed by your carrier."
Caleb Liu, a real estate investor and owner of House Simply Sold, says what is covered by your homeowners insurance depends on the specific coverage.
"Insurance on a primary residence is different than landlord insurance covering a long-term rental. And the latter is different than insurance on a short-term rental business," he says. "A claim being filed due to the property being used on a short-term basis will most likely be denied if you do not have short-term rental insurance or a specific rider in your policy."
Does homeowners insurance cover your Airbnb?
If you rent your home only sporadically, you may find your current homeowners insurance coverage is sufficient, but it's important to discuss it with your insurance company and find out if you need more coverage.
Airbnb also offers built-in coverage for hosts, called Aircover. With that coverage and your home insurance, most potential risks should be covered.
A recent Insurance.com of 232 people who rented out their home found that 52% said they bought the host company's insurance plan, while 37% bought both the host company's plan and a rental endorsement. Twelve percent said they only relied on their standard home insurance coverage.
We found that many people said they've filed a claim. Forty-one percent said they filed a claim through the host company insurance plan and 28% filed a claim through their home insurance company and host company plan.
For those whose claims exceeded Airbnb's limit, 69% said they used their own rental endorsement insurance to help pay, while 28% used both an endorsement and paid out of pocket.
What is AirCover?
AirCover is Airbnb's host protection insurance provides $1 million in primary liability coverage to the host if guests or third parties are injured or incur a loss while staying at your property. It also includes $3 million in damage protection for the host's property.
Airbnb's coverage here "will only act as the primary insurance coverage for incidents related to an Airbnb stay, but it's available to hosts regardless of their other insurance arrangements." The good news is that this coverage is provided automatically at no cost to you.
Here are two examples of when Host Protection Insurance should cover these claims:
A renter breaks her leg after tripping on your home's stairs.
A guest accidentally injures a non-guest on the property.
"This $1 million protection will be the primary policy should a bodily injury liability claim occur while a guest is staying in the home," explains Heffernan. "But remember, this is not technically 'your' policy as a host. Your insurance carrier is protecting you under the Airbnb protection. But the primary client is always Airbnb. Sometimes, your own insurance coverage provides better protection for you."
AirCover's damage protection covers:
Damage to your home and contents
Art & valuables
Auto & boat
Pet damage
Income loss
Deep cleaning
Does Airbnb have insurance for guests?
Airbnb offers a version of AirCover for guests, which offers them several guarantees about the rental. However, it doesn't cover any guest property or injuries. This coverage is provided by the host AirCover or by the guest's home insurance, which will cover their property anywhere in the world.
What is Airbnb Experiences liability protection?
Airbnb experiences are tours, events and activities that are hosted or guided by Airbnb hosts. AirCover includes $1 million in liability if a guest or third-party gets hurt or your property is damaged during a covered experience. This protection is also automatically included gratis, but only for "covered experiences."
"This is liability protection for when you, the host, also take the guest on experiences or excursions. For example, if a host with horses takes the guest on a trail ride and the guest is injured," says Heffernan.
But this protection doesn't cover:
Bodily injury or property damage resulting from a non-accident (something done intentionally)
Damage to your personal property and stolen or missing items
Experiences involving mobile equipment and aircraft
"Based on the descriptions provided, Experience Protection Insurance seems to exclude any extreme sports or activities involving moderate to high risk of bodily harm," says Liu. "Hosts should contact Airbnb to confirm in writing if their specific experience is covered."
How much is Airbnb insurance?
AirCover is provided by Airbnb to hosts at no additional cost but it is stated on the website that this is not to replace an insurance policy.
Condo owners and Airbnb insurance
Airbnb doesn't exclude hosts from using a condominium property. But your condo homeowners association (HOA) may have its own rules prohibiting you from hosting short-term rental guests.
"Condo owners should read through the HOA covenants, conditions and restrictions," Liu says. "Many condos restrict the maximum number of units that can be used for long-term rentals, let alone short-term rentals."
Consult your HOA and review its rules carefully. Also, talk with your homeowners insurance agent to confirm what's covered and what's not. It's possible that your HOA's insurance may provide coverage for you, your property and your guests.
Renters and Airbnb insurance
If you lease an apartment or other property and are seeking to rent it out as an Airbnb host, think twice. Many landlords and leases don't allow this, which may be considered a "business activity" conducted on the property. Break these rules and you could be fined or evicted.
But if your lease and landlord permit it, Airbnb's AirCover insurance should protect you and the property you're renting out.
Home sharing insurance alternatives for Airbnb
As discussed, your homeowners insurance policy and/or Airbnb's included protections may not fully cover you and your guests. That's why it's smart to investigate supplementary or alternative insurance products.
"Ask your homeowners insurance agent if you can add a rider to cover short-term vacation rentals," Liu says. "Or, ask if an umbrella policy is appropriate and can specifically cover claims on a short-term rental."
Liu says some companies offer or even specialize in short-term rental coverage; these include Allstate HostAdvantage, Proper Insurance and CBIZ.
But be prepared for sticker shock.
"The range of premiums can be extreme depending on the policy provider and the location of the property. I've seen quotes as high as $3,000 per year for a short-term rental policy. For comparison, typical landlord policies for a traditional long-term rental run from $500 to $1,200," Liu says.
If you aim to rent out your home for brief periods consistently to guests, "your homeowners insurance carrier may consider this activity a business," Ruiz says. "Standard homeowners insurance policies don't include coverage for business activities carried out within the home. You may need to buy a separate business insurance policy to be properly covered."
What if your Airbnb host property is a second/vacation home?
"In this case, your homeowners policy for your second home will probably provide the same types of coverage as your primary homeowners policy," Ruiz says. "But factors, such as location, age, type of building materials, amenities like a pool or hot tub and residency type -- single-family detached home versus a condo or townhome -- will likely impact your insurance costs."
Ultimately, if you plan to rent your second home to others, "your homeowners insurance costs will likely increase, and you may need to purchase additional coverage," Ruiz says.
Airbnb rules and laws
It's important to know what the laws are in your area regarding vacation and short-term rentals. Some cities may have bylaws restricting them.
Liu says some cities require a business license or restrict the maximum number of days the property can be rented out on a short-term basis. If your city outright bans short-term rentals, don't try to skirt these rules.
"In this event, you can kiss any insurance coverage goodbye," says Liu. "If a liability occurs on your property, you likely wouldn't be covered."
When it comes to using Airbnb, it's best to play by the rules.
"Always inform your insurer about how your property is being used," says Liu. "Insurance coverage is contingent upon certain terms and conditions. If any of those are violated, coverage is likely to be denied."
Also, "do not misrepresent how the property is being used to your insurance company," says Liu. "Any material misrepresentations will nullify that protection."
Lastly, aim to have someone rent the property at least once a month if you can.
"Most companies charge a premium if the place is vacant for extended periods," says Griffiths.
What is the best insurance for Airbnb hosts?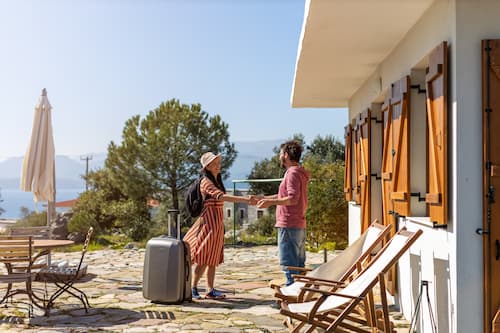 First, review the insurance protection provided by Airbnb to hosts. Then consider a home-sharing endorsement through an insurance provider to fill the gaps. What is best for someone else may not be best for you depending on your situation. Some of the best home insurance companies that offer home-sharing endorsements or standalone policies are Allstate, Erie, Progressive and Liberty Mutual.
See How Much You Can Save
See How Much You Can Save
Helpful Home Insurance Articles & Guides