Why you can trust Insurance.com
Insurance.com is dedicated to informing, educating, and empowering you to make confident insurance decisions. Our content is carefully reviewed by insurance experts, and we rely on a data-driven approach to create unbiased, accurate insurance recommendations. Insurance.com maintains editorial integrity through strict independence from insurance companies.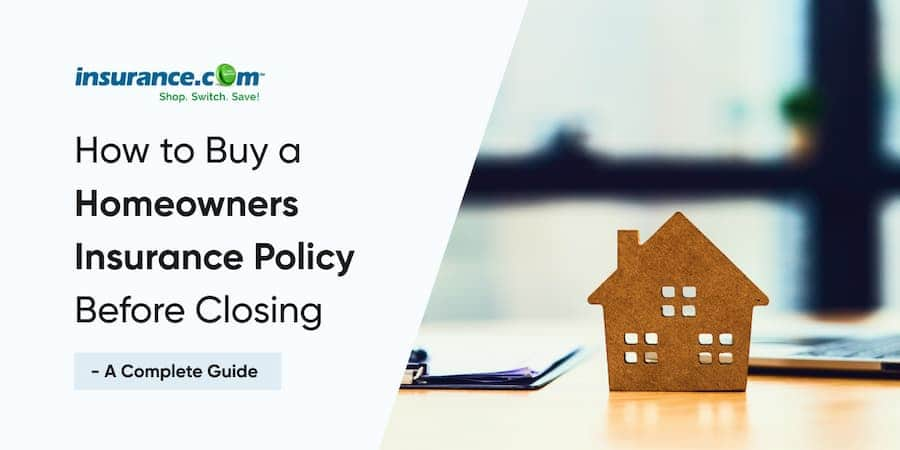 Mortgage lenders require you to have home insurance before closing on your mortgage.
Lenders want you to have homeowners insurance since they view your home also as an investment. They're putting up money to help you buy the home, so you want to make sure it's protected.
Mortgage lenders typically demand that you have home insurance during the life of the loan. You could technically drop homeowners insurance after paying off your mortgage, but it's still wise to keep coverage.
How to buy a homeowners insurance policy before closing?
It's a good idea to start shopping for homeowners insurance while you're house shopping.
A good place to begin is checking with your car insurance company. Don't stop there, though. It's also wise to shop around. You'll want to get home insurance quotes from multiple insurance companies. Check our Best Home Insurance Companies.
Home insurance rates vary by company, so get multiple quotes for the same coverage level.
Insurance companies often let you bundle home and auto insurance policies -- and you get a discount. The average bundled policy discount is 18%, which is one of the largest home insurance discounts. Home insurance companies' discounts differ, so make sure that they include them when getting you a quote.
It's also wise to ask each insurance company about other discounts. Home insurance companies usually cap discounts at a level, such as 30%.
Other types of home insurance policy discounts include:
New construction
Electrical, plumbing and heating upgrades
Fire resistive
Roof upgrade
Loyalty
Paid in full
Fire protection
Burglar protection
You'll also have to choose a deductible. The deductible is what you pay after you file a home insurance policy claim.
Here's an example:
Let's say you have a $1,000 deductible.
Your home suffers $5,000 worth of damage and you file a claim.
The insurance company investigates and approves the claim.
The company writes you a check for $4,000 and you handle the other $1,000.
The higher the deductible, the lower the home insurance premium. No matter the homeowners insurance deductible, make sure you have that amount tucked away so you'll have it when you file a claim.
How much homeowners insurance coverage do you need? It depends on the value of your new home and your belongings.
Let's take a look at the different parts of home insurance.
Dwelling coverage
Dwelling coverage is the part of a homeowners policy covering your home and other buildings on your property if they're attached to the home. A policy's Other Structures coverage covers buildings not connected to the home, such as a detached garage or a shed.
Home insurance protects against covered perils in your policy, including:
Fire
Smoke
Lightning
Theft
Snow
Vandalism
Explosion
Wind and hail
How much dwelling coverage do you need? The insurance professional will analyze the property and surrounding area to figure out the value of rebuilding the home if it's damaged.
Personal property
A homeowners policy also covers your possessions. Take an inventory of your belongings, including:
Computers
Electronics
Furniture
Clothing
Valuables
A homeowners insurance policy generally sets a personal property coverage limit at 50% to 70% of the dwelling coverage. So, if you have $400,000 dwelling coverage, you'll likely be able to get at least $200,000 in personal property coverage.
Make sure to keep an inventory of your belongings in a safe place. Jot down the items, including applicable make, model and serial numbers. Take photos of the contents, too.
You may want to keep a copy in your home and another at a friend's house or in a bank box. Another option is to post the list on a cloud-based service.
You'll also need to decide whether to get replacement cost coverage or actual cash value. Replacement cost coverage reimburses you for the full price of any stolen or damaged belongings. So, if your $2,000 computer gets stolen, the insurance company will pay you the full $2,000 if you have replacement cost coverage.
Actual cash value only provides for what the items were worth at the time of loss, including depreciation. That means a three-year-old computer that you bought for $2,000 is worth much less.
Replacement cost coverage is pricier than actual cash value. That said, you can replace those lost items faster if you get replacement cost.
Also, if your belongings exceed the available personal property coverage, you may want additional coverage. You can get policy endorsements that can cover more expensive items like jewelry.
Liability
Homeowners insurance's liability coverage protects you if someone gets hurt on your property and for liabilities when you're not at home.
Common types of liability claims are dog bites, fails and damaging a neighbor's home. Liability coverage can also protect you if you're sued for libel or slander. The coverage won't help if the act was intentional.
Liability coverage includes:
Bodily injury -- Covers you if someone gets injured on your property.
Property damage -- Covers you if you damage someone else's property.
Homeowners insurance often provides between $100,000 and $500,000 of liability coverage. It's wise to get at least $300,000.
Liability coverage protects your assets, so think about what you own and could be at risk if you're sued. If you find you need more than $500,000 in liability insurance, you can get a separate umbrella insurance policy. Umbrella insurance provides extra liability insurance of $1 million or more.
Additional living expenses
Additional living expenses coverage provides reimbursement if you need to live elsewhere after a covered peril, such as a fire, damages your home.
This coverage reimburses for lodging, food, gas mileage and other related expenses.
Additional living expenses coverage is in place to help you maintain your lifestyle while you're away from your home.
However, it's limited to a certain number of days. Check the policy for the limit.
When should I get homeowners insurance before closing?
You should try to have a home insurance policy in place a couple of weeks before closing. That way, the coverage will be set and if there are any issues with the policy, you can clear them up before your closing date.
Getting a homeowners insurance policy doesn't take long. You just need to know what coverage you want and the insurance professional will take it from there and get you a quote.
Generally, mortgage lenders want you to have proof of homeowners insurance at least three business days before the closing date of your new home. Some insurers demand proof of coverage weeks before closing to allow the lender to review the policy.
What home insurance information you'll need at closing?
You'll want to start looking for home insurance before your closing.
Your mortgage lender will likely want:
A homeowners insurance policy that provides enough coverage if your home is damaged or destroyed in a fire, storm or other covered perils. That coverage includes enough insurance to rebuild your home completely if it's destroyed.
A mortgagee clause that the homeowners insurance company can't cancel a policy without a 30-day notice to the lender.
Proof of coverage, which includes a certificate of insurance and policy declarations page.
That's not all. Your mortgage lender may also want these items:
A pest inspection to make sure they're not destroying your home.
Septic and well letter if your systems aren't connected to the municipal systems.
Judgment or lien release.
Construction lien waivers.
Proof of other types of applicable coverage, including flood, earthquake and windstorm insurance. The lender will let you know if it requires additional coverage.
If your new home is in a flood zone, lenders may demand a separate flood insurance policy. Flood insurance covers you for flooding that comes from outside the home. The National Flood Insurance Program (NFIP), administered by the Federal Emergency Management Authority (FEMA), and private insurance companies offer flood insurance.
Homeowners insurance doesn't cover you for flood damage that comes from outside your home. Still, it will likely cover damage caused internally, such as a burst water pipe or malfunctioning dishwasher.
Is homeowners insurance paid in advance?
Mortgage lenders often want you to pay the full first year of homeowners insurance.
Having homeowners insurance paid at closing means mortgage lenders are assured that your first year is paid up and the home is properly covered.
Is homeowners insurance included in closing costs?
Homeowners insurance is part of closing costs.
Closing costs include:
The first year of homeowners insurance
Loan fees
Title insurance
Property tax
Escrow fee
Attorney fees
Appraisal and survey fees
Closing costs usually range from 3% to 5% of your mortgage. Lenders give a loan estimate after you submit a mortgage application. The estimate shows you the expected closing costs. You'll also receive a closing disclosure just before closing that will provide the final closing costs.
You usually have to pay closing costs with a cashier's check.
Is homeowners insurance worth it after the mortgage is paid off?
You don't need homeowners insurance if you don't have a mortgage, but should you keep coverage once you pay off the mortgage?
It's not a good idea to drop homeowners insurance. A fire or other event could destroy your home and leave you with nothing.
You'll have to pay to rebuild your home and replace your belongings. Also, remember that homeowners insurance provides liability coverage. Without insurance, your home could be at risk if you're sued.
Make sure to give serious thought to those issues if you're thinking about dropping homeowners insurance.