Why you should trust Insurance.com
Insurance.com is dedicated to informing, educating, and empowering you to make confident insurance decisions. Our content is carefully reviewed by insurance experts, and we rely on a data-driven approach to create unbiased, accurate insurance recommendations. Insurance.com maintains editorial integrity through strict independence from insurance companies.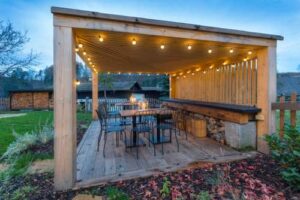 Your homeowners policy comprises different coverage sections that protect different aspects of your home and property. The other structures portion, or coverage B, covers structures not attached to the house. That includes things like detached garages, sheds, fences, guest houses and even swimming pools in some cases.
Many homes also include outdoor living spaces with kitchens, gazebos and pergolas. These are all covered under the other structures section of your homeowners insurance policy.
"Other structures [coverage] would be anything that's not attached to your home but considered a covered loss, like a fence, block wall, pool, detached garage and shed," says Sara Douglas, Personal Lines Manager at All Colorado Insurance Services in Denver.
Other structures coverage is generally calculated at 10% of the dwelling coverage limits on your home policy.
Key takeaways
Other structures is coverage B on your homeowners insurance policy and is a part of every standard home insurance policy.
It covers detached structures like sheds, fences, gazebos and sometimes swimming pools.
Other structures coverage is calculated as 10% of your dwelling coverage.
What is other structures insurance?
Other structures is listed as coverage B on your homeowners insurance. Combined with your dwelling coverage (coverage A) other structures helps rebuild and repair your home and the additional structures on your property after damage from a covered peril. Your dwelling coverage pays for repairs to your actual home and all the attached components like the siding, roof, foundation, attached garage, and the other structures portion handles detached structures like sheds, fences, gazebos and swimming pools.
Your dwelling coverage is a much higher amount, based on what it would cost to rebuild your entire home from the ground up. Other structures protection is usually calculated as 10% of that dwelling amount.
Your home insurance deductible applies to an other structures claim.
What does other structures coverage cover?
Other structures coverage protects things like detached garages and sheds, gazebos, fences, swimming pools and cabanas and even outdoor kitchens.
Outdoor fire pits may also be covered, if the firepit is permanent and not movable and sustains damage from a storm or other covered event, you can put in a claim under the other structures section.
The coverage B other structures portion of your policy pays for damage caused by any covered peril, including:
Wind and hail damage from storms
Fire and lightning
Smoke damage after a fire
Snow or ice-related damage
Falling objects like trees
For instance, if there's a big storm and a tree falls into your pool and damages the liner, you can put in a claim against the other structures portion of your home policy.
If there's heavy snowfall and the roof of your gazebo collapses, that also falls under other structures coverage.
Vandalism is also covered. So if someone smashes the windows of your guest house or leaves graffiti on the side of your detached garage, that's covered under other structures.
What is not covered by other structures coverage?
It's important to note there are exclusions to your other structures coverage:
Flooding is excluded from all homeowners insurance, so you must purchase a separate flood policy. The same goes for earthquakes.
Your home policy, including the other structures coverage, pays only for accidental and sudden damage from certain natural disasters and events like a fire. It does not pay for normal wear and tear or neglect on your part.
So, if a tree falls on your fence, the insurance company has the right to determine whether or not that tree was in good condition in the first place and whether or not you knew about it. If they decide that it was rotted or dead and you were aware of it, your claim could be denied since you neglected it.
Pest infestations are also excluded.
If you have a crack in the foundation and water is slowly seeping in and eventually causes a major issue, that's not covered. Neither are sewer backups.
If you run a business from your home and have an outdoor building housing supplies or equipment that's not typically covered. Your home policy generally only covers damage to business-related items up to $2,500 so you probably need additional coverage.
You can sometimes purchase riders or endorsements from your insurance carrier to cover additional scenarios.
How much other structures coverage do I need?
Most home insurance policies will automatically calculate other structures coverage at 10% of your dwelling coverage cost. For example, if your dwelling coverage amount is $300,000, your other structures will be $30,000.
This means that you have $30,000 available if something happens to all the detached structures on your property. You need to decide if this is enough. If you have a particularly expensive guest house, perimeter fence or something else that would cost more than $30,000 to replace, then consider increasing your coverage.
"Normally other structures is 10% of your Coverage A (dwelling) but you can up it," Douglas says. "If a detached garage or shed is worth more, calculate how much it's worth and add that."
How much does other structures coverage cost?
The cost of your other structures insurance is built into your homeowners policy premium. Your overall premium is based on all the limits you choose in each coverage section. One thing that factors into dwelling and other structures coverage prices are local building and labor materials costs.
You can review all these sections with your insurance carrier to make sure you have enough coverage, can handle any applicable deductibles and are happy with the premium. Additionally, if you make any changes to your property, like adding a new shed or fence, ensure you still have enough coverage.
Frequently asked questions: Other structures coverage
Can I remove other structures coverage?
No, you can't remove other structures coverage; it's a standard part of every policy. Even if you don't have a lot of detached structures on your property, the cost is negligible and removing it wouldn't change the cost much.
Is a detached garage covered under homeowners insurance?
A detached garage is covered under the other structures, Coverage B, of your homeowners policy.
Do I need other structures coverage?
You need other structures coverage if you have a building or structure in your driveway, yard or property that is not attached to your house. Regardless of whether you feel you need it, other structures coverage is automatically included in your policy.
See How Much You Can Save
See How Much You Can Save
Helpful Home Insurance Articles & Guides