Why you should trust Insurance.com
Insurance.com is dedicated to informing, educating, and empowering you to make confident insurance decisions. Our content is carefully reviewed by insurance experts, and we rely on a data-driven approach to create unbiased, accurate insurance recommendations. Insurance.com maintains editorial integrity through strict independence from insurance companies.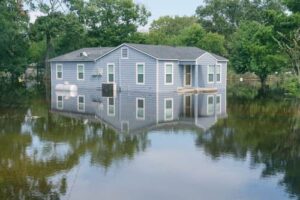 Flood insurance is a vital part of insuring a home in many parts of the country, but not everyone who needs it has a policy. Shopping for flood insurance is easy, and there are more choices today than in the past. 
"All areas of the U.S. are prone to severe flooding, not just FEMA-designated flood zones. Ninety percent of natural disasters involve flooding," says Mark Friedlander, director of corporate communications for the Insurance Information Institute.
While most people buy coverage through FEMA's National Flood Insurance Program (NFIP), even with that program you have the option to purchase through a private insurance company that participates in the NFIP's Write-Your-Own (WYO) program.
On top of that, private flood insurance options are growing, giving homeowners more selection and different coverage options. To help you find the best company no matter which option you select, we've created a list of both the best private flood insurance companies and the best Write-Your-Own options.
Key takeaways
Private flood insurance companies offer higher coverage limits and more options.
Many insurance companies participate in the NFIP's Write-Your-Own Program, including our top choices like The Hartford and Liberty Mutual.
Among the best private flood insurance companies are Neptune, National General and Chubb.
The best private flood insurance companies
To identify the best companies for private flood insurance, our editorial team looked at coverage options, waiting periods, geographic availability and rates, although this metric is not available for all companies. We then selected the top companies for various needs based on our analysis of these metrics.
Best overall: Neptune
Neptune earned the top spot overall for good coverage limits and a variety of options, a reasonable waiting period of ten days (no waiting period on loan closing), and, perhaps most importantly, nationwide availability.
Neptune's flood insurance offers:
Dwelling coverage up to $4 million
Personal property of up to $500,000
Available contents replacement cost coverage
Additional living expenses coverage at $100/day up to $10,000
Basement coverage up to $10,000
Other structures coverage up to $50,000
Pool coverage up to $10,000
Neptune writes flood insurance in all 50 states.
Best for cheap rates: Palomar
Palomar flood insurance offers the cheapest average rates for flood insurance among the companies for which we were able to get rate information. At an average of $390 a year, Palomar's flood insurance rates are below the average estimated flood insurance rate even for the NFIP, which is around $700 a year.
Palomar offers:
Dwelling coverage of up to $5 million
Contents coverage of up to $1 million
Additional living expenses up to $50,000
Optional replacement cost coverage for personal property
Coverage is available in 30 states, including Florida, and there is no waiting period.
Best for high-value homes: Chubb
Chubb is known for providing homeowners insurance for high-value homes, and it also offers the best flood insurance for those homes with the highest dwelling coverage maximum of any company we considered by a wide margin.
Coverage limits include:
Combined limits for dwelling and personal property of up to $15 million
Replacement cost coverage for personal property included
Additional living expenses included at $7,500 with higher limits optional
Coverage for basements
Add-ons including higher valuables limits
Chubb's average flood insurance rate is $1,117 a year but may be much higher for high coverage limits.
Best for a well-known company: National General, an Allstate company
If you want your flood insurance backed by a well-known insurance company, National General fits the bill. A subsidiary of Allstate, National General offers private flood insurance in 30 states. Coverage options include:
Dwelling coverage of up to $1.5 million
Additional living expenses coverage up to $150,000
Basement and pool coverage available
National General also has low rates, with an average cost of $622 a year, and has no waiting period at all for coverage in Florida and New Jersey, no waiting period on loan closing in all other states, and a seven-day waiting period for all other applications.
Best for Florida: Kin
Kin offers flood insurance in Florida as an endorsement on its home insurance policy. With the home insurance market in Florida struggling, finding a company that will provide all of the hurricane insurance coverage you need in one place makes life a lot easier, and Kin does just that.
Kin's flood insurance will cover:
Dwelling up to the home insurance policy limits
Personal property up to the home policy limits
Replacement cost coverage
A detached garage
Kin states that their average flood insurance policy in Zone X (moderate-to-low risk) costs as little as $175 a year. Rates will be higher in high-risk zones. There's no waiting period for a flood policy from Kin, allowing Florida residents to get the coverage they need fast.
The best flood insurance companies for NFIP policies
A number of major companies participate in the NFIP's Write-Your-Own flood insurance program. While rates and coverage through these companies are the same as if you bought the policy directly, your policy will be serviced by the company of your choosing. That means it's important to choose a company with a good reputation.
Below, we've listed flood insurance companies that have a great reputation for customer service, based on the National Association of Insurance Commissioners (NAIC) customer complaint ratio. All of these companies offer coverage in every state as well as D.C. We have also noted whether or not the company also writes home insurance, for those seeking the convenience of one-stop shopping.
| Company | NAIC complaint ratio | Home insurance available |
| --- | --- | --- |
| Wright Flood | 0 | No |
| PURE Insurance | 0.19 | Yes |
| Philadelphia Indemnity | 0.21 | No |
| Hartford Insurance Company | 0.38 | Yes |
| Liberty Mutual | 1.12 | Yes |
The following major home insurance companies also offer NFIP policies for one-stop home insurance shopping:
Allstate
American Family
Auto-Owners
CSAA
Farmers
USAA
Shopping for flood insurance
Flood damage is not covered by home insurance, so flood insurance is a must for many people. It's important to do a careful evaluation of your flood insurance needs before you start shopping.
If you're in a high-risk area, your mortgage company will probably require you to buy flood insurance. But don't assume that you don't need it if your mortgage company doesn't require it. The NFIP estimates that more than 25% of flood claims are filed in locations outside of high-risk flood zones. It's the most common natural disaster in the U.S.
In other words, more people should be buying flood insurance. To get started, gather some quotes and compare rate quotes and coverage from both NFIP-backed policies and private flood insurance companies to see what you'll get for your money.
For many people who have never purchased flood insurance, it's a good idea to sit down with an agent or broker to discuss the type of policy you need.
How much flood insurance do you need?
If you are required to have flood insurance, your mortgage company will let you know how much coverage you need. You'll likely be required to carry at least the property development cost, which is the cost to rebuild your home, or the maximum amount of coverage, whichever is lower.
You're not required to cover your personal property, but flood insurance includes personal property coverage.
Whether or not you're required to buy a policy, the replacement cost of your home and the value of your possessions is a good rule of thumb. Bear in mind that NFIP flood insurance policies have limits on coverage, so if you need more you'll want to shop with private companies.
Who provides most flood insurance?
The majority of flood insurance policies in the U.S. are underwritten by the NFIP, either directly or through the WYO program. Although WYO policies are sold through private insurance companies, they are still NFIP policies.
What's the difference between NFIP and private flood insurance?
NFIP policies have specific limits on coverage. The maximum replacement cost coverage for your house with an NFIP policy is $250,000, and the maximum personal property coverage is $100,000. There is a combined limit of $2,500 on specific types of personal property (fine art, jewelry, collectibles, furs and business property.)
NFIP policies do not include loss of use, or additional living expenses coverage, which pays for extra expenses when you can't live at home after a flood.
Private flood insurance doesn't have these limitations and offers higher coverage limits along with more options. Pricing is also more varied with private flood insurance, while NFIP rates are set.
Methodology
Insurance.com gathered coverage details on flood insurance policies from private flood insurance companies and then looked at NAIC rate data to calculate average rates, dividing direct written premiums by the number of policies in force at the end of the year for each carrier listed, where available. Note that some carriers' average rates include rates for policy endorsements as well as standalone policies. We then analyzed each company's offerings, waiting period and geographical availability and our editors made the final decision on the top companies for specific needs.
To compare NFIP Write-Your-Own insurance companies, we started with the list of companies provided by FEMA, and then narrowed down our choices to companies available in all 50 states and D.C. and ranked them by NAIC scores.
See How Much You Can Save
See How Much You Can Save
Helpful Home Insurance Articles & Guides