Why you should trust Insurance.com
Insurance.com is dedicated to informing, educating, and empowering you to make confident insurance decisions. Our content is carefully reviewed by insurance experts, and we rely on a data-driven approach to create unbiased, accurate insurance recommendations. Insurance.com maintains editorial integrity through strict independence from insurance companies.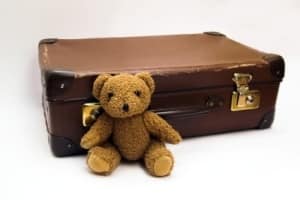 Loss of use coverage also called additional living expenses (ALE) coverage, which is part of a standard home insurance policy, helps to cover expenses that arise when you can't live at home due to covered damage.
If your home is seriously damaged, and you need to live elsewhere during repairs, you'll have extra living expenses above and beyond the normal. They include costs to stay at a hotel, eat at restaurants and use a laundromat.
Many homeowners don't know they have additional living expenses coverage or understand how it works. Below, we'll explain what loss of use covers.
Key takeaways
Loss of use coverage is included automatically in a standard home insurance policy.
Loss of use will pay for extra expenses related to having to live somewhere else during repairs for a covered claim.
Loss of use insurance coverage only applies to costs above and beyond your normal monthly bills.
What is loss of use coverage on homeowners insurance?
Loss of use is a type of home insurance coverage that pays for expenses when you can't live in your home due to a covered loss. On your policy documents, it's listed as coverage D - loss of use or additional living expenses (ALE.)
"Loss of use coverage is typically included in a standard homeowners insurance policy. It's also sometimes called 'additional living expenses, (ALE) coverage,'" says Jack Dowd, account executive with The Dowd Agencies in Holyoke, Massachusetts.
If your home is uninhabitable due to a covered loss - such as fire - your insurance company will provide reasonable accommodations and cover these related expenses until you can move back into your house.
What does loss of use insurance cover?
Additional living expenses covers expenses above and beyond what you normally would pay for before your home was damaged. Hotel or rental bills, necessary restaurant meals and food charges, transportation costs and fees to store your possessions are among the covered expenses.
"This coverage pays you back for increased living expenses you incur. But the keyword here is 'increased.' For example, if you typically ate out every meal before the loss, and then you continue to dine at restaurants for every meal after the loss, these dining charges wouldn't be covered because you spent at the same rate you did before the loss," says Joshua Scott, a Scottsdale, Arizona-based executive general adjuster with The Greenspan Co./Adjusters International.
On the other hand, the additional cost of restaurant dining could be claimed if you rarely went to restaurants before the loss but were forced to do so while living in a hotel during repairs.
What is not covered by loss of use insurance?
Your policy will not cover expenses you were already responsible for before the loss, such as loan payments, childcare bills and normal grocery bills.
Also, loss of use coverage does not apply when flood damage is involved. If you have flood insurance through the National Flood Insurance Program (NFIP), you're also out of luck -- it won't cover additional living expenses. However, if you have private flood insurance, it is typically included.
Finally, you can't file a loss of use claim if you live elsewhere temporarily because of something not covered by home insurance. For instance, if you go to a hotel because your heat isn't working due to a power outage, you will not be covered. The coverage only applies when your house is being repaired due to a covered loss.
How much is loss of use coverage?
Additional living expense coverage is automatically included in your homeowners insurance for no extra charge unless otherwise specified.
This coverage is not broken out as a separate line item cost in your homeowners insurance policy or rate, so it's difficult to determine what percentage of your premium goes toward loss of use coverage.
"Typically, it accounts for 10% to 20% of your premium," says Kimesha Smith, attorney and director of client relations for Miami-headquartered Insurance Litigation Group.
How much loss of use coverage do I need?
How much additional living expense coverage you'll need will depend on many factors.
"In general, the standard loss of use coverage in a homeowners policy is tied to the total amount of dwelling coverage. I often see loss of use coverage in an amount equal to 20 to 30% of the total dwelling coverage," Dennis Sawan, a Toledo-based insurance litigation attorney, says.
Say your home is valued by your insurance company at $300,000. That means your insurer may automatically provide up to $90,000 in loss of use coverage (30% of your total dwelling coverage) for the year.
To calculate loss of use for home insurance, ask yourself: How long, if your home was destroyed, would it take to rebuild that property?
"Everyone's insurance needs are different. Consider whether the automatic amount is enough to cover any necessary increases in your living expenses if your residence was to become uninhabitable while the damage was being repaired," says Andy Jones, national property product supervisor for COUNTRY Financial in Bloomington, Illinois. "For instance, a one-person household will not need to rent as large of a home as an eight-person household if they were displaced due to a covered loss."
To be safe, your loss of use coverage should probably cover up to 12 months of basic, comparable living expenses.
Fortunately, you can request an increase in additional living expense coverage, which may slightly increase your premium. To best determine how much loss of use coverage you need and what it will cost to bump up this protection, contact your insurance company.
How to file a loss of use insurance claim
You don' need to file a separate home insurance claim for loss of use. It's included as part of the original claim you would make if your home is damaged or destroyed.
"Once a claim is determined to have resulted from a covered loss, your insurer will begin to make accommodations with you for loss of use payments, including working with you to determine an alternate living arrangement that can meet your satisfaction," Sawan says.
Be prepared to complete a form breaking down your normal monthly living expenses. Also, be ready to submit receipts and invoices to your insurance company for all the increased living expenses you pay while you are forced to live outside your home. Keep careful records and save vouchers for every transaction.
"You should submit these receipts and invoices as they accrue so that you can be reimbursed over time as long as needed and up to 12 months," Smith says.
How does loss of use coverage work with rental property?
Loss of use coverage also applies to landlords and renters.
If you are a landlord whose rental home is damaged and cannot be inhabited, landlord insurance covers the rent your tenant would otherwise pay.
"This coverage is also called 'fair rental value.' It covers landlords for lost rent while the residence is being repaired, with 10 percent of the dwelling coverage limit applied automatically," Jones says.
If you are a renter, your renters insurance includes loss of use coverage.
"When a tenant is insured under a renters policy, the policy covers expenses to both move the tenant to a new location and to cover the additional rents the tenant must pay at a temporary location," says Scott.
How does loss of use reimbursement work when staying with a friend or relative?
You don't have to stay at a hotel or rent an apartment for loss of use coverage to apply.
"You are entitled to reimbursement regardless of your choice of temporary accommodations. If you choose to live with a friend or relative and pay them for lodging, food or other covered needs, your insurance policy will cover the expense as long as it is a reasonable charge," Jones says.
Frequently asked questions: Loss of use coverage
Does loss of use insurance have a deductible?
Additional living expense coverage does not have a separate deductible. Your policy requires you to pay a deductible (often $500 to $1,000) for the underlying cause of loss that triggered the additional living expenses.
"If your home burns down, the deductible you pay will apply to the fire loss and not to the loss of use coverage," Jones says.
Is loss of use covered by homeowners insurance?
Loss of use is a standard part of a home insurance policy, but has limits.
Is loss of use insurance the same as additional living expense insurance?
Yes. Loss of use coverage and additional living expense (ALE) coverage are two terms for the same coverage.
Is loss of use the same as rent loss coverage?
They are similar coverages, but rent loss coverage only applies to a landlord's policy and pays for lost rent when tenants have to move out due to a covered loss.
See How Much You Can Save
See How Much You Can Save
Helpful Home Insurance Articles & Guides