How to file a home insurance claim
Homeowners file home insurance claims for many reasons, including a burglary, damage from a fire or storm or if an injury occurs on their property.
Before filing a claim, you should read your insurance policy to find out what exclusions, limits and add-on provisions, like additional coverage for big-ticket personal items, may be included in your policy. It's also important to find out if there's a time limit on when you can file your claim. But the most important part of making a claim is documentation. That includes receipts and documenting who you talk to, the date, time and details of discussions. You may talk to multiple people, so documenting who you've spoken to and when should help your file process run much more smoothly.
Filing a home insurance claim
Once you understand your coverage, take these steps: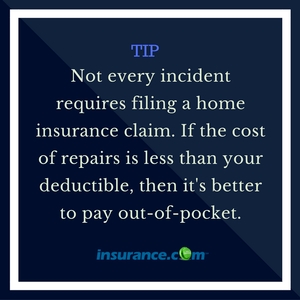 1. Report to police the issue if there's a need -- For certain types of claims your home insurance provider will require a police report. File a police report and give it to your insurance company to support your claim. Many home insurance policies require a police report if a theft or act of vandalism has occurred.
2. Call your insurance company -- Next, call your insurance company as soon as possible after the incident occurs to file your claim. The claims department will assign a claims number and an insurance adjuster to your case. That person will be responsible for assessing the damage and estimating the costs. The adjuster's job is to help your insurance company determine how much will be paid out to you for replacement or repairs.
3. Document everything -- If your home has been damaged or burglarized, photograph or videotape the aftermath so you can provide documented proof to your insurance company. You may need this documentation if the insurance company gives you a lower payout than expected and you need to appeal.
"It's all about preparing and documenting your claim," says Diane Swerling, past president of National Association of Public Insurance Adjusters, "including putting together a detailed list with the ages of the item, where you bought them or going online and showing the current value of the items."
If there is an injury or damage to your property, write down everything, including the date, time and details of the incident. Providing these details to your insurance company can help the claims process move more quickly.
If you had to leave your home and need to make a claim for additional living expenses, it is crucial to keep receipts to be reimbursed.
Give all this information to the adjuster so he or she has the all the proper documentation to determine the total cost of your claim.
4. Make repairs in the meantime -- If you have a leaky roof or water damage that may make your home unlivable, consider temporary repairs if doing nothing could cause further damage.
Keep all the receipts (and make additional copies) for repairs and give them to your insurance company so they can reimburse you. And if you must temporarily move out of your home because it's uninhabitable, keep a record of all your lodging and food expenses. You could submit them to your insurance company for reimbursement.
5. Consider hiring a public adjuster -- The adjuster your insurance company assigns to evaluate your property (either in-person or via phone) will assess any pre-existing damage and ask questions about when you've done routine maintenance or other safety measures you've implemented to reduce the risk of injury, theft or damage on your property.
In some cases, you may not agree with the adjuster's final determination. In turn, your insurance company's payout may be significantly lower than expected. In these situations, a homeowners' only recourse may be to hire a public adjuster to independently assess the cost of the damage and represent you when you appeal.
Public adjusters receive a portion of your payout if your appeal is successful. Swerling, who runs the Massachusetts-based firm Swerling, Milton and Winnick, helps both commercial and residential property owners with insurance disputes. Swerling says Massachusetts has a fee cap of no more than 10% of the policyholder's payout. In some states, the cap may be 12% or there's none at all.
A report issued by The Florida State Legislature's Office of Program Policy Analysis and Government Accountability found that policyholders received 574% higher compensation for non-hurricane claims and 747% higher compensation for hurricane-related claims when they used a public adjuster. So, going this route may be worth the additional expense.
"First and foremost, we provide a service," Swerling says. "The claims process is very time-intensive. We take this burden off homeowners and we're more efficient."
Filing a renters insurance claim
If you have renters insurance, the process is similar. One difference involves your landlord. If there's structural damage to your rental, notify your landlord immediately. Most leases and states require that the tenant notify the landlord, who is responsible for structural repairs. Those repairs may include a leaky roof, broken window or water damage caused by a plumbing issue.
Also, if your insurer investigates and discovers that your landlord's negligence led to damage, your insurer could deny your renters insurance claim. Your landlord then will need to file a claim with his or her insurance company, leaving it up to the home insurer to decide whether to pay replacement or repair costs.
If a burglary has occurred, also notify your landlord as a courtesy. Your landlord's insurance policy should include coverage for any damage that results from the theft, but your renters insurance should include coverage for your personal property. If there's a burglary at your home, file a police report and document everything and submit this information to your insurer and to your landlord, if he or she needs to file a claim.
What should you NOT do when filing a home insurance claim?
Homeowners often make several errors that can delay their claim or affect their payout:
Don't throw away items: Swerling says one of the biggest is discarding items too soon. "You need to document your loss with as much detail as possible," she says. "Don't dispose of the evidence until you get an agreed upon payout."
Don't wait too long: "A common mistake is failing to contact your insurance company professional immediately after incurring a loss," says Michael Barry, a spokesperson for the Insurance Information Institute. "By acting quickly, you can begin the claims filing process and have an insurance adjuster sent to your home to assess the damage."
Don't delay on completing claims forms in a timely manner: The claims process can drag on if you don't provide your insurance company with paperwork for proof of loss, receipts and other documentation to approve your claim. Insurers usually are required to send you claim forms within a 30-day period, depending on state law. The longer you wait to complete these forms, the longer the process takes.
Don't stay uninformed about your policy: Standard home insurance often doesn't include flood coverage, so homeowners must purchase that coverage separately. Swerling says public adjusters frequently encounter policyholders who think their policy covers more than it actually does. Policyholders often don't carry enough coverage for personal property, she says. However, you should insure your personal property at the same level of coverage at which you insure your home. You can ask your insurer to increase your policy limit so that this coverage is included.
How long does it take for an insurer to pay a claim?
Unfortunately, some state laws are vague in this area. Here are three examples:
In South Carolina, insurance companies are granted a "reasonable" amount of time to either deny or payout your claim.
In California, insurers have 40 days to either accept or deny a claim.
In North Carolina, insurance companies are required to acknowledge receipt of your claim within 30 days, but there's no set time frame on when they must settle because "each claim is different and the length of time to settle may vary," the state says.
"In many states, there are either regulations or laws which require an insurance adjuster to at least visit your home within a certain timeframe," Barry says. "The claims payout requirements are going to differ from state-to-state because insurance is regulated at the state level. If the policyholder is unable to live in their home because of an insured loss, many home insurers will issue a check to the policyholder immediately to pay their additional living expenses -- like hotel costs and food -- since they do not have access to their home."
When NOT to file a homeowners insurance claim
Not every incident requires filing a home insurance claim. If the cost of repairs is less than your deductible, then it's better to pay out-of-pocket.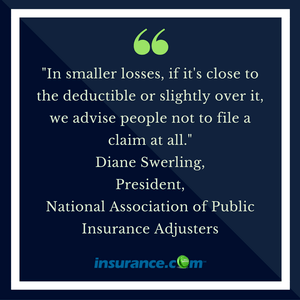 Why? Because insurance companies all have access to a database called CLUE (Comprehensive Loss Underwriting Exchange) that contains information about your claim history. A history of multiple claims over a short period, however minor, can affect your premiums or your ability to obtain new homeowners insurance if you face cancellation or need to shop around for a lower rate.
"In smaller losses, if it's close to the deductible or slightly over it, we advise people not to file a claim at all," Swerling says. "If you have significant losses, you may have no choice but to file a claim. But with the smaller losses that are below the deductible, it's really not worth it."
How much will my home insurance rate increase after filing a claim?
Home insurance rates will increase after a claim, but how much depends on the policy, reason for claim and how many claims you've filed recently.
"Home insurers generally set their rates based on the actual, and anticipated, claim payouts they'll be paying out statewide. Events which have major statewide implications, such as wildfires or hurricanes, are going to have more of a cost impact," Barry says.
Insurance.com found that the average rate increases for home insurance claims:
Two fire claims -- $577
Two liability claims -- $521
Two theft claims -- $502
Two water claims -- $433
One fire claim -- $273
One liability claim -- $260
One theft claim -- $253
One water claim -- $228
Two weather claims -- $194
Two medical claims -- $146
One weather claim -- $107
One medical claim -- $76
Bundling your home insurance with an auto policy also has an impact. Too many auto claims may lead your insurer to cancel the entire policy if you're viewed as too high risk, even if these claims have nothing to do with your home. Homeowners often bundle their policies because insurers offer a discount, but separating your policies can mitigate the risk of a cancellation.
Also be careful about inquiries to an insurance agent. These details are included in the CLUE database, allowing insurers to use this information to determine whether you qualify for a policy.
What can you do if your homeowners insurance claim is denied?
In most states, homeowners undergo an appraisal process (outlined in their home insurance policy) to resolve a claims disagreement. In Massachusetts, the appeal process is called a reference proceeding or mini-arbitration. It involves a panel of three referees -- one chosen by the insurance company, another the policyholder selects and a third chosen by the two other referees. Both sides make their case to the panel and the referees then make a binding decision.
Barry says policyholders should first "exhaust the internal claims appeal process available to them through their home's insurer." If both parties still don't come to an agreement, the policyholder can file a complaint with his or her state's insurance department, file a claim in small claims court or file a lawsuit against their insurer. However, most of these options are cost-prohibitive and time-intensive.
From water damage to a leaky roof or theft, you may one day need to file a home insurance claim. It's important to weigh the potential disadvantages and costs of filing a claim before you submit it to your insurer. In some cases, the financial losses are too great to avoid filing, but for smaller losses, paying out of pocket may help you preserve a good claim history and prevent an increase in your premiums.