Why you should trust Insurance.com
Insurance.com is dedicated to informing, educating, and empowering you to make confident insurance decisions. Our content is carefully reviewed by insurance experts, and we rely on a data-driven approach to create unbiased, accurate insurance recommendations. Insurance.com maintains editorial integrity through strict independence from insurance companies.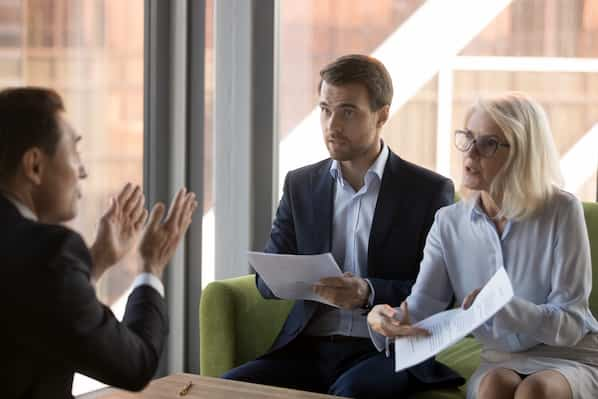 As homeowners in Florida are discovering, you don't always get the claim payout you expected from a home insurance company, especially after a natural disaster.
Several months after Hurricane Ian slammed into Florida's west coast, many homeowners with damaged properties report receiving small payments from their insurers – or getting nothing at all.
More than 25% of claims in Lee County, Florida, have been reportedly denied. Many of those who have gotten payouts say they are inadequate and much to low to cover the damage. However, in many cases, claims are being denied legitimately because the damage was caused by flooding.
Read on to learn more about what's going on in Florida and what to do if your claim is denied or the settlement is too low - no matter where you live.
Key takeaways
Most of the claim denials after Hurricane Ian were due to home insurance not covering flooding.
If you're unhappy with your claim settlement, or you feel it has been unfairly denied, you can appeal and get help if necessary.
It's important to understand your coverage and get the right coverage, like flood insurance, in place before a disaster can strike.
Why are home insurance claims from hurricane damage being denied?
Most of the denials reported in the case of Hurricane Ian are due to flood damage, which homeowners insurance does not cover. But other homeowners say insurers are rejecting claims related to wind damage, which homeowners insurance generally does cover. However, hurricane insurance coverage can vary, and a secondary deductible often applies.
Samantha Bequer, a spokesperson for the Florida Office of Insurance Regulation, says the office wants to see insurance companies live up to their commitments to homeowners in the wake of Hurricane Ian.
"OIR expects insurers to do everything possible to respond to the needs of impacted Floridians," she says. That includes restoring "a sense of normalcy" and helping to facilitate restoration and recovery in communities that Ian damaged.
Mark Friedlander, director of corporate communications for the Insurance Information Institute, says insurance companies have paid out nearly $13 billion in claims to homeowners impacted by Hurricane Ian.
He says data from the Florida government shows that money has been paid in more than 75% of claims related to the storm.
"However, we do recognize that some Florida homeowners have had disputes with their insurers over Ian claims," Friedlander says.
In many cases, the disputes over claims center on damage caused by flooding, Friedlander says.
"This event included record-level storm surge and severe inland flooding," he says. "If you don't have flood insurance, the windstorm coverage in your standard property insurance property will not cover the loss."
However, like Bequer, Friedlander encourages those who feel wronged to work with the Florida state government to resolve the matter.
"If a consumer is having a problem with getting their outstanding hurricane claim resolved and feels the insurer has either wrongly denied the claim or underpaid the claim, there are several steps Florida consumers take," he says.
How to avoid having a homeowners claim rejected
Any homeowner can run into problems when filing a claim. In some cases, the dispute is easy to fix.
For example, simply providing your insurer with more information can sometimes resolve it.
"Consumers should first provide the insurer with damage estimates or additional documentation to support their claim," Bequer says.
In fact, failing to document a claim properly is a major reason why claims are rejected, says Joe Tolzmann, CEO of RocketPlan, a software-as-a-service platform for property restoration insurance professionals and contractors.
"Improper documentation leads many claims to be delayed or rejected," he says, adding that missing or incorrectly filed paperwork can lead to the denial of a claim.
If your claim is rejected, Tolzmann recommends contacting your insurance company to determine if documentation is missing.
He says doing so can pay off even in situations where it might seem like getting a claim approved is unlikely, such as when water damages the residence of a homeowner who does not have flood insurance.
"Homeowners can argue that the damage was caused in another way," he says. "If they can provide more documentation to back that up, the insurance company should take a second look at the claim."
Do you have the right home insurance coverage?
Having the right coverage before a disaster occurs is also crucial to avoid a rejected claim. Friedlander says it is "very common" for homeowners with damage related to flooding or earthquakes to have claims rejected because their homeowners policy just doesn't cover the damage.
"Hurricane Ian is an important reminder about why having flood insurance is an essential component to being financially protected from catastrophic losses," Friedlander says.
He notes that just 4% of U.S. households nationwide have flood coverage. "You don't need to live in a designated flood plain to suffer a catastrophic flood loss," Friedlander says.
Sewer backup is another type of damage that homeowners insurance might not cover unless the homeowner specifically purchases such coverage.
"This coverage is typically added to a standard policy via endorsement and is essential for homes with a basement," Friedlander says.
Finally, it is important to remember that in some cases, you may not receive a payout from your insurer because the damage is below your deductible.
"If you have a $2,500 deductible and your loss is estimated at $2,000, the insurer will not pay you anything for the damage," Friedlander says.
What to do if your claim is rejected or the settlement is too low
If your insurer rejects your claim, know that you can continue pursuing payment.
Your first step is to work with your insurer to resolve the dispute. The same applies to a settlement that is too low.
"Consumers are encouraged to work closely with their insurance company and agent if they feel they have been wrongfully denied or unfairly compensated regarding a claim," Bequer says.
You can often appeal your insurer's decision by building a case with additional documentation that your claim is legitimate and should be paid.
If you still can't resolve the dispute, reach out to your state insurance department and learn more about how you should proceed.
For example, homeowners in Florida having issues related to Hurricane Ian claims are encouraged to report their situation to the Office of Insurance Regulation, Bequer says.
"OIR is conducting investigations into company claims-handling for Hurricane Ian," she says.
The National Association of Insurance Commissioners lists state insurance departments on its website.
If you still cannot resolve the matter satisfactorily, other options can include hiring a mediator, a public adjuster or filing a lawsuit to get your claim paid. But these can be time-consuming and sometimes expensive options, and you might not get the desired resolution.
See How Much You Can Save
See How Much You Can Save
Helpful Home Insurance Articles & Guides