Why you should trust Insurance.com
Insurance.com is dedicated to informing, educating, and empowering you to make confident insurance decisions. Our content is carefully reviewed by insurance experts, and we rely on a data-driven approach to create unbiased, accurate insurance recommendations. Insurance.com maintains editorial integrity through strict independence from insurance companies.
If you live in hurricane-prone area, it's important to be aware of what your homeowners insurance covers. Make sure you're adequately protected before a storm hits your home.
Data released in early 2023 by First Street Foundation, a nonprofit analyzing climate risk, indicates that the risk of hurricane damage is both increasing and expanding, even in places not previously at high risk, with storms pushing further northward before making landfall. And the likelihood of damage is also pushing further inland, meaning homes once considered far enough from the coast to be safe are now at risk.
The good news is that most standard homeowners' insurance policies cover some damage from hurricanes. However, in places where serious hurricane damage is common, such as coastal Florida, your insurance policy may exclude or limit coverage for hurricanes, often referred to as windstorms. The new risk forecast may mean more homes will fall under these policy exclusions.
In this case, hurricane coverage can be added for an additional premium, but it might be very costly. If you need hurricane insurance, it's best to shop around for the best rate.
Tips for buying hurricane insurance
Follow these tips to be sure you have adequate hurricane protection for your home.
Check your policy to be sure you have sufficient coverage before hurricane season. You won't be covered if you wait until a storm approaches to buy it.
Insure your home based on its replacement cost. Replacement cost offers more protection because it doesn't take depreciation into account.
If you don't have flood insurance, buy it. If you have a policy, check the expiration date and renew it as soon as you can. You can purchase flood insurance by calling your insurance company, inquiring with an independent agent, or checking the NFIP insurance provider locator to find a provider near you.
Not all policies have hurricane deductibles , but if yours does, be aware of how hurricane deductibles work and choose the one you can afford the most. They are typically 1% to 5% of your dwelling coverage amount.
Check for wind-damage exclusions, and if your standard policy doesn't cover wind damage, buy windstorm insurance from your state's insurance program. In hurricane-prone states, Louisiana, Texas and Florida, some standard home insurance policies won't pay for windstorm damage.
What does hurricane insurance cover?
There is not a type of insurance specifically called "hurricane insurance."
So, does homeowners insurance cover hurricane damage on a standard policy?
Most standard homeowners policies will cover damage caused by hurricanes except for flood damage and, in some areas, wind damage.
Those who live along the East Coast or Gulf Coast, which is where hurricanes most often occur in the U.S., may need to buy an additional windstorm coverage policy.
You will also need to buy a separate flood insurance policy. A common misconception is that a homeowners policy covers flood damage. It doesn't. See the flood insurance portion of this page to find out more.
What hurricane damage isn't covered by home insurance
Some damage is always excluded, while others depend on on your policy and where you live.
Wind damage. In some parts of the country, windstorm damage is not covered by standard homeowners. It's most common in Florida, Texas, and Louisiana, but there are 19 states where windstorm damage is available as a separate policy.
Of course, this varies by insurance company. Even in a hurricane-prone area, some insurance companies may include coverage. On the other hand, in some areas you don't think of as hurricane zones, you may need a separate windstorm policy. Always check your policy carefully.
Flooding. Standard home insurance policies don't cover flooding; you need a separate flood insurance policy. If you live anywhere - hurricane zone or not - that sees a lot of flooding, you really should look into purchasing flood insurance.
Mudslides. A mudslide is considered "earth movement" and isn't covered by standard home insurance. While earth movement is commonly thought of as an earthquake, any time the ground shifts under your house for some reason it's excluded by the same rules.
But you might be covered for a mudflow, where a flood brings mud into your home, if you have flood insurance.
Power failure. Depending on your policy, where you live, and the cause of the power outage, damage caused by a power failure may or may not be covered. This includes spoiled food. Make sure you know what your policy covers.
How much is hurricane insurance in each state?
How much you pay for hurricane insurance really depends on the amount of home insurance you buy, where you live, whether you also have a separate wind damage policy or not and how much you pay for your separate flood insurance coverage.
To get a rough idea, the average cost of a home insurance policy in 2022 is $2,779, and flood insurance costs about $640. However, keep in mind that rates can be significantly higher if you live in a hurricane-prone state.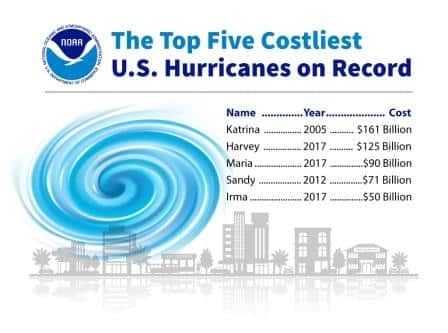 How to file a hurricane insurance claim
You should handle filing hurricane insurance claims in the same way you handle any homeowners insurance claim, whether you have a hurricane deductible or not. If you notice damage, don't wait to notify your insurance company.
Take these actions:
Document the damage through photos and/or video.
Prevent further damage to your home by covering broken windows, for example. Not doing so could cause your insurance company to not pay for further damage caused by not taking the necessary precautions to protect your damaged home.
Notify your insurance company immediately so they can begin the claims process.
Keep track of your communication with your insurance company, including dates, names, conversations and contact information, but don't make the permanent repairs until your insurer reviews the damage.
Get repair estimates from qualified contractors in writing.
Having the right level of insurance if a hurricane hits can be key to your financial well-being. Make sure you understand how a hurricane can impact your homeowners insurance and that you are properly protected with flood insurance and windstorm insurance if your property is at risk.
What is a hurricane deductible, and will I have to pay one?
The vast majority of homeowners interested in hurricane insurance live along the East Coast or Gulf Coast – and those 19 coastal states and District of Columbia are also where you'll find hurricane deductibles.
The 19 states that have hurricane deductibles are:
Alabama
Connecticut
Delaware
Florida
Georgia
Hawaii
Louisiana
Maine
Maryland
Massachusetts
Mississippi
New Jersey
New York
North Carolina
Pennsylvania
Rhode Island
South Carolina
Texas
Virginia
A hurricane deductible is not a flat fee like you normally see for other claims. If a fire damages your home, for instance, you would pay a deductible, such as $500 or $1,000, before your insurer paid for damage.
With a hurricane deductible, insurers base the deductible on a percentage depending on the property's risk. These percentages often range from 2% to 5% of your home's insured value. The percentage could reach double digits in hurricane-prone coastal areas, such as Florida.
For the hurricane deductible to kick in, your area must experience a "trigger event," such as a hurricane warning.
Let's look at two examples:
If your home is insured for $200,000 and your hurricane damage deductible is 2%, you would need to pay the first $4,000 in damages before the insurance company begins to pay for the damage.
If that same home has a 4% deductible, that would mean you would need to pay $8,000 before your insurer paid for the damage.
The state most associated with hurricanes, Florida, has an annual hurricane deductible. This means you won't get hit with a deductible for each storm if your home is damaged in multiple storms. Once you meet the hurricane deductible, you will only have your normal home insurance deductible.
You can find out the deductible percentage for storm damages by checking your insurance policy declarations page.
Does renters insurance cover hurricane damage?
If you are renting, don't count on your landlord's insurance covering your personal property. Landlords get insurance that covers the physical building. You will need renters insurance to cover damages to your belongings.
Renters insurance pays for damages and theft to your belongings, personal liability coverage. It can cover additional living expenses, such as if you can't live in your home because of damage.
Unlike homeowners insurance, there is no hurricane deductible for renters. If you need to file a claim, you would need to pay your set deductible, usually $250 or $500, before your insurance company kicks in money. However, like home insurance, renters insurance doesn't cover flood damage.
Does flood insurance cover hurricanes?
Flooding associated with hurricanes is not covered by standard homeowners policies. Homeowners can buy additional flood insurance through a broker or agent or through the National Flood Insurance Program (NFIP).
Flood insurance covers the home, electrical systems, appliances, and other building property, as well as personal contents. Homeowners and condo owners can insure up to $250,000 for a home and up to $100,000 for contents. Renters can insure up to $100,000 for contents.
Here's what flood insurance doesn't cover:
Damage from moisture, mildew or mold that the homeowner could have prevented
Money and valuable papers
Belongings outside a home, including trees, plants, walkways, decks, fences, and swimming pools
Temporary housing if the home is inhabitable
The average cost for flood insurance is about $640 a year.
If the $250,000/$100,000 coverage limits aren't enough, you can buy excess flood insurance from an insurer, but you must first have the base NFIP insurance.
An important thing to know about flood insurance – you can't wait until a storm is barreling toward you to get coverage. Flood insurance usually takes a month to process and you won't be covered if you wait until a storm is already headed your way.
Do I need windstorm insurance?
Insurers in hurricane-prone states offer additional windstorm or wind/hail deductibles. This works similarly to the hurricane deductibles mentioned above though windstorm insurance is in addition to your regular homeowners policy. III says deductibles usually range from 1% to 5% of a home's insured value.
Make sure to review your policy to see if wind damage is excluded in your policy. If it's excluded, you may want to explore a separate wind insurance policy, which is usually a state insurance program. Each state has different rules and regulations and you don't want to wait until a storm hits your area. For instance, Texas's state won't allow you to buy windstorm coverage if a hurricane is in the Gulf of Mexico.
The cost of windstorm insurance varies by location and risk. The annual average cost for windstorm insurance in coastal Florida is $2,600. In Texas, it's about $1,500.
Most wind-related claims are related to roof damage though windstorm insurance covers all exterior parts of homes and can include detached structures like garages and sheds.
One important note – if a tree crashes through your car, windstorm insurance does not cover that damage. That would go through your comprehensive car insurance.
Can I buy last-minute hurricane insurance?
Yes and no.
First of all, there is no actual "hurricane insurance." There are insurance policies you can get, though, that will help cover you during a hurricane.
So, here's what you can do - and can't do.
Getting flood insurance? You'll be covered in 30 days. So, you see that a hurricane is brewing and may come into your area in the next two weeks? You might as well buy the flood insurance, but it won't be good until probably the next hurricane. The National Flood Insurance Program won't cover you if you buy a policy and you have flooding within 30 days.
Getting windstorm insurance? You'll be covered in 15 days. If a hurricane hits your home within 15 days, you probably aren't covered.
Getting homeowner's insurance? You'll be covered in 48 hours. Although home insurance policies go into effect immediately upon the insurance company issuing the policy, most insurance companies won't write a policy within 48 hours of an expected hurricane. So if a storm is on the way and you aren't already covered, you may have to wait 48 hours.
You should get car insurance at least 48 hours before a hurricane. The same rules apply to car insurance in terms of new coverage. That said, you should have insurance for your car at all times. So, the rule should be - if a hurricane is forming, and it's coming within 48 hours, this is not the time to buy a new car.
As for all of these rules, look at it this way. Insurance is supposed to cover you in case of a rare emergency. If people are allowed to buy insurance when that rare emergency is already happening, the insurance industry wouldn't be in business for long.
How much is hurricane insurance in Florida?
Florida is a very hurricane-prone state. Of the ten costliest hurricanes in American history, six of them were in Florida.
So, is hurricane insurance required in Florida?
If you live in Florida and you want hurricane insurance, a few things to know:
You can't exactly buy Florida hurricane insurance. You can only buy insurance that will cover you from parts of a hurricane, as we've explained above.
In other words, you'll want to make sure your homeowner's insurance is up to date - but you probably should also have windstorm insurance and flood insurance to make sure you're fully covered. And if you're thinking, "do I really need flood insurance," it may help to know that 1.8 million of your fellow Floridians have it. There are more flood insurance policies in Florida than in any other state.
Some of the best insurance companies to buy insurance to protect you from a hurricane - and the costs
As you can imagine, you can get insurance that will protect you from all the major insurance companies - and minor insurance companies. Some of the brands you might want to consider include:
USAA
Allstate
Liberty Mutual
Metlife
State Farm
Progressive
Geico
If you have trouble buying windstorm insurance through any of these companies, you may want to try buying it through an insurance association, such as Citizens Property Insurance Corp.
But you should shop around first. Under Florida law, you can only get an insurance policy from Citizens if you cannot get it from a Florida-authorized insurance company - or if your premiums are more than 15% higher than premiums from comparable coverage from Citizens.
If you want to get windstorm insurance from a private insurer, the Florida Market Assistance Plan can probably help you or the Florida Office of Insurance Regulation's CHOICES Program.
As for how much you'll pay for your "hurricane insurance," that's hard to say. Do you live in a modest house or a luxury home near the beach? Have you installed hurricane-mitigation improvements such as short shutters (and alerted your insurer)? Or have you done nothing to prepare for a hurricane?
In any case, whatever you pay, it's going to be a lot. There's just no way around it. Florida's average home insurance rate for homeowner's insurance is well above average.
One factor to keep in mind in cost is the hurricane deductible mentioned earlier in this article. If you live in Florida, you're one of 19 states that has a hurricane deductible. As soon as a hurricane warning is declared, your higher deductible will kick in, whereas other states may not have the deductible start until the winds reach hurricane strength.
How to prepare for a hurricane
There's so much to do to prepare for a hurricane, but we'll try to give it to you in a few quick paragraphs.
First - it's all about planning and then carrying out the plan. That means you know how to get out of your community if you're going to leave - and where and how you're going to hunker down if you're going to stay.
And, hopefully, you've bought insurance to cover every realistic problem imaginable that a hurricane will bring. That is, you want protection from wind damage, flooding, rain and possibly a torrent of mud and trash flowing into your home.
You also want to protect your home as much as possible. That'll minimize the damage. If there is damage, your insurer will appreciate later seeing that you did your best, like boarding up windows and installing storm shutters over windows and skylights.
You'll want to make sure your car is somewhere high and dry and covered.
Store any important documents somewhere safe, and be sure to have an emergency kit, whether you're staying put or going out on the road.
Tips for protecting your property from hurricanes
If you want to dig deeper and go the extra mile, beyond covering windows with 5/8" marine plywood or permanent storm shutters (the best protection), you may want to try the following.
Look into getting hurricane clips. You probably should get a professional to do this unless you really feel confident in your DIY skills. But these are steel connectors that you attach to your roof and make it harder for a hurricane to rip the roof off of your home.
Trim your trees. It'll look nice, but it'll also make the more wind resistant.
Go to your garage. And reinforce the garage door. Again, probably a job for a garage door professional. They can make it so that it's less likely you'll have flooding in your garage (where perhaps your car is) and less likely that wind will rip off the garage door.
Clean out your gutters. You needed to do that, anyway, and clogged rain gutters and downspouts can lead to severe leaking and water damage on your roof and in your basement.
Make sure your sump pump is in working order. If you have any doubts - maybe it's had a few problems in recent years, or it's super old - hire a plumber and buy a new one. A faulty sump pump can lead to a flooded basement.
Sources
First Street Foundation. "Highlights from 'Worsening Winds.'" Accessed February, 2023.
See How Much You Can Save
See How Much You Can Save