Why you should trust Insurance.com
Insurance.com is dedicated to informing, educating, and empowering you to make confident insurance decisions. Our content is carefully reviewed by insurance experts, and we rely on a data-driven approach to create unbiased, accurate insurance recommendations. Insurance.com maintains editorial integrity through strict independence from insurance companies.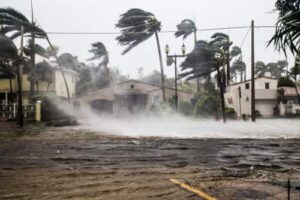 Home insurance for hurricanes requires several policies to provide comprehensive coverage; there's no such thing as a hurricane insurance policy. That means that choosing the best hurricane insurance companies requires a multi-faceted approach and a look at many factors.
Hurricane damage costs billions annually and is generally limited to states along the East and Gulf coasts. That means the best insurance companies for hurricanes must offer coverage in those states at a time when some insurance companies are pulling out of Florida and other high-risk areas.
And while home insurance covers most wind, rain and related damage, it doesn't cover flooding. That means to have full coverage for hurricanes, homeowners need a flood insurance policy, too. That's available through the National Flood Insurance Program (NFIP), but many private companies either participate in the NFIP's Write-Your-Own (WYO) program or offer private flood insurance.
"People should think about whether their homeowners insurance companies sell their own private flood insurance. Usually, people can get more coverage at a reasonable price due to the fact that they get both homeowners and private flood insurance from the same company," says Haibo (Stephen) Yao, assistant professor of insurance and risk management at Central Arkansas University.
To provide a comprehensive look at the best insurance companies for hurricane damage, we looked at home insurance company availability in hurricane-prone states, financial stability and rates. We also looked at companies offering access to flood insurance, including the availability of a Write-Your-Own policy to make insurance shopping faster and easier.
Key takeaways
The best hurricane insurance companies are dedicated to serving homeowners in hurricane-prone areas.
Some home insurance companies also offer flood insurance through the NFIP or a private flood program, making it easy to get all necessary hurricane coverage.
Amica is the best company overall for hurricane insurance, while National General offers the lowest rates with a hurricane deductible.
The best home insurance companies for hurricane insurance
Shopping for home insurance in a hurricane-prone area is stressful; coverage is hard to find, rates are climbing and some companies are leaving the highest-risk areas like Florida.
To help you find a great insurance company to protect you from hurricanes, we looked at availability in the states most affected by hurricanes and compared them on the average cost of a home insurance policy in those states. We also looked at each company's reputation for claims satisfaction using J.D. Power's annual Property Claims Satisfaction survey and its AM Best rating. Finally, we reviewed the flood insurance options available from each company. The editors made the final decision for each category based on these metrics.
Best overall: Amica
Why we chose it: Amica writes home insurance in every hurricane-prone state. It has topped J.D. Power's list of the best home insurance companies overall for over a decade and has been number one for claims satisfaction for 20 of the last 22 years. It has some of the cheapest rates among major insurance companies for policies including a hurricane deductible. Although it doesn't participate in the NFIP's WYO program, it assists customers in finding the flood insurance they need through the NFIP or a private flood insurer.
Pros:
Affordable rates
Excellent reputation for customer service and claims
Offers flood insurance through partnerships
Cons:
No direct WYO flood or private flood option
AM Best rating: A+
J.D. Power claims satisfaction rating: 903/1,000*
Average rate with hurricane deductible: $1,269
Best for cheap rates: National General
Why we chose it: With an average rate under $1,000 a year, National General is one of the cheapest options and the cheapest nationwide home insurance company. It writes home insurance policies in every state along the Gulf and East coasts. National General also participates in the NFIP WYO program and offers private flood insurance in 30 states. As an Allstate company, it's backed by one of the most stable companies in the industry.
Pros:
Cheap rates
Backed by Allstate, the second-largest home insurance company in the U.S.
Two options for flood insurance: NFIP or private
Cons:
AM Best rating: A+
J.D. Power claims satisfaction rating: N/A
Average rate with hurricane deductible: $936
Best for high-value homes: Chubb
Why we chose it: Chubb is one of the best-known names in high-value home insurance, with a comprehensive home insurance program and its own private flood insurance program that offers dwelling limits of up to $15 million. It writes home insurance in all 50 states, meaning it's available in all hurricane-prone states. Chubb has the best possible AM Best score, important for a company offering high coverage limits.
AM Best rating: A++
J.D. Power claims satisfaction rating: 880/1,000
Average rate with hurricane deductible: $1,592
Pros:
One of the highest coverage limits available for private flood insurance
High-value home insurance policies include replacement cost coverage for contents
Low rates
Cons:
Online quoting is not available
Best in Florida: Travelers
Why we chose it: Travelers has the cheapest home insurance rates in Florida of the companies we surveyed and partners with Neptune, which is our pick for the best overall flood insurance company nationwide, to provide a private flood insurance option for Florida homeowners. In a struggling market, Travelers continues to offer Florida homeowners solid home insurance coverage from a stable company.
Pros:
Low rates in Florida
Strong financial standing
Partners with a private flood insurance company
Cons:
Lower than average claims satisfaction rating
AM Best rating: A++
J.D. Power claims satisfaction rating: 867/1,000
Average rate with hurricane deductible in Florida: $1,763
Best for an all-in-one policy: Kin Insurance
Why we chose it: Kin writes flood insurance as an add-on to a homeowners insurance policy, an uncommon option that makes it an easy choice for simple coverage in one place. Kin advertises its flood insurance endorsement at an average cost of $175 a year (for Zone X, moderate- to low-risk.)
It's a lesser-known company and a newcomer to the industry, and as a result, it's not rated by either AM Best or J.D. Power, and we don't have average rates to compare for this company. However, Kin states it's backed by reinsurers with AM Best ratings of A- or higher.
However, Kin is working to expand its coverage through the Kin Interinsurance Nexus Exchange and currently offers coverage in major hurricane-prone states including Florida, Louisiana, Alabama and South Carolina.
Pros:
Offers flood insurance as an endorsement on the home insurance policy
Focuses on the needs of homeowners in high-risk states like Florida
Keeps rates low with a direct sales model
Cons:
Newer company that is not rated by most third-parties
No agents
Ratings not available.
Cheapest companies for hurricane insurance
While all of the companies above were selected based on multiple factors that make them stand out, we also gathered a list of the cheapest home insurance companies overall. All of these companies offer home insurance with a hurricane deductible, but not all offer coverage in every state where hurricanes strike.
The rates below are only for home insurance and don't include flood insurance. They are based on coverage of $300,000 for dwelling and liability, a $1,000 standard deductible, and a 2% hurricane deductible. Averages include all states and ZIP codes where that company offers coverage; some are much higher because they include rates in the highest-risk areas where others may not offer coverage.
| Company | Average annual rate |
| --- | --- |
| Vermont Mutual | $655 |
| Virginia Farm Bureau | $686 |
| New Jersey Manufacturers | $781 |
| Cumberland Insurance | $812 |
| American Family | $820 |
| NYCM Insurance | $902 |
| National General Insurance | $936 |
| The Hanover | $1,031 |
| Quincy Mutual | $1,069 |
| Frankenmuth Insurance | $1,224 |
| Amica Mutual | $1,269 |
| AIG | $1,315 |
| Franklin Mutual | $1,410 |
| Palisades | $1,467 |
| Travelers | $1,525 |
| MMG Insurance | $1,527 |
| Chubb Ltd | $1,592 |
| Erie Insurance | $1,679 |
| Georgia Farm Bureau | $1,824 |
| Pure Companies Grp | $1,898 |
| USAA | $1,911 |
| Southern Farm Bureau | $1,986 |
| State Farm | $2,003 |
| Country Financial | $2,090 |
| Andover Insurance | $2,279 |
| North Carolina Farm Bureau | $2,391 |
| South Carolina Farm Bureau Mutual | $2,444 |
| Farmers | $2,625 |
| Nationwide | $2,678 |
| Progressive | $2,745 |
| United Insurance Holdings | $3,067 |
| Heritage Insurance Holdings | $3,179 |
| Allstate | $3,398 |
| Alfa Corporation | $3,409 |
| Security First Insurance | $4,241 |
| LA Farm Bureau | $5,482 |
| HCI Group Inc | $6,338 |
| Universal Insurance Holding | $8,603 |
| St Johns Insurance | $11,170 |
| Auto-Owners | $17,925 |
| FedNat Holding | $24,159 |
| Citizens Property Insurance** | $37,825 |
**Citizens Insurance is Florida's insurer of last resort.
Frequently asked questions about hurricane insurance
What is hurricane insurance?
Hurricane insurance isn't a specific policy but rather a combination of policies. The two main policies are homeowners insurance and flood insurance, but in some states, windstorm coverage must be added to your home policy.
"People should check their homeowners policy to figure out whether such perils as wind or hail are excluded from their policy due to the fact that they live in a hurricane-prone area," Yao says.
What kind of insurance do you need for a hurricane?
To cover all of the damage a hurricane can cause, you need a homeowners insurance policy that covers windstorms, which may require an endorsement or, in rare cases, a separate policy. You also need flood insurance, which will pay for damage done by overland flooding. Homeowners insurance never covers flooding.
"Wind insurance is a special insurance policy that protects homeowners from losses resulting from windstorms including tornadoes and hurricanes. It provides comprehensive coverage for damages to the dwelling and personal properties caused by windstorms," Yao says.
How does a 2% hurricane deductible work?
If you have a 2% hurricane deductible, you will pay 2% of your policy's dwelling coverage amount when you file a claim for a hurricane. So, if you have $200,000 in dwelling coverage, you'll pay $4,000.
Methodology
To derive the average rates, 2022 rate data from Quadrant Data Services was used, filtering out only the states and companies with hurricane deductibles to reflect coverage in hurricane-prone areas. Rates are for dwelling coverage and liability at $300,000 with a $1,000 standard deductible and a 2% hurricane deductible.
The editors reviewed AM Best and J.D. Power ratings and the list of companies that offer WYO policies provided by the NFIP. Insurance company websites were used to determine coverage areas and flood insurance offerings outside the NFIP WYO program. Category winners were chosen by the editors based on all available information for each company.
*J.D. Power's industry average is 873.
See How Much You Can Save
See How Much You Can Save
Helpful Home Insurance Articles & Guides