Why you should trust Insurance.com
Insurance.com is dedicated to informing, educating, and empowering you to make confident insurance decisions. Our content is carefully reviewed by insurance experts, and we rely on a data-driven approach to create unbiased, accurate insurance recommendations. Insurance.com maintains editorial integrity through strict independence from insurance companies.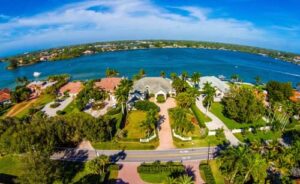 Since early 2022, the Florida home insurance market has been facing a crisis as insurers go belly up or pull out of the disaster-prone state. The devastating impact of Hurricane Ian – and now Idalia – has only made matters worse. If you live in Florida and are scrambling to find a new policy as your previous insurer has canceled your home insurance or has increased your rates beyond affordability, Citizens Insurance may be your only option right now.
Citizens Property Insurance Corporation is a Florida-based not-for-profit state-run insurance company established in 2002. With nearly 1.14 million policies as of December 2022, it's now one of the largest home insurers in Florida.
Key takeaways
To be eligible for Citizens Insurance, you must live in Florida and be unable to find coverage or have been quoted unaffordable rates through another insurer.
A Citizens home insurance policy typically covers dwelling repairs, other structures, personal property, loss of use, personal liability, and medical payments.
Citizens Insurance is a last resort option for Florida homeowners who would otherwise be left without coverage. 
What is Citizens Insurance in Florida?
Citizens homeowners insurance is the state of Florida's insurer of last resort. That means it's the last available option for home insurance coverage. The not-for-profit company only insures homes in Florida that private insurers have refused to cover or for which they can't provide affordable coverage.
With Florida's frequent hurricanes, the Florida home insurance market has battled collapse as insurers begin to leave the state. By filling the void in the tumultuous Florida insurance market, Citizens provides a solution for homeowners struggling to obtain coverage to protect their property.
Is Citizens Insurance only in Florida?
Citizens Insurance is a Florida-based company that writes policies only in Florida. Only people who live in Florida can purchase policies through Citizens, and only Florida homes qualify for coverage.
However, there's also a company by the same name in Louisiana. Similar to Citizens Insurance Florida, Louisiana Citizens Property Insurance Corporation is a nonprofit organization created to help homeowners obtain insurance coverage if they cannot do so through the private market.
With the state's vulnerability to hurricanes and flooding, Louisiana Citizens has become the last resort for many residents seeking home insurance coverage.
Is Louisiana Citizens the same company?
Louisiana Citizens Insurance and Florida Citizens Insurance are not the same company and are not connected. However, they serve the same purpose: To help homeowners struggling to obtain coverage from private home insurance companies receive the protection they need. Louisiana's home insurance market faces many of the same challenges as Florida.
Does Florida back Citizens Insurance?
The state of Florida backs Citizens Insurance and operates according to statutory requirements established by the Florida Legislature. While Citizens is a not-for-profit and tax-exempt government entity funded by policyholder premiums, Florida law requires Citizens to levy surcharges on policyholders if it experiences a deficit in the wake of a catastrophic loss or devastating storm.
Can anyone in Florida get Citizens Insurance?
No. You can purchase a Citizens policy only if the following apply to you:
You live in Florida (seasonal residents can qualify).
You're unable to secure coverage with any other private home insurance provider.
The quotes private insurers have given you are unaffordable, with rates at least 20% more expensive than a comparable Citizens policy.
Should you get Citizens Insurance?
If you're eligible for Citizens Insurance, getting coverage from this state-run company is better than having no homeowners insurance at all. However, remember that Citizens is designed to be an insurer of last resort, not an insurer of choice.
So, before signing on the dotted line, make sure you have explored your options with private homeowners insurance companies on the market and compared quotes from at least three insurers to see if you have a cheaper option.
If you have exhausted your options, you should contact Citizens rather than going uninsured.
Is Citizens Insurance expensive?
According to Michael Peltier, Citizens spokesman, the state-run company's insurance policies may be more affordable than private insurance companies.
"Citizens annual rate increases are capped and reviewed annually by the Office of Insurance Regulation at a public hearing," he says. "For 2023, that cap is 13%. On the other hand, private company premium increases are not capped."
And while Citizens Insurance has recently asked the Office of Insurance Regulation for approval of a 12% rate hike, the request was denied. Citizens will revise the request, and rates will increase, albeit by a little less. However, compared to private insurers that have proposed 40% to 60% rate hikes for customers, Citizens may still be a more affordable option.
Bear in mind that if you can get a cheaper policy elsewhere, there's no need to apply with Citizens.
What does a Citizens home insurance policy cover?
Citizens' standard homeowners insurance typically covers the following, which are the same as any other homeowners policy:
Dwelling: Covers the replacement cost of your home's structure after a covered loss.
Other structures: Pays for the repairs of other structures on your property not connected to your home, such as storage sheds, detached garages, and pool houses.
Personal property: Covers the depreciated value of your personal property and home contents like your clothing or furniture.
Loss of use: Pays for hotel stays and other temporary living expenses after a covered loss if you need to relocate while your home is being repaired.
Personal liability: Pays for legal and medical expenses if someone is injured or their property is damaged and you're deemed legally liable.
Medical payments: Pays for medical bills if someone is injured on your property.
Are there alternatives to Citizens Property Insurance?
While Citizens provides coverage for homeowners who cannot secure a policy elsewhere, its policies are generally less comprehensive than those offered by private insurance companies. So, before working with Citizens homeowners insurance, check if you qualify for private coverage.
Our list of the best homeowners insurance companies can be a great starting point. If you still need help finding coverage, consider working with a local agent who can connect you with carriers specializing in high-risk homeowners insurance.
See How Much You Can Save
See How Much You Can Save
Helpful Home Insurance Articles & Guides