Why you can trust Insurance.com
Insurance.com is dedicated to informing, educating, and empowering you to make confident insurance decisions. Our content is carefully reviewed by insurance experts, and we rely on a data-driven approach to create unbiased, accurate insurance recommendations. Insurance.com maintains editorial integrity through strict independence from insurance companies.
Home insurance in Florida can be expensive, especially in coastal areas where the hurricane risk is highest. The average cost of home insurance in Florida is $4,218 a year for a policy with a 2% hurricane deductible, and $2,426 without the hurricane deductible.
In the aftermath of Hurricanes Ian and Nicole, it's projected to rise even more, and what's worse, home insurers are leaving Florida.
Unfortunately, finding affordable Florida homeowners insurance from a solid company isn't always, especially if you live near the coast. Although rates are cheaper without a hurricane deductible, you won't have coverage for hurricane damage if you choose to leave it off. That's a huge risk to take in Florida.
Fortunately, it's not all bad news. Travelers, a well-known company, actually offers the cheapest home insurance in Florida, well below the average.
Below we've gathered everything you need to know to get the best homeowners insurance in Florida. We'll break down Florida homeowners insurance rates by county and ZIP code, and show you how to get the cheapest home insurance in Florida without compromising coverage or service.
What is the average cost of homeowners insurance in Florida?
The average home insurance cost in Florida is $4,218 which is nearly $1,441 more than the national average of $2,777. These averages are based on the following coverage:
$300,000 dwelling coverage
$1,000 deductible/2% hurricane deductible
$300,000 liability
These rates include a hurricane deductible. Without it, the average rate is $2,426. This seems like a bargain, but if the hurricane deductible isn't selected, hurricane damage to your home likely isn't covered. Make sure you read the fine print so you don't find yourself without coverage.
Best homeowners insurance companies in Florida
The good news? The best home insurance companies in Florida are all names you'll recognize. That means you can get coverage from a top company. Take a look at how the best insurance companies nationwide currently offering coverage in Florida ranked. Bear in mind that some companies only offer coverage in certain parts of Florida.
| Company | Average rate | J.D. Power* | AM Best | Insurance.com rating** |
| --- | --- | --- | --- | --- |
| State Farm | $4,777 | 829 | A++ | 4.8 |
| Allstate | $4,932 | 815 | A+ | 4 |
| Nationwide | $3,902 | 816 | A+ | 3.9 |
| Progressive | $4,754 | 801 | A+ | 3.54 |
| Travelers | $1,763 | 794 | A++ | 3 |
*out of 1,000
**out of 5
What homeowners insurance coverage do you need in Florida?
Before we dive into the other research on costs and companies, you need to know what you're buying and why, and how much you need. So, let's look at the basic components of home insurance, and how much to get to make sure you're not underinsured. Bear in mind that you may also need to add hurricane coverage to your policy in some areas.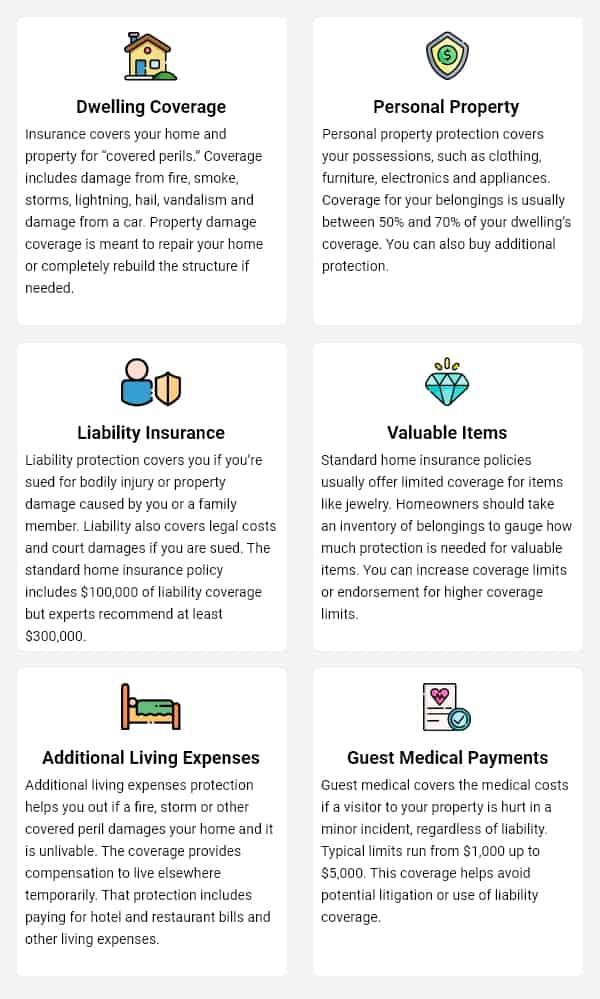 Florida homeowners insurance rates by ZIP code
ZIP codes in Pensacola and Siesta Key are among the most expensive places to insure a home in Florida. Tallahassee has the least expensive neighborhoods for home insurance costs. Insurance.com analyzed home insurance rates from major insurance companies in nearly every ZIP code in Florida.
For $300,000 dwelling coverage with a $1,000 deductible (2% hurricane) and $300,000 liability limits, the average rate of $6,732 in Pensacola ZIP code 32508 is the highest. Among the most expensive ZIP codes for home insurance in the state is 34242, $6,295 for Siesta Key.
ZIP codes in Tallahassee are the cheapest, with ZIPs 32306 and 32307 both having an average annual rate of $2,632.
Enter your ZIP code in the search box in our tool below to see the average home insurance rate for your area, as well as the highest and lowest premium fielded from major insurers. Default rates are for coverage of $300,000 dwelling and liability and a $1,000 deductible.
This will give you an idea of how much you can save by comparing home insurance rates for your home.
Florida homeowners insurance calculator
HOME

INSURANCE

CALCULATOR

Average home insurance rates in CALIFORNIA
Dwelling $200,000, Deductible $1,000 and Liability $100,000.
HIGHEST RATE:

$1,179
LOWEST RATE:

$496
Most & least expensive zip codes for homeowners insurance in California
Most Expensive
| Zip Code | City | Highest Rate |
| --- | --- | --- |
| 92325 | Crestline | $1,450 |
| 92391 | Twin Peaks | $1,426 |
| 92321 | Cedar Glen | $1,425 |
| 92352 | Lake Arrowhead | $1,423 |
Least Expensive
| Zip Code | City | Lowest Rate |
| --- | --- | --- |
| 94086 | Sunnyvale | $742 |
| 94085 | Sunnyvale | $743 |
| 94087 | Sunnyvale | $743 |
| 95051 | Santa Clara | $743 |
Florida homeowners insurance rates by coverage levels
Below are average rates for homeowners insurance in Florida by coverage level, including coverage with and without a hurricane deductible. Deductibles are $1,000 for all perils and 2% for hurricane.
First, rates without a hurricane deductible. Please note that these rates may not include any coverage for hurricane damage.
Rates by coverage level, no hurricane deductible
| Coverage level (no hurricane) | Average rate |
| --- | --- |
| $200,000 with $100,000 liability | $1,623 |
| $200,000 with $300,000 liability | $1,651 |
| $300,000 with $100,000 liability | $2,260 |
| $300,000 with $300,000 liability | $2,279 |
| $400,000 with $100,000 liability | $2,860 |
| $400,000 with $300,000 Liability | $2,880 |
| $500,000 with $100,000 liability | $3,373 |
| $500,000 with $300,000 liability | $3,393 |
| $600,000 with $100,000 liability | $3,747 |
| $600,000 with $300,000 liability | $3,767 |
Rates by coverage level, 2% hurricane deductible
| Coverage level (with hurricane) | Average rate |
| --- | --- |
| $200,000 with $100,000 liability | $3,670 |
| $200,000 with $300,000 liability | $3,688 |
| $300,000 with $100,000 liability | $4,200 |
| $300,000 with $300,000 liability | $4,218 |
| $400,000 with $100,000 liability | $4,813 |
| $400,000 with $300,000 liability | $4,831 |
| $500,000 with $100,000 liability | $5,231 |
| $500,000 with $300,000 Liability | $5,252 |
| $600,000 with $100,000 liability | $5,650 |
| $600,000 with $300,000 liability | $5,669 |
Homeowners insurance in Florida by city
Tallahassee has the cheapest homeowners insurance among the state's largest cities, with an average rate of $2,650 per year, which is $220 per month. Rates below are shown with a 2% hurricane deductible.
| City | Average annual rate | Average monthly rate |
| --- | --- | --- |
| Tallahassee | $2,650 | $220 |
| Gainesville | $2,792 | $233 |
| Jacksonville | $3,328 | $277 |
| Orlando | $3,742 | $312 |
| Port St. Lucie | $5,235 | $436 |
| Tampa | $4,897 | $408 |
| Miami | $4,779 | $400 |
| Hialeah | $4,681 | $390 |
| Fort Lauderdale | $4,883 | $407 |
What factors affect homeowners insurance rates in Florida?
Many factors influence home insurance prices, including:
Your home's square footage
Building costs in your area
Local crime rates
The likelihood of certain types of disasters, such as hurricanes
In Florida, hurricanes are a major risk and a large part of why the average home insurance cost in Florida is so high. Another big factor in Florida is the large number of lawsuits filed against insurance companies.
Although Florida home insurance costs can be high, you should still get adequate coverage. You should have enough coverage to:
Repair or replace the structure of your home and personal possessions
Pay for injuries or damages if you're held liable
You should also choose a deductible you can afford.
What company has the cheapest homeowners insurance in Florida?
Travelers is the cheapest home insurance company among those surveyed by Insurance.com. The average rate for the same amount of coverage varies significantly, which is why it pays to compare home insurance quotes.
Homeowners insurance rates for Florida by company
Home insurance rates can vary a lot depending on the company you choose. The table below provides a look at average rates from home insurance companies in Florida, including national and local companies.
| $300,000 dwelling/$1,000 deductible/2% hurricane deductible/ $300,000 Liability | Rate |
| --- | --- |
| Travelers | $1,763 |
| Security First | $3,724 |
| Nationwide | $3,902 |
| Allstate | $4,932 |
| Heritage | $4,350 |
| Universal | $5,389 |
| State Farm | $4,777 |
| Citizens | $7,884 |
How much do Florida homeowners insurance rates increase after a claim?
Your insurance will likely go up after a claim, but it depends on several factors.
"The variables can vary from the type of coverage you have to your deductible level to the type of loss – whether it's a fire, water-related, or act-of-God loss," explains Kenneth Gregg, CEO for Orion180 in Melbourne, Florida.
According to Carolyn Rummel, president of Meadowbrook Insurance Agency's Sarasota office, homeowners policies work a little differently than auto policies because there aren't always surcharges for claims as there would be if you were involved in an automobile accident.
Mark Friedlander, director of Corporate Communications for the Insurance Information Institute (III), notes that, while his organization doesn't track how claims impact the percentage of policy renewals, "it's very common for a Florida homeowner to have their policy non-renewed if they have filed more than one property claim during the last five years."
Florida home insurance discounts
Home insurance discounts are a great way to reduce your Florida home insurance costs. Many insurers offer a bundling, or multi-policy, discount for insuring your home and auto (and other policies) with the same company. According to Friedlander, this can reduce your premium by more than 20%.
"Consider adding additional safety features to your home, such as window shutters and roof attachments that can reduce windstorm portion premiums," says Anthony Martin, CEO of Choice Mutual.
Common home insurance discounts include:
Bundling discounts. You can bundle home, auto, life, and even specialty policies like boats.
Risk reduction. Installing things that reduce the risk of damage, like the shutters or roof attachments mentioned above or a sprinkler system, can reduce rates.
Installing smart devices. A smart thermostat or window and door sensors can earn you discounts.
Safety and security devices. Installing smoke detectors, a burglar alarm, or dead-bolt locks.
Loyalty discounts. Some companies offer a discount for long-term customers.
Paperless billing. Get your insurance papers online for a discount.
How to save on a homeowners insurance policy in Florida
There are a number of easy ways to get cheaper home insurance rates in Florida. Consider the following options:
Raise your deductible. The higher your deductible, the lower your insurance rates will be.
Mitigate hurricane risk. If you're in a high-risk zone for hurricane damage, do everything you can to reduce the risk of damage and your rates will be lower.
Shop around. Compare rates from companies large and small to find the best deal.
"For a Florida homeowner, (increasing your deducible) means increasing your standard deductible as well as your windstorm deductible for named tropical cyclones. The hurricane deductible typically ranges from 2% to 5% of your dwelling limit," says Friedlander. "But while you can significantly lower your premium with higher deductibles, you need to make sure you are financially prepared to pay much more out-of-pocket for a covered loss. That could equate to several more thousand dollars for a hurricane wind loss."
Martin also recommends consumer due diligence.
"Shop around among several different carriers. While many companies have gone bankrupt or are refusing to write new policies in Florida, there are still companies making sure Florida homeowners are protected," he says.
How to get a homeowners insurance estimate in Florida
Home insurance quotes in Florida are not difficult to obtain.
To get a home insurance quote in Florida, begin by reviewing our top-rated Florida insurers and our annual best home insurance companies rankings. Once you've narrowed down the list to three to five companies, begin requesting the estimates.
Most insurers offer various quoting options, including online forms, via email, by phone and sometimes even in person if the agent is local.
When requesting quotes, be sure to request the same exact coverage from each insurance company. This will allow you to compare equivalent quotes to determine where to get the best home insurance rates in Florida and the best overall value.
Why is homeowners insurance going up in Florida?
Make no mistake – homeowners insurance rates continue to increase in Florida. In the wake of Hurricane Ian's devastation rates are likely to rise again.
Insurance companies cite the following reasons why homeowners insurance is so expensive in Florida:
High rates for reinsurance, which is insurance that backs up insurance companies
Water-leak damage claims from non-hurricane causes
Claims from recent hurricanes are still being filed, as homeowners have a three-year window to do so.
"Two other primary factors are driving the excessive rate increases Florida homeowners are experiencing: rapid roof replacement fraud schemes and runaway litigation," says Friedlander.
"Unscrupulous roofers tell homeowners there was recent storm damage in the area and are replacing roofs for free, even when they don't qualify for insurance coverage. The insurer rejects the claim because it's not a legitimate insured loss [and] the contractor partners with an unscrupulous attorney to file a lawsuit against the insurer. Even if the case never goes to court, the related expenses are exorbitant for the insurer."
Friedlander explains that Florida is the most volatile private insurance marketplace in the country and is on a trajectory toward collapse due to these roof replacement fraud schemes and runaway litigation.
"Many Florida home insurers are in a dire financial position because of these schemes," he says. "Over the past two years, Florida insurers have posted cumulative underwriting losses of more than $3.4 billion. Furthermore, in 2021, residential insurers posted a cumulative net income loss of nearly $1 billion – more than the net income losses incurred in the previous two years combined."
"More than 100,000 property claim lawsuits were filed against Florida home insurers in 2021, equating to more than 80% of property claim lawsuits filed in the United States. In fact, no other state has more than 900 property claim lawsuits filed last year," says Friedlander.
Why is my Florida homeowners insurance being canceled?
If your homeowners insurance was canceled, it could be due to increased claims from hurricanes but also from fraud, according to a Miami Herald report.
"Florida statute Chapter 224 Part III allows insurers to cancel policies when the company would be placed in a hazardous financial situation due to an uptick in claims after hurricane damage or attorney's fees to defend itself over fraudulent adjuster claims," the news report said.
State legislators passed an anti-fraud bill that limits legal fees and the period in which a property-damage lawsuit can be filed.
There are many other reasons why homeowners insurance policies get canceled. Cancellation may be triggered by filing multiple claims, failing a house inspection or because your insurer believes the area you live in is too much of a risk for storm damage. If your homeowner insurance is canceled there are steps you can take to find out why and appeal the decision.
What happens if your insurance company goes out of business
Rest assured that, when an insurer is declared insolvent in Florida, the policyholder is protected by the Florida Insurance Guaranty Association (FIGA), with all outstanding claims paid by FIGA.
"However, you may need to seek new coverage quickly, and you will be provided only 30 days' written notice of cancellation, per state regulations," cautions Friedlander.
If you learn that your carrier is going out of business or not writing policies in your state anymore, "the first thing you should do is contact your insurance agent. This will be your primary point of contact to formulate a game plan," recommends Gregg.
How consumers can protect themselves financially while also protecting their homes
The best way to safeguard your property and your financial interests is, first, to choose the right insurer.
"Make sure you are covered by an 'A'-rated carrier, as determined by its financial ratings assigned by A.M. Best or Demotech," Friedlander says.
Additionally, ensure that you have the right amount and type of coverage in place before hurricane season approaches.
"Conduct an insurance review with your insurance agent to identify any gaps in coverage. Make sure you have the right amount of dwelling coverage, too, as home replacement costs have increased more than 16% year-over-year – double the US inflation rate – due to escalating costs of construction materials and labor," says Friedlander.
Also, work to keep your property well-maintained and preserve your credit.
"Those tend to be two key items in securing a financial win for the policyholder," says Gregg.
Florida home insurance: Frequently asked questions
What is wind mitigation in Florida?
Wind mitigation means taking steps to fortify your home against wind damage from hurricanes and other storms. Making additions and renovations to your home can make it more resistant to hurricane damage. Examples include adding storm shutters to your home, using impact-resistant glass, and choosing tougher roofing materials.
By law, Florida insurers must offer mitigation discounts or credits to homeowners who take steps to make their homes less vulnerable to hurricane damage. The Florida Office of Insurance Regulation offers more information on its website.
Do I need flood insurance in Florida?
If you have Florida home insurance, don't assume you are covered in the event of a flood. A homeowners policy does not cover flood damage -- the most common natural disaster in the U.S., according to III.
The Federal Emergency Management Agency (FEMA) offers flood insurance to homeowners through the National Flood Insurance Program (NFIP).
In terms of flooding, Florida is at especially high risk for storm surges. In fact, Florida ranks first in terms of the most single-family homes at risk of storm surge in a Category 5 hurricane (2,851,642) and the highest dollar amount for how much it would cost to repair and reconstruct those homes ($580.6 billion).
Nationally, according to III, the average NFIP premium was $958 in 2021.
Why do I need hurricane or windstorm insurance?
Florida is at significant risk for hurricanes every year, and the damage can be costly. Five of the 10 most costly U.S. hurricanes based on insured losses have impacted the Sunshine State, according to the III.
And there is nowhere to hide if you are a Florida homeowner. More than 75% of the state's population lives in a coastal county, putting these residents in danger of a hurricane's high winds and storm surge. Even inland areas, such as Metro Orlando, can sustain significant wind and flood damage from a tropical system.
How do insurance deductibles work in Florida?
An increasing number of insurance companies are turning to percentage deductibles when insuring homes. This is especially true for windstorm coverage.
A percentage deductible can be considerably more expensive than a traditional deductible. Instead of paying a flat fee of $500 (state minimum deductible), you could be charged a percentage of your overall Florida home insurance dwelling coverage amount. A 2% deductible on coverage of $100,000 leaves you on the hook for $2,000.
Insurance companies in Florida must offer a hurricane deductible of either $500, 2%, 5%, or 10% of the policy dwelling or structure limits, the III says. The good news in Florida is that windstorm deductibles apply per season, not per storm. So if you have the misfortune to be hit by three storms in one year, just one hurricane deductible is applied during the same calendar year.
What do I do if I can't get homeowners insurance in Florida?
Some people struggle to find coverage. The Florida Market Assistance Plan allows these homeowners to locate and purchase coverage from authorized insurers in the private market. The toll-free telephone number is 1-800-524-9023.
Citizens Property Insurance Corp. the state's property insurer of last resort, is another option for homeowners who can't find good Florida home insurance coverage. For example, many Floridians use Citizens for windstorm coverage if they live in wind-pool areas near the coast, making their private homeowners insurance company unlikely to provide windstorm protection.
Florida law states that Citizens can only issue a new insurance policy only if no comparable private market coverage is available, or comparable private market policy premiums are more than 15% higher than a similar Citizens policy.
Are sinkholes covered by Florida home insurance?
Florida has more sinkholes than any other U.S. state. Sinkhole coverage might or might not be part of your standard homeowners policy coverage.
According to the Florida Department of Financial Services, state law dictates that all insurance companies licensed in Florida must offer sinkhole coverage. In most cases, this coverage is available as an endorsement on your standard policy and will cost extra.
However, insurers have the right to inspect your property and -- if evidence of sinkhole activity is found -- to decide not to offer you the coverage. They can also refuse coverage if your home is within a certain distance from confirmed sinkhole activity. If you are embroiled in a sinkhole claim dispute with your insurer, the Florida Department of Financial Services Neutral Evaluation program offers a neutral third-party professional to review the insurer's findings. It is important to note that the DFS assessment is not binding to the policyholder or the insurer.
Is mold covered by Florida home insurance?
Mold that results from a covered peril -- such as a burst pipe -- typically is covered under a Florida home insurance policy. However, mold remediation coverage is often capped at around $10,000. It might be possible to increase such limits by paying an additional premium amount. It's important to note that some policies do not cover mold damage at all, depending upon the insurer.
Where do I get claims processing info or file a complaint?
If you have concerns about how your property claim was handled, call the Florida Department of Financial Services at 1-877-MY-FL-CFO (1-877-693-5236). The department recommends keeping records of all dates and times and names of company representatives when you communicate with your insurer about a claim. Keep copies of written documents and correspondence as well.
You can also file your complaint online with the state's Division of Consumer Services if you prefer.
If you cannot resolve a claim dispute with your insurer, mediation might be available. In this process, a trained, neutral mediator works with both parties and tries to reach a mutually satisfying agreement. The insurer is required to pay for the service, and neither the insurer nor you are obligated to accept the result. To find out if you are eligible, call 1-877-MY-FL-CFO (1-877-693-5236).
The mediator's findings are not legally binding to the policyholder or the insurer.
Methodology:
Insurance.com in 2022 commissioned Quadrant Information Systems to field home insurance rates from major insurers in each state for nearly all ZIP codes in the country for 10 coverage levels based on various dwelling and deductible limits. The homeowner profile is a 35-year-old married applicant with excellent insurance score; new business HO3 policy for house built in 2000 with frame construction and composition roof. Other Structures: 10%. Loss of Use defaulted: 10%. Personal Property defaulted: 50%. Guest Medical limit: $5,000. Personal property: 50% of dwelling coverage for actual cash value. Content is updated for 2023.
See How Much You Can Save
See How Much You Can Save
You may also like to explore