Home insurance is one of the most important considerations for new homeowners. It's wise to know what your coverage includes and how it can protect you from financial losses should anything go wrong with your home, such as a fire or water damage. As a Floridian, you know that hurricanes are an important weather consideration, too.
There are a lot of insurance companies and narrowing down the options can seem overwhelming, so, we did it for you.
In our review of the best home insurance companies in Florida, you'll see that State Farm got high scores for providing exceptional customer service and hefty home and auto bundle discounts to Sunshine State homeowners. But with an average rate of $4,237 per year, they were not the lowest in cost. We determined Travelers to be the best for price with an average rate for Florida homeowners of $1,762 per year. We looked at other factors, too, because things like getting quotes and a smooth claims process are also vital in selecting a homeowners insurance company in Florida.
Here's everything you need to know about buying home insurance in Florida. This guide will help you with coverage for hazards that are common in the Sunshine State. Get the list of best homeowners insurance companies in Florida for 2021 and compare Florida home insurance rates by coverage level, ZIP code and company.
KEY TAKEAWAYS
Florida's average home insurance rate is $3,643 which is $1,338 more than the national average of $2,305.
Your home's square footage, building costs in your area, and local crime rates are some of the factors that influence home insurance rates.
You can lower your bill if you purchase more than one type of insurance policy from your insurer, this process known as 'bundling' can cut your costs by 15%.
Best homeowners insurance companies in Florida
Below you'll see details on the best home insurance companies in Florida, based on Insurance.com's customer satisfaction survey of policyholders and staff experts' picks for various homeowner profiles.
Best for customer service and home-auto bundle: State Farm
While State Farm's average home insurance rate ($4,237) for Florida is higher than other major carriers researched, it got high scores for customer service. State Farm received four (out of five) stars for customer service among homeowners in the South. It also had the highest home-auto bundle discount (30%) for Florida homeowners, among those surveyed.
In addition to standard home coverage, State Farm offers:
Increased replacement cost coverage feature that automatically boosts your replacement cost coverage up to 20% as long as you've insured your home at least up to its estimated replacement cost.
Another add-on you can buy will help pay the extra cost replace broken heating or cooling systems with energy efficient ones.
State Farm also has a benefit that pays to replace large appliances.
You can also buy coverage to help for expenses if you need to move or repair your home due to building laws.
It also sells earthquake insurance.
Best for price: Travelers
Travelers had the cheapest Florida home insurance rate, $1,762, which is more than half the state average of $3,643.
Travelers offers "green home coverage," which pays for green materials when rebuilding or repairing your home.
If you become a victim of identity fraud, Travelers' identity fraud expense reimbursement coverage pays up to $25,000 for costs incurred to restore your identity.
You can also manage your policy from an Alexa.
Travelers also sells flood insurance.
Best for claims: Safeco
Safeco 4.5 out of five stars for claims handling in the Best Home Insurance Companies 2021 rankings for the South. In addition to standard coverage and discounts, it offers:
Equipment breakdown coverage, for $2 a month, repairs or replaces household appliances after mechanical or electrical breakdowns—which are often not covered under a standard homeowners policy.
The Safeco Package includes a single-loss deductible. That means if you have a car insurance policy and it's damaged in the same event as your home, your auto deductible will be waived.
Extended dwelling coverage helps in the event of a catastrophe when there's soaring demand for building materials and labor that could cause reconstruction costs to increase, leaving policy limits inadequate. That's where extended dwelling coverage kicks in.
Identity theft recovery.
The Guaranteed Repair Network program connects you with prequalified experts to create estimates and perform repairs quickly and with a guaranteed material and labor warranty backed by Safeco.
Home warranty coverage in partnership with American Home shield. For a monthly charge, it pays the cost of repairing or replacing your covered items. You can get broad coverage for appliances and components of electrical and plumbing systems or can designate just a few specific items.
Best for online claims and quoting: Nationwide
In a digital world, you'd think all major carriers would allow you to get quotes, file and manage claims and pay your bills online, but that's not the case with every insurance company. Nationwide, however, excels at offering online transactional services and lets you do all of that at its website and through its apps. Nationwide's average Florida home insurance rate is $3,587, among the most affordable carriers of those surveyed, and also offers robust coverage options and discounts. Additionally, it was among the best for home-auto bundle savings, with an average 12% price break.
In addition to standard coverages, it offers:
When filing a roof claim, the Better Roof Replacement add-on will replace your roof with a higher quality one than you had before.
If you need to rebuild your home, Nationwide's "replacement cost plus" coverage pays up to an additional 20% more than your policy limit if it costs more to rebuild your house.
Ordinance or "law insurance" coverage may help pay to rebuild your home to current building codes after a covered loss.
Nationwide's On Your Side Review is a free personalized insurance evaluation that helps you determine what coverage is best as life events change your coverage needs.
Credit card and debit card fraud protection.
Its website has an entire pet insurance section, and if you're already a Nationwide customer, you get 5% off pet insurance when you buy it.
It also sells earthquake and flood insurance.
Discounts beyond the standard:
Discount for home renovations, including electrical or plumbing upgrades.
Gated community discount.
Discount based on your roof's age and surface type.
Top homeowners insurance companies in Florida
| Company | Best for | Florida market share | J.D. Power rating | NAIC complaints | AM Best financial strength rating | Online quote tool |
| --- | --- | --- | --- | --- | --- | --- |
| State Farm | Customer service and bundling | 6.04 | 829 | 0.87 | A++ | Yes |
| Travelers | Price | 0.18 | 803 | 0.35 | A++ | Yes |
| Safeco | Claims | .62* | 802 | 0.44 | A | Yes |
| Nationwide | Online transactions | 0.86 | 808 | 0.33 | A+ | Yes |
* Safeco is a division of Liberty Mutual. The market share listed is for Liberty Mutual which includes Safeco.
What is the average cost for homeowners insurance in Florida?
The average home insurance cost in Florida is $3,643 which is nearly $1,338 more than the national average of $2,305 for the coverage level of:
$300,000 dwelling coverage
$1,000 deductible
$300,000 liability
Florida is tied with Arkansas as the third most expensive state for home insurance. Oklahoma and Kansas are the top two, respectively.
Before we dive into the other research on costs and companies, you need to know what you're buying and why, and how much you need. So, let's look at the basic components of home insurance, and how much to get to make sure you're not underinsured.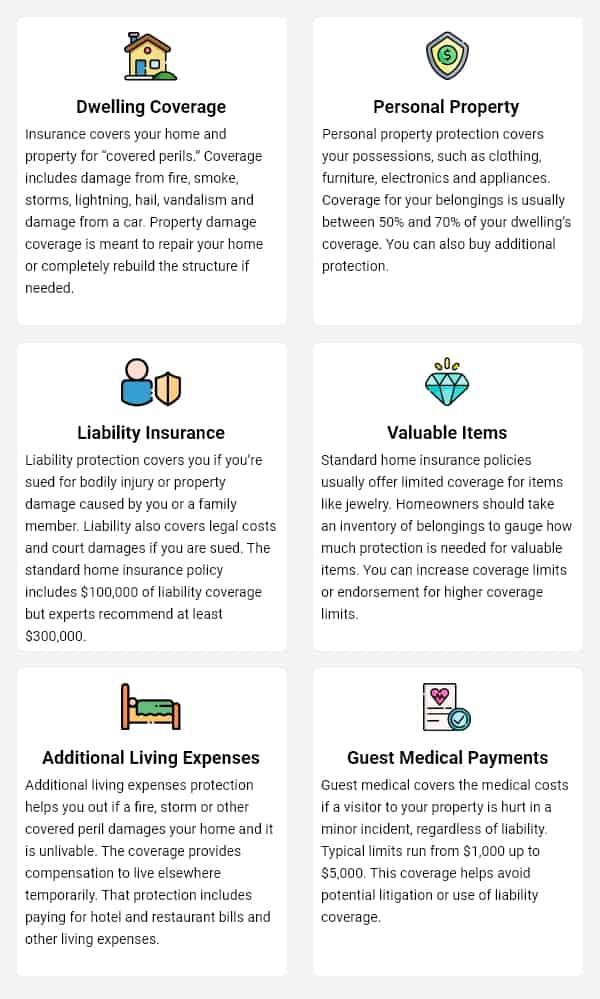 Florida homeowners insurance rates by ZIP code
ZIP codes in the Florida Keys and Miami are among the most expensive places to insure a home in Florida. Tallahassee has the least expensive neighborhoods for home insurance costs. Insurance.com analyzed home insurance rates from major insurance companies in nearly every ZIP code in Florida.
For $300,000 dwelling coverage with a $1,000 deductible and $300,000 liability limits, the average rate of $5,187 in Miami ZIP code 33135 is the highest for the city. Among the most expensive ZIP codes for home insurance in the state is 33070, $6,295 for Islamorada Village of Islands. All of Tallahassee's ZIP codes came in with rates around $2,000, and are the cheapest Florida home insurance rates by ZIP code.
By entering your ZIP code in the search box in our tool below, you'll see the average home insurance rate for that area, as well as the highest and lowest premium fielded from major insurers. Default rates are for coverage of $300,000 dwelling, $1,000 deductible and $300,000 liability. This will give you an idea of how much you can save by comparing home insurance rates, whether you have a modest home inland or a high-end house near the beach. For example, the highest rate ($6,407) for Gainesville ZIP 32606 is $1,466 more than the lowest ($1,034). That means you can save nearly $5,375 just by comparing rates and shopping around.
Florida homeowners insurance calculator
HOME

INSURANCE

CALCULATOR

Average home insurance rates in CALIFORNIA
Dwelling $200,000, Deductible $1,000 and Liability $100,000.
HIGHEST RATE:

$1,029
LOWEST RATE:

$443
Most & least expensive zip codes for homeowners insurance in California
Most Expensive
| Zip Code | City | Highest Rate |
| --- | --- | --- |
| 92561 | Mountain Center | $1,031 |
| 90210 | Beverly Hills | $1,029 |
| 90069 | Los Angeles | $1,020 |
| 90046 | Los Angeles | $1,011 |
Least Expensive
| Zip Code | City | Lowest Rate |
| --- | --- | --- |
| 93445 | Oceano | $606 |
| 93117 | Goleta | $607 |
| 93111 | Goleta | $610 |
| 93433 | Grover Beach | $615 |
Florida homeowners insurance rates for 10 coverage levels
Here we show the average cost of Florida homeowners insurance for 10 coverage levels, based on a rate analysis by Insurance.com.
| Coverage Level | Average Rate |
| --- | --- |
| $200,000 with $100,000 Liability | $2,872 |
| $200,000 with $300,000 Liability | $2,876 |
| $300,000 with $100,000 Liability | $3,418 |
| $300,000 with $300,000 Liability | $3,643 |
| $400,000 with $100,000 Liability | $3,941 |
| $400,000 with $300,000 Liability | $3,962 |
| $500,000 with $100,000 Liability | $4,261 |
| $500,000 with $300,000 Liability | $4,287 |
| $600,000 with $100,000 Liability | $4,562 |
| $600,000 with $300,000 Liability | $4,576 |
Florida home insurance rates by deductible and liability limit
Let's take a closer look at the average home insurance rates in Florida by coverage level. As you'll see in the chart above, the cheapest Florida home insurance rates are those with the highest deductible amount and lowest liability limit. Let's look just at dwelling coverage of $200,000 as an example, outlined below. The premium with the highest deductible of $2,500, with the lowest liability limit of $100,000 $3,164. That's $674 less than the same policy with a $500 deductible.
| $200,000 dwelling/$100,000 Liability | Rate |
| --- | --- |
| $2,500 Deductible | $3,164 |
| $2,000 Deductible | $3,246 |
| $1,500 Deductible | $3,515 |
| $1,000 Deductible | $3,575 |
| $500 Deductible | $3,838 |
Homeowners insurance in Florida by city
Tallahassee has the cheapest homeowners insurance, among the state's largest cities, with an average rate of $2,215 per year, which is $185 per month.
| City | Average annual rate | Average monthly rate |
| --- | --- | --- |
| Tallahassee | $2,215 | $185 |
| Gainesville | $2,518 | $210 |
| Jacksonville | $2,799 | $233 |
| Orlando | $3,425 | $285 |
| Port St. Lucie | $3,639 | $303 |
| Tampa | $3,915 | $326 |
| Miami | $4,083 | $340 |
| Hialeah | $4,543 | $379 |
| Fort Lauderdale | $5,070 | $423 |
What factors affect homeowners insurance rates in Florida?
Because costs are not uniform, it's crucial to shop around for the best home insurance rate.
Many factors influence home insurance prices. Among others, the Insurance Information Institute (III) cites the following:
Your home's square footage
Building costs in your area, and your own home's construction, materials and features
Local crime rates
The likelihood of certain types of disasters, such as hurricanes
So, shop around for the right policy. III suggests getting at least three price quotes when shopping for coverage, and says that doing so can save you up to hundreds of dollars annually.
Although Florida home insurance costs can be expensive, it's a mistake to cut corners in an attempt to save. III recommends that you get enough insurance to cover the costs to:
Repair or replace the structure of your home and personal possessions
Defend yourself against liability costs if someone is hurt on your property
Pay for a temporary place to live while your home is repaired or replaced
Who has the cheapest homeowners insurance in Florida?
Travelers, First Florida, Nationwide and Castle Key are the cheapest home insurance companies among those surveyed by Insurance.com. You'll see that the average rate for the same amount of coverage varies significantly, which is why it pays to compare home insurance quotes.
Homeowners insurance rates for Florida by company
| $300,000 dwelling/$1,000 deductible/ $300,000 Liability | Rate |
| --- | --- |
| Travelers | $1,762 |
| First Florida | $2,907 |
| Nationwide | $3,587 |
| Castle Key | $3,921 |
| Heritage | $3,978 |
| Universal | $4,168 |
| State Farm | $4,237 |
| Citizens | $4,607 |
Florida home insurance discounts
There are several ways to reduce your Florida home insurance costs, which will qualify you for home insurance discounts. Many insurers will lower your bill if you purchase more than one type of insurance policy from them. This process – known as "bundling" – can cut your costs by up to 15 percent, III says.
You can also cut your costs by making your home more disaster-resistant. Installing hurricane glass or accordion shutters might net you a discount.
According to III, other possible home insurance discounts include:
Installing smoke detectors, a burglar alarm or dead-bolt locks -- 5% each
Installing a sprinkler system, and a fire and burglar alarm -- 15% to 20%
Loyalty discounts -- up to 5% after three to five years, and 10% for six years or more
How to get a homeowners insurance estimate in Florida
Home insurance quotes in Florida are not difficult to obtain.
To get a home insurance quote in Florida, begin by reviewing our top-rated Florida insurers and our annual Best home insurance companies. Once you've narrowed down the list to three to five companies, begin requesting the estimates.
Most insurers offer various quoting options, including online forms, via email, by phone and sometimes even in person if the agent is local.
When requesting quotes, be sure to request the same exact coverage from each insurance company. This will allow you to later compare equivalent quotes to determine where to get the best home insurance rates in Florida and best overall value.
Why is Florida home insurance so high?
Florida home insurance companies recently received approval to increase rates in 2021, with the hikes ranging from 12% to 31%, according to a news report in the Herald-Tribune.
Insurance companies cite the following reasons for why homeowners insurance is so expensive in Florida:
High rates for reinsurance, which is insurance that backs up insurance companies
Water-leak damage claims from non-hurricane causes
Claims from Hurricane Irma in 2017 and Hurricane Michael in 2018, which are still being filed as homeowners have a three-year window to do so
"The market is currently facing significant challenges as the frequency of claims increases and those claims become more expensive. These challenges are largely due to increased litigation, exacerbated by higher catastrophe claim losses as a result of multiple hurricanes over the past several years and rising reinsurance costs as a result of a hardening reinsurance market," Alexis Bakofsky, director of communications for the Florida Office of Insurance Regulation, told the Herald-Tribune. She recommended comparison shopping to find the lowest rates.
Why is my Florida homeowners insurance being canceled?
The Miami Herald reports that three carriers are canceling a total of 53,000 Florida homeowners policies in June, citing deteriorating financial conditions. This is due in part to increased claims from hurricanes, but also from fraud, the report said.
"Florida statute Chapter 224 Part III allows insurers to cancel policies when the company would be placed in a hazardous financial situation due to an uptick in claims after hurricane damage or attorney's fees to defend itself over fraudulent adjuster claims," the news report said.
To try to prevent insurance fraud, which increases insurers' costs, which are then passed on to consumers, state legislators passed an anti-fraud bill earlier this month. It limits legal fees and the period in which a property-damage lawsuit can be filed.
There are many other reasons why homeowners insurance policies get canceled. A cancellation may be triggered by filing multiple claims, failing a house inspection or because your insurer believes the area you live in is too much of a risk for storm damage. Our guide on what to do if your homeowner insurance is cancelled provides more details on steps to take.
Florida homes underwater by county
When a home is underwater it means the homeowner owes more on the mortgage than the home is worth in the current market. For example, if the principal balance on your mortgage is $250,000 but the fair market value of the home is $200,000, your home is underwater. In other words, you could not sell the home and make enough from the sale to pay off your mortgage.
According to Insurance.com's 2020 analysis of second quarter data in Florida, the counties of Gulf, Jackson and Gadsden have the highest percentage of underwater homes in the state. Sumter, Clay and Pinellas have the lowest percentage of underwater homes.
| County | % Underwater | % with Equity |
| --- | --- | --- |
| Gulf | 18.5% | 20.5% |
| Jackson | 15.5% | 21.4% |
| Gadsden | 13.2% | 17.7% |
| Putnam | 12.1% | 26.4% |
| Suwannee | 11.2% | 22.5% |
| Levy | 10.7% | 27.7% |
| Hendry | 10.0% | 31.8% |
| Bay | 9.5% | 21.8% |
| Highlands | 9.2% | 26.3% |
| De Soto | 8.1% | 32.6% |
| Baker | 8.0% | 20.9% |
| Marion | 7.9% | 23.3% |
| Wakulla | 7.9% | 15.6% |
| Okeechobee | 7.8% | 27.8% |
| Columbia | 7.6% | 22.8% |
| Leon | 7.2% | 18.4% |
| Walton | 6.9% | 26.3% |
| Alachua | 6.8% | 20.9% |
| Citrus | 6.3% | 26.7% |
| Escambia | 5.9% | 22.4% |
| Duval | 5.9% | 21.5% |
| Flagler | 5.6% | 24.9% |
| Polk | 5.6% | 22.5% |
| Lake | 5.5% | 23.3% |
| Charlotte | 5.5% | 29.1% |
| Collier | 5.5% | 29.0% |
| Indian River | 5.3% | 30.4% |
| Lee | 5.2% | 25.6% |
| Volusia | 5.1% | 27.9% |
| Monroe | 5.1% | 37.4% |
| Manatee | 5.1% | 24.5% |
| Saint Lucie | 5.0% | 27.5% |
| Hernando | 5.0% | 26.7% |
| Palm Beach | 4.8% | 29.9% |
| Sarasota | 4.7% | 28.8% |
| Broward | 4.6% | 28.2% |
| Pasco | 4.6% | 22.0% |
| Saint Johns | 4.5% | 20.0% |
| Okaloosa | 4.4% | 23.2% |
| Miami-Dade | 4.3% | 34.3% |
| Martin | 4.3% | 31.7% |
| Santa Rosa | 4.3% | 19.3% |
| Brevard | 4.2% | 30.2% |
| Hillsborough | 4.1% | 24.1% |
| Orange | 4.0% | 24.9% |
| Osceola | 3.9% | 21.8% |
| Nassau | 3.9% | 26.1% |
| Seminole | 3.8% | 25.6% |
| Sumter | 3.8% | 32.6% |
| Clay | 3.7% | 19.2% |
| Pinellas | 3.1% | 33.8% |
Florida home insurance FAQ
What is wind mitigation?
Another way to save money on insurance is to fortify your home against wind damage. Making additions and renovations to your home can make it more resistant to hurricane damage.
For example, you might seal the roof deck to keep storm water out. Or, you might install shatterproof glass.
By law, Florida insurers must offer mitigation discounts or credits to homeowners who take steps to make their homes less vulnerable to hurricane damage.
The Florida Office of Insurance Regulation offers more information at its website.
To get an estimate of how much you can save, check out the State of Florida's Wind Insurance Savings Calculator
Why do I need flood insurance?
If you have Florida home insurance, don't assume you are covered in the event of a flood. A homeowners policy does not cover flood damage -- the most common natural disaster in the U.S., according to III.
In the U.S., the federal government offers flood insurance to homeowners through the National Flood Insurance Program (NFIP). Fail to buy this type of policy, and you will be out of luck if flood waters roll through your home.
In terms of flooding, Florida is at especially high risk for storm surge. In fact, Florida ranks first in terms of the most single-family at homes at risk of storm surge in a Category 5 hurricane (2,851,642) and highest dollar amount for how much it would cost to repair and reconstruct those homes ($580.6 billion).
Florida has more flood insurance policies in force than any other state. As of 2019, 1,727,853 flood insurance policies were active in Florida, representing $439.9 billion in coverage.
That included 117,952 direct NFIP flood insurance policies representing nearly $31.9 billion, and 1,609,901 write-your-own policies representing $408 billion.
Florida ranked first among all states and the District of Columbia in flood damage claims paid out during 2020. Claims totaled $264.5 million, according to the Federal Emergency Management Agency.
Nationally, the average flood insurance premium was $642 in 2018, according to the Insurance Information Institute.
The average amount of flood coverage per policy in the U.S. was $257,000 in 2018, according to the Insurance Information Institute.
The average flood claim in 2018 in the U.S. was $42,580. That was down significantly from $91,735 in 2017, a year of several significant hurricane strikes in the U.S.
Why do I need hurricane insurance?
Every year, Florida is at great risk for hurricanes, and the damage can be costly. Six of the 10 most expensive U.S. hurricanes have impacted the Sunshine State.
And there is nowhere to hide if you are a Florida homeowner. About 98% of the state's population lives in a coastal county, putting these residents in danger of a hurricane's high winds and storm surge.
How do hurricane deductibles work?
An increasing number of insurance companies are turning to percentage deductibles when insuring homes. This is especially true for windstorm coverage.
Hurricane deductibles are allowed in 19 states, including Florida. However, Florida is the only state in which the government -- not individual insurance companies -- sets the deductible amounts.
A percentage deductible can be considerably more expensive than a traditional deductible. Instead of paying a flat fee of $1,000, you could be charged a percentage of your overall Florida home insurance coverage amount. A 2% deductible on coverage of $100,000 leaves you on the hook for $2,000.
Insurance companies in Florida must offer a hurricane deductible of $500, 2%, 5% and 10% of the policy dwelling or structure limits, III says. All percentages are based on the total value of the home.
Although this might seem onerous, III points out that such deductibles make insurance more affordable for policyholders who live in homes near the coast that are frequently in harm's way.
Hurricane deductibles in Florida apply to windstorm losses resulting only when the National Weather Service officially declares a hurricane. Deductibles are in effect for damage that occurs from the time a hurricane watch or warning is issued for any part of Florida up to 72 hours "after such a watch or warning ends and anytime hurricane conditions exist throughout the state," according to III.
The good news in Florida is that windstorm deductibles apply per season, not per storm. So if you have the misfortune to be hit by three storms in one year, just one single deductible will apply to them all.
What do I do if I can't get homeowners insurance in Florida?
Some people struggle to find coverage. The Florida Market Assistance Plan allows these homeowners to locate and purchase coverage from authorized insurers in the private market. The toll-free telephone number is 1-800-524-9023.
Citizens Property Insurance Corp. is another option for homeowners who can't find good Florida home insurance coverage. For example, many Floridians use Citizens for windstorm coverage if they live in wind-pool areas near the coast that make their homeowners insurance company unlikely to provide windstorm protection.
Florida law states that Citizens can only issue a new insurance policy only if no comparable private market coverage is available, or comparable private market policy premiums are more than 15% higher than a similar Citizens policy.
Be aware that Citizens plans to hike its rates in an effort to nudge homeowners back toward the private market.
On Jan. 26, Citizens approved rates for 2021 that include statewide average increases of 7.2% for homeowners, condominium unit owners, mobile homeowners, dwelling, and renters. If approved by the Office of Insurance Regulation (OIR), the 2021 rates would go into effect for policies renewed after Aug. 1, 2021.
According to the Citizens website, homeowner policies would increase by an average 6.1%. Condo owners would see an average 9.4% increase. Renters rates would increase 4% on average.
The recent vote to hike rates comes at a time when Citizens policy count over the past year has risen from 443,000 to 552,000, a 19.7% increase. "Higher than expected losses from Hurricanes Irma and Michael coupled with stubbornly high litigation and reinsurance costs have prompted many private insurers to raise rates, limit coverage and exit particular markets," the Citizens website reported.
"The objective here is to create a healthy, private insurance market in Florida that better represents what we are supposed to be, Florida's insurer of last resort," Carlos Beruff, board of governors chairman, said in a statement.
Are sinkholes covered?
Florida has more sinkholes than any other U.S. state. Sinkhole coverage might or might not be part of your homeowners policy coverage.
State law dictates that all insurance companies licensed in Florida must "offer" sinkhole coverage, according to the Florida Department of Financial Services. In most cases, this coverage is available as an endorsement to your main policy, and will cost extra.
However, insurers have the right to inspect your property and -- if evidence of sinkhole activity is found -- to decide not to offer you the coverage. They can also refuse coverage if your home is within a certain distance from confirmed sinkhole activity.If you are embroiled in a sinkhole claim dispute with your insurer, the Florida Department of Financial Services sinkhole Neutral Evaluation program offers a neutral third party professional to review the findings of the insurer. It is important to note that the reviewal findings are not binding to the policyholder or the insurer.
Is mold covered?
Mold that results from a covered peril -- such as a burst pipe -- typically is covered under a Florida home insurance policy. However, the amount of mold coverage often is capped at around $10,000. It might be possible to increase such limits by paying an additional premium amount. It's important to note that some policies do not cover mold damage at all.
What is an ordinance or law exclusion?
In some cases, a law or local building ordinance can make it more expensive to repair or replace your home. If this happens, your insurer typically is not obligated to pay this higher amount. However, some policies include ordinance or law coverage. In that case, the insurer would be obligated to pay the extra amount.
Where do I get claims processing info or file a complaint?
If you have concerns about how your claim was handled, call the Florida Department of Financial Services at 1-877-MY-FL-CFO (1-877-693-5236). The department recommends that you keep records of all dates and times and names of company representatives when you communicate with your insurer about a claim. Keep copies of written records and correspondence as well.
You can also file your complaint online with the Division of Consumer Services if you prefer.
If you are unable to resolve a claim dispute with your insurer, mediation might be available. In this process, a trained, neutral mediator works with both sides and tries to reach a mutually satisfying agreement. The insurer pays for the service, and neither the insurer nor you are obligated to accept the result. To find out if you are eligible, call 1-877-MY-FL-CFO (1-877-693-5236).
The mediator's findings are not legally binding to the policyholder or the insurer.
Methodology:
Insurance.com in 2020 commissioned Quadrant Information Systems to field home insurance rates from major insurers in each state for nearly all ZIP codes in the country for 10 coverage levels based on various dwelling and deductible limits. The homeowner profile is a 35-year-old married applicant with excellent insurance score; new business HO3 policy for house built in 2000 with frame construction and composition roof. Other Structures: 10%. Loss of Use defaulted: 10%. Personal Property defaulted: 50%. Guest Medical limit: $5,000. Personal property: 50% of dwelling coverage for actual cash value.