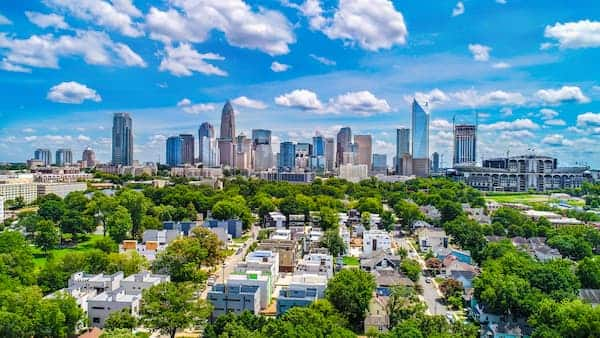 Here we outline what you need to know to make smart choices when buying homeowners insurance in South Carolina. We rank the best homeowners insurance companies in South Carolina, identify cheap homeowners insurance companies in South Carolina for six coverage levels and provide expert recommendations on how much coverage you need.
No matter where you live, it pays to compare rates for homeowners insurance. The same is true for South Carolina. Premiums can vary, sometimes by a little, sometimes by a good amount more.
Why is that? Michael Barry, a spokesman for the Insurance Information Institute, a trade group, explains that various factors influence home insurance rates. They can include building costs in your area, local crime rates, and the risk where you live from natural disasters such as hurricanes, hail storms and tornadoes. And, of course, insurance companies want your business and that may affect pricing.
KEY TAKEAWAYS
South Carolina is among the states most vulnerable to hurricanes. Most homeowners policy covers wind damage, so make sure enough coverage against these events.
There are many different home insurance companies out there and it can be difficult to find the right one. Compare quotes from at least three companies to get the best rates.
When buying homeowners insurance make sure you buy enough coverage for dwelling, liability and medical payments.
You can save as much as 25% on your policy if you raise your home insurance deductible to $1,000.
What is the average cost of South Carolina home insurance?
The average cost of home insurance in South Carolina is $2,678, making South Carolina the 17th most expensive state in the country for home insurance. Its average cost is $373, or 16%, more than the national average of $2,305, for the coverage level of:
$300,000 dwelling coverage
$1,000 deductible
$300,000 liability
What is the best homeowners insurance in South Carolina?
The homeowners insurance company with the cheapest rates isn't necessarily the best. Other factors to consider are customer service and claims processing. Insure.com's 2021 Best Home Insurance Companies report ranks major insurers on feedback from 3,700 customers. They are asked about the value for the price, customer service, claims service and if they'd recommend the company.
Here is how the best home insurance companies in South Carolina ranked on the survey. Scores are out of 100.
Best homeowners insurance in SC
Erie, Esurance, Nationwide, Chubb and AIG are the top five best carriers for home insurance, based on customers' feedback on our survey.
| Ranking | Company | Score |
| --- | --- | --- |
| 1 | Erie | 92.24 |
| 2 | Esurance | 89.4 |
| 3 | Nationwide | 88.48 |
| 4 | Chubb (ACE INA Group / Ace Limited) | 87.69 |
| 5 | AIG (American International Group) | 87.3 |
| 6 | USAA | 87.09 |
| 7 | Safeco | 86.59 |
| 8 | American Family | 85.76 |
| 9 | Progressive | 84.76 |
| 10 | Travelers | 83.97 |
| 11 | Allstate | 83.65 |
| 12 | State Farm | 83.42 |
| 13 | Liberty Mutual | 82.36 |
| 14 | Hartford | 81.86 |
| 15 | Farmers | 79.71 |
Cheap home insurance companies in South Carolina (SC)
Based on our rate analysis, you'll see Travelers was the cheapest home insurance company, among carriers surveyed. Safeco, Allstate, Allied, USAA and Nationwide also had cheap insurance rates for South Carolina homeowners, compared to the other companies. Here are home insurance rates by company for dwelling and liability coverage of $300,000, with a $1,000 deductible.
| Company Name | Average annual rate |
| --- | --- |
| Travelers | $1,953 |
| Safeco | $2,037 |
| Allstate | $2,239 |
| Allied | $2,370 |
| USAA | $2,524 |
| Nationwide | $2,699 |
| South Carolina Farm Bureau | $2,811 |
| State Farm Fire | $3,029 |
| Nationwide | $3,134 |
| LM Insurance | $3,608 |
| Foremost | $4,139 |
Because costs are not uniform, it's crucial to shop around for the best home insurance rate.
Many factors influence the price you pay for insurance. Among others, the Insurance Information Institute (III) cites the following:
Your home's square footage
Building costs in your area, and your own home's construction, materials and features
Local crime rates
The likelihood of certain types of disasters, such as hurricanes
So, shop around for the right policy. Senior Consumer Analyst Penny Gusner suggests getting at least three price quotes when shopping for coverage, and says that doing so can save you up to hundreds of dollars annually.
Although South Carolina home insurance costs can be expensive, it's a mistake to cut corners in an attempt to save. Gusner recommends that you get enough insurance to cover the costs to:
Repair or replace the structure of your home and personal possessions
Defend yourself against liability costs if someone is hurt on your property
Pay for a temporary place to live while your home is repaired or replaced
South Carolina homeowners insurance comparison by ZIP code
It's no surprise that coastal areas are the highest locations for home insurance in South Carolina. The small fishing town of Awendaw, the Isle of Palms and Folly Beach, followed by Hilton's Head and Myrtle Beach neighborhoods are among the most expensive ZIP codes for coverage. The cheapest ZIP codes are in the Greenville area.
By entering your ZIP code in the search box and desired coverage level, you'll see the average home insurance rate for that area, as well as the highest and lowest premium fielded from major insurers. This will give you an idea of how much you can save by comparing home insurance rates. The difference between the highest the highest rate and the lowest rate is how much you can save by shopping your policy.
HOME

INSURANCE

CALCULATOR

Average home insurance rates in CALIFORNIA
Dwelling $200,000, Deductible $1,000 and Liability $100,000.
HIGHEST RATE:

$1,029
LOWEST RATE:

$443
Most & least expensive zip codes for homeowners insurance in California
Most Expensive
| Zip Code | City | Highest Rate |
| --- | --- | --- |
| 92561 | Mountain Center | $1,031 |
| 90210 | Beverly Hills | $1,029 |
| 90069 | Los Angeles | $1,020 |
| 90046 | Los Angeles | $1,011 |
Least Expensive
| Zip Code | City | Lowest Rate |
| --- | --- | --- |
| 93445 | Oceano | $606 |
| 93117 | Goleta | $607 |
| 93111 | Goleta | $610 |
| 93433 | Grover Beach | $615 |
Home insurance in Charleston (SC) and South Carolina's other largest cities
Let's explore average rates for some of the state's largest cities, for a policy with $300,000 dwelling coverage, a $1,000 deductible and $300,000 in liability protection. You'll see homeowners insurance in Columbia, the Palmetto State capital, is much more affordable than other metro areas, it costs about $240 less than the state average. Homeowners insurance in Greenville is near the state average, while home insurance in Charleston is much more expensive -- $1,270 more.
| City | Average rate | Compared to state average of $2,678 |
| --- | --- | --- |
| Mount Pleasant | $4,198 | $1,520 more |
| Myrtle Beach | $3,955 | $1,277 more |
| Charleston | $3,948 | $1,270 more |
| North Charleston | $3,859 | $1,181 more |
| Greenville | $2,667 | $11 less |
| Columbia | $2,434 | $244 less |
Homeowners insurance SC Explained and How much coverage to buy
Among key things to consider when buying a homeowner insurance policy, you decide the coverage amount for the following:
dwelling
liability
medical payments
The limits of your coverage for the following are typically a set percentage of your dwelling coverage limit as shown below:
other structures – 10%
personal property – 50%
loss of use – 20%
Our list of tips for buying home insurance starts with knowing the difference between replacement cost and market value, and why it's important in terms of coverage. When buying home insurance, you should insure your home based on its replacement cost, which is the amount you need to rebuild it if damaged or destroyed, and not its market value, which is what you could sell your home for in its current condition. Replacement cost offers more protection because the cost of building a home often exceeds its market value.
When shopping for a policy, you should be aware of the basics of home insurance, which begins by choosing a "dwelling coverage" amount. You should select a dwelling coverage limit that best matches the cost to repair damage to your home or rebuild it completely at equal quality — at current prices. This can be an arduous task, so using online calculators or hiring an appraiser to give you a replacement cost valuation will save you time.
Liability insurance applies to incidents in which you're at fault and the result is that a guest in your home or on your property is injured. It covers medical expenses, as well as damage caused to neighbors' property. Personal liability also covers legal fees if you are sued, as well as any resulting judgments from a lawsuit, up to your policy limits.
Most home insurance policies come with $100,000 in personal liability insurance but this is rarely enough coverage. The cost to defend a lawsuit or to pay for medical expenses for a serious injury can easily exceed that amount. Most experts recommend upping your limits to at least $300,000.
Medical payments also pays for injuries to guests in your home but differs from liability in that it applies to injuries regardless of who is at fault. It is for minor incidents as it comes with much lower coverage limits than liability insurance. Medical payments coverage is typically for $1,000 or $5,000.
You also choose a deductible, which applies to your dwelling coverage.
How deductibles affect your insurance rate
A deductible is the amount of money you pay before your insurance company pays out on a claim. For example, if your home sustains damage of $3,000 and you have a $500 deductible, you pay the first $500 and your insurer pays $2,500.
Some deductibles are based on dollar amounts. Others are based on a percentage of your home's value. If your home is insured for $200,000 and your deductible is 2%, you will owe $4,000 before insurance coverage kicks in.
You choose a home insurance deductible amount, which applies to claims for damage to your home or belongings, but not if you're sued or a medical claim is filed by someone injured in your home. These are typically in the amounts of $500, $1,000, $1,500, $2,000 and $2,500.
Understanding the implications of the deductible you choose when buying homeowners insurance is important. In South Carolina, as in all the states, a higher deductible means you'll save on insurance premiums.
The savings can be significant. Barry says that most insurers recommend a deductible of at least $500, which may be ok for you. But keep in mind that by raising that to $1,000, you're likely to save as much as 25% on your policy, according to the III. Of course, that's $1,000 out of your pocket if there are major problems, so it's a bit of a balancing act.
South Carolina homeowners insurance comparison: Rates for 10 coverage levels
Here we show the average cost of South Carolina homeowners insurance for 10 coverage levels, based on a rate analysis by Insurance.com.
Enter a dwelling coverage of $200,000, $300,000, $400,000, $500,000 or $600,000. You will see annual average rates based on a $1,000 deductible for each liability limit of $100,000, $300,000.
| Coverage | Average annual rate |
| --- | --- |
| $200,000 dwelling/$100,000 liability | $2,039 |
| $200,000 dwelling/$300,000 liability | $2,057 |
| $300,000 dwelling/$100,000 liability | $2,657 |
| $300,000 dwelling/$300,000 liability | $2,678 |
| $400,000 dwelling/$100,000 liability | $3,059 |
| $400,000 dwelling/$300,000 liability | $3,072 |
| $500,000 dwelling/$100,000 liability | $3,478 |
| $500,000 dwelling/$300,000 liability | $3,497 |
| $600,000 dwelling/$100,000 liability | $3,798 |
| $600,000 dwelling/$300,000 liability | $3,816 |
South Carolina home insurance discounts
There are several ways to reduce your South Carolina home insurance costs. Many insurers will lower your bill if you purchase more than one type of insurance policy from them. This process – known as "bundling" – can cut your costs by up to 19%, on average, according to Insurance.com's discount data analysis.
You can also cut your costs by making your home more disaster-resistant. Installing hurricane glass or accordion shutters might net you a discount.
Other possible home insurance discounts include:
Installing smoke detectors, a burglar alarm or dead-bolt locks -- 5% each
Installing a sprinkler system, and a fire and burglar alarm -- 15% to 20%
Loyalty discounts – about 4% on average, after three to five years, and 6% for six years or more
Additional SC homeowners insurance info
How much is hurricane insurance in South Carolina?
South Carolina is among the U.S. states most in danger of a hurricane strike. Three of the 10 costliest U.S. hurricanes have hit the Palmetto State: Michael in 2018, Irma in 2017 and Charley in 2004.
Therefore, making sure you have coverage against these events is crucial. For many homeowners, a standard home insurance policy will cover damage from wind.
Because of the high-risk associated with the state's vulnerability, South Carolina is among 19 in the U.S. in which insurance companies are allowed to charge a hurricane deductible, according to the III. That means that you will pay a separate deductible before your insurance kicks in for damages resulting from a hurricane.
Hurricane deductibles often come in the form of percentage deductibles. A percentage deductible can be considerably more expensive than a traditional deductible. Instead of paying a flat fee of $1,000, you could be charged a percentage of your overall home insurance coverage amount. A 2% deductible on coverage of $100,000 leaves you on the hook for $2,000.
By South Carolina law, insurers must tell residential property owners if their insurance policy has a separate deductible for hurricane, wind or named-storm damage. If such a deductible exists, the insurer is responsible for explaining how the deductible works in a policy valued at $100,000.
The insurer also is required to give a full explanation of which events trigger the deductible.
You will also need to purchase a separate flood insurance policy to cover water damage associated with hurricanes. So, how much you pay, overall, for protection from hurricane damage really depends on your costs for these coverages, where you live and the construction materials of your home, among other factors.
To give you a rough estimate, you could add the average price of a flood insurance policy, about $600, to the average home insurance rate for South Carolina ($2,678) and the total would be about $3,280. If you live in a high-risk area, you will pay much more.It's critical to make sure you have sufficient coverage in place. If you live in a high-risk area and cannot secure wind insurance through your standard home insurance policy, the South Carolina Wind and Hail Underwriting Association (SCWHUA) can provide coverage. Known as the "Beach Plan" or "Wind Pool," it provides policies to homeowners in the state's coastal areas.
Why do I need flood insurance?
Flooding can occur with any rain storm. In fact, the III says flooding is involved in 90% of natural disasters in the U.S. Despite this fact, not all homeowners have a flood insurance policy in place.
In addition, flood insurance will cover storm surge damage associated with a hurricane.
Between 37,000 and 359,000 single-family homes are at risk of damage from storm surge in South Carolina, according to CoreLogic. In terms of reconstruction costs, storm surge damage would range from $10.3 billion to $85 billion. The ranges reflect the intensity of hurricanes, with the lower range corresponding to a weak hurricane and the highest range reflecting damage from a rare Category 5 hurricane.In 2015, about 2.1 million people lived in coastal areas of South Carolina, according to the U.S. Census Bureau. Homeowners living along the coast are vulnerable to storm surge damages.
The National Flood Insurance Program (NFIP) provides most of the flood coverage in the U.S.
Nationally, the average flood insurance premium was $642 in 2018, according to the Insurance Information Institute.
An NFIP policy provides coverage of up to $250,000 for the structure of the home, and up to $100,000 for personal possessions.
You must buy flood insurance through a company that participates in NFIP or from a private insurance company that sells it. Homeowners purchase the majority of policies directly through NFIP. However, a handful of private insurers also offer flood policies. In 2019, the top three private companies nationally in terms of providing flood insurance were:
Assurant Inc.
Zurich Insurance Group
Swiss Re Ltd
As of 2019, 211,341 flood insurance policies were active in South Carolina, representing $57.3 billion in coverage.
That included 24,290 direct NFIP flood insurance policies representing nearly $7 billion, and 187,051 write-your-own policies representing $50.3 billion.
South Carolina ranked 10th among all states and the District of Columbia in flood damage claims paid out during 2020. Claims totaled $14.1 million, according to the Federal Emergency Management Agency.
To find coverage in South Carolina, speak with your insurance agent or visit the official NFIP website for more help.
In October 2020, South Carolina passed the South Carolina Private Flood Insurance Act. The measure is designed to increase flood insurance options for homeowners by promoting innovation and allowing insurance companies to test more products in the state. It seeks to:
Streamline regulatory oversight of forms and rates for private flood coverage
Offer more flexibility in underwriting
Require at least 45 days of notice before a private flood insurance policy is canceled or nonrenewed
Is hail damage covered?
South Carolina gets its fair share of severe weather, and that means the risk of hail damage is always present.
Homeowners insurance typically will cover hail damage to the structure of your home, including the roof, windows, a deck or the garage.
Hail damage to your car is covered only if you have comprehensive coverage on your auto insurance policy.
In some cases, homeowners in areas more vulnerable to hail damage - such as along the coast - might have trouble securing coverage on the open insurance market. Those homeowners can turn to the South Carolina Wind and Hail Underwriting Association for coverage.
Is mold covered?
Mold that results from a covered peril –for instance, a burst pipe -- typically is covered under a South Carolina home insurance policy. However, the amount of mold coverage often is capped at around $10,000. It might be possible to increase such limits by paying an additional premium amount. It's important to note that some policies do not cover mold damage at all.
Do I need earthquake insurance?
Although South Carolina does not appear to be "earthquake country," that impression can be misleading. In fact, the United States Geological Survey has designated South Carolina as one of 16 states at high risk for earthquakes.
Most earthquakes in South Carolina occur in the coastal plain region. But temblors have impacted many other areas of the state. An 1886 earthquake that struck the state was among the worst ever recorded on the U.S. East Coast.
Despite this history, significant earthquakes in South Carolina remain rare. For this reason, earthquake insurance tends to be much cheaper in states like South Carolina than in more earthquake-sensitive places like the Pacific Coast. According to the III: "A brick home would cost approximately $3 to $15 per $1,000 in the Pacific Northwest, while it would cost between 60 to 90 cents in New York."
What can I do if I can't get homeowners insurance in South Carolina?
If you are struggling to find the right homeowners insurance coverage in South Carolina, ask for help via the South Carolina Department of Insurance's SC MarketAssist program. You can request free assistance online or call 1-843-577-3415.
Once you make a request, a representative of the Department of Insurance will contact you with a list of insurers willing to sell you a policy.
Where do I get claims processing info or file a complaint?
In some instances, you may have a dispute with your insurance company that remains unresolved. The South Carolina Department of Insurance can investigate your situation if you file a complaint at the department website.
You can also call the department at 1-803-737-6180.