Insurance.com's team of experts reviewed Maryland home insurance companies to find the best ones, and also analyzed rates to identify the average homeowners insurance cost for various coverage levels, ZIP codes and major cities. You'll have all the information you need to make confident choices when deciding what coverage to buy to protect your home and belongings in the Old Line State.
The average home insurance cost in Maryland is $1,518. Coming in at $787 below the national average of $2,305, Maryland is the ninth least expensive state in the country for home insurance, compared to the average rates for homeowners insurance by state for the coverage level of:
$300,000 dwelling coverage
$1,000 deductible
$300,000 liability
KEY TAKEAWAYS
The average home insurance cost in Maryland is $1,518, making it one of the least expensive states for home insurance.
The best home insurance company isn't always the cheapest. Consider all important factors like reputation, financial stability and industry ratings.
Maryland experiences around one low magnitude earthquake every three years.
Your home insurance rates in Maryland will depend on various factors including your claims history, home type, location and more.
Best home insurance companies in Maryland
The homeowners insurance company with the cheapest rates isn't necessarily the best. Other factors to consider are customer service and claims processing.
Methodology: We used consumer survey data to identify the five best homeowners insurance companies in Maryland. To further narrow the list down to four carriers, we looked at:
A.M. Best financial ratings for an insurer's ability to meet its financial obligations
J.D. Powers annual study for customer satisfaction ratings
Size of carrier based on number of policies written
Insurance.com rate analysis based on homeowners insurance quotes in Maryland
Carrier policy offerings, discounts available and special coverages
Here are how home insurance companies in Maryland ranked on the survey. Scores are out of 100.
| Ranking | Company | Score |
| --- | --- | --- |
| 1 | Erie | 92.24 |
| 2 | Esurance | 89.4 |
| 3 | Nationwide | 88.48 |
| 4 | Chubb (ACE INA Group / Ace Limited) | 87.69 |
| 5 | AIG (American International Group) | 87.3 |
| 6 | USAA | 87.09 |
| 7 | Safeco | 86.59 |
| 8 | American Family | 85.76 |
| 9 | Progressive | 84.76 |
| 10 | Travelers | 83.97 |
| 11 | Allstate | 83.65 |
| 12 | State Farm | 83.42 |
| 13 | Liberty Mutual | 82.36 |
| 14 | Hartford | 81.86 |
| 15 | Farmers | 79.71 |
Homeowners insurance in Maryland: How it works and how much you need
Before we dive into the other research on costs and companies, you need to know what you're buying and why, and how much you need. So, let's look at the basic components of home insurance, and how much to get to make sure you're not underinsured.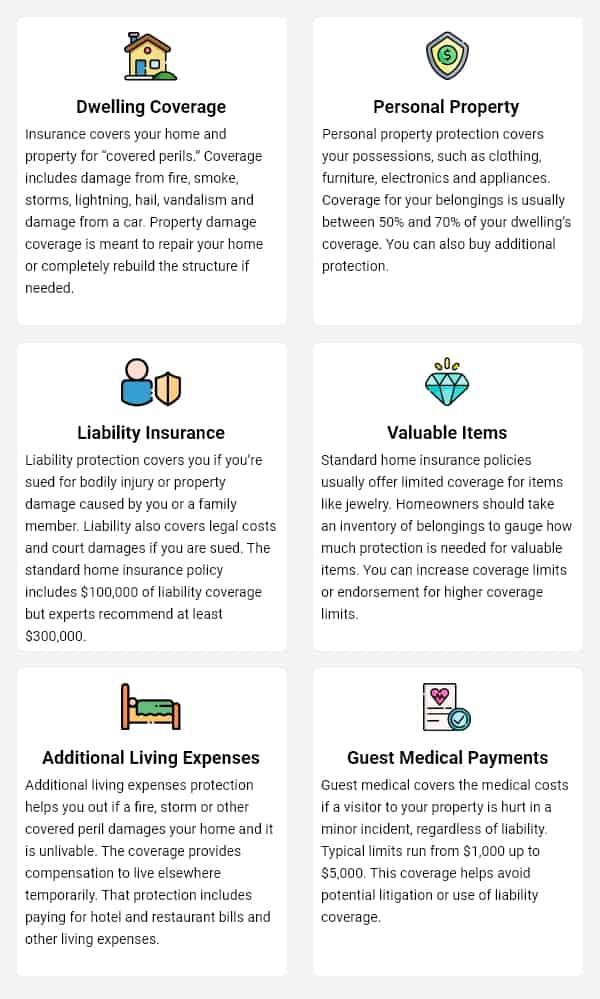 How much is homeowners insurance in Maryland by coverage level?
Now that you know how different components of a homeowners insurance policy work to protect you, here we show the average cost of Maryland homeowners insurance for 10 coverage levels, based on a rate analysis by Insurance.com.
Enter a dwelling coverage of $200,000, $300,000, $400,000, $500,000 or $600,000 to see annual average rates based on a $1,000 deductible for each liability limit of $100,000, $300,000. As you can see, the difference in price between low liability limits and the recommended higher amount is negligible, less than $20.
| Coverage Set | Average Rate |
| --- | --- |
| $200,000 with $100,000 Liability | $1,111 |
| $200,000 with $300,000 Liability | $1,124 |
| $300,000 with $100,000 Liability | $1,503 |
| $300,000 with $300,000 Liability | $1,518 |
| $400,000 with $100,000 Liability | $1,934 |
| $400,000 with $300,000 Liability | $1,951 |
| $500,000 with $100,000 Liability | $2,407 |
| $500,000 with $300,000 Liability | $2,425 |
| $600,000 with $100,000 Liability | $2,874 |
| $600,000 with $300,000 Liability | $2,893 |
Homeowners insurance in Maryland comparison by ZIP code
By entering your ZIP code in the search box, you'll see the average home insurance rate for that area, as well as the highest and lowest premium fielded from major insurers. This will give you an idea of how much you can save by comparing home insurance rates. The difference between the highest rate and the lowest rate is how much you can save by shopping your policy.
HOME

INSURANCE

CALCULATOR

Average home insurance rates in CALIFORNIA
Dwelling $200,000, Deductible $1,000 and Liability $100,000.
HIGHEST RATE:

$1,029
LOWEST RATE:

$443
Most & least expensive zip codes for homeowners insurance in California
Most Expensive
| Zip Code | City | Highest Rate |
| --- | --- | --- |
| 92561 | Mountain Center | $1,031 |
| 90210 | Beverly Hills | $1,029 |
| 90069 | Los Angeles | $1,020 |
| 90046 | Los Angeles | $1,011 |
Least Expensive
| Zip Code | City | Lowest Rate |
| --- | --- | --- |
| 93445 | Oceano | $606 |
| 93117 | Goleta | $607 |
| 93111 | Goleta | $610 |
| 93433 | Grover Beach | $615 |
Cheap homeowners insurance in Maryland: Rates by company
It's crucial to shop around for the best home insurance rate because prices for the same coverage vary by hundreds of dollars. That means, if you don't compare rates, you may wind up overpaying.
Many factors affect home insurance rates. Among others, the Insurance Information Institute (III) cites the following:
Your home's square footage
Building costs in your area, and your own home's construction, materials and features
Local crime rates
The likelihood of certain types of disasters, such as hurricanes
Each carrier uses its own method for deciding what you pay, which is why prices differ so much. Insurance.com Senior Consumer Analyst Penny Gusner suggests getting at least three price quotes when shopping for coverage and says that doing so can save you up to hundreds of dollars annually.
Below are average home insurance rates, ranked by company for a policy with $300,000 in dwelling and liability coverage with a $1,000 deductible.
| Company Name | Average Premium |
| --- | --- |
| Allstate | $1,739 |
| Erie Insurance | $1,695 |
| Farmers | $1,530 |
| Homesite Insurance | $1,609 |
| Nationwide | $1,025 |
| State Farm | $2,008 |
| Travelers | $1,064 |
| USAA | $1,429 |
Cost of Maryland homeowners insurance by city
Though you can see how much coverage costs for your neighborhood by using our average rates tool above, you may want to know the cost of a policy in your city, and how it compares to others. Below we provide rates for Baltimore homeowners insurance, as well as nine others in Maryland.
| City | Average Rate | $ Difference from state average |
| --- | --- | --- |
| Bethesda | $,1514 | $4 Less |
| Frederick | $1,534 | $16 More |
| Rockville | $1,537 | $19 More |
| Silver Spring | $1,546 | $28 More |
| Gaithersburg | $1,583 | $65 More |
| Columbia | $1,675 | $157 More |
| Ellicott City | $1,717 | $199 More |
| Waldorf | $1,951 | $433 More |
| Glen Burnie | $1,983 | $465 More |
| Baltimore | $2,608 | $1,090 More |
Maryland home insurance discounts
There are several ways to reduce your Maryland home insurance costs. Many insurers will lower your bill if you purchase more than one type of insurance policy from them. This process – known as "bundling" – can cut your costs by up to 19%, on average, according to Insurance.com's discount data analysis.
You can also cut your costs by making your home more disaster-resistant. Installing hurricane glass or accordion shutters might net you a discount.
Other possible home insurance discounts include:
Installing smoke detectors, a burglar alarm or dead-bolt locks -- 5% each
Installing a sprinkler system, and a fire and burglar alarm -- 15% to 20%
Loyalty discounts – about 4% on average, after three to five years, and 6% for six years or more
Maryland homes underwater by county
When a home is underwater it means the homeowner owes more on the mortgage than the home is worth in the current market. For example, if the principal balance on your mortgage is $250,000 but the fair market value of the home is $200,000, your home is underwater. In other words, you could not sell the home and make enough from the sale to pay off your mortgage.
According to Insurance.com's 2020 analysis of second-quarter data in Maryland, the counties of Somerset, Allegany, and Caroline have the highest percentage of underwater homes in the state. Prince George's County, Harford, Frederick, and Montgomery have the lowest percentage of underwater homes.
| County | % Underwater | % with Equity |
| --- | --- | --- |
| Somerset | 24.30% | 18.20% |
| Allegany | 18.80% | 16.20% |
| Caroline | 18.20% | 16.30% |
| Garrett | 17.50% | 19.00% |
| Dorchester | 16.60% | 18.00% |
| Baltimore City | 16.10% | 16.70% |
| Kent | 14.00% | 20.00% |
| Wicomico | 12.60% | 15.50% |
| Washington | 10.80% | 17.30% |
| Talbot | 10.60% | 22.20% |
| Worcester | 9.90% | 19.00% |
| Queen Anne's County | 8.40% | 17.90% |
| Cecil | 8.10% | 16.80% |
| Baltimore | 7.20% | 18.10% |
| Saint Marys | 7.00% | 14.60% |
| Calvert | 6.70% | 15.60% |
| Charles | 6.00% | 12.90% |
| Carroll | 5.60% | 20.20% |
| Anne Arundel | 5.50% | 19.30% |
| Howard | 5.50% | 19.70% |
| Prince George's County | 5.20% | 19.10% |
| Harford | 5.20% | 18.30% |
| Frederick | 5.10% | 17.90% |
| Montgomery | 4.60% | 23.20% |
Maryland home insurance FAQ
How do I file an insurance claim?
At some point, you will have to file a claim on your insurance policy. Here are a few tips for filing a claim:
Notify your insurer as soon it's safe: As soon as you are safe you should notify your insurer of the damage and start the claim process. Your insurer should be able to guide you regarding the next step after you contact them.
Make temporary repairs: It is important to make temporary repairs if your home is damaged to protect against further damage, as long as it is safe to do so. As an example, if there is a hole in your roof, try to get a tarp over it to prevent further damage to the home. Never attempt a temporary repair if it is not safe to do so.
Document the damage: Take photos and video of all damage and keep any damaged portions of the house so the adjuster can inspect them. Make notes on what happened as well as the damage your home experienced.
Keep all receipts: Keep all receipts related to the damage to your home as much of it should be reimbursed. If your home is too damaged to live in, and your policy has additional living expenses coverage, your expenses related to hotels, restaurants and even dry cleaning while you are out of your home should be covered.
What are wind deductibles?
While Maryland is not hit by hurricanes as often as Florida or Texas, it has certainly seen its share of severe weather. Some homeowner policies in the state come with a special deducible for losses caused by wind, hurricanes or other major storms. These special deductibles will be applied instead of the standard "all peril" deductible if the damage is caused by wind, hurricanes or other storms.
Some insurance companies automatically add a wind deductible to their policies while others make them optional at the request of the policyholder. Choosing a wind deductible will usually result in a lower premium but if you need to make a claim due to wind damage, your share of the bill will be much higher.
Wind deductibles can be a flat amount such as $1,000 or as a percentage of the insurance coverage on the home. As an example, if you are carrying $300,000 in coverage on your home and a wind storm causes $10,000 in damage to your home and your policy has a 2% wind deductible, your share of the damage would be $6,000 (2% of $300,000) and your insurer would cover the remaining $4,000.
If you were carrying a flat deductible of $1,000 your insurer would cover $9,000 and you would be on the hook for $1,000. When purchasing a policy always make sure you fully understand your deductible obligations. Ask questions about anything you don't understand.
What is wind mitigation?
One way to save money on insurance is to fortify your home against wind damage. Making additions and renovations to your home can make it more resistant to hurricane damage and may result in a discount on your homeowners insurance.
In Maryland, state law requires "An insurer shall offer at least one actuarially justified premium discount on a policy of homeowner's insurance to a policyholder who submits proof of improvements made to the insured premises as a means of mitigating loss from a hurricane or other storm."
Who's eligible and what mitigation measures must be performed?
It is only available on a homeowners policy. Wind mitigation efforts can include the installation of the following:
hurricane shutters
secondary water barrier
reinforced roof coverings
braced gable ends
reinforced roof to wall connections
tie downs
reinforced opening protections
Repair or replacement of exterior doors, including garage doors hurricane resistant trusses, studs, and other structural components or any mitigation effort that materially mitigates loss from a hurricane or other storm covered under the policy.
Any mitigation improvements must be inspected by a contractor licensed by the Department of Labor, Licensing, and Regulation. According to the MIA website, "Insurance companies must provide a premium discount to property owners who meet the specified mitigation requirements. Insurers must also provide policyholders with annual statements regarding the availability of the discount and the method of applying for the discount."
Do I need flood insurance
The majority of standard homeowner policies exclude damage caused by floods. Unfortunately, flood damage is the most common natural disaster in the U.S. according to the Insurance Information Institute.
If you live in a high-risk flood area you should consider a separate flood insurance policy. It is possible to purchase a flood insurance policy through the National Flood Insurance Program (NFIP) or an insurer that works with NFIP.
Flood insurance rates are always standard, so there is no need to shop around for the best policy, you will pay the same amount for flood insurance regardless of the insurance company.
Nationally, the average flood insurance premium was $642 in 2018, according to the Insurance Information Institute.
The exact price will depend on your location, your specific home's risk as well as the coverage limits and coverage type you choose.
The average amount of flood coverage per policy in the U.S. was $257,000 in 2018, according to the Insurance Information Institute.
The average flood claim in 2018 in the U.S. was $42,580. That was down significantly from $91,735 in 2017, a year of several significant hurricane strikes in the U.S.As of 2019, 65,326 flood insurance policies were active in Maryland, representing $16.1 billion in coverage.
That included 5,817 direct NFIP flood insurance policies representing nearly $1.5 billion, and 59,509 write-your-own policies representing $14.5 billion.
Maryland ranked 18th among all states and the District of Columbia in flood damage claims paid out during 2020. Claims totaled $5.1 billion, according to the Federal Emergency Management Agency.
Most flood insurance policies come with a 30-day waiting period before coverage kicks in so don't wait until the last minute to purchase coverage.
Should I get earthquake insurance?
According to the Maryland Department of Natural Resources, Maryland has been the epicenter of a felt earthquake 66 times since 1758. This equates to about one earthquake every three years.
However, most of these earthquakes are very small, in the 1.5 to 2.5 magnitude range. During this type of earthquake, you will feel a bit of shaking and it may rattle pictures on the walls, but they rarely do much damage.
Standard homeowner policies do not provide any coverage for earthquake-related damage. If you have concerns about earthquake damage it is possible to buy earthquake coverage. For example, you may be able to get an endorsement to your policy that covers damage from earth movement. Contact your agent for details.
What if I am unable to get home insurance?
The Maryland Joint Insurance Association (JIA) is Maryland's version of the insurer of last resort. According to the JIA website, their mission is as follows:
"The JIA provides insurance coverage to property owners, individuals, or businesses throughout the State of Maryland who have been unable to obtain essential property insurance through the competitive property/casualty insurance marketplace. The JIA offers Homeowners, Dwelling and Commercial property insurance for qualified properties."The JIA encourages homeowners to first seek a standard homeowners policy. If you are unable to secure such a policy, you can inquire about a JIA policy by contacting "a licensed property/casualty insurance Producers or applying with the JIA directly."
Coverage from the JIA is limited. It only offers the following to homeowners:
Broad Form Perils: Forms HO-2, 4, & 6
Limited Perils: Form HO-8
These policies also come with coverage limits:
Homeowners and dwelling fire coverage:
Coverage A Dwelling: $455,000
Coverage C Contents: $228,000
Commercial coverage:
Fire-resistive: $1,500,000
Masonry: $1,500,000
Frame: $1,500,000
JIA policies do not offer any coverage for flood damage.
How do I file a complaint about my insurance company?
If you are unhappy with your insurer or feel they have acted improperly, you can file a complaint with the Maryland Insurance Administration.
The Maryland Insurance Administration (MIA) is an independent state agency that regulates Maryland's insurance marketplace and protects consumers by ensuring that insurers and insurance producers (agents and brokers) act in accordance with insurance laws.
The MIA can be reached at 410-468-2000 | 1-800-492-6116 (toll free) | 1-800-735-2258 (TTY) or insurance.maryland.gov
You can file a complaint with the MIA online. Documents up to 10 MB can be attached to your complaint. If you prefer to mail your complaint, send it to the MIA at:
200 St. Paul Place
Suite 2700
Baltimore, Maryland 21202
The MIA has established a Rapid Response Program designed to help certain consumers resolve property and casualty claims (such as auto and homeowners claims including those made under commercial lines policies) quickly and without having to file a formal written complaint. For more information about this program, call 410-468-2340 or 800-492-6116. Select option 3, then option 1. Participation in the Rapid Response Program is voluntary and does not affect your rights to file a formal complaint.
The MIA notes the following:
"The Complaint process can take several weeks or a few months, depending on the complexity of the complaint. Sometimes, due to the mail, holidays, or the nature of the inquiry or complaint, the response time may take longer. We ask your patience and cooperation in allowing us to handle this matter for you."
Will my policy cover me for mold damage?
It varies depending on your insurance company, not all insurance policies provide coverage for mold damage, but many do. Even if the policy does offer mold damage, there can be exclusions.
Some policies exclude coverage for any type of mold damage while some insurers provide coverage if the mold arises out of a covered cause of loss (such as a broken pipe). Other insurers may exclude coverage for any liability claims arising out of mold.
Read your policy and ask your insurer if you have coverage for mold claims and, if so, are there any exclusions related to mold.
What is ordinance or law coverage?
This type of coverage helps cover costs associated with having to rebuild your home in more costly manner because the original construction does not comply with current building codes. Insurers in Maryland may or may not offer this coverage depending on their specific policies. This coverage may cost extra.
Helpful Home Insurance Articles & Guides