Why you can trust Insurance.com
Insurance.com is dedicated to informing, educating, and empowering you to make confident insurance decisions. Our content is carefully reviewed by insurance experts, and we rely on a data-driven approach to create unbiased, accurate insurance recommendations. Insurance.com maintains editorial integrity through strict independence from insurance companies.
The average homeowners insurance rate in Maryland is $1,694 a year or $141 a month. That's well below the national average home insurance rate of $2,777 a year.
Maryland home insurance rates vary based on the location, age and size of the home, coverage level, and more. So, how much is homeowners insurance in Maryland and which companies have the best rates?
The cheapest home insurance company in Maryland is State Farm, at $1,85 a year. But there's more than just price to consider wen you shop for home insurance.
Insurance.com's team of experts reviewed Maryland homeowners insurance companies and analyzed rates for various coverage levels, ZIP codes and major cities. Read on for all the information you need to make confident choices when you compare home insurance quotes in Maryland.
KEY TAKEAWAYS
The average home insurance cost in Maryland is $1,694 a year, making it one of the least expensive states for home insurance.
Some of the top insurance companies offering home insurance in Maryland are Allstate, American Family, and Farmers Insurance.
The insurance companies offering the average cheapest home insurance rates in Maryland include State Farm, Allstate, and Farmers Insurance.
Top home insurance companies in Maryland
The homeowners insurance company with the cheapest rates isn't necessarily the best. Other factors to consider are customer service and claims processing.
We used Insurance.com's most recent rankings of the best home insurance companies in the nation to identify the five best homeowners insurance companies from that list that sell policies in Maryland. Ratings are based on:
A.M. Best financial ratings for an insurer's ability to meet its financial obligations
J.D. Powers' annual study for customer satisfaction ratings
Discount availability and amount
Average cost of a Maryland home insurance policy by company
National Association of Insurance Commissioners (NAIC) customer complaints ratio
Here are the top five home insurance companies based on Insurance.com's national rankings.
Top Home Insurance Companies in Maryland

| Company Name | Insurance.com rating (out of 5) |
| --- | --- |
| State Farm | 4.64 |
| USAA | 4.61 |
| Allstate | 4.25 |
| Travelers | 4.09 |
| Nationwide | 3.93 |
| Farmers Insurance | 3.79 |
| American Family | 3.76 |
Home insurance coverage in Maryland
Before we dive into the other research on costs and companies, you need to know what you're buying and why and how much you need. So, let's look at the basic components of home insurance. Plus, explore how much to get to make sure you're not underinsured.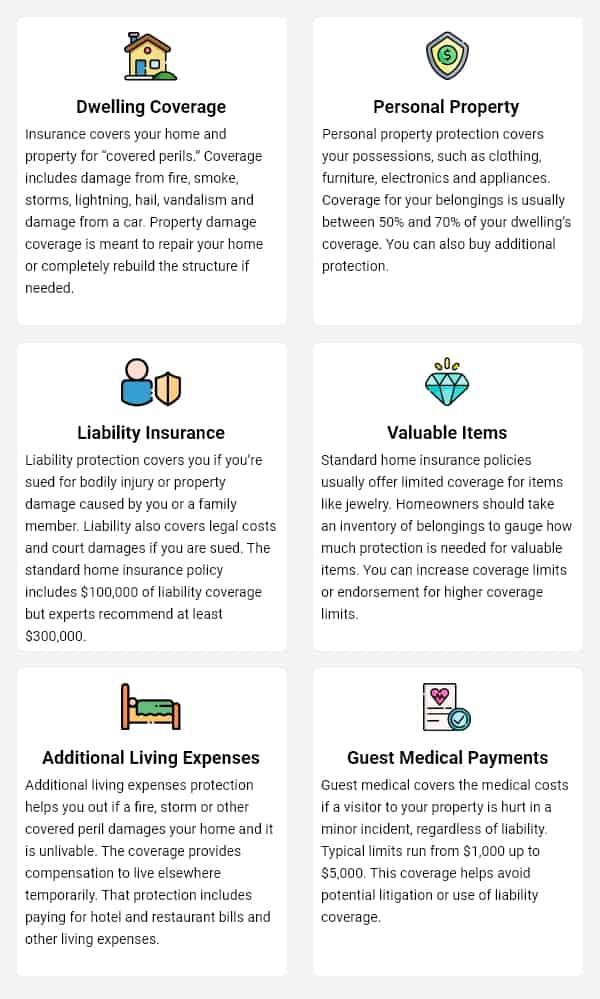 How much is homeowners insurance in Maryland by coverage level?
Now you know how different components of a homeowners insurance policy work to protect you. With that in mind, we will explore the average costs of Maryland homeowners insurance for 10 different coverage levels based on the most recent rate analysis by Insurance.com.
We've set up the table to include different levels of dwelling coverage at $200,000, $300,000, $400,000, $500,000 or $600,000 based on a $1,000 deductible for each liability limit of $100,000, $300,000. As you can see, the difference in price between low liability limits and the recommended higher amount is negligible, less than $20.
Note that these rates do not include additional hurricane or windstorm coverage that may be required in some areas.
Homeowners Insurance in Maryland by Coverage Level

| Coverage Set | Average Rate |
| --- | --- |
| $200,000 with $100,000 Liability | $1,282 |
| $200,000 with $300,000 Liability | $1,289 |
| $300,000 with $100,000 Liability | $1,685 |
| $300,000 with $300,000 Liability | $1,694 |
| $400,000 with $100,000 Liability | $2,108 |
| $400,000 with $300,000 Liability | $2,117 |
| $500,000 with $100,000 Liability | $2,536 |
| $500,000 with $300,000 Liability | $2,546 |
| $600,000 with $100,000 Liability | $2,978 |
| $600,000 with $300,000 Liability | $2,987 |
Homeowners insurance in Maryland by ZIP code
By entering your ZIP code in the search box, you'll see the average home insurance rate for that area, as well as the highest and lowest premium fielded from major insurers. This will give you an idea of how much you can save by comparing home insurance rates. The difference between the highest rate and the lowest rate is how much you can save by shopping your policy.
HOME

INSURANCE

CALCULATOR

Average home insurance rates in CALIFORNIA
Dwelling $200,000, Deductible $1,000 and Liability $100,000.
HIGHEST RATE:

$1,179
LOWEST RATE:

$496
Most & least expensive zip codes for homeowners insurance in California
Most Expensive
| Zip Code | City | Highest Rate |
| --- | --- | --- |
| 92325 | Crestline | $1,450 |
| 92391 | Twin Peaks | $1,426 |
| 92321 | Cedar Glen | $1,425 |
| 92352 | Lake Arrowhead | $1,423 |
Least Expensive
| Zip Code | City | Lowest Rate |
| --- | --- | --- |
| 94086 | Sunnyvale | $742 |
| 94085 | Sunnyvale | $743 |
| 94087 | Sunnyvale | $743 |
| 95051 | Santa Clara | $743 |
The cheapest homeowners insurance in Maryland by company
It's crucial to shop around for the best home insurance rate because prices for the same coverage vary by hundreds of dollars. If you don't compare rates, you may end up overpaying.
Many factors affect home insurance rates. A few of those factors include:
Your home's square footage
Building costs in your area and your own home's construction, materials and features
Local crime rates
The likelihood of certain types of natural disasters, such as hurricanes
Each carrier uses its own method for deciding what you pay, which is why prices differ so much. If possible, get at least three price quotes when shopping for coverage. The exercise in comparison shopping could save you big time.
Below are average home insurance rates, ranked by company for a policy with $300,000 in dwelling and liability coverage with a $1,000 deductible.
Cheap Homeowners Insurance Companies in Maryland

| Company Name | Average annual premium |
| --- | --- |
| State Farm | $1,185 |
| Allstate | $1,312 |
| Travelers | $1,591 |
| USAA | $1,630 |
| Farmers Insurance | $1,639 |
| Erie Insurance | $1,897 |
| American Family | $1,958 |
| Nationwide | $1,981 |
| Chubb Ltd | $2,115 |
Average cost of Maryland homeowners insurance by city
Though you can see how much coverage costs for your neighborhood by using our rates tool above, you may want to know the average cost of a policy in your city and how it compares to others. Below, we provide average homeowners insurance rates for 10different cities.
Average Homeowners Insurance Rates in Maryland by City

| City | Average rate | $ difference from state average |
| --- | --- | --- |
| Bethesda | $1,358 | -$336 |
| Frederick | $1,359 | -$335 |
| Rockville | $1,354 | -$340 |
| Silver Spring | $1,378 | -$316 |
| Gaithersburg | $1,347 | -$347 |
| Columbia | $1,415 | -$279 |
| Ellicott City | $1,395 | -$299 |
| Waldorf | $1,734 | $40 |
| Glen Burnie | $1,556 | -$138 |
| Baltimore | $1,927 | $233 |
Maryland home insurance discounts
There are several ways to reduce your Maryland home insurance costs. Many insurers will lower your bill if you purchase more than one type of insurance policy from them. This process – known as bundling – can cut your costs by up to 18%, on average, according to Insurance.com's discount data analysis.
You can also cut your costs by making your home more disaster-resistant. Installing hurricane glass or accordion shutters might net you a discount.
Other possible home insurance discounts include:
Installing smoke detectors or a local burglar alarm — 1% to 4%
Installing a sprinkler system — 5%
Loyalty discounts — about 7% on average after three years and 9% for 10 years or more
Automatic payments — 4% on average
Maryland home insurance: Frequently asked questions
Does Maryland homeowners insurance have windstorm deductible?
Some homeowners policies in Maryland have a special deductible for losses caused by wind, hurricanes or other major storms. It will be applied instead of the standard "all peril" deductible if the damage is caused by wind, hurricanes or other storms.
You may have the option to add a wind deductible, which will usually result in a lower premium, but if you need to make a claim due to wind damage, your share of the bill will be much higher. You can reduce your rates by adding wind-resistant upgrades to your home.
What if I am unable to get home insurance in Maryland?
The Maryland Joint Insurance Association (JIA) is Maryland's version of the insurer of last resort. According to the JIA website, its mission is as follows:
"The JIA provides insurance coverage to property owners, individuals or businesses throughout the state of Maryland who have been unable to obtain essential property insurance through the competitive property/casualty insurance marketplace. The JIA offers homeowners, dwelling and commercial property insurance for qualified properties." The JIA encourages homeowners to first seek a standard homeowners policy. If you are unable to secure such a policy, you can inquire about a JIA policy by contacting "a licensed property/casualty insurance producer or applying with the JIA directly."
Coverage from the JIA is limited. But it could be the solution for your homeowners insurance needs.
How do I file a complaint about my Maryland insurance company?
If you are unhappy with your insurer or feel they have acted improperly, you can file a complaint with the Maryland Insurance Administration. The Maryland Insurance Administration (MIA) is an independent state agency that regulates Maryland's insurance marketplace and protects consumers by ensuring that insurers and insurance producers (agents and brokers) act in accordance with insurance laws.
The MIA can be reached at 410-468-2000, 1-800-492-6116 (toll free), 1-800-735-2258 (TTY) or at insurance.maryland.gov. You can also file a complaint with the MIA online.
Methodology
Insurance.com analyzed 2022 data commissioned from Quadrant Data Services for Maryland homeowners insurance for coverage levels ranging from $200,000 to $600,000, with liability at $100,000 and $300,000, and a $1,000 deductible. Rates were fielded without including a hurricane or windstorm deductible. Content is updated for 2023.
Helpful Home Insurance Articles & Guides