Insurance companies look at many things to set your insurance rates. They look at where you live and if there are any problems in your house. Insurers also consider your credit score and history with claims before setting the price.
Therefore, it will be wise of you to get home insurance quotes from different companies. It is important to find a company that will charge you the best price for homeowners insurance.
KEY TAKEAWAYS
Under-insuring their home's value is perhaps the biggest mistake homeowners make when insuring their homes.
If you live in a disaster-prone area, your insurance policy may have a separate deductible for certain perils.
In all states except California, Maryland and Massachusetts, insurance companies can use your credit history when determining home insurance rates.
Here are 16 key factors that influence your home's insurance rates.
Replacement cost of your home
Under-insuring your home's value is perhaps the biggest mistake homeowners make when insuring their homes. Not having enough coverage can lead to financial pain if the worst happens.
"If you under-insure your place, you'll likely be in for a bad shock," warns William F. Harris, an independent insurance agent in Los Angeles. "Nobody wants that kind of surprise."
Replacement cost is the amount of money to build the exact same home where it stands now. This is different than a home's market value. Market value includes other things, such as the land's value.
Harris and United Policyholders, a consumer advocacy group, say most people only buy enough insurance to cover the mortgage, which usually is no more than 80 to 90% of the house's value, depending on the down payment. That figure may be even lower if the property has appreciated in value.
So, what can you do to guarantee you're properly covered? Amy Bach, United Policyholders' executive director, suggests hiring a professional appraiser to get an accurate replacement figure. The cost usually runs from $200 to $400, but it can be worth it. Harris notes that some insurers send their own appraiser as part of the coverage process. However, it's always good to have your own estimate.
"That could be very helpful in the settlement process" if your home is destroyed or damaged, he says.
Home insurance deductibles
A deductible is the amount you pay toward a loss before your insurance company pays a claim. Choosing the right deductible amount is a significant decision. The higher the deductible, the more money you save on premiums.
Michael Barry, a spokesman for the Insurance Information Institute, says that most insurers recommend a deductible of at least $500. But keep in mind that by raising that to $1,000, you'll likely save as much as 25% on your policy, according to the III. Our "Homeowners insurance deductibles: How to choose the right one" article provides rates by state and shows the savings earned with a higher deductible.
But the institute adds that, depending where you live, you may have other deductibles to consider when balancing your financial situation with the need to protect your house.
"If you live in a disaster-prone area, your insurance policy may have a separate deductible for certain kinds of damage," the III points out. "If you live near the coast in the East, you may have a separate windstorm deductible; if you live in a state vulnerable to hail storms, you may have a separate deductible for hail; and if you live in an earthquake-prone area, your earthquake policy has a deductible."
Type of dog you own
You love your dog, but insurers may not be quite as enamored.
The liability portion of your insurance helps to protect you if you're sued by someone who is attacked or bitten by your dog. The III warns that some insurers won't insure homeowners who own certain breeds of dogs considered dangerous, such as pit bulls and Rottweilers. Others decide on a case-by-case basis, depending on whether an individual dog, regardless of its breed, is seen as vicious.
To qualify for a policy, homeowners may be required to sign liability waivers for dog bites. Other insurers cover a pet if the owner takes the dog to classes to modify bad habits or if the dog is routinely restrained with a muzzle, chain or cage, says Loretta Worters, another III spokesperson.
She recommends having details about your dog -- including its breed and history -- ready when discussing your policy needs with an insurance agent.
You may also want to shop around for a policy if you have a dog that's a so-called "aggressive breed." Some insurers will increase your rates, while others won't. We found that the average home insurance rate for an aggressive breed is only .3%.
Wood-burning stoves
A wood-burning stove can be very atmospheric and reduce energy costs. But they can also raise your homeowners insurance premiums.
You may be able to avoid or reduce premium jumps by providing your carrier with proof that the stove was installed by a licensed contractor and meets code requirements. Also, Harris suggests installing a smoke detector not far from the stove, along with detectors in other parts of your house. Further, let your agent know if you have a fire extinguisher that's easily accessible.
"See this as an opportunity to make your home safer," he says.
Wood stoves increase home insurance rates by 2% on average.
Home-based business
Barry says it's probably a good idea to take steps to protect equipment, supplies and anything else that is attached to you home-based business.
Here are the most common options, according to Barry:
Purchase an "endorsement" to your existing policy. Your insurer may offer an endorsement that adds additional property coverage and some limited liability coverage. The III says that you may be able to double your standard policy limits for business equipment from $2,500 to $5,000 for less than $20 a year. This option is usually limited to businesses that have less than a set amount of annual receipts, usually around $5,000.
Buy a specific in-home business policy. Some insurers sell specific in-home business policies with some of the same features as larger commercial policies but with lower policy limits and at a lower premium. With this coverage, generally at a price of less than $300 a year, you can insure your business property for $10,000. The policy includes general liability coverage with the limit you choose, between $300,000 and $1 million.
Also, if you have to close your business because of damage to the home, the in-home policy will cover the income that the business loses and ongoing expenses, such as payroll, for up to one year. The policy also provides limited coverage for loss of valuable documents, accounts receivable, offsite business property and use of equipment.
Remodeling
Any remodeling, whether it's a bathroom, kitchen or whatever, will likely raise the home's value. With that in mind, the III says you need to have the increased value reflected in your policy. Keep your insurance agent aware of the status of any improvements.
At its personal finance website, Wells Fargo notes that "it's expensive for you to build, and it's expensive for the insurance company to rebuild in case of a loss. Materials and construction costs will be taken into consideration and it may increase your premium, but at least your coverage will be up to date."
Home liability limits
Personal liability limits should be carefully considered. Insurers say that most people buy policies with $100,000 in personal liability insurance, which tends to be inadequate. The amount could easily be used up due to medical expenses and possible lawsuits if someone was seriously injured in your home.
With that in mind, insurance experts recommend limits of at least $300,000. The medical payments portion of liability has its own limits; the amount of medical payment coverage you can buy varies by insurance company, but at least $5,000 is usually recommended.
If you have assets above $500,000, you should see whether a separate umbrella policy would make sense for you.
Insurance score
Your insurance score, which is similar to your credit score, can significantly affect your premiums, even the ability to secure a policy. People with low insurance scores may be seen as a financial risk by insurers, much the same way lenders look at those with poor credit numbers.
To better ensure a good insurance score, the III and most insurers suggest three steps, which are similar to maintaining good credit:
Avoid having debt that is in default.
Carry modest credit card balances. Be sure to pay them in full each month if possible.
Never have a tax lien, court judgment, your salary garnished or a bankruptcy on your record.
Marital status
Insurers tend to smile on married homeowners. Married couples historically file fewer claims than singles and are seen as, possibly, more mature and definitely less of an actuarial risk by insurance companies.
"Sure, married people tend to get (financial) breaks, with their taxes and elsewhere," says Harris. "It just happens to be the same when it comes to a homeowners policy. It's really all about the claims numbers."
Age and construction of your home
Your home's age and how it was constructed are big factors in your home insurance rates. Even your home's previous claims history can play a part in setting rates.
"Size, location and new-ness of the construction can all affect the cost to rebuild a home -- and that affects the coverage needed," explains Allstate spokesman Justin Herndon.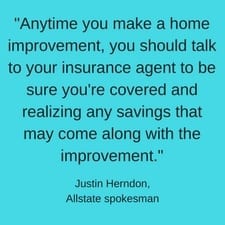 Janet Ruiz, a California representative for the Insurance Information Institute, says it's important that insurance buyers estimate the true cost of rebuilding their home if it should be damaged.
Would the house be difficult to replace or repair? These are all things to consider before buying and insuring a home.
"Many insurance companies will have some kind of tool you can use and it will give you an approximate cost to rebuild," Ruiz says. "The second way is to check with a local contractor in your area to find out what the average building costs are. It's good to do both."
People with older homes usually pay more to rebuild their homes if they're damaged or destroyed. That's why they face higher insurance rates. Here's how much more insurers charge for older homes, on average:
A 30-year-old home -- 1% increase
A 35-year-old home -- 2%
A 40-year-old home -- 2%
A 45-year-old home -- 3%
A 50-year-old home -- 3%
"It's possible that an older home may cost more to insure, as the materials [and] features in older homes can be more costly to repair and replace, things like plaster walls, ornate moldings, stained-glass windows [and] hardwood floors," Herndon explains. "That said, updates to roofs, plumbing, electrical and heating may positively impact the rate for an older home, since these things being upgraded reduce the likelihood of loss. Anytime you make a home improvement, you should talk to your insurance agent to be sure you're covered and realizing any savings that may come along with the improvement."
Other home construction factors can include whether the home is brick or wood, the electrical system's age and whether the home has smoke detectors, a security system and a sprinkler system.
Brick homes cost 6% less to insure, on average. Homes made of fire-resistive materials saves 12%, on average. Newly-constructed homes get an average 36% discount compared to other homes.
Having a swimming pool, hot tub or outdoor spa
These nice-to-have features will increase your home insurance rates because you'll need additional liability coverage in case someone is injured, according to Ruiz.
Most homeowner policies include a minimum of $100,000 of liability protection. The Insurance Information Institute recommends pool owners increase their liability amount to $300,000 or $500,000. This will add between $50 and $75 per year to your home insurance bill.
And the Insurance Information Institute suggests homeowners with swimming pools and other special features, such as spas, consider an umbrella policy to provide additional protection in the event someone gets injured on your property and decides to sue. A $1 million umbrella policy costs between $200 and $300 per year.
Insurers charge less than 1% extra for homes with a pool, so it's a minor increase to your overall rates. However, make sure you have enough liability coverage so you're protected.
Condition of the roof
How good a shape a home's roof is in will play a factor in your homeowner's insurance.
"The condition of the roof affects your homeowners policy. New/newer roofs will typically see a reduced premium, while homes with older roofs will pay more," Herndon explains. "Anytime you make a home improvement, especially replacing or repairing a roof, you should talk to your insurance agent to be sure you're covered and realizing any savings that may come along with the improvement."
Newer roofs have a better shot of protecting the home against the elements. An older, leaky roof can result in damage within the home. Home insurance companies expect the homeowner to keep tabs on the roof and make repairs when needed.
Insurers could even threaten to drop you if you have an old roof.
"If you have a new roof, you're not going to have roof losses," Ruiz explains. "A newer roof is preferable."
How close your home is to a fire department
You'll pay less for home insurance if you live near a fire station. Homes that are located near permanently staffed fire departments usually cost less to insure, according to the Insurance Information Institute. And that's also true for homes located near fire hydrants.
Urban and suburban homes usually get better ratings for fire protection than rural areas.
Having the fire department nearby will help to keep your home safe in case of fire. And it will also help to lower your home insurance rates, a win-win.
Insurers provide an average 4% discount for homes near a central fire station.
How close your home is to coastline or body of water
Homes located near the coast or coastline are generally more expensive to insure than those that are inland. Homeowners who live near the coastline may also have a separate deductible for hurricanes or need a separate windstorm insurance policy for their homes.
But Ruiz adds having a home near any body of water could affect home insurance rates because of the risk of flooding.
"Any body of water could mean flooding," Ruiz says.
Standard home insurance doesn't cover flood damage from the ground outside. You may want to purchase separate flood insurance even if your home isn't considered a high-risk for flooding. Insurance Information Institute estimates that 25% of flood insurance claims come from homes that are not in high-risk areas.
Flood insurance can be purchased through the National Flood Insurance Program, which his run by the Federal Emergency Management Agency.
Your credit history
In all states except California, Maryland and Massachusetts, insurance companies can use your credit history when creating home insurance rates. Each insurance company has its own credit formula, which is different than a credit score.
Here is a typical example of factors insurers review, and how those factors are weighted in a credit-based insurance score, according to the National Association of Insurance Commissioners:
Payment history -- 40%: How well you have made payments on your outstanding debt in the past.
Outstanding debt -- 30%: How much debt you currently have.
Credit history length --15%: How long you have had a line of credit.
Pursuit of new credit -- 10%: How much you've recently applied for new credit.
Credit mix -- 5%: The types of credit you have (credit card, mortgage, auto loans, etc.)
Credit history plays a significant role in rates. In fact, credit can have a larger role than any other factor when setting rates.
People with poor credit pay an average of 127% more for coverage than someone with excellent credit. That's about $1,700 more annually.
Homeowners with fair credit pay on average 34% more than those with excellent credit. That's $425 on average.
Your claims history
You may have moved into a new home, but the claims you filed at your previous residence follow you.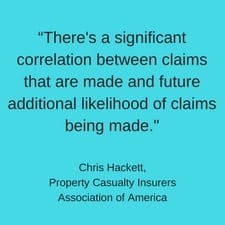 "There's a significant correlation between claims that are made and future additional likelihood of claims being made," says Chris Hackett, senior director of personal lines policy at the Property Casualty Insurers Association of America.
The type and number of claim influences rates. The top 10 average home insurance percentage increases based on claims:
Filing a second fire claim -- 44%
Filing a second liability claim -- 39%
Filing a second theft claim -- 38%
Filing a second water claim -- 33%
Filing a fire claim -- 20%
Filing a liability claim -- 19%
Filing a theft claim -- 19%
Filing a water claim -- 16%
Filing a weather claim -- 16%
Filing a second medical claim -- 13%
You can request one free copy of your C.L.U.E. (Comprehensive Loss Underwriting Exchange) Personal Properly report, which includes all the claims you've filed in the past seven years. The report includes date of the loss, type of loss and the amount paid out to cover the claim. McChristian says the amount of the claim may be less important than the reason for the claim.
You can order your copy of the report online at or by phone at 1-866-312-8076.
As you can see, insurance companies use multiple factors when setting your home insurance rates. These factors point to the importance of shopping for home insurance. If you're not getting quotes from multiple insurance companies, you may be paying too much for your home insurance.