Why you should trust Insurance.com
Insurance.com is dedicated to informing, educating, and empowering you to make confident insurance decisions. Our content is carefully reviewed by insurance experts, and we rely on a data-driven approach to create unbiased, accurate insurance recommendations. Insurance.com maintains editorial integrity through strict independence from insurance companies.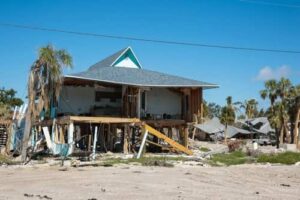 A standard home insurance policy covers hurricane damage from wind, fallen trees and other storm damage. However, there are some exceptions to what's covered, specifically flooding, and you may have to pay a hurricane deductible.
There's no single hurricane insurance policy that covers all types of damage; you need a combination of policies to provide full protection. Those policies include homeowners insurance with replacement cost coverage, flood insurance, car insurance to cover damage to your car and, in some states, a windstorm policy or endorsement.
Key takeaways
Standard home insurance covers wind damage, falling objects like trees and water damage from rainfall.
Overland flooding caused by a hurricane is not covered by standard home insurance.
Ensure you have enough replacement cost coverage to rebuild your home if it's destroyed by a hurricane.
How does home insurance cover hurricane damage?
Yes, for most types of damage. Home insurance covers your home for damage caused by wind, hail, falling objects (like trees) and some types of water damage. It can also help you with living expenses after a hurricane. Here's how your home insurance coverage applies to hurricane damage:
Dwelling coverage. This pays for damage to your home and any attached structures, like a deck. It's based on the replacement cost of your home, and will pay to repair or rebuild up to the policy limits,
Other structures. This coverage pays to repair or replace structures on your property that aren't attached to the house, like a shed.
Personal property. This covers all of your personal property; it is usually an actual cash value coverage unless you choose to add replacement cost to your policy for personal property.
Additional living expenses (ALE). This provides reimbursement for additional living expenses incurred due to the inability to live in your home while repairs are being done on a covered loss. It will also pay for a hotel if you are forced to leave your home under a hurricane evacuation order.
A standard HO-3 home insurance policy is an all or open-perils policy, which means it covers anything that is not specifically excluded. These policies specifically exclude flood damage but do cover water damage from other sources.
What hurricane damage is not covered by homeowners insurance?
Damage caused by flooding during a hurricane is not covered by your standard home insurance policy.
Homeowners insurance hurricane coverage will pay for water damage that happens when rain gets into the house from above, such as if a tree makes a hole in your roof and rain gets in or through a broken window.
However, home insurance does not cover overland flooding. That means any water that enters the house over land. In a hurricane, that can mean a storm surge or flash flood from heavy rainfall.
To cover your home against this type of water damage, you need flood insurance, which is a separate policy.
How does a hurricane deductible work for home insurance?
In 19 states, insurance companies are permitted to charge a separate deductible for hurricanes, named storms or wind and hail storms. If you choose not to include that deductible, you may have no coverage at all for hurricane damage, so it's vital to get clarity on your policy.
For a hurricane or named storm deductible to apply to your claim, there generally has to be a "trigger" event – the trigger depends on state law and the insurance company, so it's vital to make sure you know how it applies to you.
If your hurricane deductible applies, you will be responsible for that amount before the insurance company pays the rest. Unlike the standard deductible, which is a flat amount, hurricane deductibles are set as a percentage of your dwelling coverage. The standard hurricane deductible is 2%. So, on a house with dwelling coverage of $300,000, the hurricane deductible would be $6,000.
Which states have hurricane deductibles?
The 19 states with some type of hurricane or named storm deductible are:
Alabama
Connecticut
Delaware
Florida
Georgia
Hawaii
Louisiana
Maine
Maryland
Massachusetts
Mississippi
New Jersey
New York
North Carolina
Pennsylvania
Rhode Island
South Carolina
Texas
Virginia
Frequently asked questions: Home insurance for hurricanes
Can you get homeowners insurance during hurricane season?
Yes, you can buy homeowners insurance at any time. Bear in mind, though, that when a storm is approaching, some insurance companies may impose what's known as a hurricane moratorium. A moratorium means that the insurance company is suspending any new policy applications until after the hurricane passes.
What happens if you don't have adequate hurricane coverage?
If the cost to repair the hurricane damage exceeds your policy's limits, you will be responsible for the remainder.
See How Much You Can Save
See How Much You Can Save
Helpful Home Insurance Articles & Guides