Why you should trust Insurance.com
Insurance.com is dedicated to informing, educating, and empowering you to make confident insurance decisions. Our content is carefully reviewed by insurance experts, and we rely on a data-driven approach to create unbiased, accurate insurance recommendations. Insurance.com maintains editorial integrity through strict independence from insurance companies.
Homeowners insurance coverage for water damage can be complicated; some types of damage are covered and others are not. Whether water damage to your home will be covered by your home insurance policy depends on how the damage happened.
Standard homeowners insurance covers water damage that happens suddenly or accidentally, such as with a burst pipe. It also covers damage from heavy rain, but it doesn't cover water damage from overland flooding, including flash floods from heavy rainfall and storm surges.
Below we'll provide details on home insurance and water damage to clarify what's covered, what's not and when you need flood insurance.
What type of water damage is covered by homeowners insurance?
Some examples of water damage covered by homeowners insurance policies include:
Leaking or burst pipes, if it's sudden (instead of gradual) and not due to deferred or neglected maintenance
Damage from an overflowing sink or tub
Damage from the sudden malfunction of an appliance like a washing machine (the appliance itself is not covered)
Damage if a hose breaks or leaks
Damage from heavy rainfall
Damage after a fire (from water used to put out the fire)
Damage from a roof leak
Water damage coverage for roof leaks
Depending on the cause of the roof leak, your homeowners insurance may or may not pay for repairs. In most cases, if an unavoidable event, such as a strong storm, caused your roof to leak, you are likely covered. However, should your roof leak because it's old and neglected, then you will likely be responsible for repairing any damage.
"State Farm evaluates each claim on a case-by-case basis," says Angie Harrier, a spokeswoman for State Farm.
Homeowners insurance coverage for mold
Mold is one of the worst byproducts of water damage. As with roof leaks, the source of the mold determines whether or not it is covered. If mold is the result of something that's covered, such as a burst pipe, then your insurance should pay for remediation. However, if mold is the result of failure to properly maintain your property, your homeowners insurance won't cover it.
"Mold caused by water from excessive humidity, leaks, condensation or flooding is a maintenance issue for the property owner," says Loretta Worters, vice president of media relations for the Insurance Information Institute.
If you're worried about mold, you might be able to add a mold insurance policy endorsement for expanded coverage.
It's important to remove mold before it grows large enough to be a health or other hazard, Worters says. "Caught early, mold usually can be removed by cleaning thoroughly with a solution of bleach and water."
Is water damage from burst pipes due to power outage covered?
If the power goes out and your pipes freeze and burst causing water damage, home insurance will cover it.
"If you are without power or water, there are concerns about frozen pipes which can burst and flood, which I have heard has been a big issue in Texas. There is coverage for burst pipes, as long as they were properly maintained," Worters says.
But while damage caused by the frozen pipes would be covered, including any personal property that might get ruined, the actual pipe itself would not be covered in the claim, only the damages, says Brad Harrell, owner and agent at the Harrell Insurance Agency, based in Fort Worth, Texas. "The same goes for any other types of water claims, for example when a water heater bursts," he says. "The water heater wouldn't be covered, but damage caused by the burst would be, flooring, walls, personal property and so on."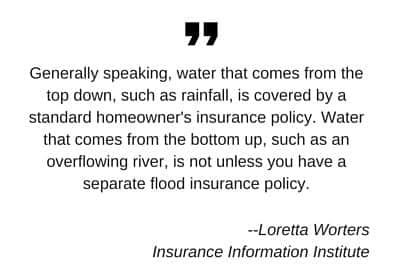 What type of water damage is not covered by homeowners insurance?
There are several types of damage that are not covered by standard home insurance. Most can be added as an endorsement or, in the case of flood insurance, purchased as a standalone policy. Here's what's not generally covered:
Flooding, including rivers or lakes overflowing their banks or a storm surge from a hurricane
Damage due to lack of maintenance and repairs to the structure and property
Sewer back ups
Mold that is not the direct result of a covered claim
Seepage or leaks through the foundation
Sump pump failure
"Generally speaking, water that comes from the top down, such as rainfall, is covered by a standard homeowners insurance policy. Water that comes from the bottom up, such as an overflowing river, is not unless you have a separate flood insurance policy," says Worters.
Flood damage and homeowners insurance
Flood protection is not part of a standard home insurance policy. However, you can buy flood insurance from the federal government's National Flood Insurance Program, (NFIP) or from some private insurers. If you live in a flood-prone area, your mortgage company may require you to buy flood insurance. Flood-prone areas have a one in four chance of flooding during your 30-year mortgage, according to NFIP.
Home insurance for sewer and drain backups
Many homeowners insurance policies don't cover sewer backups, according to Worters. "However, you can purchase a sewer backup rider for a homeowners or renters policy for about an additional $50 a year," she says. The limits on such policies vary according to the insurer.
Does insurance cover additional living expenses from water damage or flooding?
Yes, if your home has water damage from a roof leak or burst pipe, and you need to live elsewhere while your home is being repaired, the additional living expenses portion of your policy (also called loss of use coverage) will cover extra costs.
Most homeowners insurance policies provide coverage for additional living expenses incurred if your home is uninhabitable during repairs. The insurance company will cover expenses like a hotel or dining out that are the result of the loss. However, this coverage only applies if the reason for the water damage is covered by the insurance policy.
If you're displaced from your home because of flood damage, you're not covered for additional living expenses, even if you have flood insurance from the NFIP. If you have a flood insurance policy from a private company, however, it will likely include loss of use coverage.
FEMA can help impacted homeowners and renters with alternative living expenses if the president issues a major disaster declaration and homes are uninhabitable.
Does renters insurance cover water damage?
Renters insurance covers your personal belongings damaged by water --- it does not cover damage to the dwelling structure, that's covered by your landlord's policy.
Like homeowners, renters insurance doesn't cover all types of water damage. If your sink, tub or washing machine accidentally overflows, or an air conditioner leaks, it's covered. But if there's a sewer backup or the damage is related to flooding, it won't be covered, unless you add the additional peril or rider to your renters insurance.
Renters insurance also covers damage to your belongings due to frozen water in pipes, as well as damage from accidental water or steam overflow from plumbing, radiator and cooling systems.
Additionally, if you're at fault, renters insurance helps to pay for water damage you cause to neighboring units. However, if your landlord was negligent in maintaining the unit and was responsible for the water leak, your insurance company would likely try to get the money for repairs from your landlord's insurance company.
How do I file a water damage insurance claim?
As with any claim, the first step to filing a water damage claim is to contact your insurance company. You'll provide the company with some basic information, and they will assign the loss to an adjuster.
The adjuster will assess the damage and determine whether or not it's covered.
Water damage insurance claim tips:
Take photographs, especially if you need to make temporary repairs. It will help if you can provide any receipts to your insurance company for the items that were damaged by the water.
The choice of contractor is typically yours, so get several quotes. However, your insurance company may recommend contractors.
Keep all receipts for additional living expenses so you can be fully reimbursed.
How to get insurance to pay for water damage
If the water damage is specifically excluded from your policy, you are unlikely to have much luck getting the insurance company to pay. However, if you believe it should be covered and the claim is being denied or you are being offered too little, you do have options.
First, you can appeal the claim, following the steps outlined in your policy. If that doesn't work you might need outside help from a lawyer or a public adjuster.
Here are a few tips to make a water damage claim easier:
Know what's covered by your insurance policy. You will have a better time appealing the claim if you understand your coverage and can point to the policy to prove the damage should be covered.
Document everything. The more proof you have to present to the insurance company, the easier the process will be.
Prevent further damage. You have an obligation to mitigate the water damage, and this will make the claim amount smaller and the insurance company less likely to fight it.
Does previous water damage impact home insurance quotes?
"A claim for water damage triggers concerns by insurers largely because of the costs of eliminating mold," Worters says.
Plumbing problems that lead to water damage can be a red-flag for insurers, particularly if the problems continue and result in more claims, she says. "If the damage involves broken pipes or leaky windows, fix the problem," Worters says.
If you don't, you may be considered a high risk because you don't maintain your property and your future rates could increase. If you've made a water damage claim, carefully research ways to reduce your premium costs when buying homeowners insurance in the future.
Shopping around is the best way to save; not all insurance companies will see a water damage claim the same way, and you could save a lot by shopping around for a better rate.
See How Much You Can Save
See How Much You Can Save
Helpful Home Insurance Articles & Guides