Does your home insurance cover water damage?
Most homeowners insurance policies cover water damage that comes from above, but certain types of water damage may be excluded unless special coverage is purchased.
Pipes burst. Appliance hoses and sump pumps fail. Roofs leak. Flood waters seep into your basement. There are lots of ways water can damage your home and your belongings. Should your home suffer water damage, standard homeowners insurance usually helps you pay for clean-up and repairs.
It all depends on where the water comes from and what additional coverages you have, explains Loretta Worters, a spokeswoman for the Insurance Information Institute (III). "Generally speaking, water that comes from the top down, such as rainfall, is covered by a standard homeowners insurance policy. Water that comes from the bottom up, such as an overflowing river, is not unless you have a separate flood insurance policy."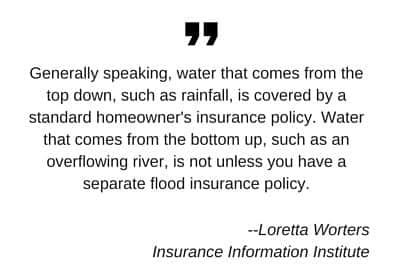 From 2010-2014, the average cost of a homeowners' claim for water damage and freezing was $7,958, according to the III. Water damage and freezing is the second most common home insurance claim. (Wind and hail damage is number one, at an average claim cost of $8,041, the III reports.)
Here are some common sources of water damage to a home and what you might expect if it happens to your house.
Water damage coverage for roof leaks
Depending on the roof leak's cause, your homeowners insurance may or may not pay for repairs. In most cases, if an unavoidable event, such as a strong storm, caused your roof to leak, you are likely covered. However, should your roof leak because it's old and neglected, then you may be deemed responsible for repairing any damage.
"StateFarm evaluates each claim on a case-by-case basis," says Angie Harrier, a spokeswoman for the insurance company.
Even if you are covered for roof leaks under your homeowners insurance policy, you must pay your deductible out-of-pocket—which may be a set amount, such as $500 or $1,000, or a percentage of your claim. So if your claim is $7,000 for a major roof repair and your deductible is $500, you should receive a check from your insurance company for $6,500.
Homeowners insurance coverage for mold
Mold is one of the worst byproducts of water damage. Mold is not only hazardous to your health, but the pesky spores can discolor walls and ceilings, rot wood and ductwork, and create a foul odor. Mold can reduce your home's value and frighten buyers away.
As with roof leaks, the mold's source determines whether or not it is covered. If mold is the result of something that's covered, such as a weather-related burst pipe, then your insurance should pay for remediation, Worters says. However, if mold is the result of failure to properly maintain your property, your homeowners insurance may not pay for cleaning it up.
"Mold caused by water from excessive humidity, leaks, condensation or flooding is a maintenance issue for the property owner," Worters says. It's like termite or mildew prevention, and is not covered by a typical home insurance policy.
If you're worried about mold, ask for a policy attachment or endorsement that allows you to add mold coverage. The III estimates the average mold claim to be $15,000 to $30,000. However, even if your policy covers mold, your claim may be limited. Some policies have limits of $5,000 for such claims.
It's important to remove mold before it grows large enough to be a health or other hazard, Worters says. "Caught early, mold usually can be removed by cleaning thoroughly with a solution of bleach and water."
Home insurance for sewer and drain backups
Many homeowners insurance policies don't cover sewer backups, according to Worters. "However, you can purchase a sewer backup rider for a homeowners or renters policy for about an additional $50 a year," she says. The limits on such policies vary according to the insurer.
Flood damage and homeowners insurance
Flood protection is not part of a standard home insurance policy, Harrier says. However, you can buy flood insurance from the federal government's National Flood Insurance Program, (NFIP) or from some private insurers. If you live in a flood-prone area, your mortgage company may require you to buy flood insurance. Flood-prone areas have a one in four chance of flooding during your 30-year mortgage, according to NFIP.
What if I can't live in my home as a result of water damage?
Most homeowners and renters insurance policies provide coverage for additional living expenses incurred if your home or rental unit is unlivable. The insurance company pays for you to live at another location (at a price similar to your old home or apartment) while it is being repaired. Save your receipts if you need to stay in a hotel.
How do I make a water damage insurance claim?
To make a claim: contact your insurance agent in a timely manner. Your insurance company will send an adjuster to assess the damage and determine whether or not it's covered. You can also hire a public insurance adjuster who can help you navigate the claims process.
Take photographs, especially if you need to make temporary repairs. It will help if you can provide any receipts for the items that were damaged by the water. The choice of contractor is typically yours. However, your insurance company may recommend contractors.
How much you receive depends on whether or not you have replacement cost homeowners insurance. Those with an understanding of insurance basics know that if you have replacement cost coverage, you should be paid for the full cost of repairing or replacing what's been damaged with similar materials as the original. If you don't have replacement cost, your insurance company may factor in the age of the materials or appliances that need replacing and subtract for "wear and tear."
Water damage impact on home insurance quotes
"A claim for water damage triggers concerns by insurers largely because of the costs of eliminating mold," Worters says.
Plumbing problems that lead to water damage can be a red-flag for insurers, particularly if the problems continue and result in more claims, she says. "If the damage involves broken pipes or leaky windows, fix the problem," Worters advises.
If you don't, you may be considered a high risk because you don't maintain your property and your future rates could increase. If you've made a water damage claim, carefully research ways to reduce your premium costs when buying homeowners insurance in the future.
You can keep your homeowner rates steady by making repairs or improvements to your home, such as adding insulation to decrease the likelihood of ice dams causing water damage. If you make repairs or improvements, take photographs so you can prove that the windows, roof, siding and other home features were in good shape before the disaster damaged them.
Shop for home insurance quotes and compare rates from various companies to be sure you are paying the lowest amount for comparable homeowners insurance policies.