Why you should trust Insurance.com
Insurance.com is dedicated to informing, educating, and empowering you to make confident insurance decisions. Our content is carefully reviewed by insurance experts, and we rely on a data-driven approach to create unbiased, accurate insurance recommendations. Insurance.com maintains editorial integrity through strict independence from insurance companies.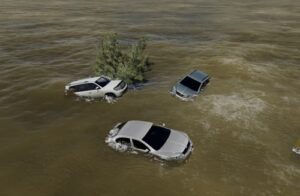 Your auto insurance will cover hurricane damage to your car, but only if you carry comprehensive insurance. Comprehensive covers your vehicle for things other than a collision. That includes weather damage.
Whether a hurricane knocks a tree over on your car or it's submerged in a storm surge or rainwater, comprehensive coverage will cover the damage.
Make sure you have comprehensive coverage in place well before storm season hits.
Key takeaways
Your car insurance will pay for damage from a hurricane if you have comprehensive coverage.
Call the insurance company right away to put in a claim after a storm.
Make sure you have enough coverage in place well before hurricane season hits.
Does auto insurance cover hurricanes?
Your auto insurance covers hurricane damage if you have opted for comprehensive coverage. This is optional coverage unless you have a loan or lease on your car, in which case you'll be required to carry it.
"Auto insurance does protect you against flood damage to your vehicle," says Hernan Lois of NC Coastal Insurance in Wilmington, North Carolina. That's an important distinction to make, because homeowners insurance does not cover flood damage to your house.
Comprehensive coverage pays for non-collision-related damage. These are often things beyond your control and unrelated to your driving, such as theft, vandalism or a tree branch falling onto your hood during a hurricane. Hurricanes and other natural events may be called "acts of God" in the policy literature.
Comprehensive comes with a deductible that you choose, and the lower the deductible, the more you pay for your premiums. If you put in a claim for hurricane damage, you must meet your deductible before the insurance company pays its portion.

For example: if your deductible is $500 and the damage to your car from a hurricane is $750, you have to pay the $500 and the insurance company pays the remaining $250.
If you have state-minimum liability-only coverage, you will not be covered for hurricane damage to your car.
What is the best car insurance coverage for hurricane damage?
The best car insurance for hurricanes and other damage not related to roadway accidents is comprehensive coverage.
When you are buying a new auto policy or reviewing your current coverage, be sure to ask about comprehensive. It's not an automatic option.
If you're financing a vehicle, collision and comprehensive are almost always required by the finance company. They require the maximum amount of insurance to protect their property because your vehicle is collateral for the loan. If you own the vehicle yourself, be sure to add this coverage.
One important thing to consider is that you usually can't add coverage once a hurricane warning is in effect. Insurance companies won't approve additions to your policy. That's why it's best to plan ahead.
What to do if your car floods after a hurricane
"You will need to determine your deductible vs the damage and then call the claims department to assist with towing and storage of the vehicle," Lois says.
If your car floods or has water damage after a hurricane, call the insurance company to make a claim immediately. They will want:
Your policy number
License plate
Pictures of the damage
The insurance company will assign a claims adjuster who will assess the damage. They usually visit in person to do so, but some may just use your pictures.
The claims adjuster will guide you through the whole process and the necessary paperwork. You'll probably need to get an estimate from a repair shop, and they may refer you to one that their company uses.
You'll be responsible for your deductible and the insurance company will pay for any damages beyond that amount.
How to insure your car to protect against hurricanes
If you live in a state that tends to have a lot of hurricanes, you should review your policy well before storm season to make sure you have the proper coverage.
Comprehensive needs to be added to your policy if you don't already have it. If you do already have it, make sure the deductible is one you can meet. Now might be the time to adjust your limits or bundle your policy with your homeowners insurance to get all available discounts.
The collision portion of your insurance will pay for claims you make if you have an accident during the storm. The comprehensive portion is what pays for flood damage, tree branches falling on your car, hail breaking your windshield or denting the hood and other things of that nature.
A good way to make sure you have all the protection you need is to buy a full coverage policy and make sure you have rental reimbursement coverage to help you get around while your car's being repaired. Shop around to get the best rate for the coverage you need.
Best car insurance companies for hurricane coverage
You should always shop around for the best rates and coverage for auto insurance. But rates aren't the only factor– choose a company with a good reputation and a high AM Best score, which means they have good credit, pay out claims in a timely manner and have solid finances.
The best car insurance company for you depends on your needs and which companies offer the best rates and service in your area. A good place to start when shopping is our annual ranking of the best car insurance companies in the U.S.
Frequently asked questions: Hurricanes and car insurance
Which states have the most hurricanes?
Florida, Louisiana, Texas, Mississippi, Alabama, Virginia and the Carolinas, all states along the Gulf Coast, have frequent hurricanes and damaging thunderstorms. States all the way up the Atlantic are also prone to hurricanes.
Will my car insurance go up after a hurricane claim?
As with other claims, a claim you put in for hurricane damage will usually increase your rates. Rate hikes due to comprehensive claims tend to be a little lower, however, than collision claims.
See How Much You Can Save
See How Much You Can Save
Helpful Renters Insurance Articles & Guides