Why you should trust Insurance.com
Insurance.com is dedicated to informing, educating, and empowering you to make confident insurance decisions. Our content is carefully reviewed by insurance experts, and we rely on a data-driven approach to create unbiased, accurate insurance recommendations. Insurance.com maintains editorial integrity through strict independence from insurance companies.
Homeowners insurance varies depending on whether you own a single-family home or a condo--and also whether your home is manufactured, old or historic. A change in the type of home you live in could change your homeowners insurance needs; you should be aware of insurance requirements specific to your home type.
KEY TAKEAWAYS
Homeowners insurance varies depending on the type of home you own.
Homeowners insurance for manufactured homes is typically more expensive than for traditional homes.
Homeowners insurance for old homes is usually higher than for newer homes. Historic homes may require special coverage in order to be fully protected.
Condo owners need to be aware of what their HOA policy covers and doesn't cover in order to make sure they have adequate protection.
Standard homeowners insurance perils (HO-3)
Most homeowners insurance policies provide protection for the following disasters or perils:
Fire/lightning
Hail/windstorm*
Explosion
Riots/civil disobedience
Damage from vehicles crashing into property
Smoke
Vandalism
Theft
Volcanic eruption
Objects falling
Weight of ice, snow or sleet
Interior flooding from plumbing, HVAC, or appliances (including fire sprinklers)
Other damage from steam, heating, cooling or fire protection systems
Electrical damage
*Many coastal areas require a separate hail/windstorm policy.
Generally, homeowners insurance policies do not automatically cover the following items:
Flooding from external sources (rivers, etc.)
Earthquakes
Maintenance damage
Sewer backup
Ask your insurance provider if your state has special homeowners insurance requirements.
Beyond protection from natural disasters common in your area, there are five different homeowners insurance considerations for various home types.
1. Homeowners insurance for manufactured homes
Many home insurers consider manufactured homes' ability to withstand the standard perils listed above to be inferior to that of traditional (in-site) homes that are built on foundations. As a consequence, homeowners insurance companies estimate that damage claims from "normal" disasters like tornadoes, hail, and other severe weather events could be higher for manufactured homes.
Given that the value of manufactured homes is typically less than that of an in-site home of equal size, the ratio of premiums to value on manufactured homes is several times higher than for traditional homes. Many insurers simply do not provide coverage for manufactured homes.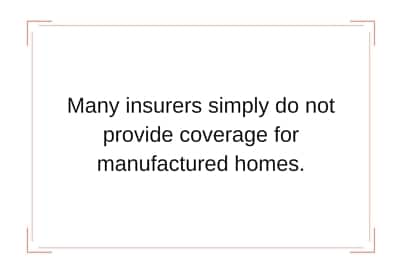 Before buying a manufactured home, research coverage availability and premium costs when you compare homeowners insurance quotes. Be sure to factor in the higher insurance premiums in your decision whether to purchase a manufactured home, as opposed to a traditional one.
With a manufactured home, it is important to note the "loss settlement" option. This refers to how you are paid in the event of a claim. For example, if your manufactured home burned to the ground, there are three possible ways your claim could be paid:
The actual cash value, which takes into consideration any depreciation
A stated or agreed value which pays what the policy states as the home's worth
A replacement cost which pays "old for new"
Knowing your loss settlement option is not only important for your home, but also your personal property. Which would you rather have, a new TV or the depreciated value of that TV? Replacement cost for personal property is extremely important.
2. Homeowners insurance for old homes (HO-8)
Homes built before the 1940s are generally considered "old homes." While you might think an older home's insurance premiums would be lower, they are usually higher. There are two reasons for this: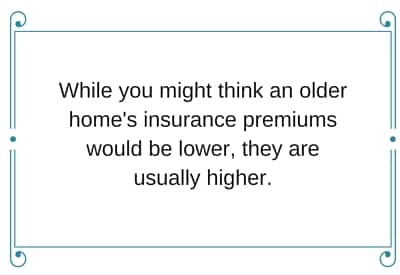 1. Costs: Building materials continually evolve and the materials used to build older homes are often not readily available and, when they are, they usually cost more. That increases the claim size for older homes, causing insurance companies to require higher premiums. The loss settlement option (described above) you choose can result either in higher premiums or higher out-of-pocket cost in the event of a claim. Most owners of older homes opt for a replacement cost policy, but keep in mind those are often capped at 20 or 25 percent over the insured value of the home. Be sure to ask your agent or broker if the policy that you have, or are considering, has such a cap.
2. Codes: Building codes change over time, usually to increase safety in newly-built homes. For example, a city or county might change staircase grades to be safer. If your home was built before 1940 and has a fire, replacing the stairs may require re-engineering the staircases, significantly increasing the claim amount. Many insurers offer additional coverage, typically called "Ordinance and Law coverage" for such eventualities. If you don't have that coverage, the cost increase due to re-engineering (or rewiring in the case of electrical systems) will come out of your pocket.
You might find that purchasing a fixer-upper means a typical homeowners policy is enough; but after you have done a few years of improvements and renovation, that policy might become inadequate. It pays to do an annual check of your homeowner insurance needs to determine whether you should switch to a different type of coverage that takes into account the work you have done on the home in recent years.
3. Homeowners insurance for historic homes
Historic homes can differ from older homes in two ways:
They are designated by a historical organization as historic
They were built before (approximately) 1900
Homes designated as historic are usually governed by the historical organization giving the designation. Such societies typically have strict rules regarding changes and maintenance, and many require that only original materials and finishes be used. Most homeowners assume that standard home insurance will replace everything just the way it was, so if a fire damages their wide-plank floorboards from the 1860s, they can hunt down similar 1860s flooring and their insurance will pay for it. But that's not usually the case. With a regular homeowners insurance policy, you'll get new flooring, but it is likely to be ordinary planks from a local supplier.
Owners of historic homes should look for something like "guaranteed replacement coverage with restoration," which means the insurer will replace the original material with the same thing, if it's available -- called "like-kind replacement." Such policies are more expensive because materials may be hard to find (read: costly) and they usually need to be installed by craftsmen who know how to use centuries-old construction techniques.
Some insurers avoid covering historic homes for that reason (similar to manufactured homes). Fortunately, most historical organizations have located carriers who provide coverage, and those policies usually cost 20-25 percent more than usual coverage. (Be sure to find out if there are caps on claims.)
If you are considering purchasing an historic home, be sure to check with both your existing insurer and the organization governing the home. In most cases, those insurance companies send restoration experts and appraisers to the home before the policy is written to help ensure that they are aware of all the details that can make the difference between your home's true value and basic replacement value.
Many people who buy historic homes upgrade them with things like new plumbing or electrical wiring. Remember that repairs or upgrades to a historic home will likely increase its value, requiring updates to your coverage. Some of those might bring higher insurance premiums but others, such as smoke detectors and sprinklers, could bring them down.
4. Homeowners insurance for a condo (HO-6)
Do you need homeowners insurance for a condo? It is common for a condo's homeowners association (HOA) to carry a master policy covering the structure and possibly other elements. But the typical master policy may not protect anything inside your unit, and that may be the biggest single difference between homeowners insurance coverage for a condo versus a single-family dwelling.
All too often condo buyers are not required to have homeowners insurance in place at the time of closing, because the HOA master policy typically has sufficient coverage for lenders' interests. Buyers may not review their HOA bylaws to discover which coverages they need. This can result in unhappy surprises when damage occurs inside their unit and they discover it is not covered. HOA master policies differ, making it important to understand the protection your unit will have from the HOA.
5. Homeowner insurance for rental property
The home insurance needs are different for a home you rent to tenants compared to a single-family home. Renters can sue you for medical or other damage they suffer and allege your property is at fault. On the positive side, you don't need as much coverage for the interior, unless it has furnishings that belong to you.
Landlord insurance provides essential protections to property owners who should require their tenants to purchase adequate renters insurance.
Saving on home insurance for various home types
There are several things you can do to lower your homeowners insurance premiums, regardless of which type of home you have.
1. Risk reduction: Many insurers offer discounts when you add safety features, such as smoke detectors and burglar alarms. Check with your insurer to find out if reducing the risk of storm damage by adding storm shutters or stronger roofing materials can lower our home insurance rates.
2. Deductible: Most homeowners insurance companies offer different deductible levels. The higher the deductible, the lower your premium.
3. Shop around: Sometimes agents become complacent and simply renew previous policies. It is a good idea to get different quotes every second year or so. After you have done this two or three times, your agent should get the message to view renewal time as an opportunity to look for better pricing instead of simply renewing what is in place.
4. Ask: It is a good idea to ask your agent or insurer what you can do to lower your premiums. You may discover something you didn't think of before.
5. Bundle: Most insurance companies offer a discount when you bundle your auto and home policies.
6. Credit: Although the practice is not without controversy, most insurers charge more for your homeowners insurance if you have poor credit. Keeping your credit score up by paying your bills on time should save you money on your homeowners insurance.
Carefully consider these and other ways to save when buying homeowners insurance.
Homeowners insurance for various home types is something you may not think about, unless you are buying a new home. Nevertheless, factors affecting your insurance needs can change frequently and it is a good idea to set a date every year, a month or two from the end of your current policy term, to review your insurance needs with your broker or insurer.
See How Much You Can Save
See How Much You Can Save