Why you should trust Insurance.com
Insurance.com is dedicated to informing, educating, and empowering you to make confident insurance decisions. Our content is carefully reviewed by insurance experts, and we rely on a data-driven approach to create unbiased, accurate insurance recommendations. Insurance.com maintains editorial integrity through strict independence from insurance companies.
Your homeowners insurance coverage needs vary depending on the type of home you own. Single-family home or a condo, manufactured, old or historic; these homes all have different needs.
Construction materials, the presence of an HOA policy for your condo, the age of the home and how you use your home will all impact the type of policy you should buy. Insurance companies offer a range of home insurance that are designated by codes starting with HO or DP and followed by a number.
Below, we'll break down the types of home insurance policy, what type of home they cover and which policy you need.
Key takeaways
Homeowners insurance policies vary depending on the type of home you own.
Homeowners insurance for manufactured homes offers much of the same coverage, but designed for a manufactured or mobile home.
Homeowners insurance for older homes is usually higher than for newer homes, and historic homes may require special coverage in order to be fully protected.
Condo owners need to be aware of what their HOA policy covers and doesn't cover in order to make sure they have adequate protection.
What are the types of home insurance?
There are eight homeowners insurance forms, all of which start with the HO designation. You may also see policies that start with a DP; these are dwelling fire policies usually used for rental homes, seasonal homes and other specialty needs. HO policies are numbered 1-8 while DP polcies are 1-3.
The standard home insurance policy is an HO-3, and most homeowners with a single-family, site-built home will carry an HO-3. But there are several other options you should know about. These policies vary in terms of the types of perils they insure against and whether they provide actual cash value or replacement cost coverage.
What are the perils covered by home insurance?
A home insurance policy may be either named perils or open perils. A named perils policy ranges in terms of what it covers, but the most comprehensive named perils policies provide protection for the following disasters or perils:
Fire/lightning
Hail/windstorm*
Explosion
Riots/civil disobedience
Damage from vehicles crashing into property
Smoke
Vandalism
Theft
Volcanic eruption
Objects falling
Weight of ice, snow or sleet
Interior flooding from plumbing, HVAC, or appliances (including fire sprinklers)
Other damage from steam, heating, cooling or fire protection systems
Electrical damage
*Many coastal areas require a separate hail/windstorm policy.
An open perils policy covers any peril that is not specifically excluded. So, unless it's listed in the exclusions, it's covered.
Generally, homeowners insurance policies exclude the following items:
Flooding from external sources (rivers, etc.)
Earthquakes
Maintenance damage
Sewer backup
Ask your insurance provider if your state has special homeowners insurance requirements. Let's look at the commonly used home insurance policies.
Standard homeowners insurance (HO-3)
Although HO-1 and HO-2 policies, which are named perils, do exist, they are uncommon. Most homeowners will purchase an HO-3 special form homeowners policy.
This policy is open perils, and covers the home at replacement cost while personal property is covered at actual cash value. You can add an endorsement to include replacement cost coverage for personal property.
This policy includes liability insurance as well as loss of use coverage, and there are a variety of endorsements you can add for additional coverage, from water and sewer backup to high-value item floaters.
If you have a higher-value home or want more comprehensive coverage, consider upgrading to an HO-5 home insurance policy that will provide replacement cost for both the home and your property along with higher limits.
Homeowners insurance for a condo (HO-6)
Condo home insurance differs from other policies because it usually doesn't cover the structure. It is common for a condo's homeowners association (HOA) to carry a master policy covering the structure and possibly other elements. But the typical master policy may not protect anything inside your unit, and that may be the biggest single difference between homeowners insurance coverage for a condo versus a single-family dwelling.
Condo policies vary, with some covering only personal property and others covering everything from the walls in, including kitchen cabinets and counters, flooring, bathroom fixtures, light fixtures and anything else that's considered building property. It's important to review your HOA policy to find out what it covers and what it doesn't in order to get the right condo policy.
Homeowners insurance for manufactured homes (HO-7)
Manufactured home insurance is sold either as an HO-7 policy or as a standard home insurance policy that has a manufactured home endorsement added. Coverage on these policies varies, but may be either open or named perils and may also be either actual cash value or replacement cost.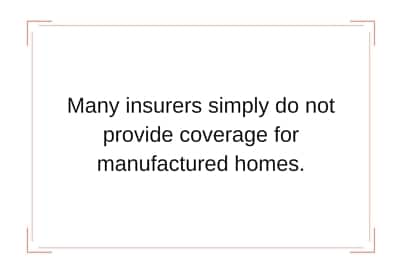 With a manufactured home, it is important to note the "loss settlement" option. This refers to how you are paid in the event of a claim. For example, if your manufactured home burned to the ground, there are three possible ways your claim could be paid:
The actual cash value, which takes into consideration any depreciation
A stated or agreed value which pays what the policy states as the home's worth
A replacement cost which pays "old for new"
Before buying a manufactured home, research coverage availability and premium costs when you compare homeowners insurance quotes. Because coverage varies, you can expect costs to vary as well.
Homeowners insurance for older homes (HO-8)
Homes built before the 1940s are generally considered older homes. While you might think an older home's insurance premiums would be lower, they are usually higher. There are two reasons for this: costs to rebuild and building codes that have changed since the house was built.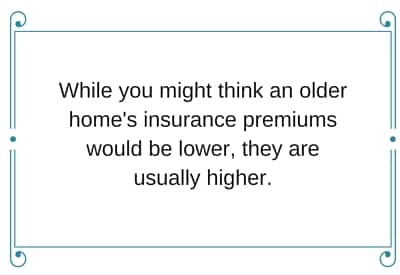 Older homes often use outdated materials that are hard to replace, and may also have special features that are costly to repair. They are also often well behind the current building codes, and the insurance company will be required to bring the home up to code during any repairs. That means a lot of extra expenditure.
The HO-8 policy is designed to provide coverage for older homes and uses an actual cash value settlement plan, which means depreciation will be taken into account for any repairs.
Many older homes can qualify for a replacement cost policy if they've been sufficiently updated and inspected, which means better coverage.
Homeowners insurance for historic homes
Historic homes are also older homes, but historic home insurance differs in some cases due to the designation of "historic".
Homes designated as historic are usually governed by the historical organization giving the designation. Such societies typically have strict rules regarding changes and maintenance, and many require that only original materials and finishes be used.
Owners of historic homes should look for something like "guaranteed replacement coverage with restoration," which means the insurer will replace the original material with the same thing, if it's available -- called "like-kind replacement." Such policies are more expensive because materials may be hard to find (read: costly) and they usually need to be installed by craftsmen who know how to use centuries-old construction techniques.
Some historic homes can be covered by an HO-8 policy, but others may require specialty insurance, available from several insurance companies like Chubb and AIG.
Many people who buy historic homes upgrade them with things like new plumbing or electrical wiring. While this does mean lower insurance rates in some cases, it's important to remember that the historic nature of the home will still require specialty insurance.
5. Home insurance for a rental property (DP-3)
If you own a house that you rent to others, you need a different type of home insurance. In most cases, you'll buy a DP-3, which provides coverage for the building and can include coverage for loss of rent if you can't rent out the house for a while due to a covered loss. It has less coverage for personal property, and you'll need to endorse liability coverage.
Landlord insurance provides essential protections to property owners, but you should require your tenants to purchase adequate renters insurance (HO-4) to prevent liability claims from landing on your doorstep.
Saving on home insurance for various home types
There are several things you can do to lower your homeowners insurance premiums, regardless of which type of home you have.
1. Risk reduction: Many insurers offer discounts when you add safety features, such as smoke detectors and burglar alarms. Check with your insurer to find out if reducing the risk of storm damage by adding storm shutters or stronger roofing materials can lower your home insurance rates.
2. Deductible: Most homeowners insurance companies offer different deductible levels. The higher the deductible, the lower your premium.
3. Shop around: Insurance rates vary quite a it by company. It's a good idea to compare quotes annually to find out if you could save by switching.
4. Ask: It is a good idea to ask your agent or insurer what you can do to lower your premiums. You may discover something you didn't think of before.
5. Bundle: Most insurance companies offer a discount when you bundle your auto and home policies.
6. Credit: Although the practice is not without controversy, most insurers charge more for your homeowners insurance if you have poor credit. Keeping your credit score up by paying your bills on time should save you money on your homeowners insurance.
Carefully consider these and other ways to save when buying homeowners insurance. And, regardless of cost, make sure you have the correct policy for your needs.
See How Much You Can Save
See How Much You Can Save
Helpful Home Insurance Articles & Guides