Why you should trust Insurance.com
Insurance.com is dedicated to informing, educating, and empowering you to make confident insurance decisions. Our content is carefully reviewed by insurance experts, and we rely on a data-driven approach to create unbiased, accurate insurance recommendations. Insurance.com maintains editorial integrity through strict independence from insurance companies.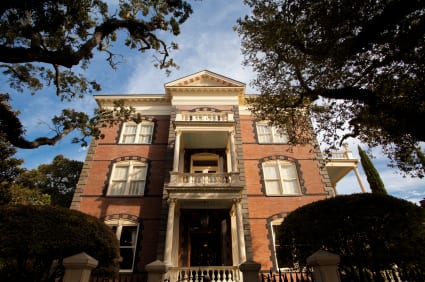 Can you put a price tag on American history? Sure. A few home insurance companies specialize in calculating the cost to restore or rebuild historic homes.
These companies insure colonial homes in Concord, Mass., Gilded Age summer "cottages" in Newport, R.I., antebellum mansions in Charleston, S.C., and one-of-a-kind Frank Floyd Wright houses around the country.
Unlike standard homeowners policies that provide limited coverage, historic home policies offer guaranteed replacement coverage. The insurer covers the entire cost to repair or rebuild a home's historically significant elements back to their original state regardless of the insured amount.
Fireman's Fund Insurance found out how difficult – and expensive – this can be, after a hailstorm severely damaged the roof of a fairly nondescript Frank Lloyd Wright house several years ago.
The home was the only example of Wright's use of welded copper panels, says Richard Standring, Senior Risk Consultant at Allianz.
When the insurer underwrote the policy, it didn't realize restoring the roof was essential to the home's historic designation. After studying the original panels, Firemen's Fund's experts found the manufacturer. New panels were made to the same specifications used in the 1920s.
The cost of the new roof? About $1 million.
"The roof was put back on exactly as it came off," says Standring. "It was (an) excruciating painful detail, but we understood that the value of the house was in retaining (its historic) designation, and that was the function of the Fireman's policy."
Key takeaways
Historic home insurance policies provide guaranteed replacement coverage. This pays for the entire bill to repair or rebuild the home's historic elements back to their original state – no matter the cost.
Standard home insurance policies cover replacement value, but you can buy an extended replacement policy that covers another 10-50% of the home's insured value.
Most replacement cost policies cap out at $500,000 and can be extended by an additional 28%.
Popularity of historic-home insurance
In the 1950s and 1960s, when historic preservation wasn't as popular, many older homes were either torn down or drastically remodeled. These days, more Americans are interested in protecting their historic or vintage homes.
However, if you want to fully insure your historic home, you will need to buy guaranteed replacement insurance to cover the cost of repairing or replacing the home's unique features.
Keeping such coverage can be difficult, says Ann Gonya, vice president of private client services division at Maury Donnelly & Parr, a Baltimore insurance broker that provides insurance to homeowners as well as museums and non-profits through National Trust Insurance Services.
"A lot of people are not renewed by their carrier," Gonya says "Their carriers can't provide the coverage they need for finer quality materials and restoration work."
Most standard home insurance policies cover the replacement value of the home. For more protection, you can buy extended replacement coverage. This policy usually will cover an additional 20 percent to 30 percent of the insured value of the home.
Most replacement cost insurance policies have a cap. Standring says insurers typically offer a replacement cost cap of $500,000 and extend that amount by about 28 percent. Coverage varies from state to state.
Gonya says Maury Donnelly & Parr's business is growing by more than a 20 percent a year. Partnering with the National Trust for Historic Preservation (via National Trust Insurance Services), Gonya says her brokerage works with about 30 insurance carriers, including Fireman's Fund, Chubb, Chartis, ACE Group, Encompass Insurance and PURE.
National Trust Insurance Services insures about 2,300 properties around the country. "A lot of people are interested in historic preservation," Gonya says.
Buying historic-home insurance
If you want to buy guaranteed replacement coverage, the insurance company will inspect your home to figure out a replacement value. If your home has a feature that is especially expensive to replace – such as elaborate hand-carved stone fireplace mantle or a built-in sideboard – you may have to purchase a rider to ensure the item is fully covered.
Fireman's Fund employs about 30 consultants around the country to do detailed architectural surveys, including the floors, the building materials, the molding, the windows and the walls.
Standing says it is easier to estimate the value of a historic home if it is in a historic district. The insurer has a good understanding of the local requirements. In Concord, Mass., the facades of the homes must retain their colonial look with shingles or clapboard of approved colors and hand blown glass windowpanes.
"It is a true federal-period district with no Victorians, no Dutch colonial revivals," he says. "It's literally frozen in time of the battles of Lexington and Concord on April 16, 1775."
Related topics:
See How Much You Can Save
See How Much You Can Save
Helpful Home Insurance Articles & Guides