Why you should trust Insurance.com
Insurance.com is dedicated to informing, educating, and empowering you to make confident insurance decisions. Our content is carefully reviewed by insurance experts, and we rely on a data-driven approach to create unbiased, accurate insurance recommendations. Insurance.com maintains editorial integrity through strict independence from insurance companies.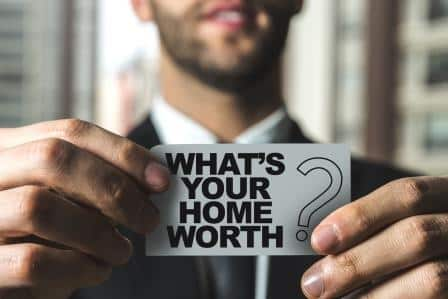 How much is your house worth? It depends on the type of valuation. Homes are valued in a variety of ways for different reasons. The appraised value, assessed value, fair market price, replacement value and actual cash value are all determined differently.
Only two valuation methods affect your home insurance rates and coverage, but you will run into the others at some point.
While not all of these valuations affect your home insurance premiums directly, it's still wise to be aware of any changes. The replacement cost and dwelling coverage are the two main values you need to review annually to ensure proper coverage. However, it's also a good idea to keep an eye on assessments and other value changes.
Factors that go into home value include age, location, condition, size, building materials and the sale of comparable properties and homes in the area. Read on to find out how to see how much your home is worth and how these values affect your insurance.
Key takeaways
Homes are valued in different ways, including appraised value, assessed value, fair market price, replacement value and actual cash value.
Insurance companies consider location, building materials, condition, size, age and more to evaluate your home's value.
A standard home insurance policy uses replacement cost to calculate the dwelling coverage for your policy.
How is my home's value calculated?
There are five types of home valuations. Below we'll cover what organizations perform them, what they are use for and when you might need them.
Appraised value
Who usually performs it: An independent appraiser
When it's used: Buying a home, getting a mortgage or a home equity line of credit
About appraised value: Mortgage lenders choose a professional appraiser to evaluate a property's value. The borrower typically pays for the appraisal.
Mortgage lenders use the appraisal to determine how much they are willing to lend a buyer for the property.
The appraised value is used both for new mortgages as well as other types of borrowing in which you may put the house down as collateral. A lender will use the appraisal to figure out the loan to value (LTV) ratio.
The LTV is typically kept below 80%. That means you are being loaned 80% or less of the home's appraised value. A higher LTV may prevent borrowing or require the person to get mortgage insurance.
A low appraised value can also affect whether a homebuyer can take out a mortgage. In fact, you may find the appraised value of a home is much different from its market value. That difference can affect whether you get a mortgage.
Let's say you agreed to pay $400,000 for a home, but the appraisal says it's only worth $300,000. The lender may not grant a mortgage in that case unless you are able to provide enough of a down payment to reduce the loan to value ratio.
Assessed value
Who usually performs it: Local or county government, such as an assessor or tax collector
When it's used: To calculate property taxes
About assessed value: Governments use assessed value to figure out what to charge you for property taxes. This is usually lower than the appraised value and market value. In other words, don't fret if you paid $500,000 for a home and the assessed value comes back $350,000. Look on the bright side -- a lower assessed value means you pay less in taxes than what your home is worth on the market.
The appraised value analyzes nearby home sales and values, improvements and new additions to your home, as well as its current condition.
The government will create an assessed value and then calculate your property taxes based on the community or county's property tax rate. Assessed value is especially important in states with no sales or income tax. These states can have higher property taxes than a similar state with an income or sales tax.
Fair market value
Who usually performs it: Licensed appraiser
When it's used: Home insurance claims, home mortgage refinancing, eminent domain proceedings, short sale
About fair market value: Fair market value is what a property is worth on the market. In other words, what you could get if you sold the home right now.
Fair market value can increase or decrease after the purchase. For instance, maybe your community built a new high school. That likely increased your taxes, but it also probably increased the fair market value of your home. New schools bring new families, which can heat up a local housing market.
Fair market value calculations consider what similar nearby homes are currently selling for, and the state of the home and property as well as factors about the community.
Replacement value
Who usually performs it: Insurance company
When it's used: To calculate dwelling coverage on your home insurance
About replacement value: The replacement value is what it would cost to replace your home if it's destroyed. Home insurance policies with replacement value usually cost more than actual cash value. That's because the insurer is agreeing to pay the current amount to rebuild your home if you file a claim, which is likely higher than when it was originally built. Depreciation is not taken into account. 
Figuring out the replacement value of your home can be challenging, but it's integral to your policy as it's tied to your dwelling coverage amount, and not having an accurate number can leave you underinsured. Read our guide on how to calculate the replacement value of your house for more details.
Actual cash value
Who usually performs it: Insurance company
When it's used: To calculate depreciated value for a claim
About actual cash value: The actual cash value is the current value of your home allowing for depreciation.
An actual cash value policy is usually cheaper than replacement cost since the insurer is only agreeing to reimburse you for the depreciated value of the home and not what it would cost to replace it.
Depreciation considers the age of the home and the expected lifespan of the home. Actual cash value is calculated by taking the current replacement cost and subtracting depreciation to determine how much the insurance company would pay.
Actual cash value is unusual for a home insurance policy, but is used in some cases, usually with homes that are older or don't need replacement cost eligibility requirements.
Which valuations are used for home insurance?
As you can see, home valuations can fluctuate depending on the situation. You'll likely come across different types of home valuations when you buy a home, refinance a mortgage or apply for a home equity line of credit.
However, for insurance purposes, replacement cost or actual cash value are the two types of home value calculations that are used.
See How Much You Can Save
See How Much You Can Save
Helpful Home Insurance Articles & Guides