Why you should trust Insurance.com
Insurance.com is dedicated to informing, educating, and empowering you to make confident insurance decisions. Our content is carefully reviewed by insurance experts, and we rely on a data-driven approach to create unbiased, accurate insurance recommendations. Insurance.com maintains editorial integrity through strict independence from insurance companies.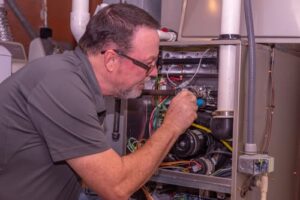 Equipment breakdown insurance fills the gap in your homeowners insurance to cover major appliances and home systems like HVAC for unexpected mechanical and electrical failure.
It's an endorsement offered by most home insurance companies that can be added to your homeowners insurance for an additional premium. Equipment breakdown isn't included in a standard home insurance policy.
"Equipment breakdown coverage is an endorsement that may be added to a homeowners policy for an additional premium, intended to cover breakdowns of home equipment," says Lauren Mckenzie, senior agent at A Plus Insurance in South Carolina.
Key takeaways
Mechanical and electrical failure of major appliances and systems in your home are not covered by standard home insurance.
Equipment breakdown insurance is an endorsement you can add to provide coverage for HVAC systems, major appliances, computer equipment and more.
The average cost of an equipment breakdown endorsement is $35-$50 a year.
What is equipment breakdown coverage for homeowners?
Equipment breakdown insurance is an optional coverage that can be added to your homeowners insurance policy. Home insurance doesn't include coverage for the breakdown of major appliances and systems in your house, only damage from covered perils.
When equipment like your furnace breaks down, it can be very expensive to repair, and it's not usually something that can wait. Equipment breakdown coverage will pay for repairs so it doesn't affect your budget. However, there are limits to the coverage, and it's not quite the same as a warranty.
What does equipment breakdown cover?
What's covered by equipment breakdown coverage depends on the company, so make sure to check before you purchase the endorsement. However, common items covered by the equipment breakdown endorsement include:
Major appliances like refrigerators, ovens, washing machines and dryers
Water heaters
HVAC systems including furnaces and air conditioning units
Solar panels
Sump pumps
Computer equipment
Home gym equipment
Smart home systems
Spoilage of food due to refrigeration failure
This type of endorsement covers losses from electrical, mechanical and other failures that can cause serious damage.
"Coverage for items will vary with each insurance company. Some of the items covered may include a sump pump, washer/dryer, water heaters, air conditioning and heating equipment and computer equipment," Mckenzie says.
Equipment breakdown coverage exclusions
Equipment breakdown coverage won't pay for every possible scenario. It generally doesn't cover wear and tear over time or poor maintenance.
"Coverage for these items do not include normal wear and tear, or damage due to age (wear and tear), or poor maintenance of the equipment," Mckenzie says.
Because what's covered and what's not differs by company, it's essential to read the endorsement thoroughly before you buy.
Who should buy equipment breakdown coverage?
As home systems and appliances become more complex and expensive to repair, equipment breakdown coverage is a good choice for most homeowners.
Consider the cost of your appliances and systems and research how much they'd cost to replace, and look at any other coverage available to you including manufacturer's warranties and home warranties.
If you can afford to repair or replace even the most expensive systems in your home out of pocket, you probably don't need this coverage.
How does equipment breakdown insurance work?
As with any home insurance claim, when you have a problem with a covered appliance or system, you will contact your insurance company to file a claim. The claim will be reviewed to determine if the damage is covered, and when it's approved repairs can be completed.
Homeowners equipment breakdown coverage has limits and is usually subject to a deductible. Those amounts will vary depending on the insurance company and the plan.
How to file an equipment breakdown claim
Follow your insurance company's claims procedure to get an equipment breakdown claim started. You may have the option to file online or via a mobile app, or you might need to call a claims line. If you have an agent, they can usually file a claim on your behalf.
When filing a claim, make sure you have any needed information on hand, including documentation of the damage and information on the equipment that's been damaged.
Equipment breakdown coverage vs. a home warranty
A home warranty is often provided during the home-buying process to give the buyers some peace of mind regarding systems that may be aging or need repair or replacement shortly after the home sale is complete. It's a standalone policy that isn't part of your home insurance.
Home warranties and equipment breakdown coverage have some specific differences. Here's a quick breakdown.
| | Home warranty | Equipment breakdown |
| --- | --- | --- |
| Covers wear and tear | Yes | No |
| Covers accidental damage | No | Yes |
| Waiting period | Usually 30 days from closing | None |
| Choice of contractor | Must use warranty's network | Choose your own or use the insurance company's network |
| Deductible | Yes, most plans* | Yes |
*Some plans call it a service fee, and a few don't have one.
Equipment breakdown coverage examples
What's covered by equipment breakdown insurance? Here are a few examples, bearing in mind that coverage varies from company to company.
| Item | Type of damage | Is it covered? |
| --- | --- | --- |
| Refrigerator | Power surge | Yes |
| Air conditioning unit | Compressor fails due to age | No |
| Washing machine | Sudden mechanical failure | Yes |
| Furnace | Motor fails due to dirty filter | No |
As you can see, some of the examples above are sudden, accidental damage or mechanical failure, while others are wear and tear or failure to properly maintain systems. Equipment breakdown coverage won't pay for damage caused by age, normal wear and tear or due to the owner's failure to keep up on proper maintenance.
Is equipment breakdown coverage worth it?
Equipment breakdown coverage is a low-cost endorsement you can add to your homeowners insurance, but it can save you a lot of money when something goes wrong. It costs an average of $25-$50 a year, according to major insurer The Hartford. That's a lot of coverage for very little money.
"Homeowners should consider looking at the additional cost to add this coverage to their home policy in the event something were to happen, especially if they own several of these expensive items to help financially in the event of a loss," Mckenzie says.
As with any insurance, it's worth the premium when you have to file a claim. You'll have to weigh the likelihood of needing that coverage against the extra cost and the out-of-pocket cost if you don't have it when you need it.
Sources:
See How Much You Can Save
See How Much You Can Save
Helpful Home Insurance Articles & Guides