Why you should trust Insurance.com
Insurance.com is dedicated to informing, educating, and empowering you to make confident insurance decisions. Our content is carefully reviewed by insurance experts, and we rely on a data-driven approach to create unbiased, accurate insurance recommendations. Insurance.com maintains editorial integrity through strict independence from insurance companies.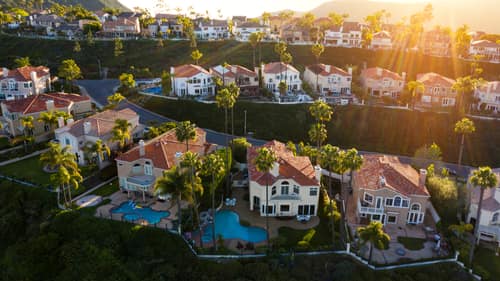 California homeowners have lost several top options when shopping for homeowners insurance.
State Farm announced it will no longer accept new applications for business or personal lines property and casualty insurance in the state.
In a statement, State Farm listed three factors that drove its decision:
Increasing construction costs
"Rapidly growing" exposure to catastrophic events
A difficult reinsurance market in the state
The company says those with State Farm homeowners insurance in California can maintain their policies. The insurer also will continue to sell auto coverage in California.
State Farm is the largest home and auto insurer in the U.S. in terms of premium volume. It's not the only insurer trimming its California homeowners insurance market exposure.
In November, Allstate announced that it no longer planned to sell new homeowners and condominium policies in California. In July, Farmers joined other major home insurance companies in an announcement that it is limiting new policies in the state.
"We paused new homeowners, condo and commercial insurance policies in California last year so we can continue to protect current customers. The cost to insure new home customers in California is far higher than the price they would pay for policies due to wildfires, higher costs for repairing homes, and higher reinsurance premiums," Brittany Nash, spokesperson for Allstate, says.
According to a report in the Wall Street Journal, companies such as AIG and Chubb have also been pulling back in the Golden State. And it's not just California; the report states that insurers have quietly withdrawn from other states as well, including New York and Colorado, which has moved to create an insurer of last resort for homeowners.. Read on to find out what's happening in California.
Key takeaways
State Farm will no longer write new home or business property insurance in California.
Current State Farm customers will not lose their coverage, and auto insurance is unaffected.
State Farm follows Allstate and other companies that have stopped writing property insurance in all or part of the state; Farmers has also announced limits on new policies
Why has State Farm stopped writing policies in California?
Rex Frazier, president of the Personal Insurance Federation of California, says State Farm and other insurers face headwinds in California due to several factors.
He notes that inflation is driving up the price of building materials and home reconstruction, increasing insurers' costs.
However, insurance companies in California have difficulty passing on these higher costs to customers. Insurers operating in the state are subject to price controls and must file an application seeking approval to raise rates.
"In times of rapid inflation like today, it is difficult to operate a business when underlying costs are rising significantly," Frazier says. "But it takes six months or more to raise rates through the state approval process."
In addition, as other insurers have declined to renew customers' policies in wildfire-exposed California areas, State Farm has absorbed many of these customers, Frazier says. That has raised State Farm's reinsurance costs.
"California is the only state in the country that does not allow insurers' rates to be based upon their actual reinsurance costs," he says.
What are some other home insurance options for California homeowners?
Gabriel Sanchez, press secretary for the California Department of Insurance, says State Farm's announcement is not the first of its kind in the state.
"The Department of Insurance has seen companies pause and then re-start writing policies as conditions change," he says.
He adds that the factors behind State Farm's decision to stop writing new policies "are beyond our control," including worldwide inflation, climate change and reinsurance costs impacting the entire insurance industry.
"While insurance companies prioritize their short-term financial goals, the long-term goal of the Department of Insurance is protecting consumers," Gabriel says.
Although seeing a handful of insurers pull back probably has some California homeowners concerned, there are still plenty of options for those looking for home insurance coverage in the state. They include:
Travelers
USAA
Auto Club Enterprises (AAA)
Nationwide
State Farm
CSAA Insurance (AAA)
Mercury Insurance
Gabriel says more than 115 insurance companies currently offer California homeowners insurance.
In addition, he notes that homeowners who already have State Farm coverage can maintain their policies.
"It's important to note that current customers will not lose their insurance," Gabriel says. "There are no non-renewals taking place with State Farm's announcement."
Homeowners who live in areas at high risk -- such as places that have traditionally been in the path of wildfires – and who have struggled to secure homeowners insurance coverage can purchase a policy through the California Fair Plan.
However, this coverage is typically more expensive than what homeowners will find in the traditional home insurance market.
Getting the best homeowners insurance policy in California
California can be expensive, but homeowners insurance rates are the second most affordable in the country, according to a recent Insurance.com survey of rates.
In 2022, it cost an average of $1,380 a year -- or $115 a month -- to insure a home in California. That is much lower than the national average annual rate of $2,777.
Whether shopping for homeowners insurance in California or elsewhere, you can do plenty of things to save even more.
Before shopping, make sure you understand how much coverage you need. Dwelling, liability and personal property coverage are all crucial parts of any homeowners insurance policy.
Once you understand how much coverage you need, compare quotes with several providers. Comparing quotes is one of the best ways to get the coverage you need at the best possible price.
As you narrow your list of candidates, look for companies with strong customer service reputations and solid finances. Using sources such as J.D. Power and AM Best can help you understand which companies are leaders in the industry.
Another great resource is Insurance.com's rankings of the best homeowners insurance companies.
Sources
Newsroom State farm. "State Farm General Insurance Company" Accessed June 2023
See How Much You Can Save
See How Much You Can Save
Helpful Home Insurance Articles & Guides