Why you should trust Insurance.com
Insurance.com is dedicated to informing, educating, and empowering you to make confident insurance decisions. Our content is carefully reviewed by insurance experts, and we rely on a data-driven approach to create unbiased, accurate insurance recommendations. Insurance.com maintains editorial integrity through strict independence from insurance companies.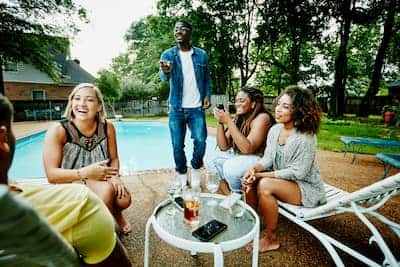 Your home insurance policy includes coverage for injuries to others at your home. While you may have heard of liability coverage, you may not be aware that your insurance policy includes a secondary coverage called medical payments to others.
What is medical payments to others coverage, and how does it differ from your liability insurance?
Read on to learn more about liability vs. medical payments coverage and how each can protect you.
KEY TAKEAWAYS
Medical payments coverage pays the bill if a guest is injured at your home, regardless of who is at fault.
Medical payments insurance covers necessary medical bills and the ones that were incurred within three years of the accident.
Medical payments coverage is relatively limited, and your options range from $1,000 to $5,000.
What is medical payments coverage?
Medical payments coverage pays medical bills for a guest injured at your home, regardless of how it happens. You'll find this listed as Coverage F of your homeowners insurance declarations page.
Medical payments coverage is designed to cover small claims and usually has limits that range from $1,000 to $5,000. The amount varies by policy and state, but the limits are generally much lower than liability coverage. If a guest's injuries exceed your coverage limits, you might be on the hook for the difference.
How does guest medical insurance work?
Here's an example of how medical payments coverage on homeowners insurance works:
Let's say you invite friends over, and one of them falls and hurts their ankle on your patio. The guest heads to the hospital and needs an x-ray crutches. Medical payments would cover the medical costs up to your coverage limit.
While medical payment coverage is relatively limited and is only intended for minor injuries, it often prevents an injury from escalating into a lawsuit, which can quickly get much more expensive. Your injured guest may be happy to have their medical bills covered without the hassle of going to court.
Furthermore, the coverage applies regardless of whether you are actually liable for the injury. Let's say in the scenario above that the guest tripped because their shoelace was untied. You can't be held legally liable for that, but medical payments will cover the injury anyway.
How does medical payments to others on renters insurance work?
Coverage F on renters insurance works in the same way that it does on home insurance. The coverage limits between $1,000 and $5,000 are even the same. The purpose of this coverage for renters is the same as it is for homeowners, to give you a cushion to pay for guest's medical expenses for injuries that occur in your rental. The major difference with guest medical insurance on renters insurance is that it only applies to injuries that occur inside the rental unit.
What does medical payments coverage cover?
Medical payments insurance will cover a wide variety of medical bills considered "necessary" and were incurred within three years of the accident.
Here are a few examples of what this coverage will pay for:
Medical
Surgical
X-ray
Dental
Ambulance
Hospital
Professional nursing
Prosthetic devices
Funeral services
Medical payments coverage will also extend to injures that occurred away from home, under certain circumstances such as:
A medical issue that arises from a condition at the home
An injury that is accidentally caused by you away from the home
An injury caused by an employee of the residence
An injury caused by an animal at home, a dog bite is a good example
Medical payments homeowners coverage exclusions
This coverage has several exclusions. Here are some of the most common exclusions:
The injury was the result of intentional acts
If the injury were caused by business being conducted out of the home, you would need business liability coverage
Injuries caused by war
The injury is an infectious disease
Corporal punishment or physical or mental abuse
Controlled substances were involved in the injury
Are there other things medical payments won't cover?
Medical payments will also not cover:
Medical costs above your coverage limits
Medical costs for permanent residents of your home unless that person is a household employee like a housekeeper
How much medical payments coverage do I need?
Most experts recommend carrying the highest coverage level offered by your insurer. In most cases, your options range from $1,000 to $5,000 in coverage. The price difference between the lowest and highest coverage levels is usually pretty small, and this coverage has the potential to prevent an expensive lawsuit.
Is medical payments coverage necessary?
Medical payments is a standard part of most homeowners insurance policies and as stated above, even the top range of coverage doesn't add much to your annual premium. To make sure you are adequately covered for all potential losses, increasing your Coverage F medical payments to others is a smart decision.
What is liability coverage?
Your homeowners policy comes with personal liability coverage. You will find this listed as Coverage E on your homeowners insurance declaration page.
Liability coverage protects you and your family (those who live at your residence) from bodily injury and property damage claims related to injuries or property damage sustained by others for which you're considered legally responsible.
Here are a few things liability insurance covers:
Property damage done to a guests property while on your property
Medical bills of a guest injured on your property for which you are liable
Pain and suffering incurred by the guest as a result of the incident
Lost wages for your guest as a result of the incident
Legal costs associated with the incident
May provide some death benefits
Liability insurance exclusions
Here are some things liability coverage does not cover:
Intentional acts. If you intentionally hurt someone or damage property in a fit of rage, you will not be covered. Deliberate vandalism or even Halloween pranks that go too far are not covered.
Injury to you or a family member who lives in the house
Self-employment related injuries or damages
Tenant's personal belongings
How much liability coverage should I carry?
Most standard homeowners insurance policies include $100,000 in liability protection, but this can be quickly eaten up in the event of a severe injury. Most insurance experts recommend carrying at least $300,000 of liability coverage. This should be increased if you have significant assets.
What is the difference between medical payment coverage and liability coverage?
There are numerous differences between these two types of coverage. Here are the major ones: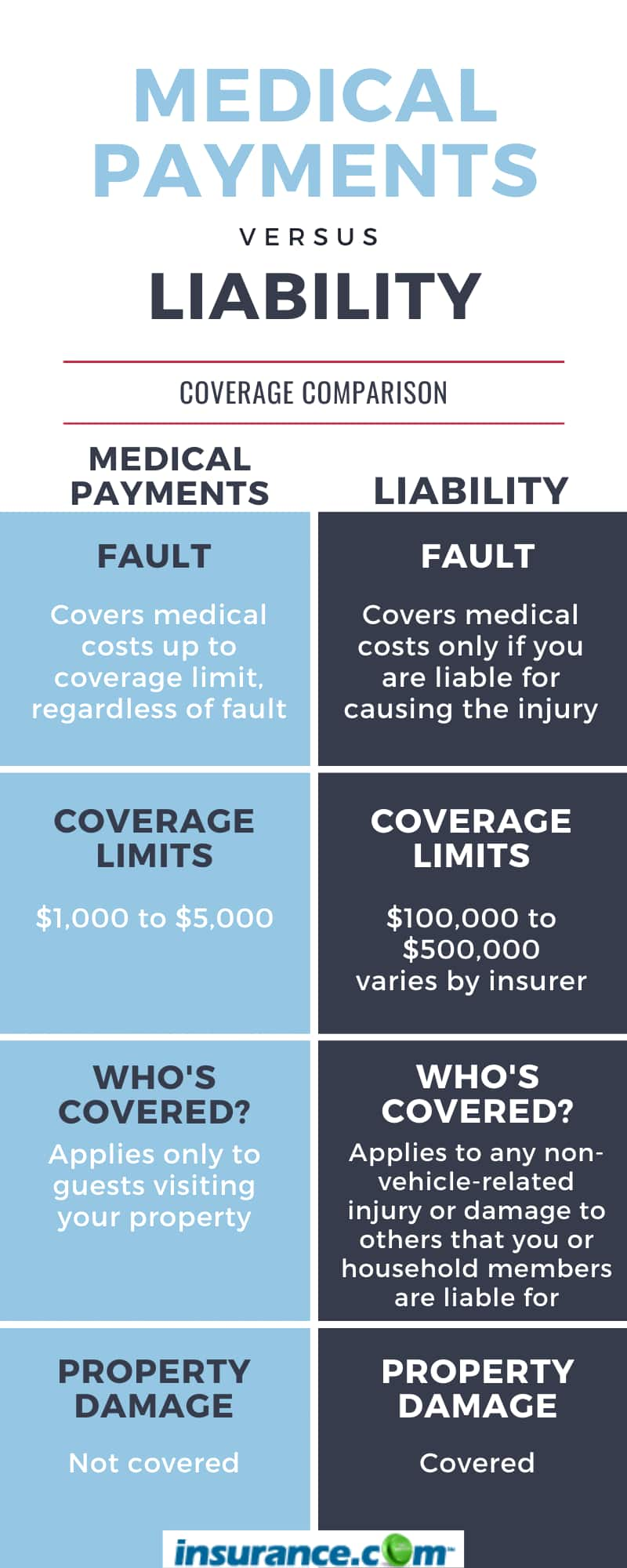 Fault: Medical payments coverage will pay medical bills (up to your coverage limits) regardless of who was at fault. On the other hand, liability coverage will only pick up the tab if you are liable for causing the injury.
Coverage limits: Most medical payments coverage is capped at around $5,000. Liability coverage can range from $100,000 (this is the standard on most homeowner policies) up to $500,000 or even higher depending on the insurance company.
Property damage: Medical payments coverage only applies to bodily injury, while liability insurance also steps up for property damage. For example, if one of your kids puts a baseball through the neighbor's window, your liability insurance will cover the bill.
Other noteworthy differences in medical payment and liability coverages:
Pet bites: In most cases, both medical payments coverage and liability insurance will pay out if your pet bites someone. That is unless your dog's breed is excluded in the policy. If not, the big difference between the two coverage types comes down to coverage limits. A severe bite could lead to bills that exceed your medical payment limits, which means you would need to file a claim on the liability section of your policy. While you might think your dog would never bite someone, Insurance Information Institute statistics show that dog bites account for one-third of home insurance liability claims.
Liability covers you away from your home: The protection offered by liability insurance extends beyond the walls of your home. Suppose you injure someone or their property while out and about; your homeowners liability insurance will step up, as long as a vehicle was not involved. Vehicle-related incidents would fall to your car insurance.
Here are just a few examples where your homeowners liability can come in handy away from your home:
Sports injuries: If you lose your grip on your golf club and send it sailing into someone's head, their medical bills and any resulting lawsuits would be covered up to your policy limits.
Cooking related issues: If your famous salmon mousse sickens everyone at the neighborhood potluck, your liability insurance will protect you.
Pet bites: Pets don't just bite at home. If you are out for a walk or on vacation and your dog bites someone, liability insurance has you covered.
Umbrella insurance
If you find that you can't fully protect all of your assets with a $500,000 liability policy, you may want to consider a separate umbrella policy. An umbrella policy allows you to up your liability protection limit -- all the way to $5 million. An umbrella policy kicks in once you've maxed out your liability coverage on your homeowner policy.
Saving money on homeowners insurance
Now you know how important the medical payment and liability coverage portion of your homeowners insurance is, but what if you are having trouble affording the coverage you need?
Here are a few ways our experts recommend to save money on homeowners insurance:
Shop around and compare quotes: This is one of the best ways to lower your premium. Get quotes from numerous insurers; experts recommend getting quotes from at least five insurance companies. Always make sure you are comparing apples to apples when it comes to coverage levels and deductibles.
Bundle your policies and other discounts: Insurance companies offer lower rates if you have more than one policy with them, and a bundling discount can be significant. Also, insurers offer dozens of discounts; ask your agent to do a discount review to ensure all available discounts are being applied to your account.
Increase your deductible: The higher the deductible, the lower the premiums. If you can afford to double your deductible, you should see significant savings. Always choose a deductible that you can easily afford if you have to make a claim on your policy.
See How Much You Can Save
See How Much You Can Save
Helpful Home Insurance Articles & Guides