Why you should trust Insurance.com
Insurance.com is dedicated to informing, educating, and empowering you to make confident insurance decisions. Our content is carefully reviewed by insurance experts, and we rely on a data-driven approach to create unbiased, accurate insurance recommendations. Insurance.com maintains editorial integrity through strict independence from insurance companies.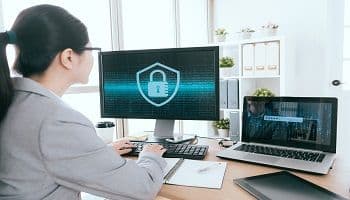 The wonders of modern technology help us stay better connected to loved ones and the wider world. But these benefits also bring new risks. That's why more Americans are turning to cyber protection insurance.
About one-third of U.S. consumers have been notified that they had a data breach. One in five has been the victim of identity theft, according to a survey released last year by The Hartford Steam Boiler Inspection and Insurance Company, part of Munich Re.
Now, a type of insurance promises to protect you from these threats financially. Personal cyber protection insurance reimburses policyholders for damages associated with a cyber attack. Insurers offer this coverage as part of home insurance and renters insurance policies, including Arbella, Chubb, Central Insurance Companies, Eastern Insurance, and Safety Insurance.
Cyber attacks can happen via a personal computer, smartphone, tablet or other Internet-connected devices. Jim Hyatt, senior vice president of personal lines with Arbella Insurance, which provides coverage in Massachusetts, Connecticut, Rhode Island, and New Hampshire, said insurance kicks in after a cyber incident.
This type of insurance typically can be added to a homeowners or renters insurance policy, Hyatt said.
"There are many points of entry that cybercriminals can use to access private, personal information that may cause significant financial and emotional harm," he said. "Which is why it's so important for homeowners to be prepared and protect their families."
Key takeaways
Personal cyber protection insurance provides reimbursement in the event that your digital assets or devices have been compromised by hackers, viruses, malware and other malicious software.
Insurance companies offer personal cyber insurance as a part of homeowners or renters insurance policies.
Cyber insurance will cover the costs of removing a virus from your computer or responding to and paying for ransomware attacks.
You can consider buying cyber protection insurance if you think the added cost is worth the extra protection.
What does cyber insurance cover?
Personal cyber protection insurance goes by many names, including home cybersecurity and home cyber protection. Hyatt said such coverage can be valuable for anyone who spends time online.
"A cyber attack could be as simple as the insured person opening an attachment they received by email that affected their computer," he said.
Such an attack can cause damage that forces you to hire an expert to reformat the hard drive, reinstall the operating system, and restore data from the backup.
"This can sometimes cost upward of a thousand dollars," Hyatt said. Cyber protection insurance reimburses these costs.
Personal cyber insurance covers costs associated with:
Removing a virus from personal computers and tablets
Responding to and paying for a ransomware attack
Reimbursing financial losses connected to identity theft or phishing schemes
Supporting an individual who suffers a cyberbullying attack, including paying legal expenses, temporary relocation expenses or private tutoring
Coverage limits vary by provider. For example, both Arbella and Safety Insurance offer coverage levels of either $25,000 or $50,000. Chubb offers up to $25,000 in cyber extortion coverage and up to $250,000 in cyber financial loss coverage.
Finding the right policy
If personal cyber protection insurance sounds right for you, make sure to shop around and get the policy that is the best fit.
Some policies offer additional types of coverage. For example, Chubb provides a "cyber vulnerabilities assessment" in which experts will make sure the right cybersecurity measures are in place.
Arbella's Home Cyber coverage -- currently available to customers in Massachusetts -- protects you if a family member is a cyberbullying victim.
A recent Pew Research Center survey found that 59 percent of teens report having been bullied or harassed online. Hyatt said a child who is the victim of cyberbullying might require temporary private tutoring if parents take the child out of a school because of the cyberbullying. This type of insurance can cover those costs.
"Another hypothetical example could be harassment from a significant other's ex-boyfriend or ex-girlfriend," Hyatt said.
In such situations, an ex could make threats via social media or other online activity. Home cyber protection insurance can cover the cost of hiring a lawyer to fight back, Hyatt said.
Hyatt added that Arbella provides policyholders with access to cyber claim specialists and technical experts "who will help guide families through the attack and put them on the path to recovery."
Cyber protection insurance is an example of how home insurance does more than protect you if your house catches fire. Home insurance plans offer riders and endorsements that go beyond the normal insurance claims. Whether cyber protection insurance is right for you depends on your risk and whether you believe the added cost is worth the extra protection.
See How Much You Can Save
See How Much You Can Save
Helpful Home Insurance Articles & Guides