Why you should trust Insurance.com
Insurance.com is dedicated to informing, educating, and empowering you to make confident insurance decisions. Our content is carefully reviewed by insurance experts, and we rely on a data-driven approach to create unbiased, accurate insurance recommendations. Insurance.com maintains editorial integrity through strict independence from insurance companies.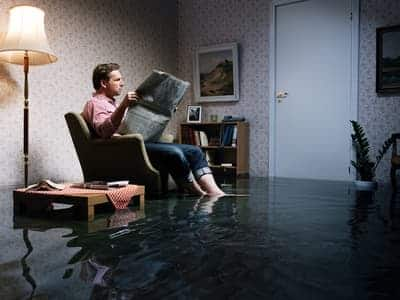 Hazard insurance is a commonly used term that refers to the main coverage in a standard homeowners insurance policy. However, since not all of the coverage included in a home insurance policy is hazard insurance, the terms "hazard insurance" and "home insurance" aren't quite interchangeable.
Your home insurance protects you from financial loss due to damage done by certain hazards, and it's the term commonly used by mortgage companies.. It also includes other coverage, like liability, that isn't part of hazard insurance.
Below, we'll explain hazard insurance and what the hazard portion of your insurance covers.
Key takeaways
Hazard insurance is the portion of your homeowners policy that covers damage to your home, other structures and personal property.
Hazards covered by standard home insurance include fire, hail, lightning, vandalism and theft.
There are hazards that are excluded from a standard home insurance policy, most notably floods and earthquakes.
What is hazard insurance?
The simple definition of hazard insurance is coverage that protects you from the financial fallout of damage to your home.
A homeowners policy can be referred to as a package policy because it includes multiple types of coverage in one policy. One of those, and the largest and most important part of a home insurance policy, is hazard insurance.
The hazard insurance portion of your policy covers the home itself (called dwelling coverage on the policy), other structures on the property like a detached garage and your personal property.
A standard HO-3 homeowners policy is what's known as all perils. This means it covers you for any peril that is not specifically excluded. For example, a fire in your home would be covered by hazard insurance.
Hazard insurance is typically a requirement of most lenders when you have a mortgage.
How much does hazard insurance cost?
The average home insurance rate in the U.S. is $2,777 a year, based on 2022 data. Although hazard insurance is only one part of the policy, it can't be purchased separately and isn't priced individually. It's the largest portion of a home insurance premium because it covers the house itself.
How much hazard insurance costs depends on the amount of coverage you need, which is determined by calculating the replacement cost of your home. In other words, the amount needed to rebuild your house from the ground up.
Homeowners insurance costs also vary depending on location and factors about the house like swimming pools and other risks.
Factors that impact the cost of home insurance
10 factors that affect the cost of homeowners insurance

Where you live

Credit score

Age of the home

Claim history

Value of your property

Type of coverage

Construction of your home

Policy limits

Safety features

Deductible amount

Additional protection like flood or earthquake insurance
How does hazard insurance work?
Hazard insurance provides coverage for losses that are the result of covered perils. When damage or loss occurs, you will file a claim with the insurance company, which will assign an adjuster to the claim. That person will review your coverage, investigate the claim, including surveying the damage, get estimates for repairs and calculate a settlement amount.
You will be responsible for paying the deductible on any hazard insurance claim, after which the insurance company will pay out up to the limits of the policy,
What is covered by hazard insurance?
Most standard homeowners insurance policies are all perils for damage to the structure and named perils for personal property. That means that the home is covered for any peril that is not specifically excluded, while personal property is covered only for those perils listed in the policy. Here's a look at common covered perils.
Hazard insurance covers these perils and more

Theft

Ice

Wind

Vandalism

Falling objects

Hail

Explosions

Power surges

Smoke

Snow

Riots

Fire

Sleet

Civil unrest

Lightning

Damage from vehicles

Damage from an aircraft

Electrical current damage

Freezing of household system(A/C, heating, etc.)
What is not covered by hazard insurance?
Home insurance has a few common exclusions, which means those things are not covered by the policy. These are:
Mold – unless occurring after a sudden event that is covered like burst pipes behind your washer.
Termites, mice or other infestations
Wear and tear
Neglect or intentional actions/damages
War
Nuclear hazard
Government seizure or confiscation of your home or property
Floods are not covered by home insurance. You will need to purchase separate flood insurance.
Flood insurance is available through some home insurance companies directly, or you can purchase a policy from the National Flood Insurance Program.
Earthquake coverage is another type of protection that does not come standard. You can add this coverage as an endorsement or buy a standalone policy.
Does hazard insurance cover weather-related damage?
Storm damage is covered by home insurance, but there are some caveats. In some areas, you will need to add coverage for windstorms and hurricanes by adding a second deductible that is specific to that peril. This may be called hurricane, windstorm or named storm coverage. This is usually only the case in high-risk areas.
Home insurance may also exclude storm damage that is considered cosmetic. Hail damage, for example, that affects the appearance of the home but not the function, may be excluded.
Where can I get hazard insurance?
Homeowners hazard insurance is available from any company that sells home insurance. Take a look at our picks for the best home insurance companies to start your search.
If you already have auto insurance, request a quote from the same company to see if you can get a bundling discount on both policies. Make sure to compare quotes from multiple companies before you buy, however, and check each company's reputation.
Frequently asked questions about hazard insurance
How is hazard insurance calculated?
Insurance companies calculate rates based on a lot of factors, but the replacement value of your home is the biggest and most important. That is calculated using a formula that takes into account the size, construction materials and other details about your home, along with current construction costs.
Can I claim hazard insurance on my taxes?
No, not usually. If you run a home business, however, you may be able to deduct a portion of your insurance premiums.
Is hazard insurance the same thing as a homeowners insurance policy?
Essentially, yes. Hazard insurance is the largest part of home insurance, so while the terms aren't quite interchangeable, homeowners insurance is what most people mean when they say hazard insurance.
What is hazard insurance on a mortgage?
Hazard insurance is a requirement of any mortgage. Your mortgage company has a financial interest in your home and will require you to protect it with the right insurance policy.
See How Much You Can Save
See How Much You Can Save
Helpful Home Insurance Articles & Guides